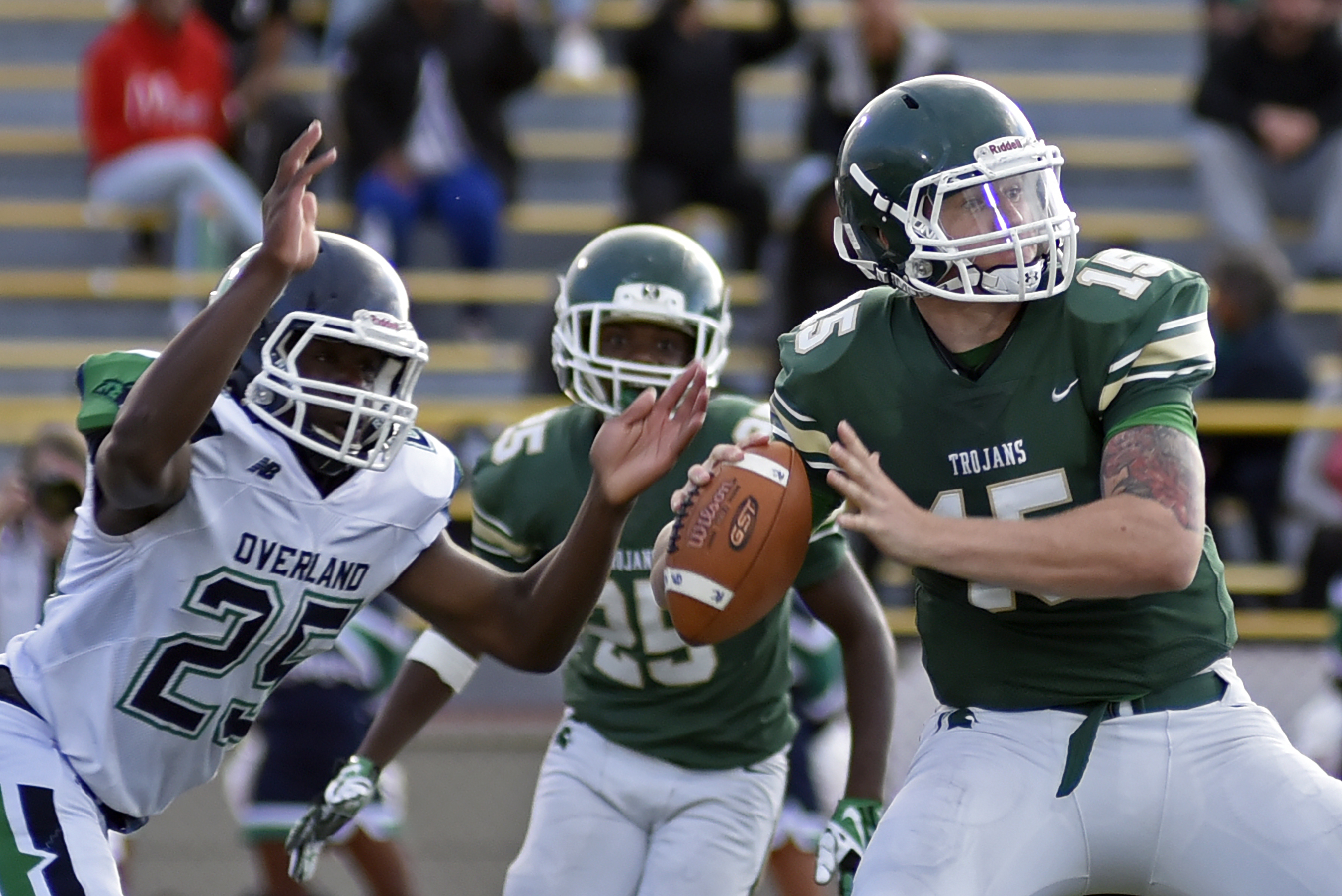 AURORA | Scoreboard for Aurora teams in Week 3 of the 2018 prep football season. Will be updated as results come in:
Courtney Oakes is Sentinel Sports Editor. Reach him at 303-750-7555 or [email protected]: @aurorasports. FB: Sentinel Prep Sports
AURORA'S WEEK 3 FOOTBALL SCOREBOARD
SATURDAY, SEPT. 8
Vista PEAK vs. Palmer at Garry Berry Stadium, 10 a.m.
Rangeview vs. Far Northeast Warriors at Evie Garrett Dennis E-12 Campus, 1 p.m.
FRIDAY, SEPT. 7
Cherokee Trail 28, Horizon 14
Score by quarters:
Cher. Trail  7  0  14  7 — 28
Horizon      0   7   0  7 — 14
Cherokee Trail highlights: Grant Ciccarone 282 yards passing, 3 passing touchdowns; Donovan Swift 68 yards receiving, receiving touchdown; Sean Roberts receiving touchdown; Torrey Sanders receiving touchdown; Ahmarion Shead rushing touchdown
Eaglecrest 46, Rocky Mountain 0
Score by quarters:
Rocky Mtn.  0  0  0  0 — 0
Eaglecrest  14  19
Eaglecrest highlights: Dylan James 2 rushing touchdowns, passing touchdown; JP Luketu rushing touchdown; Isaiah Emecheta rushing touchdown; Elijah Anderson-Taylor interception return touchdown; Ty Robinson receiving touchdown
Grandview 35, Mountain Vista 7
Score by quarters:
Grandview  14  14  7  0 — 35
Mtn. Vista     0    0  0  7 —  7
Grandview highlights: Jordan Billingsley 2 rushing touchdowns; Jacob Burr 2 rushing touchdowns; Noah Schmidt rushing touchdown
Highlands Ranch 20, Regis Jesuit 17 (OT)
Score by quarters:
High. Ranch  0  3  2  9  6 — 20
Regis Jesuit  7  0  0  7  3 — 17
Regis Jesuit highlights: Kiahn Martinez receiving touchdown, rushing touchdown; Mariano Adame field goal
Hinkley 7, Gateway 0
Score by quarters:
Hinkley    0  7  0  0 — 7
Gateway  0  0  0  0 — 0
Hinkley highlights: J.J. Lee passing touchdown; Jerry Taylor receiving touchdown
Smoky Hill 21, Northglenn 6
Score by quarters:
Smoky Hill   0  0  7  14 — 21
Northglenn  0  0  6   0 —   6
Smoky Hill highlights: Kamari Lewis-Stallworth 2 passing touchdowns; Alec Pinkowski 2 receiving touchdowns; Obie Sanni rushing touchdown
THURSDAY, SEPT. 6

Overland 20, Aurora Central 0
Score by quarters:
Overland      6  7  7  0 — 20
Aur. Central  0  0  0  0 —  0
Overland highlights: Mark Thrower 2 passing touchdowns; Jalon'e Rice 2 receiving touchdowns; Jawan Lacour rushing touchdown