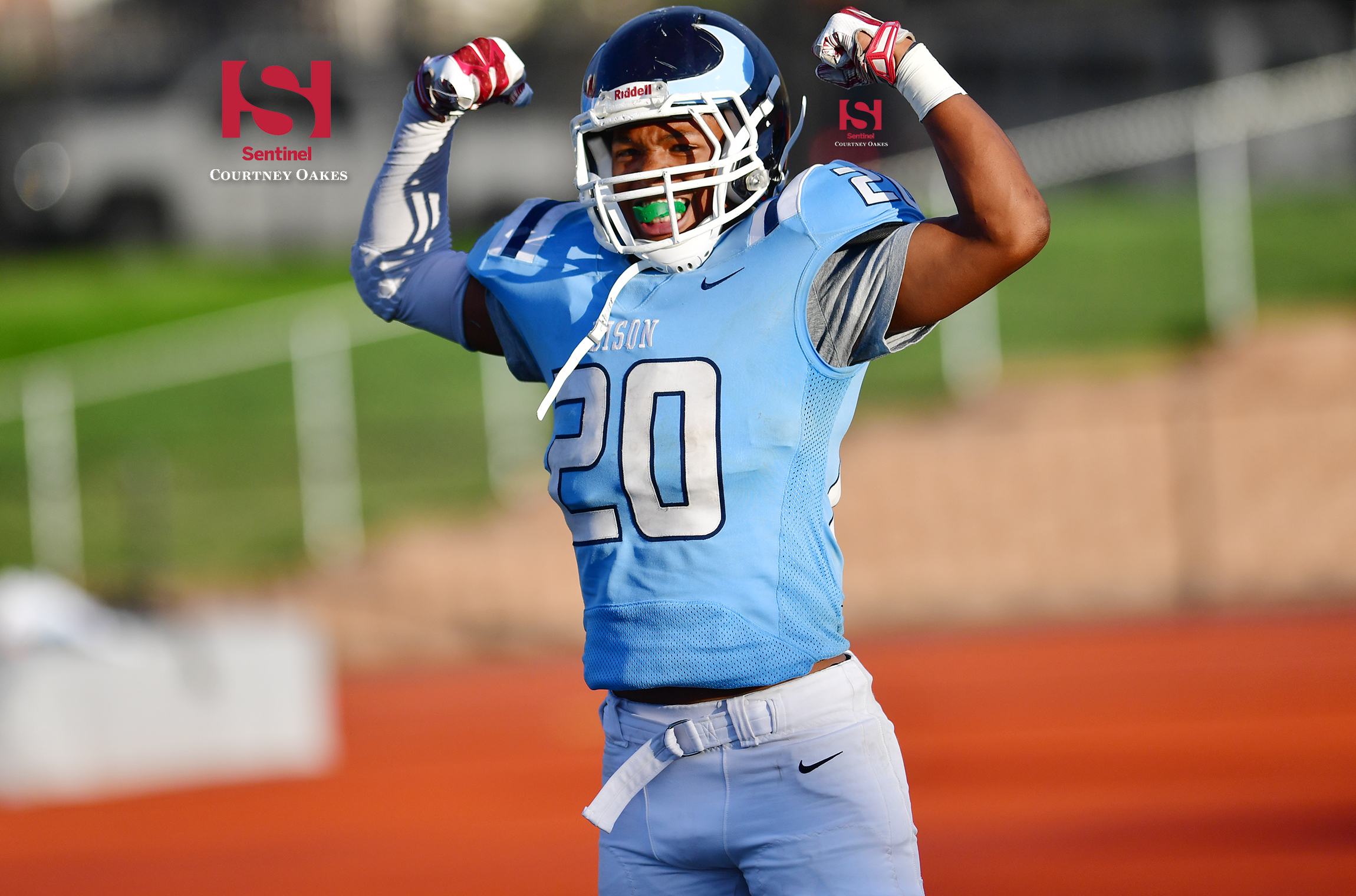 Friday Night Lights looked a lot like they used to in the opening week of the prep football season.
Though the spectre of the coronavirus pandemic continues to hover — with one city program having to cancel its opening game because of it — stands were again full of fans at stadiums around Aurora and the metro area, which were much quieter last fall.
Senior linebacker Max Zueger and his Smoky Hill teammates were able to share the Wagon Wheel traveling trophy with a boisterous student section at Stutler Bowl this time.
"It feels awesome, especially with all the fans here, it brings energy to everything we do; I love it," Zueger said after his team's 47-8 victory over Overland that gave the Buffaloes custody of the Wagon Wheel for a fourth consecutive season in a rivalry that has been standing for 40 years.
Those who were finally able to return to the stands got to see a whole gamut of results in the opening weekend — which spanned Aug. 26-28 — plus the debuts of several new coaches.
The biggest thriller of the slate came Aug. 26 at the North Area Athletic Complex, where Grandview took on Pomona in a well-attended game that went all the way down to the wire.
In the first game with somebody other than John Schultz on the sideline as head coach in 17 seasons, the Wolves fell behind the Panthers by double digits, but kept grinding behind sophomore quarterback Liam Szarka.
Szarka threw touchdown passes to Charlie Dick and Simon Kibbee and ran for two short scores, including a 1-yarder with just 10.4 seconds left on the backs of his offensive linemen and with the help of a push from behind. Malique Singleton's interception sealed a 30-29 Grandview victory.
On the same night, another coach making his debut with a new program got a win as DaVaughn Thornton Sr. guided Vista PEAK to a 32-14 victory over Rangeview at Aurora Public Schools Stadium.
Calem Moore and Christopher Marquez scored defensively via fumble return and interception return, respectively, to give the Bison their third win in five months against the Raiders, after the teams squared off twice in the spring season. Donovan Cooks ran for a touchdown and Kiaroie Stewart-Ricks threw a scoring pass to Tareaz Jackson Jones for Rangeview.
Capping the Aug. 26 contests, Eaglecrest fell to Chaparral 35-21 at EchoPark Stadium in a game delayed more than an hour in the second half by lightning. Diego Cearns and David Torres rushed for touchdowns as the Raptors kept almost digging out an early deficit, but eventually were unable to complete it.
Those at Stutler Bowl Aug. 27 saw the running game take center stage in Smoky Hill's victory, which saw six rushing touchdowns, including three by senior Marvin Jones Jr. Jones Jr.'s 72-yard burst in the third quarter gave the Buffaloes some separation and junior quarterback Ty Bowers also ran for two short scores.
Zueger and the defense allowed just one explosive play that Jamille Humphrey took to the end zone for the Trailblazers, while he also made a pair of fourth-quarter field goals.
Cherokee Trail got a huge night from quarterback Logan Brook, who threw five touchdown passes to delight the packed stands at Legacy Stadium in a 35-24 win over Mullen. Kaelen Bing caught two of the TD passes, while Jack Pierce, Ciaran Hyslop and Gage Gordon had the others.
Lou Kellogg Stadium was bursting at the seams as rivals Regis Jesuit and Valor Christian squared off in a high-powered opener. The Raiders scored only once on a beautiful touchdown catch by Luke Ford on a pass from Exander Carroll in a 24-6 loss.
Junior quarterback Wondame Davis Jr. rushed for two touchdowns for Hinkley in a 64-14 loss to Erie.
Alum Chris Kelly learned a lot from a coaching standpoint in his debut with Aurora Central Aug. 28 at APS Stadium, which resulted in a frustrating 14-6 loss to Falcon. Cai'Reis Curby scored a touchdown late to get the Trojans on the scoreboard, but turnovers and penalties hampered them in a winnable game.
Gateway was the lone Aurora team that did not get to play in Week 1 due to COVID-19 and the school announced via social media that its Week 2 game against Thornton — which had been scheduled for Sept. 4 at Five Star Stadium — had also been canceled.
Courtney Oakes is Sentinel Colorado Sports Editor. Reach him at [email protected] Twitter: @aurorasports. IG: Sentinel Prep Sports