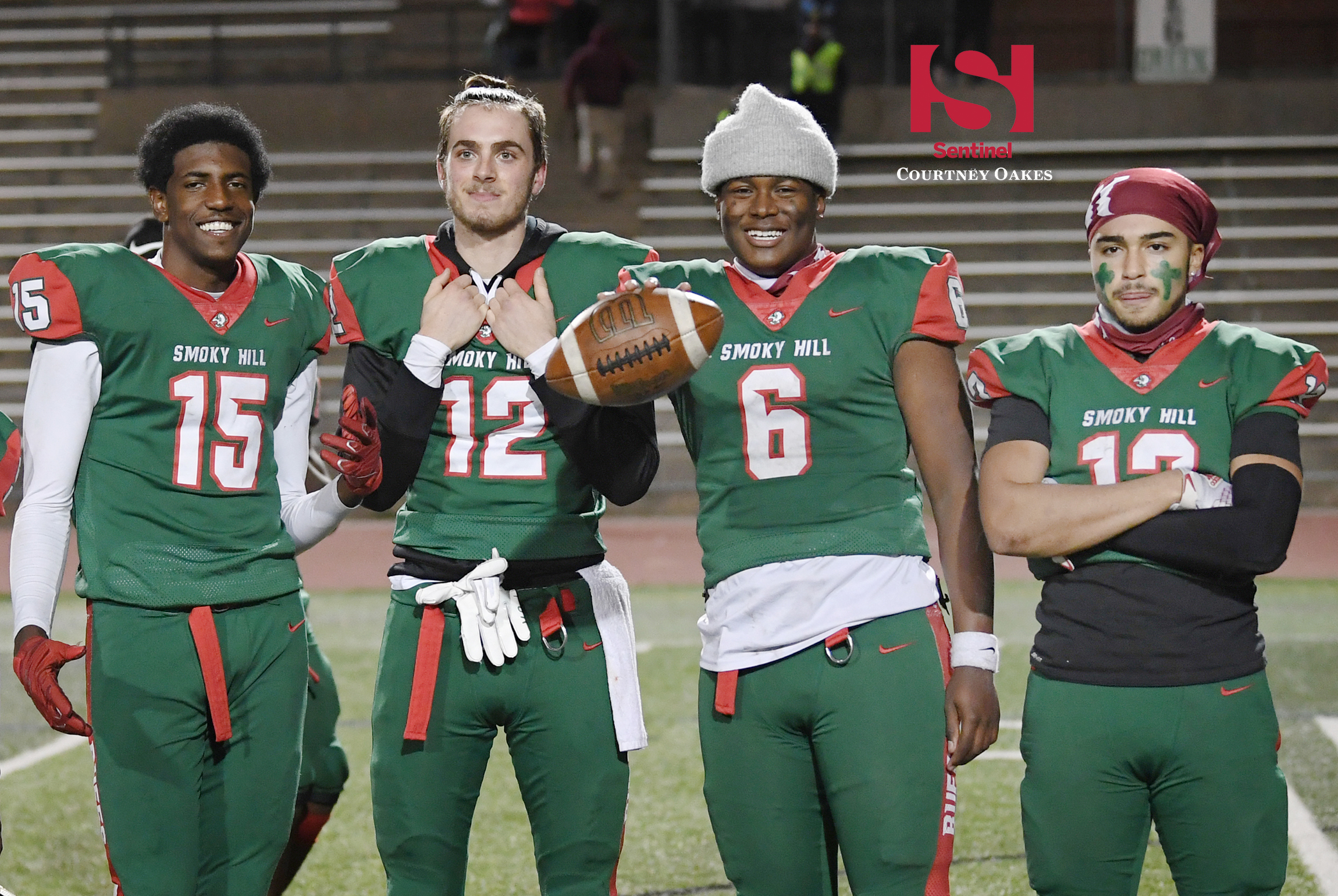 Even with much less time to shine than usual because of the coronavirus pandemic, Aurora's football talent made itself known in the fall season.
Impressively, of the six city programs that chose to play the fall season — Cherokee Trail, Eaglecrest, Grandview, Overland, Regis Jesuit and Smoky Hill — four of them played the maximum of seven games and only two missed one game due to quarantine. Half of the teams qualified for the Class 5A state playoffs, which were reduced to eight teams.
The 2020 Sentinel Colorado All-Aurora Fall Football Team — as selected by the Sentinel in conjunction with balloting of city coaches — honors the top players at their respective positions. Here's a look at first team selections by position:
Courtney Oakes is Sentinel Colorado Sports Editor. Reach him at 303-750-7555 or [email protected] Twitter: @aurorasports. IG: Sentinel Prep Sports
2020 SENTINEL COLORADO FALL ALL-AURORA FOOTBALL TEAM
QUARTERBACK: First team — Leslie Richardson III, sr., Smoky Hill
Leslie Richardson III crammed a full season's worth of statistics into just seven games, as the Smoky Hill senior led Colorado with 2,534 passing yards (362 per game) and topped the state with 31 touchdown passes against just six interceptions. The runner-up for Centennial League Offensive Player of the Year (to Julian Hammond of Class 5A state champion Cherry Creek) saved his best for last by throwing for 634 yards and eight touchdowns — both school records — in a Week 7 win over Fossil Ridge (story).
RUNNING BACK: First team — Moosah Alsaffar, jr., Grandview; Nate Gaye Jr., jr., Cherokee Trail; JP Luketu, sr., Eaglecrest
Moosah Alsaffar had big shoes to fill when Wolves' starter Noah Schmidt moved to Arizona and the hard-running junior did his best to pick up the slack with a total of 746 yards that was the most of any Aurora rusher and put him eighth in 5A, while the All-Centennial League second team pick scored six touchdowns as well. Nate Gaye Jr., a 5-foot-10, 185-pound junior, finished 10th in 5A with his 669 yards (plus four scores) to help give Cherokee Trail offense some balance as part of a backfield (with fellow junior Ciaran Hyslop) that gained more than 1,000 yards on the season. Bruising senior JP Luketu (an All-Centennial League first team pick) tied for third in the state of Colorado with 11 touchdowns — four more than he had in the previous two seasons combined — along with 570 yards on just 86 attempts for Eaglecrest.
WIDE RECEIVER: First team — Anthony Harris Jr., jr., Smoky Hill; Alec Pinkowski, sr., Smoky Hill; Ty Robinson, sr., Eaglecrest
In a simply loaded year for receivers around Aurora, Smoky Hill junior Anthony Harris Jr. stood out among them all and among those in the state for that matter. In his first varsity season, the high-flying Harris Jr. — a 6-foot-5, 190-pounder made a splash last season on the basketball court — led Colorado in both receiving yards with 866 and receiving touchdowns with 15 (in seven games), doing it while sharing the field with other top receivers in Alec Pinkowski and Davien Norman. The 6-5, 180-pound Pinkowski joined Harris Jr. with All-Aurora first team honors after he matched Harris Jr. with 44 total catches for 648 yards (giving him more than 1,500 yards for his three-year varsity career) and also hauled in nine touchdown passes. Ty Robinson, who signed with Colorado, had a slightly down season statistically with 202 yards and three touchdowns for Eaglecrest, but the 6-5, 190-pounder received plenty of defensive attention and earned first team All-Centennial League accolades as an athlete and second team honors as a wide receiver. He finished with 1,525 yards receiving for his career with the Raptors.
OFFENSIVE LINE: First team — Travis Gray, jr., Cherokee Trail; Ryan Kawashima, jr., Cherokee Trail; Braden Miller, jr., Eaglecrest; Chris Sarkodie, sr., Overland; Anthony Tocchini, sr., Regis Jesuit
Cherokee Trail had one of the most prolific offenses in the Centennial League, averaging 32.7 points per game with a game against Cherry Creek's dominant defense taken out, and struck a good balance with the help of an offensive line that featured junior All-Centennial League first team pick Ryan Kawashima in the middle (at 5-foot-7, 190 pounds) and second team selection Travis Gray, a 6-6, 300-pound junior who is on the radar of several Division I programs. The blocks of the massive, athletic 6-6, 240-pound junior Braden Miller (an All-Centennial League first team pick) created plenty of openings for big plays for Eaglecrest (which averaged 33.7 points per game), while Regis Jesuit leaned on the experience and savvy of 6-4, 250-pound senior Anthony Tocchini (an All-South League first teamer and New Mexico State signee) after two starting linemen moved to Arizona. The 6-3, 270-pound Chris Sarkodie played at a first team all-league level for Overland, which had a lot of new faces on offense.
TIGHT END: First team — Sam Hart, sr., Cherokee Trail
Sam Hart already had verbally committed to Ohio State before his abbreviated senior season with Cherokee Trail and though the 6-foot-5, 205-pounder didn't have a dominating season (233 yards receiving, 1 touchdown while missing two games), he earned All-Centennial League second team honors. Hart, who finished just shy of 1,000 yards receiving for his career with the Cougars, signed with the Buckeyes shortly after the season.
ATHLETE: First team — Jacob Burr, sr., Grandview; Jack Pierce, jr., Cherokee Trail; Langston Williams, sr., Eaglecrest
Junior Jack Pierce somehow didn't receive All-Centennial League first or second team honors, but the 5-foot-7, 145-pound Cherokee Trail speedster was easily one of Aurora's most dangerous offensive weapons as he accounted for 738 all-purpose yards, eight touchdowns and had a season that included a 200-yard receiving game. Senior Jacob Burr started for a third season at quarterback for Grandview and racked up yardage passing, rushing and receiving for the Wolves. The 6-foot, 180-pounder became the program's all-time leader in career touchdown passes with 37, surpassing former standout Ryan Walters in the program recordbook. Senior Langston Williams rarely came off the field for the Raptors and the 5-10, 155-pound Colorado State signee's speed and instincts forced the opposition to be aware of him on every snap on offense, defense or special teams. He had 235 all-purpose yards and two touchdowns.
PLACE KICKER: First team — Ben Beckman, jr., Grandview
Steady junior Ben Beckman connected on a 37-yard field goal and made 27 of his 29 extra point attempts for Grandview, which earned him a spot on the All-Centennial League second team.
DEFENSIVE LINE: First team — Mason Maddox, sr., Cherokee Trail; Clay Nanke, sr., Regis Jesuit; Mukendi Wa-Kalonji, sr., Grandview
A pair of future Colorado State teammates — Regis Jesuit senior Clay Nanke and Grandview senior Mukendi Wa-Kalonji — who affected the game in similar ways each earned All-Aurora first team honors as well as first team accolades in their respective leagues. The 6-foot-6 Nanke played big up front for a Regis Jesuit defense that allowed just 13 points per game and tied for the team lead with three sacks, knocked down three passes and blocked a field goal. Wa-Kalonji, who stands 6-5, was relentless in pursuit and racked up 34 tackles to finish in the top four on his team. Senior Mason Maddox, a 6-3, 235-pounder, collected All-Centennial League first team honors with his tenaciousness along Cherokee Trail's line and has since verbally committed to the University of Colorado. Maddox paced his team with four sacks and was fifth with 39 tackles.
LINEBACKER: First team — Andrew Kulick, sr., Regis Jesuit; Bryan Mottram, sr., Regis Jesuit; Hunter Wilson, sr., Cherokee Trail
Instinctive Regis Jesuit senior Bryan Mottram paced Aurora linebackers with 69 tackles — putting him seventh in all of Class 5A — while fellow senior Andrew Kulick, a Colorado State pledge who made 59 stops (including six tackles for loss, while contributing at quarterback as well) gave the Raiders two all-league first team linebackers. Senior Hunter Wilson registered 60 tackles, easily a team high for Cherokee Trail, while the All-Centennial League first teamer helped his unit generate numerous turnovers.
DEFENSIVE BACK: Evan Harrell, jr., Cherokee Trail; Seyi Oladipo, sr., Eaglecrest; Kahden Rullo, jr., Grandview; Kamari Lewis-Stallworth, sr., Smoky Hill
Eaglecrest senior Seyi Oladipo led the Raptors in all three phases of the game, but his presence on defense was a constant concern for opposing offenses. The Boise State signee finished as the runner-up Centennial League Defensive Player of the Year behind Cherry Creek's Myles Purchase (the Player of the Year in all of 5A). As part of a ball-hawking secondary, Grandview junior Kahden Rullo intercepted at least one pass in five straight games and finished with six, just one less than the 5A leader. In a one-point loss to Eaglecrest, Rullo returned an interception and fumble for touchdowns, while he blocked a punt and scored with it in the final game against Columbine. Cherokee Trail junior Evan Harrell's appearance on the All-Centennial League first team came after he handled the assignment against the opposing team's top threats and he was a willing and able tackler. Smoky Hill senior Kamari Lewis-Stallworth led the Centennial League in tackles with 73, had four interceptions and scored defensively on his way to second team all-league honors for the Buffaloes.
RETURN SPECIALIST: Seyi Oladipo, sr., Eaglecrest
With a blend of speed and power, Eaglecrest senior Seyi Oladipo had kickoff return touchdowns of 98 and 99 yards in the opening game alone against Cherokee Trail and made him a threat to change the field position for his team every time he took back a kick.
PUNTER: Elijah Brown, sr., Smoky Hill
Smoky Hill senior Elijah Brown had the most chances to kick of any Aurora punter and the All-Centennial League second teamer took advantage with three punts that netted 46 yards or more for the Buffaloes, topped by a long boot of 61 yards.
2020 SENTINEL COLORADO ALL-AURORA FALL FOOTBALL TEAMS
OFFENSE — Quarterback: Leslie Richardson III, sr., Smoky Hill; Running back: Moosah Alsaffar, jr., Grandview; Nate Gaye Jr., jr., Cherokee Trail; JP Luketu, sr., Eaglecrest; Wide receiver: Anthony Harris Jr., jr., Smoky Hill; Alec Pinkowski, sr., Smoky Hill; Ty Robinson, sr., Eaglecrest; Offensive line: Travis Gray, jr., Cherokee Trail; Ryan Kawashima, jr., Cherokee Trail; Braden Miller, jr., Eaglecrest; Chris Sarkodie, sr., Overland; Anthony Tocchini, sr., Regis Jesuit; Tight end: Sam Hart, sr., Cherokee Trail; Place kicker: Ben Beckman, jr., Grandview; Athlete: Jacob Burr, sr., Grandview; Jack Pierce, jr., Cherokee Trail; Langston Williams, sr., Eaglecrest
DEFENSE — Defensive line: Mason Maddox, sr., Cherokee Trail; Clay Nanke, sr., Regis Jesuit; Mukendi Wa-Kalonji, sr., Grandview; Linebacker: Andrew Kulick, sr., Regis Jesuit; Bryan Mottram, sr., Regis Jesuit; Hunter Wilson, sr., Cherokee Trail; Defensive back: Evan Harrell, jr., Cherokee Trail; Kamari Lewis-Stallworth, sr., Smoky Hill; Seyi Oladipo, sr., Eaglecrest; Kahden Rullo, jr., Grandview; Return specialist: Seyi Oladipo, sr., Eaglecrest; Punter: Elijah Brown, sr., Smoky Hill
SECOND TEAM
OFFENSE — Quarterback: Jayden Lavigne, sr., Cherokee Trail; Running back: Zavier Carroll, jr., Regis Jesuit; David Dody, sr., Regis Jesuit; Spencer Schwartz, sr., Grandview; Wide receiver: Ismael Cisse, soph., Overland; Evan Johnson, jr., Grandview; Davien Norman, sr., Smoky Hill; Offensive line: Spencer Aye, sr., Regis Jesuit; Zach Henning, soph., Grandview; Troy Kaiser, sr., Smoky Hill; Kyle Rockwell, soph., Grandview; Kaden Weatherby, jr., Eaglecrest; Tight end: Kamari Brown, sr., Overland; Place kicker: Jaden Ohlsen, sr., Regis Jesuit; Athlete: Jamille Humphrey, jr., Overland; Jack Love, jr., Cherokee Trail; Dallas Macias, jr., Regis Jesuit
DEFENSE — Defensive line: Matthew Baer, sr., Regis Jesuit; Brett Stonebraker, jr., Overland; Linebacker: Khalil Ali-Fisher, jr., Overland; Max Zueger, jr., Smoky Hill; Defensive back: Colton Martin, sr., Grandview; Jaheim Roper, sr., Overland; Malique Singleton, jr., Grandview; Micah Williams, sr., Smoky Hill; Return specialist: Evan Johnson, jr., Grandview; Punter: Colton Martin, sr., Grandview
HONORABLE MENTION
Amir Copeland, soph., Smoky Hill (DL); Damaris Davis, jr., Overland (DL); Khalil Howard, sr., Eaglecrest (QB); Chyon Kendrick, jr., Eaglecrest (DB); Eddie Maxfield, sr. Regis Jesuit (DB); Mathew Schade, sr., Regis Jesuit (DL); Malachi Sims, sr., Overland (DL); Dervin Taylor, jr., Regis Jesuit (DB); Nunie Tuitele, jr., Regis Jesuit (TE/DL); Langston Williams, sr., Eaglecrest (WR); Adam Zdanowicz, sr., Regis Jesuit (WR); Mohammed Zurigat, sr., Eaglecrest (LB)