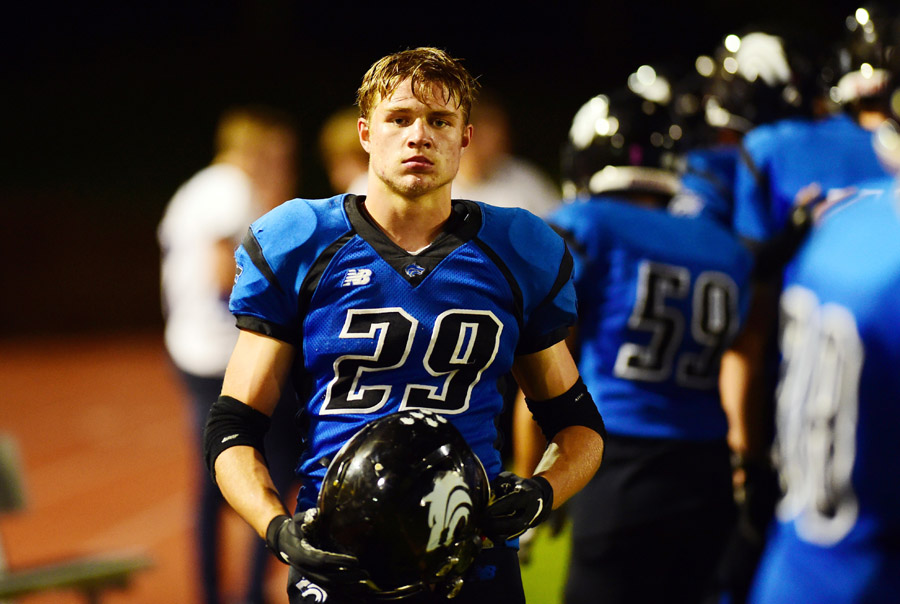 Boxes were already packed and ready to go for Noah Schmidt for a short move from his house of 15 years to a new one just down the street.
Those boxes instead ended up in an entirely different area code for the former Grandview High School standout running back and his family, who recently made a quick decision to move to Arizona in hopes he can play his senior football season.
The uncertainty of the COVID-19 pandemic in Colorado — where a prep football season in the fall is still uncertain — prompted the family to leave the state for a completely different life and for a new playing career for Schmidt at Hamilton High School in Chandler, Arizona.
"I didn't think this would happen at all," Schmidt told the Sentinel in the midst of his first week in his new state. "With this being my senior season and with the uncertainty of it, I didn't want to take the risk really with only one (college scholarship) offer. I wanted to make sure I could go play and get an opportunity."
The Schmidts aren't the only Colorado prep football family that has made a bold move in the hopes of finding more certainty elsewhere, a group that is now believed to be in double figures and could grow larger as time ticks away towards the fall.
The arrival of the coronavirus has made planning for the safe return of sports of all levels a proposition that seems to fluctuate on a daily basis all over the country.
Locally, restlessness among a number of parents of high school football players — especially those going into their senior years — arose June 3 when the Colorado High School Activities Association's task force classified football as "high risk" for disease transmission (along with basketball, ice hockey, wrestling and competitive cheer/dance), mirroring the same designation from the National Federation of High School Sports (NFHS) and stated that at that time, "CHSAA is not able to move forward with sports classified as moderate or high-risk."
Three days later, CHSAA Commissioner Rhonda Blanford-Green took a different, more optimistic tact and tweeted that CHSAA would work on guidelines to resume "'All' athletics and activities including football in the fall."
That hasn't soothed the fears of families, who see the goalposts constantly moving as they seek the ability for their sons to play the game they love and the one that could offer a playing future in college. The pace of Colorado's response — which has begun to quicken — hasn't been enough to keep some here, while other players have sought a different level of competition and opportunity elsewhere.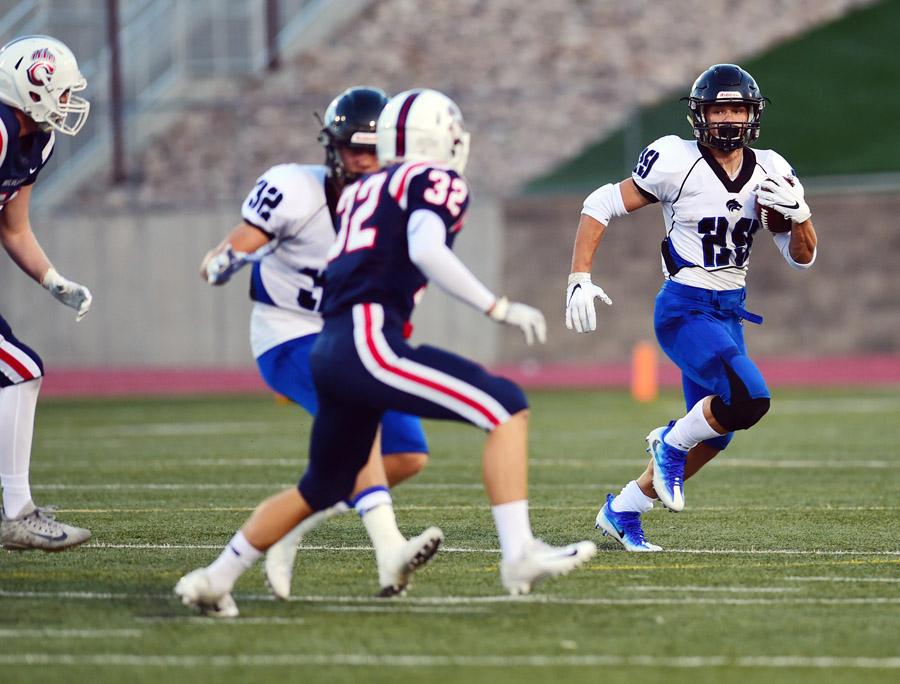 Chasing Division I dreams
Noah Schmidt has played some type of sport since the age of 5 and early on set his goals on playing football at the highest level.
After spot time as a freshman with the Grandview varsity, Schmidt served as a compliment to Jordan Billingsley during his sophomore season when he scored 10 touchdowns and rushed for 810 yards.
He improved his stock greatly as a junior when he fell short of his goal of 2,000 yards, but still gained 1,815 and rushed for 16 touchdowns, all while battling through nagging injury and playing against a rugged group of opponents with the Wolves, who have a long-standing tradition of producing quality running backs.
That put Schmidt's career varsity totals at 2,807 yards and 28 touchdowns, but he hadn't yet generated the type of interest he had hoped from college programs, which he partly attributes to Colorado football talent being "slept on" in general.
The coronavirus came along just as the 5-foot-11, 186-pounder was preparing for his most important season.
As a family, the Schmidts decided the biggest gamble would be to wait to see if the football season would happen in Colorado in the fall, so they began to evaluate their options.
They considered Utah and Texas in addition to Arizona, which eventually won out after a phone conversation between Schmidt's father and Ken Marchiol, father of former Regis Jesuit quarterback Nicco Marchiol, who ended up at Hamilton prior to the arrival of the coronavirus.
Schmidt's mother, Tracey, said the whirlwind decision wasn't taken lightly and was made given the circumstances of things at the time.
"Noah's dream in life is to have a Division I scholarship, so he cannot wait," she said. "Maybe they will have a season in Colorado, maybe they won't. Grandview doesn't know. We're not really sure. There's not a whole lot of clear cut decisions being made. I think that it has improved a little bit, but I think there's a lot of backlash about that message about the classification of football (by CHSAA)."
Tracey Schmidt said the family move came only because of how hard their older son works.
"He works harder than anyone I've ever seen for an athlete," she said. "He's got a 4.0 GPA and he pushes himself. Everything he does, he is 100 percent committed to. If he was just playing for fun instead of for the love of the game and for his childhood dream, that would be different.
"He's a super dedicated, super humble kid and he just wants to play and earn it. That's the bottom line."
Noah Schmidt feels bad about leaving unfinished business at Grandview, which he had hoped to lead to its first Class 5A state championship since 2007.
The Wolves (who went 29-8 over the past three seasons) lost in the semifinals of his freshman and sophomore seasons and to Eaglecrest in overtime in the second round of last season's playoffs in a game in which Schmidt rushed for 160 yards and a touchdown.
He feels fortunate that his parents support his goals and he hopes the friends and teammates at Grandview realize that this was simply a business decision for his future.
— Noah Schmidt (@Nschmidt2930) June 7, 2020
Schmidt broke the news of his departure on social media on June 6 and a few days later was in Arizona going through introductory offseason workouts with Hamilton.
"It's really hard, nothing is really normal right now, packing up everything to come down here so I can have my senior year," he said. "I'm super thankful that my parents are letting me do it. I don't think I've fully processed it yet, but I'm definitely committed to being down here and really looking forward to it."
Grandview head coach John Schultz had no comment on Schmidt's move, other than to say it was a "family decision."
Sacrifice necessary
No matter how scared they are about not having a football season in Colorado, not every family is able to pick up and leave the state because of it.
The Schmidts made it happen at great personal cost, while they also had to uproot their younger son, Nate, who quarterbacked Grandview's freshman team to a nearly undefeated season last year.
The belief and support of their son and his dreams softened the blow.
"We're losing a six-figure deposit on a house and while my husband can transfer to Arizona with his company, I can't, so there's also job loss involved," Tracey Schmidt said. "There are sacrifices being made, but ultimately the biggest sacrifice would be not playing.
"Some people might think we're crazy, but for your kids, you do anything. We'll figure out the rest, but we've figured out that some things are bigger than others."
Outside of creature comforts, the Schmidts also sacrificed the comfort of knowing exactly what to expect from the football program their sons played for.
They knew the Grandview coaches personally, the practice schedule and the playbook intimately. With all those things now gone, it is a minute-to-minute adjustment to the unknown.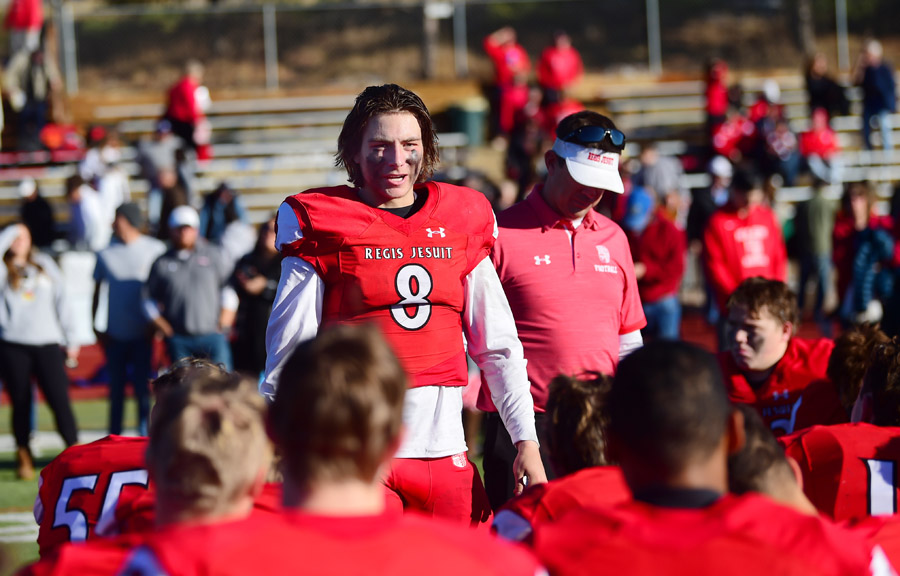 Marchiol moves early, paves the way for more players from Colorado
The Schmidts might not have made it to Arizona — or at least to Hamilton specifically — if not for the encouragement of another former Aurora prep star, quarterback Nicco Marchiol, whose move out of Colorado came before COVID-19.
The promising 6-2, 211-pound signalcaller threw for 4,203 yards and 43 touchdowns in two varsity seasons at Regis Jesuit, helping the Raiders to an 18-6 mark in that span, a pair of South League championships and two solid 5A state playoff appearances.
Marchiol — the son of Ken Marchiol, who made it to the NFL briefly in 1987 — had double-digit Division I offers already in his back pocket, but he wanted to raise the level of competition he faces and also be closer to the private quarterbacks trainer he'd used since sixth grade, Arizona-based guru Mike Giovando.
"I was definitely wanting to play some better competition and see some new teams," Marchiol told the Sentinel.
"I really believe Arizona has become a hot spot (for talent) along with Texas, Florida and a few other places. My intention was to be in one of those elite spots."
Marchiol considered several of Arizona's top prep programs before he found what he believes to be the best situation at Hamilton, a school of nearly 4,000 students located in Chandler that sits No. 4 on MaxPreps' list of most popular programs in the state.
The Huskies, a regular state title contender over the past decade, have a well-connected coach in Mike Zdebski and graduated its 2019 starting quarterback.
Since arriving at Hamilton — and without playing an official snap yet — Marchiol's list of offers has increased to 20, including one from defending national champion Louisiana State. The four-star prospect according to 247 Sports plans to narrows his list down to seven by the start of his junior season.
In a short time, Marchiol has helped Hamilton build a stockpile of Colorado standouts, as former Valor Christian standout defensive back Jack Howell — a recent Colorado State commitment — and Schmidt have followed.
Offensive lineman Jonathan Lozano, formerly of Falcon, also ended up at Hamilton through no connection to the other Colorado players.
The Arizona Interscholastic Association has transfer rules in place, but only for those who had already attended a high school in the state Assistant Executive Director Joe Paddock told the Sentinel, meaning the Colorado kids should not lose any eligibility as new arrivals.
If any questions arise, the state does have a hardship waiver process available. Each case is considered based on its unique circumstances.
A Colorado product made a big impact last season in Arizona high school football in running back Daevon "Dae Dae" Hunter, whose arrival helped Chandler High School go undefeated and win the state's Open Division state championship.
But just because this year's group of Colorado players is there, doesn't mean they are guaranteed anything.
"From Day One, Coach Zdebski said I'm going to have to fight for the job, it's not like I'm coming here to automatically be the starter," Marchiol said. "I like the competition. Noah is fighting for his spot as well.
"I think our teammates realize we can be really good additions to the team. I think we can be something special."
California also got a well-regarded Colorado prep quarterback in Aspen's Tyler Ward, who headed west to play for a higher-profile program at Calabasas High School in the Los Angeles area.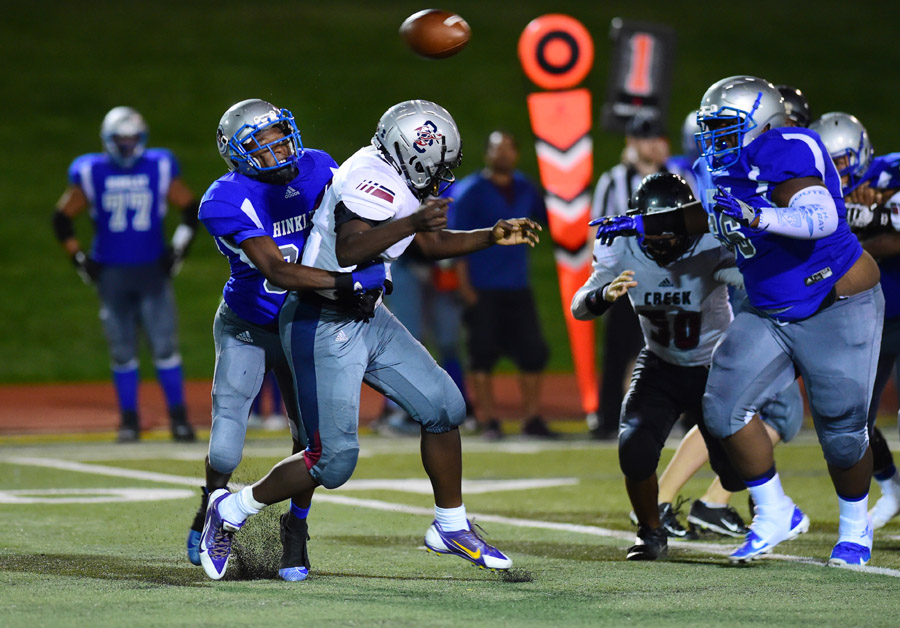 Vacation turns to move for Starks
Keenan Starks spent the past two seasons playing for Hinkley, but made the move from Aurora all the way to Hueytown, Alabama, ahead of his junior season for non-coronavirus reasons.
The 6-foot-3, 173-pounder racked up 177 tackles in his first two varsity seasons and earned second team All-Pioneer League honors as a sophomore for the Thunderbirds.
Starks originally planned to stay in Aurora, where he had a lot of pride in helping Hinkley rise over the past two seasons (in which it went 13-7), but a vacation unexpectedly turned into his next destination. His dad and his side of the family lives near Hueytown.
"It makes me sad, I let down a couple of people back at Hinkley that needed my help," Starks told the Sentinel. "It was a risk, but I stayed out here for the competition and the exposure so I can hopefully get to the next level."
Starks — who said the Hueytown coaching staff plans to begin him at outside linebacker and gradually convert him to safety due to his size — would love to get the chance to play at Florida State (his "dream school"), Florida or Oregon. Outside of that, he'll be on the lookout for a program like Hinkley, "a good school, but under the radar," that he can help improve.
Exposure shouldn't be a problem, as Hueytown High School is the same high school former Tampa Bay Buccaneers quarterback Jameis Winston attended before playing for Florida State. The Golden Gophers finished 11-2 last season playing in 6A, Alabama's largest classification.
Starks' older brother Xavier played quarterback for Hinkley last season and is now at Panhandle State University in Oklahoma, while his younger brother will be with the Thunderbirds this fall.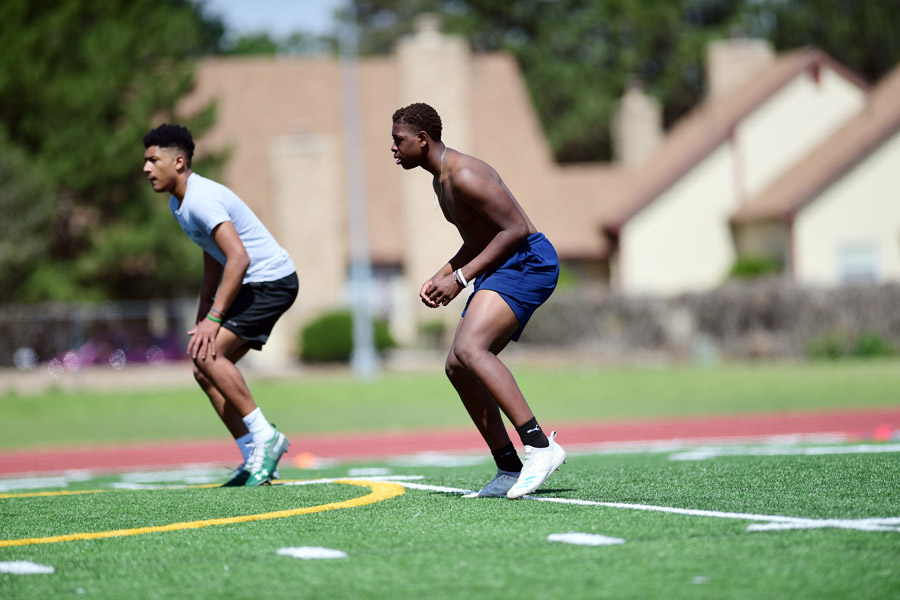 Coronavirus in control
Update: Arizona Gov. Doug Doucey's executive order prompted the AIA to "delay the resumption of all school-related athletics and activities until Aug. 17. This will push back the starting dates of practice for all fall sports and activities, and delay the start of competition seasons."
Despite all of sacrifices, moves and optimism, the ongoing coronavirus pandemic owns the prep football playbook.
Just as the Colorado players have begun to get settled in Arizona, the state has turned into one of the country's hot spots for COVID-19. Arizona was one of the first states to shut down when the coronavirus arrived and also one of the first to relax regulations.
The Center for Disease Control and Prevention data as of June 24 showed 54,586 positive cases of coronavirus and 1,342 deaths in Arizona, which has had a recent surge that coincided with more testing.
The first known high school football player in the state — who hails from Brophy Prep in the Phoenix area — tested positive last week according to the Arizona Republic. That player had been part of the socially distanced workouts.
Paddock told the Sentinel that Arizona is currently "preparing for a full season, but have contingency plans being built in case that does not occur."
School is scheduled to start in Arizona on July 22.
In relation to Arizona, Colorado seems to be trending the other way when it comes to coronavirus data as the latest CDC info puts the total cases at 30,705 and total deaths at 1,675, though not all have been attributed to COVID-19.
Grandview football coach John Schultz believes that as a state, Colorado is doing an "excellent job" with its response to the virus, but still can't anticipate what is going to happen in the coming months.
"It's really out of our hands," Schultz said. "I think we're one of the tops in the country as far as the rate going down, but we'll just have to wait and see."
In a June 19 update, Blanford-Green called the organization's outlook more optimistic given the loosening of restrictions by Colorado Gov. Jared Polis' office.
Blanford-Green wrote there was hopes of "resuming fall sports on their scheduled start dates," although that could change given that Colorado has many different areas affected differently by the coronavirus. (Blanford-Green's latest update from July 2).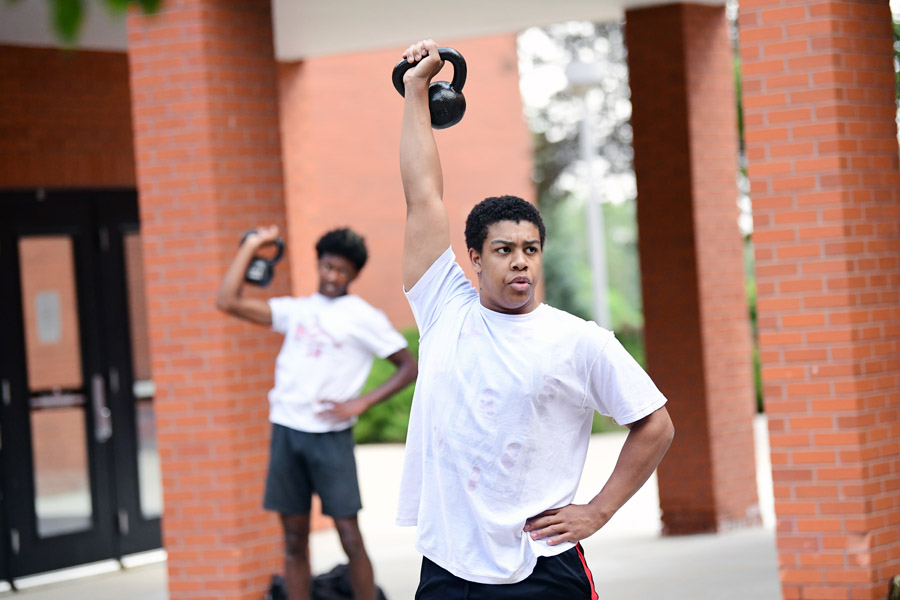 Colorado doing its best
Face shielded by a green mask, Shawn Marsh rolled through the field to the north of Eaglecrest High School on a golf cart June 19, keeping a watchful eye on players going through drills.
The Eaglecrest head football coach had been champing at the bit to get together with his players and had crafted an elaborate plan for safe workouts with a twist.
When the Cherry Creek School District revised its timetable for allowing coaches and athletes together at its outdoors facilities June 15, Marsh immediately put his plan into action during the three days per week that activities are permitted.
Marsh broke up players into groups of nine and set up a large number of stations that allow players to work on strength, agility, explosion and footwork, using implements including ropes, weight plates, kettlebells, sledgehammers and weight sleds, all with proper social distancing. He sent out online assignments to players to give them individual responsibilities to lead their groups at each station, including video clips so they could learn.
"We've all got to be flexible and do what's right for our kids, while trying to make sure they can still be active and be able to participate in sports," Marsh said.
"We've got to follow the protocols and the policies. It's changed stuff up, but for us at Eaglecrest, it's going to make us better."
Making improvement with all the actual footballs still tucked away in the equipment shed is difficult, but the Raptors believe they will get better in a different way.
Marsh has put the onus of responsibilities on his players when it comes to the workouts, with coaches around to observe, reinforce social distancing and clean all implements with sprays and wipes each time they are used.
"We're using this as leadership training because every one of our kids have to lead a station," Marsh said. "It forces leadership from kids that might not gravitate towards that.
"It's really changed the investment I think. They can't just show up."
Marchiol's former Regis Jesuit program began its workouts June 8 and other school districts around the state have begun allowing socially distanced workouts with coaches and players — including Jefferson County, which originally closed its facilities until August — while Aurora Public Schools had targeted July 1, but got the OK to begin June 25.
The first week of July should answer more questions for prep football coaches in Colorado, when they should find out it larger groups will be allowed. Still, the ability to put 65 players together on a sideline in a sport where close contact is the norm remains the challenge.