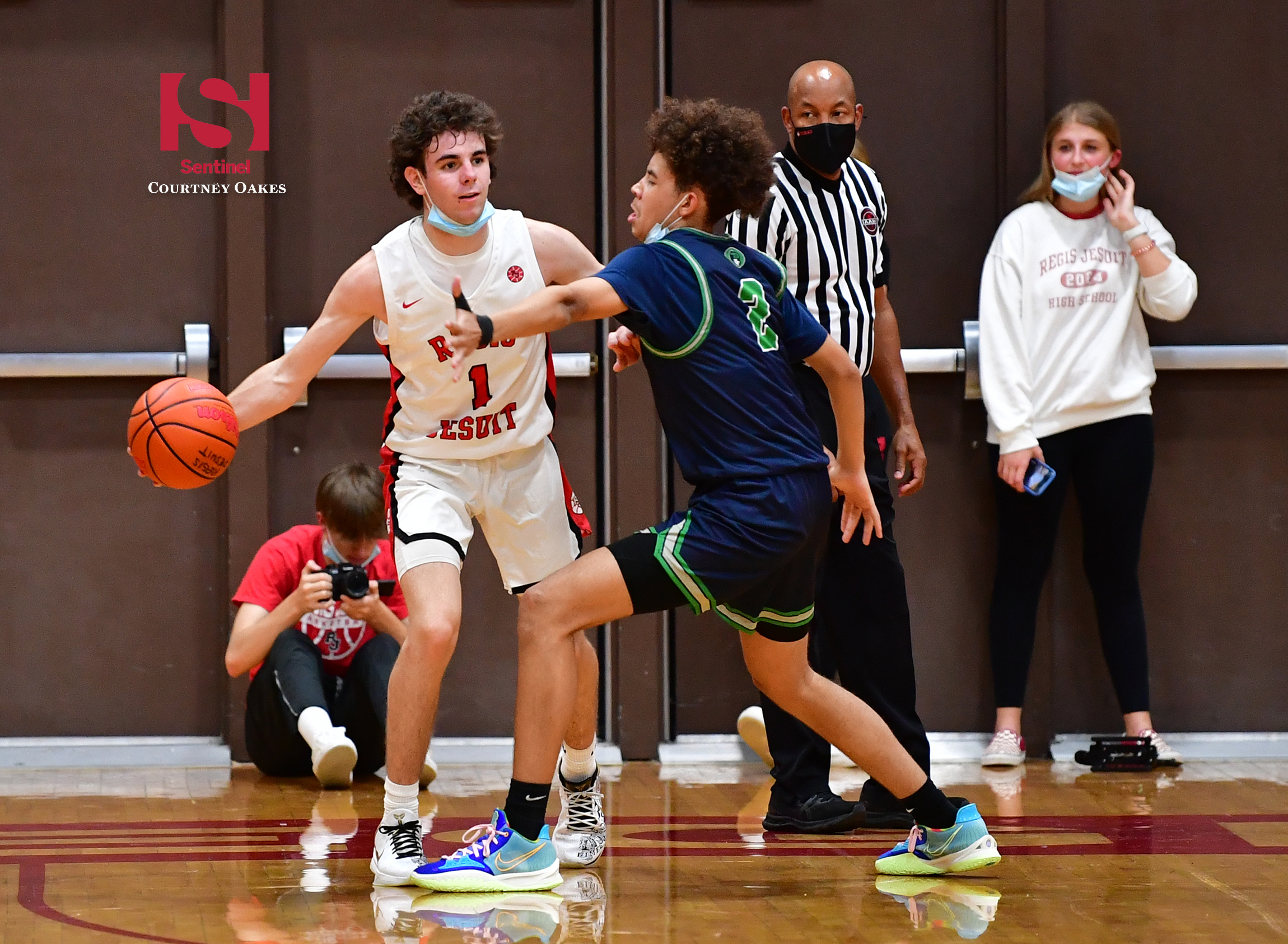 AURORA | Archer VanSickle stepped to the free throw line Wednesday night and treated it calmly and casually, just like he does in practice every day.
But the circumstances in which the Regis Jesuit junior guard shot his free throws in were anything but typical, as they came after a wild final sequence that put the result of the game with visiting Overland in the balance with just 0.3 of a second left on the clock.
Two free throws would have been enough to send coach Ken Shaw's Raiders to victory, but the junior knocked down all three to give Regis Jesuit an improbable 70-68 victory in a season-opening matchup of traditionally outstanding Aurora programs.
"Every day we practice pressure free throws, so it was just routine, step up to the line and shoot them like you do every day," VanSickle said. "Just had to take a couple of deep breaths and put them in."
Coach Danny Fisher's Trailblazers saw a double-digit lead get away and then rallied from a seven-point deficit in the last three minutes to go ahead by a point in the closing seconds on a running bank shot by senior Remy Wedgeworth.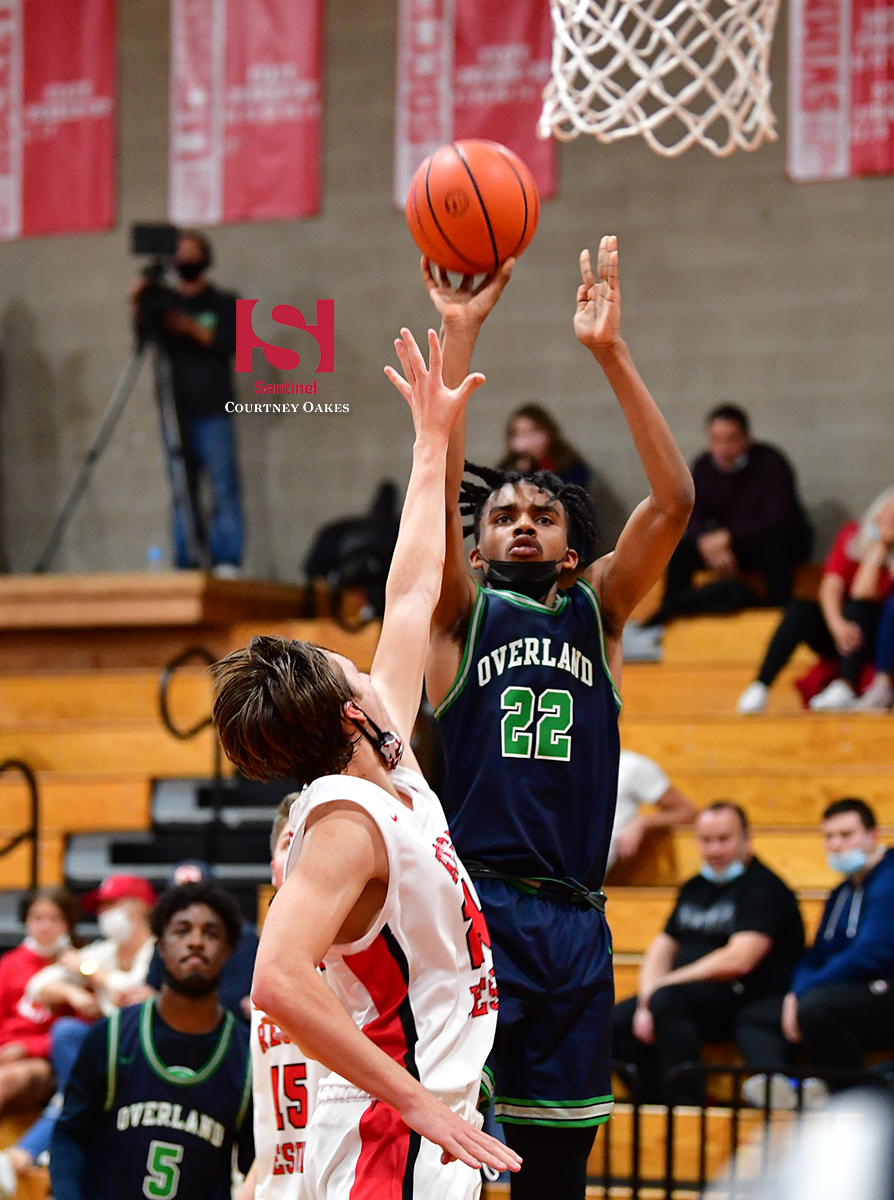 VanSickle got the inbounds pass and launched a desperation shot from well beyond midcourt, which went wide, but the official on the spot deemed the contact made by Overland defender Jayden Kelsey on VanSickle was enough to warrant a shooting foul.
VanSickle put the finishing touches on a 22-point night — which tied him with fellow junior TaRea Fulcher for game-high honors, while senior Kyle Sandler and junior Cole Records joined them in double figures with 11 and 10 points, respectively — and it became a walk-off victory as the Trailblazers (who had no time outs left) couldn't get off a shot in the 0.3 of a second left on the clock.
"I guess the basketball gods were on our side this time," a surprised Shaw said afterwards.
Overland — which had four players score in double figures in Wedgeworth (16), newcomer Taveon Long (15), Kelsey (14) and junior Marzouq Abdur-Razaaq (10) — built a five-point lead at halftime and upped it to double figures midway through the third quarter.
The Raiders went on an 8-0 spurt to pull within two going into the final quarter and went on another 8-0 run in the fourth — which included a spinning layup that turned into a three-point play for Fulcher — to go up 62-55 with just 2:35 left.
The Trailblazers didn't fold, however, as Kelsey (a freshman) made two of his game-high four 3-pointers, including one to cut Regis Jesuit's lead to 67-66 with 13.7 seconds left. A carry called on Regis Jesuit allowed Overland possession that resulted in Wedgeworth's go-ahead basket before the finishing sequence.
"That was a back and forth game that had some uncharacteristic things happen; fortunately enough the last uncharacteristic thing went in our favor," Shaw said. "It was a good basketball game, we came back, they came back, there were no turning points in the game other than Arch's free throws at the end."
Fisher certainly was unhappy with the call that decided the game, but he thought the game wouldn't have come down to that sequence had his team taken care of the ball better in key stretches and closed out the second and third quarters instead of letting the Raiders take back some of the momentum.
"It's game one and we played a really good team and had them on the ropes," Fisher said. "We are going to learn a ton from that one."
Overland heads out to another difficult road test with a 7 p.m. visit to Chaparral Friday, while Regis Jesuit returns to its home floor at 4 p.m. Saturday against rival Mullen.
Courtney Oakes is Sentinel Colorado Sports Editor. Reach him at [email protected]orado.com. Twitter: @aurorasports. IG: Sentinel Prep Sports
REGIS JESUIT 70, OVERLAND 68
Score by quarters:
Overland      19  18  14  17 — 68
Regis Jesuit  16  17  16  21 — 70
OVERLAND (68)
Victor Harp 4 0-0 9, Jayden Kelsey 5 0-0 14, Taveon Long 5 2-2 15, Remy Wedgeworth 5 4-4 16, Marzouq Abdur-Razaaq 5 0-0 10, Hamza Mursal 0 2-2 2, Mohammed Sultan 1 0-0 2, Khalil Ali 0 0-0 0, Christopher Linzy 0 0-0 0. Totals 25 8-8 68.
REGIS JESUIT (70)
Archer VanSickle 7 5-6 22, TaRea Fulcher 10 1-1 22, Matt Yost 1-2 1, Cole Records 5 0-0 10, Kyle Sandler 3 3-4 11, Tavian Willsea 1 0-0 2, Andrew Leikam 1 0-0 2. Totals 28 10-13 70.
3-point field goals — Overland (10): Jayden Kelsey 4, Taveon Long 3, Remy Wedgeworth 2, Victor Harp. Regis Jesuit (5): Kyle Sandler 2, Archer VanSickle 2, TaRea Fulcher. Total fouls — Overland 16, Regis Jesuit 13. Fouled out — None. Technical fouls — Regis Jesuit: Administrative