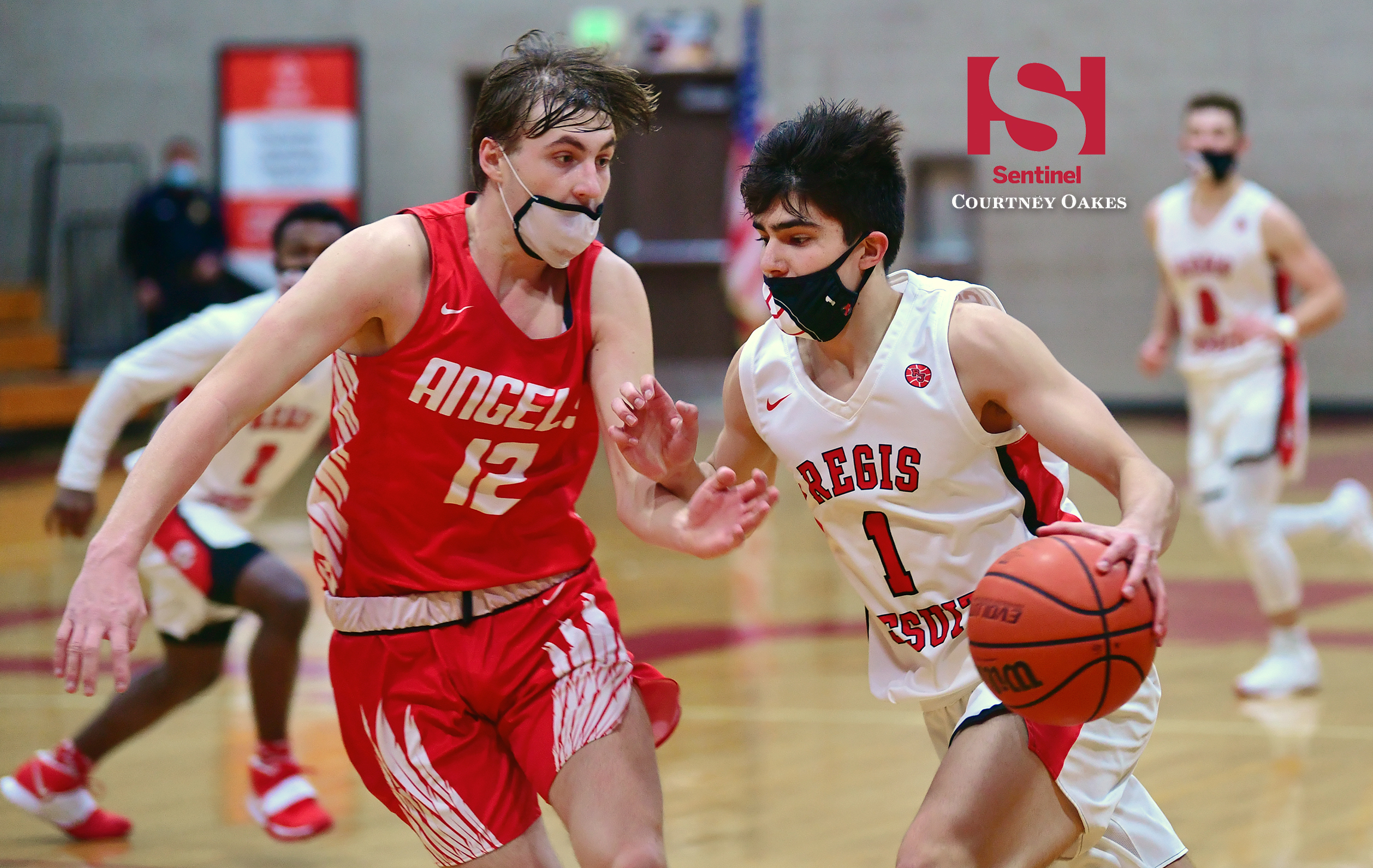 When a coach who with more than four decades of experience and well over 700 career victories to his credit calls something impressive, there's more than a good chance it is.
That's the way legendary Colorado prep coach Ken Shaw — who ranks third on the state's all-time list in career wins — described what he saw from his Regis Jesuit boys basketball team Feb. 20.
His Raiders trailed Denver East (headed by a legend itself in Rudy Carey) by 17 points at halftime and their usual shooting touch and confidence appeared absent early in a rare Saturday evening contest.
But instead of getting run out of its own gym, Regis Jesuit pulled a stunning reversal and went on to what turned out to be a double-digit victory that kept it unbeaten on the season.
"I told the guys I've been involved in over 1,100 high school games and I don't know that I've been in one that had the turnabout that one did," Shaw said. "To go from a tough start on the verge of getting blown out down 17 at half against a very good team and to make a comeback and show character. We changed some of the things that were kicking our butts early, turned the tables a little bit and guys were making confident plays.
"I'm just really proud of our guys, it was impressive to watch."
In a season full of difficulties and challenges posed by the coronavirus pandemic, a recent rash of comebacks have made it memorable of late for local teams. With the season shortened, each victory and loss is magnified and will have an effect on the postseason, which begins in just more than a week.
For Regis Jesuit, that was a second half in which it outscored a quality Denver East team 53-26 and came away with a 75-65 victory that seemed impossible when the teams — matching up for the first time since last season's Class 5A state playoffs — left the court at half.
The Raiders' veteran presence made a big difference, as they kept their composure and methodically worked their way back.
Junior Kyle Sandler made three straight 3-pointers to open the third quarter and ignited the entire team, while sliced the deficit to seven going into the fourth quarter and pulled even with three minutes left on the first of three quality finishes by fearless sophomore guard TaRea Fulcher.
"We were missing shots early that we knew we could make," said senior Blakeley Stoughton, who led four players in double figures with 21 points. "We just had belief in each other and we knew we could get back into it."
Once they got the lead, the Raiders finished the game from the free throw line and were remarkable 15-for-16 from the charity stripe in the final period.
The victory also was significant in that it netted Shaw his career win No. 783, while denying Carey his 846th in a rare matchup of two of the top three coaches — both of which are chasing former Denver Christian great Dick Katte — in Colorado history.
Regis Jesuit's comeback stood out by its magnitude, but the most remarkable comeback of the week — and likely the season — in terms of circumstances came from the Eaglecrest boys basketball team Feb. 19.
Visiting rival Smoky Hill for the first meeting of the season after the first one got canceled by quarantine, the Raptors found themselves down by 14 points in the fourth quarter — and by eight with just 30 seconds remaining — yet manage to force overtime and come away with a stunning 80-76 victory.
It wasn't without controversy, as Eaglecrest inadvertently had six players on the court during a free throw attempt in the final minute — five on the court and one near the sideline — but officials did not penalize the Raptors with a technical foul which comes with the infraction.
Senior Ty Robinson (who had a game-high 31 points) drained a 3-pointer seconds later to cut the deficit to two and Eaglecrest tied it on Brayden Legette's free throws. In the extra session, junior Jayden Washington scored six of his 11 points to lift Eaglecrest — which also got nine points in the fourth quarter and OT from sophomore Peyton Taylor — to victory.
"I'm going to have to go watch the film because it was a blur," Eaglecrest coach Jarris Krapcha said afterwards. "We got it down to two and then they got it back to eight and I thought 'this game is basically over,' but next thing you know, missed free throw, 3-ball, inadvertent whistle, you don't know what's going on. I'm just proud that our kids never quit and kept battling."
Coach Anthony Hardin's Buffaloes evened up their fortunes in their next game, when they erased a seven-point deficit inside the final 50 seconds against Arapahoe to force overtime. With Brayden Maldanado going for 29 points, Smoky Hill finished this time for a 93-88 win.
Courtney Oakes is Sentinel Colorado Sports Editor. Reach him at [email protected] Twitter: @aurorasports. IG: Sentinel Prep Sports