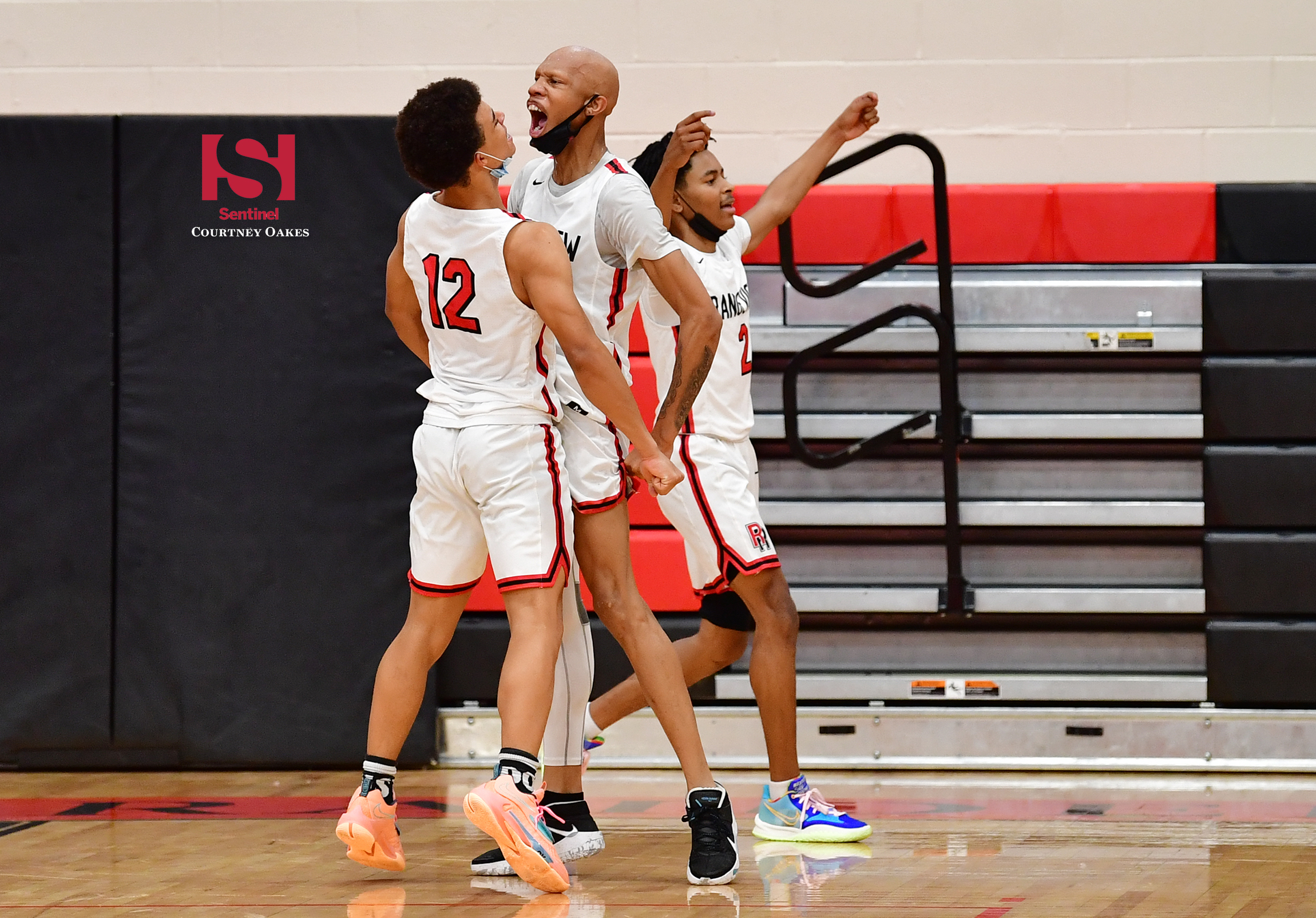 AURORA | From the sites and sounds inside the Rangeview High School gym Thursday night, there's no way the boys basketball matchup between the host Raiders and Overland could just be a second-week-of-the-season game in early December. Could it?
It was, indeed, as the two nearby Aurora schools absolutely delighted a packed house with a back-and-forth, playoff-like contest that went down to the final seconds to decide.
Senior KK Stroter's baseline floater with 15 seconds remaining — combined with another basket at the final horn — eventually brought Rangeview through with a 69-65 victory to even its record at 2-2, while the Trailblazers lost another close game and fell to 0-3.
Tied at 65-65 inside the final minute, both teams committed turnovers while trying to set up a shot, which gave Rangeview the ball back with 32 seconds left. The Raiders worked the ball around and senior Elijah Thomas (who had a game-high 22 points) kicked it in the corner to Stroter, who faked a 3-pointer to get around his defender and finished inside.
Overland — which didn't have senior Remy Wedgeworth in the lineup — went to junior Marzouq Abdur-Razaaq, who got swarmed on his drive to the basket and had his shot blocked by the combination of Thomas and Stroter. The ball bounced off Abdur-Razaaq as he went to the floor, giving it to the Raiders.
A lob downcourt took off most of the remaining time and Stroter made a layup as time expired to give Rangeview a win its first game on its home court since a Class 5A semifinal loss to George Washington to end last season, when spectators were limited.
Thomas was joined in double figures for coach Shawn Palmer's Raiders by seniors Malik Frazier (who hit a go-ahead 3-pointer in the fourth quarter) and Chris Watkins, who finished with 15 points apiece. Stroter ended up with nine, half of his scoring average from the first three games.
Abdur-Razaaq led Overland with 19 points, while senior Taveon Long added 12, senior Victor Harp 11 and senior Christopher Linzy 10, including six points in the fourth quarter on a follow, tough inside drive and jump shot.
Coach Danny Fisher's Trailblazers lost a second game in the closing seconds, following a 70-68 defeat at fourth-ranked Regis Jesuit in which they had the lead until 0.3 of a second remained, and they also lost a five-point road contest at No. 3 Chaparral.
It doesn't get any easier for Overland, which plays on the road at No. 10 Denver East Dec. 13, while Rangeview visits Grandview Dec. 14.
Courtney Oakes is Sentinel Colorado Sports Editor. Reach him at [email protected] Twitter: @aurorasports. IG: Sentinel Prep Sports
RANGEVIEW 69, OVERLAND 65
Score by quarters:
Overland    21  17  15  12 — 65
Rangeview  10  21  20  18 — 69
OVERLAND (65)
Victor Harp 5 1-2 11, Jayden Kelsey 2 2-2 8, Taveon Long 6 0-1 12, Christopher Linzy 4 2-3 10, Marzouq Abdur-Razaaq 8 3-4 19, Hamza Mursal 2 0-0 5, Siraaj Ali 0 0-0 0, Mohamed Altaieb 0 0-0 0. Totals 27 8-14 65.
RANGEVIEW (69)
Chris Watkins 4 7-10 15, Hanif Muhammad 0 0-0 0, Elijah Thomas 9 2-3 22, KK Stroter 4 0-2 9, Malik Frazier 4 3-4 15, Tyrele Wake 2 0-0 6, Bryce McCutcheon 1 0-0 2, Demarco Duncan 0 0-0 0, Tave'on Taylor 0 0-0 0. Totals 24 12-19 69.
3-point field goals — Overland (3): Jayden Kelsey 2, Hamza Mursal. Rangeview (6): Elijah Thomas 2, Tyrele Wake 2, Malik Frazier, KK Stroter. Total fouls — Overland 18, Rangeview 15. Fouled out — None. Technical fouls — None.