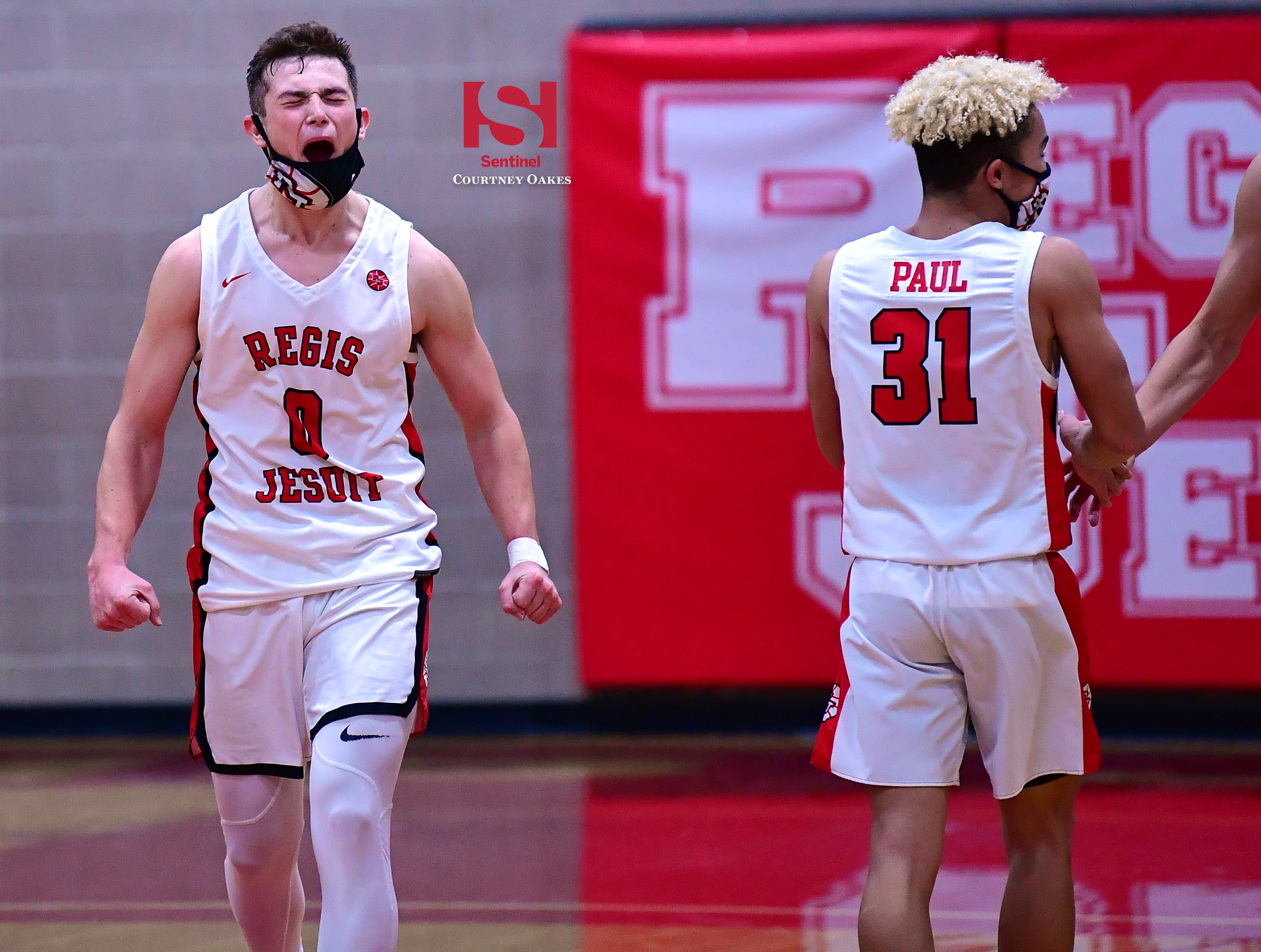 AURORA | Ken Shaw has seen just about everything in more than four decades as a high school basketball coach in Colorado, but he wasn't sure he'd witnessed what happened Saturday.
With very little going right and its usual shooting prowess nowhere to be found, Shaw's Regis Jesuit boys basketball team found itself down 17 points at halftime to a rolling Denver East team, but the final quarters were the completely opposite as the Raiders surged past the Angels for a memorable 75-65 win to maintain their unbeaten record.
Senior Blakeley Stoughton scored 21 points to lead four players in double figures and sophomore TaRea Fulcher tallied all seven of his points in crunch time to give Shaw victory No. 783 in his illustrious career and prevent longtime Angels coach Rudy Carey from adding No. 846 to his own jaw-dropping resume.
"I told the guys I've been involved in over 1,100 high school games and I don't know that I've been in one that had the turnabout that one did," Shaw said. "To go from a tough start on the verge of getting blown out down 17 at half against a very good team and to make a comeback and show character. We changed some of the things that were kicking our butts early, turned the tables a little bit and guys were making confident plays.
"I'm just really proud of our guys, it was impressive to watch."
In the chess match between coaches with more than 1,600 career victories — Carey ranks No. 2 behind former Denver Christian coach Dick Katte on Colorado's all-time list with Shaw third — the Angels (8-3) were multiple steps ahead for the first two quarters.
Paced by Quis Davis and D'Aundre Samuals (who each finished with 16 points), Denver East led 24-9 after one quarter and 39-22 at the break, with the only first half highlight for Regis Jesuit coming in the first appearance of the season for senior post player Ty Bergman, who knocked down two 3-pointers to help the cause.
Otherwise, it was an exercise in futility, as shot after shot clanged off the rim.
"We were missing shots early that we knew we could make," said Stoughton, who had just six points in the opening half. "We just had belief in each other and we knew we could get back into it."
Shaw was pleased to see the positive body language for his veteran team even with such a big deficit against a quality team and the Raiders flipped a switch in the second half.
Things changed instantly, as junior Kyle Sandler knocked down a 3-pointer on the first possession of the quarter for Regis Jesuit and made two more in short order to give the Raiders some momentum. The Angels weathered the storm at the time, however, and pushed the lead back to 16 points on an Aguir Dawam layup with 3:20 left in the third quarter.
Regis Jesuit ended the period on a 12-3 run to get within seven at 54-47 and kept chipping away at the deficit in the early stages of the fourth.
Stoughton's layup made it a four-point game before Fulcher — who had been scoreless in the first three quarters — asserted himself. He finished through contact on a dish from senior Alonzo Paul to make it a two-point game and he tied it at 62-62 with three minutes left after he bounced off Denver East defender Darus Samuals and banked in a shot while falling down.
Paul (who joined Sandler with 11 points) put the Raiders ahead for good with two free throws with 1:25 left that he followed with a steal. With just inside two minutes left, Fulcher saw an advantage with the 6-foot-7 Dawam picking him up behind the 3-point line to drive for another bucket.
"I knew he (Dawam) came out a little too far past the 3-point line that I was faster and I was going to get past him," Fulcher said. "Once I got by, I was around the free throw line and I knew I was going to finish, so I got in the air and put it off the glass.
"Our coaches are heavy on shoot a shot you shoot in practice, so everything you see me shoot, I do in practice," he added. "I've practiced contact finishes from a young age. I'm a smaller guard, so I know sometimes I have to be able to adjust my shot in order to get it up and give it a chance to go in."
From there, Regis Jesuit closed out the way it had many times this season by taking care of the ball and making free throws.
The Raiders finished 15-for-16 from the free throw line — including a 4-for-4 performance from Wolf (15 points) in the final minute — to seal it.
"It felt like any other game once we got the lead, we knew we could keep it and we hit some big free throws down the stretch; that was really important," Stoughton said.
Regis Jesuit turns right around with a non-league matchup against Northfield Monday.
Courtney Oakes is Sentinel Colorado Sports Editor. Reach him at [email protected] Twitter: @aurorasports. IG: Sentinel Prep Sports
REGIS JESUIT 75, DENVER EAST 65
Score by quarters:
Denver East  24  15  15  11 — 65
Regis Jesuit    9   13  25  28 — 75
DENVER EAST (65)
D'Aundre Samuals 6 2-4 16, Quis Davis 6 2-2 16, Darus Samuals 4 0-0 9, Tom Connelly 2 2-4 8, Aguir Dawam 6 2-4 14, Sander Squibb 0 0-0 0, Jack Darre 0 0-0 0. Totals 25 8-14 65.
REGIS JESUIT (75)
Michael Wolf 3 8-8 15, Blakeley Stoughton 7 6-6 21, TaRea Fulcher 3 1-2 7, Kyle Sandler 3 2-2 11, Alonzo Paul 3 4-4 11, Archer VanSickle 1 1-2 4, Ty Bergman 2 0-0 6. Totals 22 22-24 75.
3-point field goals — Denver East (7): Tom Connelly 2, Quis Davis 2, D'Aundre Samuals 2, Darus Samuals; Regis Jesuit (9): Kyle Sandler 3, Ty Bergman 2, Alonzo Paul, Blakeley Stoughton, Michael Wolf, Archer VanSickle. Total fouls — Denver East 17, Regis Jesuit 13. Fouled out — None. Technical fouls — None.