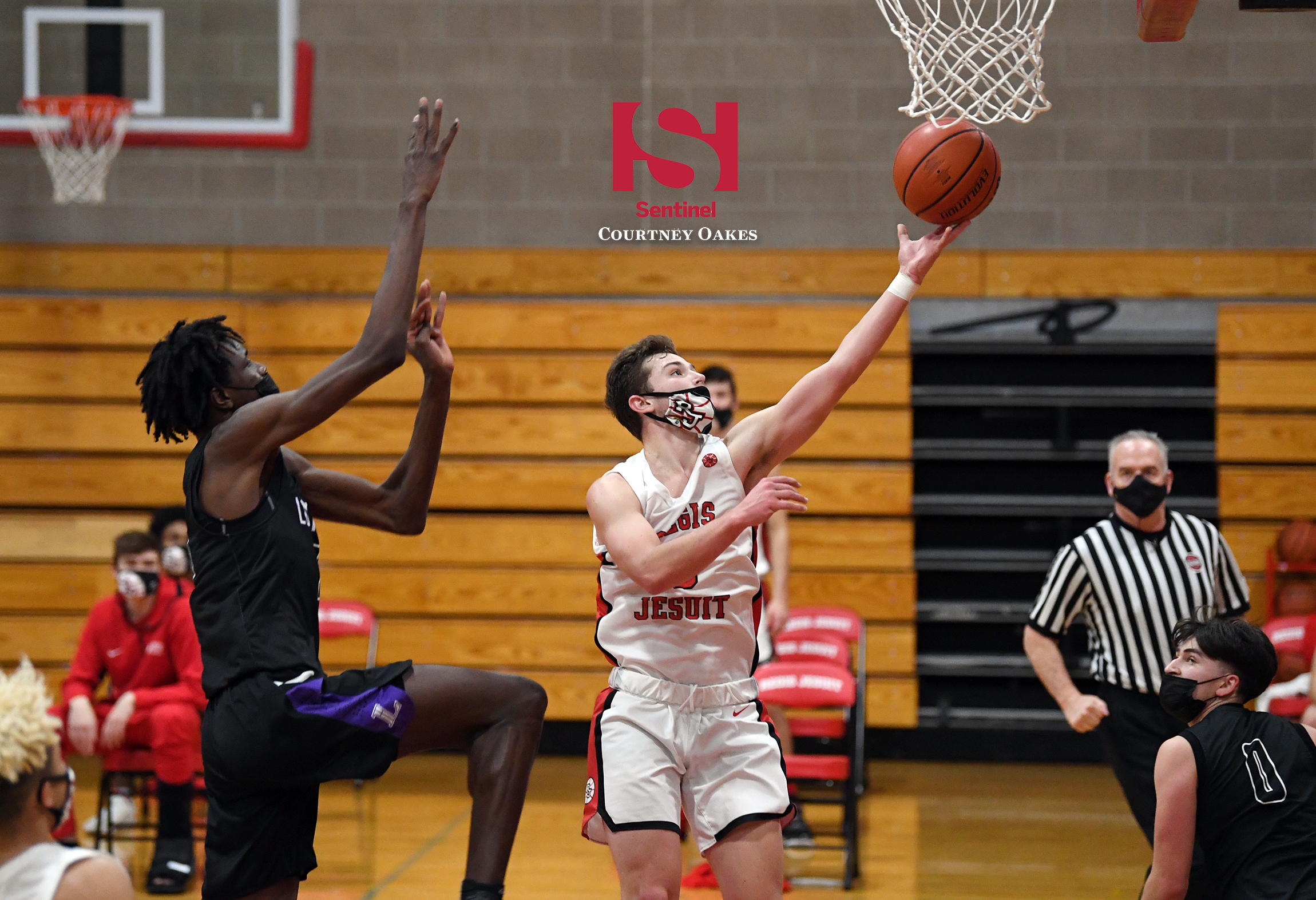 Michael Wolf streaked in all for a layup midway through the third quarter Saturday, seemingly all alone for an easy two points.
The Regis Jesuit senior guard put the ball in his left hand, getting it as close to the basket as possible as he went up, only to have it swatted off the backboard by Lutheran's Baye Fall, a 6-foot-11 center rated as Colorado's top prep prospect.
Wolf also had a 3-point try sent flying by Baye's exceptional wingspan, but he also got off plenty of shots that made it to their intended target. Wolf made four 3-pointers in the third quarter and had five in the game — matched by junior teammate Kyle Sandler — on his way to 25 points in the Raiders' 83-46 win over the Lights, the top-ranked team in Class 3A.
"I don't think I've been guarded by anybody taller than 6-5 before," Wolf said. "I gave him his props, he got me on a couple of good blocks."
"I think this might be the first time I've ever been guarded by a guy more than 6-foot-5," Wolf said. "Usually, they don't put anybody on me with that length, but they put some length on me and he got me. I have to give props to him on two occasions for big blocks. …He came from the free throw line on the layup. His length is just unreal."
Otherwise, there was little Lutheran could do to stop the shooters on coach Ken Shaw's Regis Jesuit team, which knocked down 13 in the game. Sandler finished with 19 points, while senior Blakeley Stoughton added 16 and senior Alonzo Paul 13.
The impressive performance came in a game the Raiders picked up  after losing its previously scheduled Continental League game with ThunderRidge due to quarantine.
Senior post player Ty Bergman remained sidelined due to injury and with the loss of a sophomore guard before the game due to quarantine, but it didn't hold them back against the Lights.
The Raiders took turns lighting it up from the field, which kept the Lights' defense scrambling. Sandler made three 3-pointers and scored 11 in the opening period, Stoughton had eight in the second quarter and Wolf drained four triples and cashed 14 of his points in the third quarter.
Meanwhile, Regis Jesuit did an outstanding job on defense in the opening half, keeping Lutheran scoreless for a stretch of 7 minutes, 20 seconds, during which the went from a three-point deficit to a 22-point lead.
Fall had seven in the opening half.
The Raiders piled it on with a 30-point third quarter.
Regis Jesuit pays a visit to Highlands Ranch at 5:30 p.m. Tuesday.345
REGIS JESUIT 83, LUTHERAN 46
Score by quarters:
Lutheran      11  15  10  10 — 46
Regis Jesuit  19  22  30  12 — 83
LUTHERAN (46)
Josh Greining 2 0-0 5, Mamadou Sow 4 2-4 10, sam Hoops 2 4-4 8, Tommy Apodaca 2 2-2 8, Baye Fall 5 1-5 12, Noah Greenwood 0 0-0 0, Caleb Wilcox 0 0-0 0. Totals 15 9-15 46.
REGIS JESUIT (83)
Michael Wolf 10 0-0 25, Blakeley Stoughton 6 2-2 16, Archer VanSickle 1 0-0 2, Kyle Sandler 7 0-0 19, Alonzo Paul 6 0-0 13, Clay Nanke 0 0-0 0, Records 2 0-0 4, Solomon's 0 0-0 0. Totals 33 4-4 83.
3-point field goals — Lutheran (4): Tommy Apodaca 2, Baye Fall, Josh Greining. Regis Jesuit (13): Kyle Sandler 5, Michael Wolf 5, Blakeley Stoughton 2, Alonzo Paul. Total fouls — Lutheran 9, Regis Jesuit 17. Fouled out — None. Technical fouls — None.