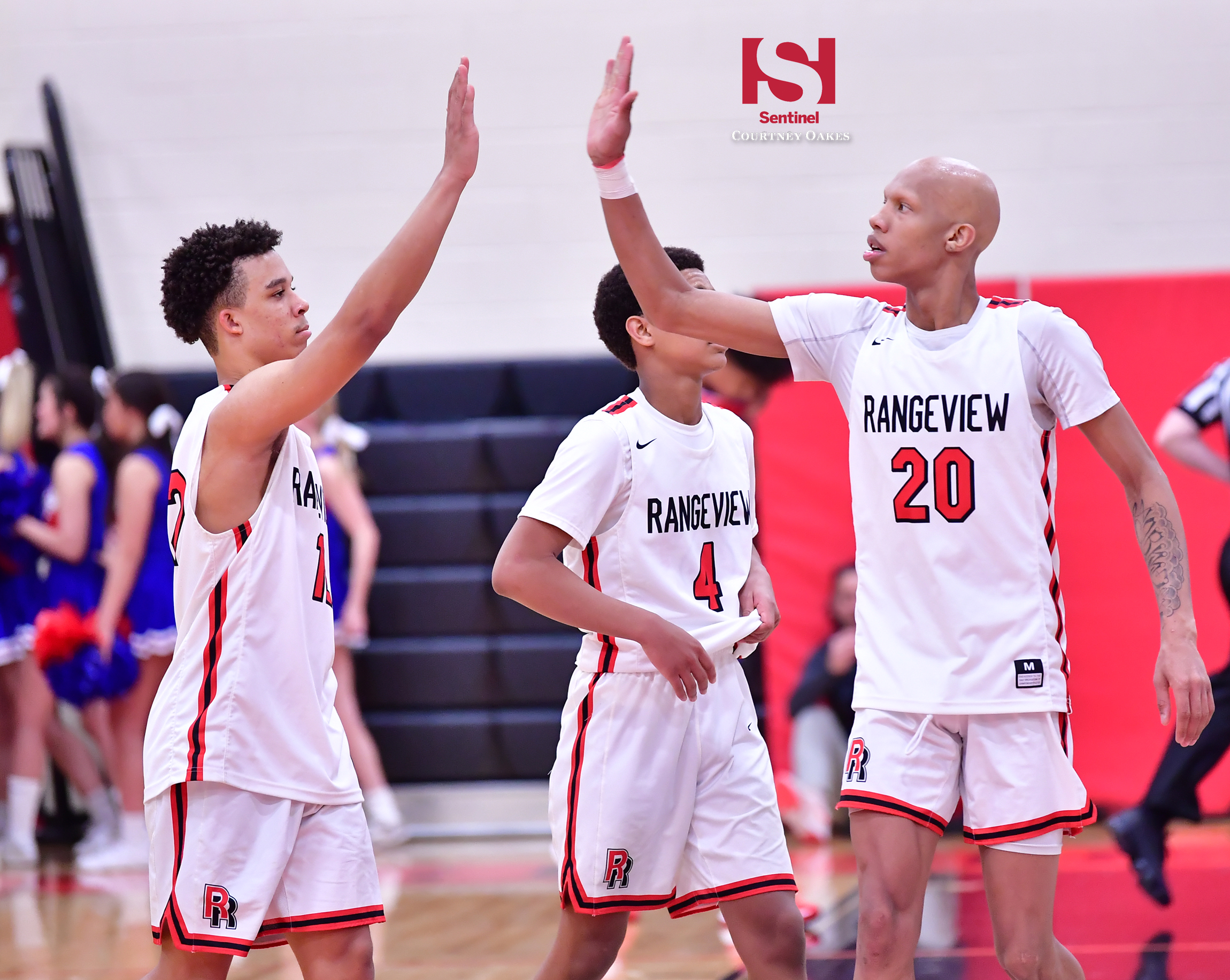 AURORA | All the clutch play of the Rangeview boys basketball team Saturday afternoon nearly got undone by a mistake-filled closing stretch, but the Raiders managed to hold on.
Thirteenth-seeded Rangeview had an eight-point lead over No. 20 Cherry Creek with just 27.6 seconds remaining in regular of their Class 5A second round state playoffs game, but no points and three turnovers later, the Bruins had a 3-point shot to send the game to overtime bounce out.
Coach Shawn Palmer's Raiders prevailed 54-51 to improve to 19-4 move into a Sweet 16 matchup with fourth-seeded Denver East (22-2) in a road contest scheduled for 6 p.m. March 2. The winner of that matchup moves on the Denver Coliseum, where the final three rounds of the postseason have returned after last season's playoffs moved to home sites due to the coronavirus pandemic.
"We made some poor decisions and had some poor execution, whereas usually we have been good at closing out games," said Palmer, whose team reached the Sweet 16 for the fourth straight season and 10th time in the last 12. "It was a struggle. We definitely were trying to lose that one a couple of different times."
Sophomore Hanif Muhammad drained four 3-pointers on his way to a team-high 17 points, while seniors Elijah Thomas and KK Stroter finished with 15 and 10 points, respectively, in the winning effort for Rangeview.
The Raiders are far from alone locally in the Sweet 16, as they will be joined by No. 6 Eaglecrest (which topped Highlands Ranch, story here), No. 10 Regis Jesuit (which handled Chatfield, story here) and No. 11 Smoky Hill (which prevailed over Rocky Mountain, story here).
Rangeview made it into that group in difficult fashion against a Centennial League opponent that has been playing playoff-like contests for weeks. The Bruins (12-11) looked like a potential candidate to pull off an upset in the first quarter, when they came out of the gate strong and built a 10-2 lead.
But the Raiders responded with a 13-2 run to end the quarter with a three-point lead and went into halftime up four. Cherry Creek shaved a point off Rangeview's lead in the third quarter, setting up a big final quarter.
Rangeview looked to take control with an 8-0 run that included a pair of Muhammad 3-pointers sandwiched around a Thomas layup for a double-digit lead. The advantage remained seven points with just 18 seconds left after Stroter made a pair of free throws, but it almost unraveled after that for the Raiders.
Cherry Creek's Blake Purchase scored four of his game-high 22 points in the final 10 seconds and the Bruins were helped by three straight turnovers by the Raiders as they attempted to get the ball into play. The last turnover was a baseball-style pass from under their own basket that went out untouched at the other end, bringing the ball back.
Cherry Creek's shot to tie missed to bring the chaotic final seconds to an end.
"I think we were a little bit anxious both at the beginning and end of the game," Palmer said. "There are some things we need to clean up before we play Denver East."
Courtney Oakes is Sentinel Colorado Sports Editor. Reach him at [email protected] Twitter: @aurorasports. IG: Sentinel Prep Sports
(15) RANGEVIEW 54, (20) CHERRY CREEK 51
Score by quarters:
Cherry Creek  12   9  13  18 — 51
Rangeview      15  10  12  17 — 54
CHERRY CREEK (51)
Carey Booth 1 0-0 3, Blake Purchase 7 8-12 22, Remington Larson 5 0-0 10, Trevon Chambers 3 6-7 15, Dominic Cesario-Scott 1 0-1 2, Asher Nofzinger 0 0-0 0, Matthew Lee 0 0-0 0. Totals 17 14-20 54.
RANGEVIEW (54)
Hanif Muhammad 5 3-4 17, Elijah Thomas 6 2-2 15, KK Stroter 3 2-2 10, Demarco Duncan 1 0-0 2, Malik Frazier 2 1-5 5, Bryce McCutcheon 0 2-2 2, Mareon Chapman 1 0-0 3. Totals 18 10-15 54.
3-point field goals — Cherry Creek (3): Trevon Chambers 3; Rangeview (8): Hanif Muhammad 4, KK Stroter 2, Mareon Chapman, Elijah Thomas. Total fouls — Cherry Creek 18, Rangeview 16. Fouled out — Cherry Creek: Asher Nofzinger. Rangeview: Malik Frazier. Technical fouls — None.