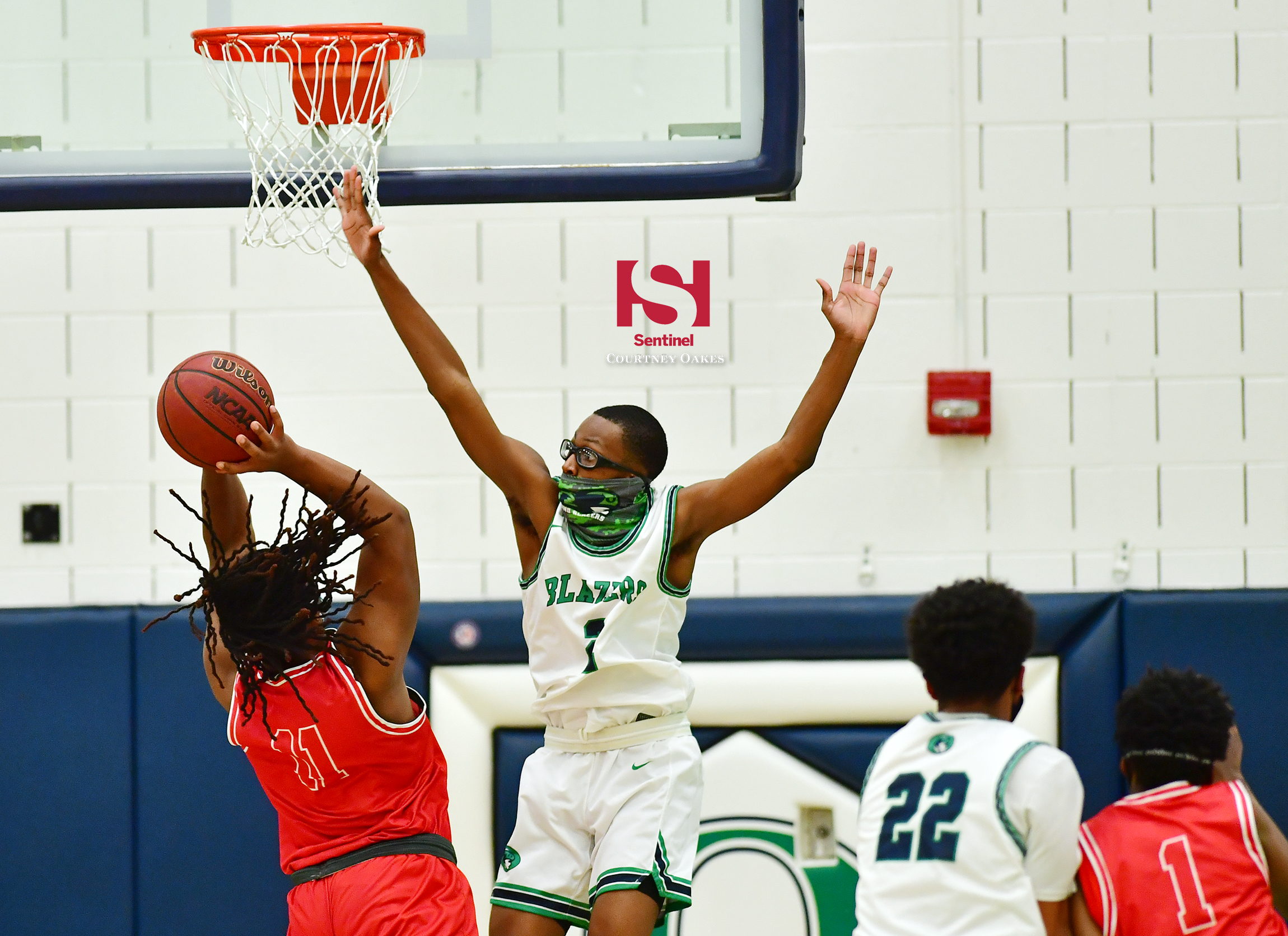 AURORA | Overland's energy came back Friday night.
The Trailblazers were admittedly low on it two days earlier in their previous game and it resulted in a lopsided loss to top-ranked Cherry Creek that looked nothing like the rest of the season.
The energy came back in the subsequent practice and coach Danny Fisher saw it spike again with rival Smoky Hill in the building for a Centennial League clash. Four players scored in double figures and eighth-ranked Overland got the spurts it needed in a strong 80-69 victory over the Buffaloes.
"It all started at practice, everybody came in fired up and ready to bounce back and it carried over into the game," said Trailblazers senior guard Jameel Wright, who finished with a team-high 21 points, including eight in the final quarter. "It was all about energy. Against Creek, we came out with low energy, but this game we came out strong."
Fisher saw the resilience in his team — which has very little varsity experience — following its 78-55 loss to the undefeated and league-leading Bruins, which translated into a victory against a Smoky Hill team that kept coming and coming until the final buzzer.
Juniors Remy Wedgeworth, Victor Harp and Christopher Linzy also scored in double figures as Overland improved to 5-1 overall and 4-1 in league play.
"Coming off a tough loss — and we really got our butts kicked — you want to see how the guys are going to respond," Fisher said. "We had a really good practice yesterday in terms of our approach mentally. The guys weren't too down, so that was the response I wanted to see.
"It's a tough week playing against Creek and Smoky, so we could have folded, but that's the maturity that I hope we continue to show."
It certainly would have been easy for the Trailblazers to drop one to Smoky Hill (3-3, 2-3 in Centennial League), which won on Overland's home floor last season.
Coach Anthony Hardin's Buffaloes — who got a game-high 22 points from junior Brayden Maldonado, plus 19 from senior Jordan Whitaker and 13 from junior Anthony Harris Jr. — led in the late stages of the first half, but trailed by three at the break after a free throw and a late layup by Overland's Kai Ilela.
The Trailblazers held that same margin with under three minutes left in the third period and had Wright on the bench with four fouls, but Linzy provided a pivotal burst of energy in the late stages of the period.
Without a point in the opening half, Linzy came up with a big play when he rebounded his own miss three times and eventually scored and got fouled — a "spirit-taker" to the defense in Fisher's words — sinking a free throw to push the margin to six. He made a layup and a jumper to help Overland handle Smoky Hill's pressure and broke up a potential fast break with a deflection.
"He was on the bench cheering everybody on and when he got his shot, he performed," Wright said of Linzy. "Everybody on this team is in tune."
If not for Linzy's efforts, Smoky Hill might have overtaken Overland as Maldanado scored 12 points in the third quarter, including a 7-for-7 performance from the free throw line.
Whitaker's three-point play made it a two-point game in the opening minute of the fourth quarter, but the Buffaloes couldn't get any closer. Wright came back into the game and got into the late twice for layups to help the Trailblazers lead reach eight.
Wright's three-point play and dish to Harp for a layup — sandwiched around a Smoky Hill technical foul — put the game out of reach.
"We run things around Jameel offensively; he had a tough game against Creek (a season-low five points), so it was really good to see his response and see him come back ready to lead us like that offensively," Fisher said.
Overland is scheduled to visit Smoky Hill March 4 in the second-to-last game of the regular season shortened due to the coronavirus pandemic. The Trailblazers' next game is at home against Grandview Feb. 17, the same day the Buffaloes play host to Cherokee Trail.
Courtney Oakes is Sentinel Colorado Sports Editor. Reach him at [email protected] Twitter: @aurorasports. IG: Sentinel Prep Sports
(8) OVERLAND 80, SMOKY HILL 69
Score by quarters:
Smoky Hill  25  10  17  17 — 69
Overland    22  16  19  23 — 80
SMOKY HILL (69)
Brayden Maldonado 4 12-15 22, Jonathan Potts 4 0-0 8, Jordan Whitaker 7 5-6 19, Terrell Smith 2 0-0 4, Anthony Harris Jr. 5 1-2 13, Jayson Lewis 1 0-0 3, Amir Copeland 0 0-0 0, Davien Norman 0 0-0 0. Totals 23 18-23 69.
OVERLAND (80)
Brian Lamptey 1 0-0 2, Remy Wedgeworth 5 2-4 13, Lamarius Royston 3 0-0 6, Kai Ilela 2 1-4 5, Jameel Wright 7 6-8 21, Christopher Linzy 4 3-3 11, Victor Harp 4 4-5 12, Kamari Brown 3 1-4 8, Hamza Mursal 1 0-2 2. Totals 30 17-30 80.
3-point field goals — Smoky Hill (4): Anthony Harris Jr. 2, Brayden Maldonado 2; Overland (3): Kamari Brown, Remy Wedgeworth, Jameel Wright. Total fouls — Smoky Hill 23, Overland 19. Fouled out — Smoky Hill: Terrell Smith, Jordan Whitaker. Overland: Wright. Technical fouls — Smoky Hill (2): Ricky Mitchell, Smith.