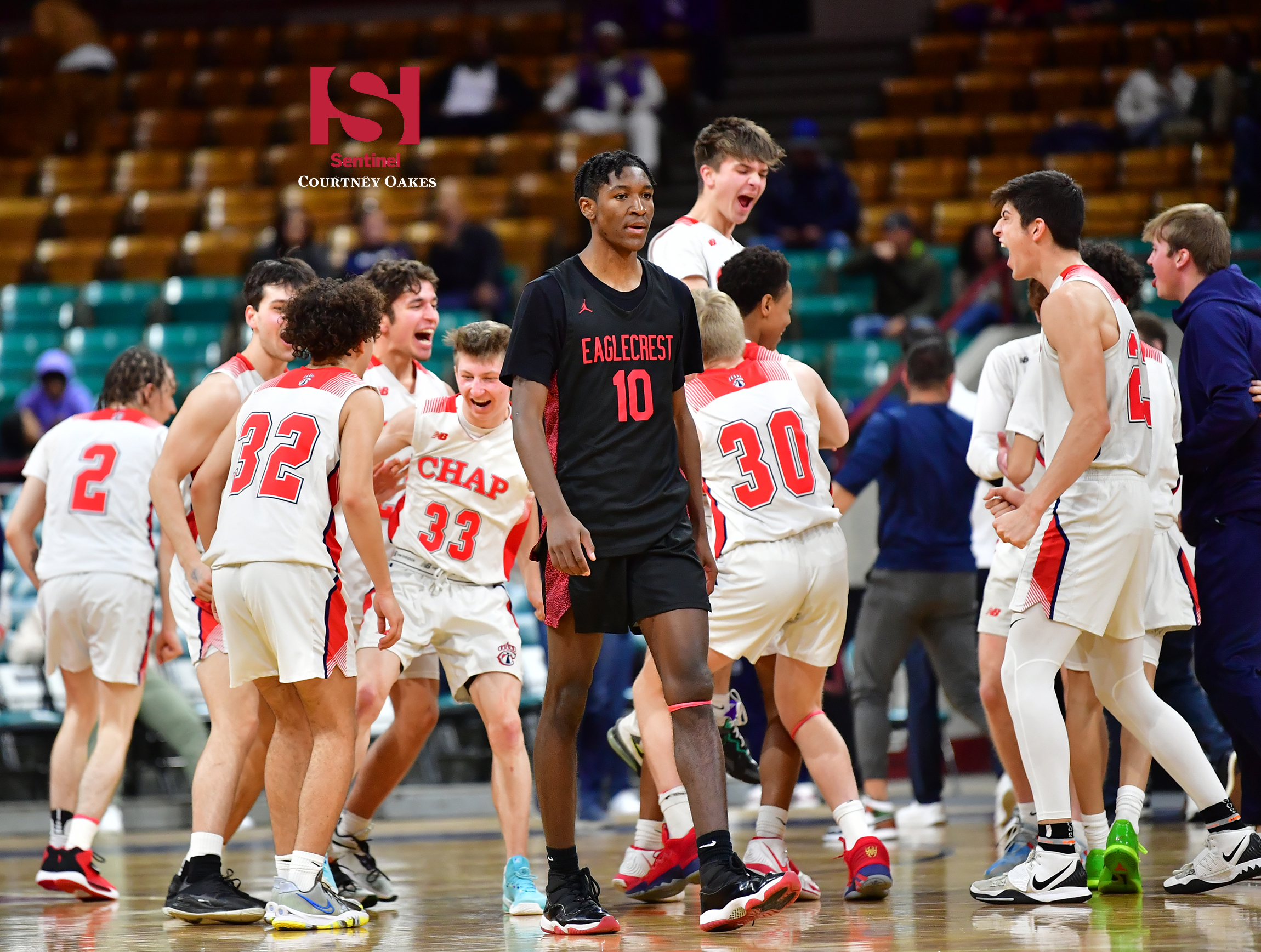 DENVER | The Eaglecrest boys basketball team was just eight minutes away from a coveted trip to the Class 5A Final Four Saturday when everything went wrong.
The Raptors seemingly couldn't miss for the first three quarters of their Great 8 contest at the Denver Coliseum against Chaparral and had a 13-point lead to protect as they sought to reach the semifinals for the first time since the program's state championship-winning 2017 season.
Sixth-seeded Eaglecrest managed just four points in the final quarter, however, while the Wolverines methodically worked their way back and finally in front and held on for a stunning 65-60 victory to steal the Final Four bid coach Jarris Krapcha's Raptors had within their grasp.
"Obviously, we couldn't make any shots and all the shots that fell in the first three quarters didn't fall," Krapcha said. "If even one of those 3s in the fourth quarter goes down, I think we win that game. …It's tough. I really think we are a team that could be playing for the title."
Freshman LaDavian King scored 20 points, senior Jayden Washington 16 and senior Mostapaha Elmoutaouakkil 15 for Eaglecrest, which had its 14-game winning streak snapped and finished the season 20-5.
The Raptors had thrived on their perimeter shooting in the postseason, as the Centennial League champions had knocked down nine 3-pointers apiece in a second round win over Highlands Ranch as well as a Sweet 16 victory over rival Smoky Hill.
Eaglecrest also made nine triples against Chaparral, including five in the first half — three by Elmoutaouakkil and two by King — for a six-point advantage at the break. The opening two quarters also included a fastbreak dunk from junior guard Peyton Taylor that sparked the Raptors.
Eaglecrest had a nine-point lead and had possession with the clock running down, only to miss and leave enough time for Chaparral's Luke Williams to make a layup and get fouled, cutting the lead to six at the break. The Raptors worked the lead up to as many as 16 in the third quarter when Washington knocked down two 3-pointers and the period ended with a 13-point margin after a triple by junior Kyelin Sanders.
Krapcha lamented some easy chances that Eaglecrest allowed defensively that prevented them from building enough of a margin to put the game away.
"We gave up the and-1 to end the first half and I felt like in the third we gave up a couple of easy baskets on transition," Krapcha said. "Those were big baskets that kept the lights on. You get up by 20 or more and that should be it. We left them just enough daylight."
The shooting that had been so good in building that lead disappeared in the fourth quarter, however, as the Raptors took many of the same shots, but had them rim out and got almost no offensive rebounds on those misses as Chaparral chose to pack the paint and takes its chances on the results of the perimeter shooting.
Hampered by foul trouble, Elmoutaouakkil — who averaged 20-plus points per game for the season — finished with just three points in the second half as the Wolverines' defense gave him very little space and was allowed to play him physically.
Meanwhile, Chaparral got hot behind Williams, who scored 12 of his game-high 32 points in the period as well as some big buckets from reserve Bennett Pegues. The Wolverines also were awarded 12 free throws in the final period, which was seven more than Eaglecrest got for the entire game.
The Raptors were whistled for 20 personal fouls to just 10 for Chaparral, which had a 14-point margin in points produced on foul shots (17-3).
The Wolverines ran off 12 straight points to turn a 58-49 deficit into a 61-58 advantage, which Eaglecrest cut into when Taylor got an offensive rebound and Washington scored inside to make it a one-point game with 58 seconds left.
A missed 3-point try to tie resulted a rebound and free throw chance for Chaparral's Gavin Carter, who made 1-of-2 for a four-point lead that wouldn't be challenged.
"They were desperate and starting putting their head down and going to the rim and we either fouled them or they made crazy shots," Krapcha said.
Eaglecrest will have some big shoes to fill next season with the graduations of Elmoutaouakkil and Washington among others, but expect to have a few of guards back — including King, who thrived in the postseason — and some size in junior Josh Ray and freshman Garrett Barger, who both played significant minutes in the Great 8 contest.
Courtney Oakes is Sentinel Colorado Sports Editor. Reach him at [email protected] Twitter: @aurorasports. IG: Sentinel Prep Sports
(3) CHAPARRAL 65, (6) EAGLECREST 60
Score by quarters:
Eaglecrest  14  20  22    4 — 60
Chaparral   14  14  15  22 — 65
EAGLECREST (60)
LaDavian King 8 1-1 20, Peyton Taylor 1 0-0 2, Jayden Washington 7 0-0 16, Josh Ray 1 0-0 2, Mostapha Elmoutaouakkil 5 2-4 15, Kyelin Sanders 2 0-0 5, Garrett Barger 0 0-0 0, DeAndre Brown 0 0-0 0, Shareef Jaudon 0 0-0 0. Totals 24 3-5 60.
CHAPARRAL (65)
Gavin Carter 0 1-2 1, Peter Larkin 1 0-0 2, Luke Williams 10 10-10 32, John Maciolek 0 2-2 2, Joel Speckman II 4 2-5 11, Bennett Pegues 4 2-2 11, Chris Brest 2 0-0 6, Jett Arstingstall 0 0-2 0, Tyler Hossfeld 0 0-0 0. Totals 21 17-23 65.
3-point field goals — Eaglecrest (9): LaDavian King 3, Mostapha Elmoutaouakkil 3, Jayden Washington 2, Kyelin Sanders. Chaparral (6): Chris Brest 2, Luke Williams 2, Bennett Pegues, Joel Speckman II. Total fouls — Eaglecrest 20, Chaparral 10. Fouled out — None. Technical fouls — None.