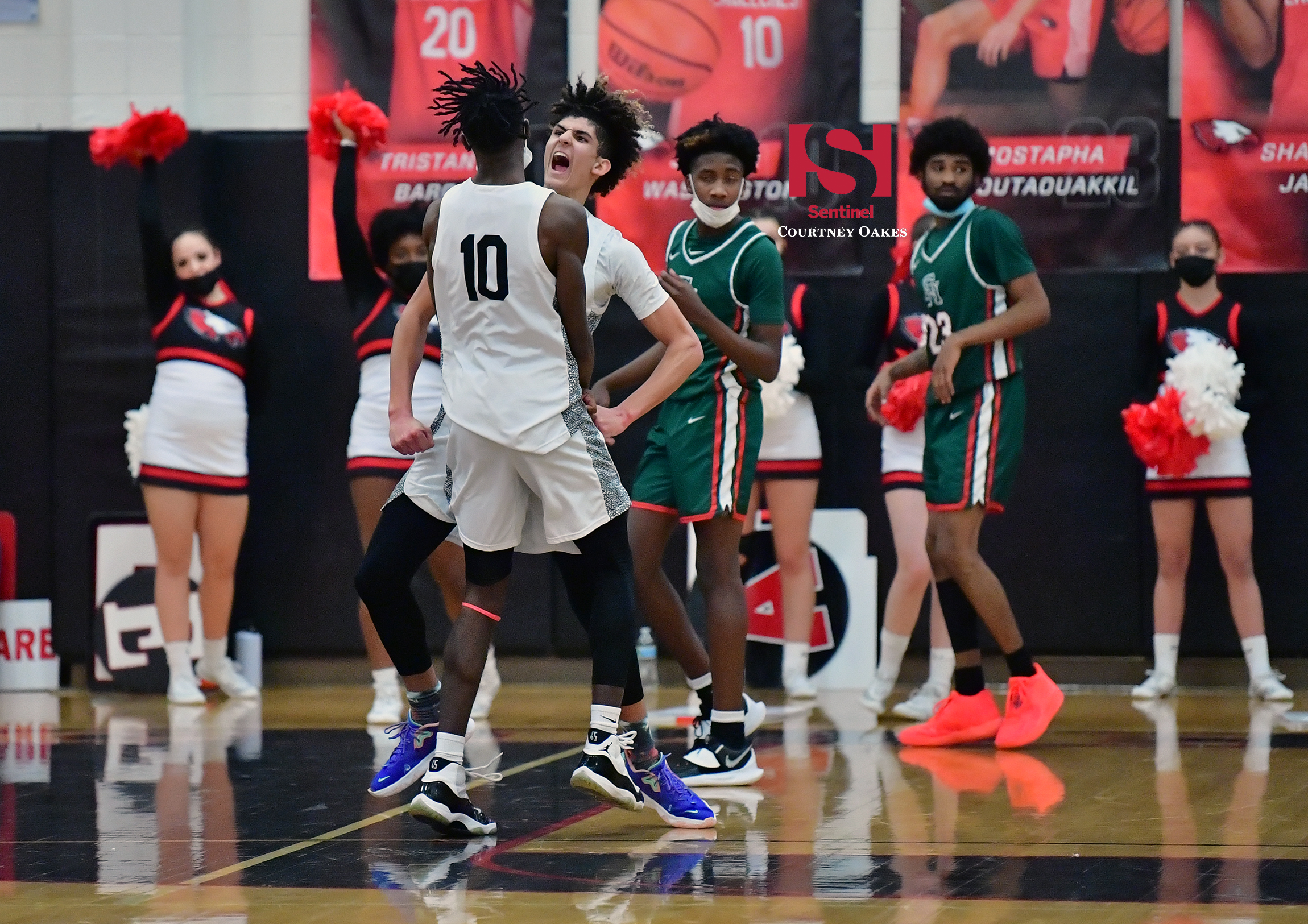 CENTENNIAL | Mostapha Elmoutaouakkil and the Eaglecrest boys basketball team let out the emotions Saturday and it boosted them to first place in the Centennial League.
Spurred on by the memory of an 18-point loss to Smoky Hill a few weeks earlier, the Raptors picked up a couple of technical fouls when the emotions got a little too high, but they made every play when they needed to defeat the visiting Buffaloes 72-63 to assume sole possessions of the top spot in the league standings.
Elmoutaouakkil put the exclamation point on the victory with a massive one-handed dunk in the final minutes as he finished with a game-high 27 points for coach Jarris Krapcha's Eaglecrest team, which won its seventh straight game and improved to 13-4. Senior Jayden Washington added 14 for the Raptors, who avenged a 78-60 loss Jan. 5.
Smoky Hill, which played without standout Anthony Harris Jr. — who is out after undergoing nose surgery — got 24 points from junior Rickey Mitchell and 18 more from senior Brayden Maldonado, but had a three-game winning streak snapped.
Coach Anthony Hardin's Buffaloes dropped to 11-6 and 6-2 in the league, one game off the pace set by first place Eaglecrest.
In front of a packed house at the Nest that was just like the other meeting — with a boost from the boisterous Eaglecrest band — the Raptors off to a strong start as they looked to exploit the absence of the uber-athletic Harris Jr. by getting the ball into the paint as often as possible.
Elmoutaouakkil scored 15 of Eaglecrest's 19 points in the first quarter as it built a six-point advantage, then pushed it to 17 points by halftime as six different players scored in the quarter.
Smoky Hill pulled back with 10 points at 49-39 in the late stages of the third quarter, but freshman Garrett Barger slammed home a rebound (his only basket of the game) to spark an 8-0 run that also included back-to-back 3-pointers from Kyelin Sanders and Elmoutaouakkil.
The Buffaloes again mounted a rally in the fourth quarter, when Terrell Smith made two free throws after three putback attempts to make it a nine-point game before another quick burst by Eaglecrest. Elmoutaouakkil slipped a pass to an open Washington for a layup and the next time down brought the crowd out of its seats with his massive dunk, which drew a technical for the celebration.
The lead never dipped below 12 until the final margin on a late 3-pointer by sophomore Torian Gasaway.
Eaglecrest returns to play Feb. 2 with a 7 p.m. game at Overland, which has an identical league record as Smoky Hill, which visits Arapahoe at the same time on the same day.
Courtney Oakes is Sentinel Colorado Sports Editor. Reach him at [email protected] Twitter: @aurorasports. IG: Sentinel Prep Sports
(9) EAGLECREST 72, (7) SMOKY HILL 63
Score by quarters:
Smoky Hill  13  11  18  21 — 63
Eaglecrest   19  22  16  15 — 72
SMOKY HILL (63)
Rickey Mitchell 7 8-9 24, Brayden Maldonado 7 4-6 18, Jonathan Potts 1 0-2 2, Torian Gasaway 2 0-0 5, Terrell Smith 3 3-4 9, Jayson Lewis 2 1-2 5, Amir Copeland 0 0-0 0. Totals 22 16-21 63.
EAGLECREST (72)
LaDavian King 2 1-3 6, Peyton Taylor 1 2-4 4, Jayden Washington 7 0-0 14, Joshua Ray 2 3-5 7, Mostapha Elmoutaouakkil 9 4-6 27, Shareef Jaudon 1 2-2 4, Kyelin Sanders 1 0-0 3, DeAndre Brown 2 0-0 5, Garrett Barger 1 0-0 2. Totals 26 12-20 72.
3-point field goals — Smoky Hill (3): Rickey Mitchell 2, Torian Gasaway; Eaglecrest (5): Mostapha Elmoutaouakkil 2, DeAndre Brown, LaDavian King, Kyelin Sanders. Total fouls — Smoky Hill 16, Eaglecrest 22. Fouled out — Smoky Hill: Jonathan Potts. Eaglecrest: Joshua Ray. Technical fouls — Eaglecrest: Elmoutaouakkil, Peyton Taylor.