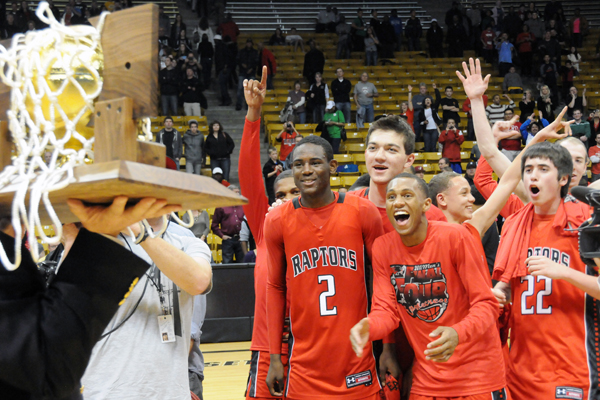 BOULDER | Denver East cleared its bench with nearly three minutes remaining in Saturday's Class 5A state championship game.
But the vaunted Angels — the overwhelming state title favorite coming into the season — didn't put in reserves to finish off a state title win. Instead, coach Rudy Carey waved the white flag of surrender in the face of an onslaught by a gritty Eaglecrest team that never wavered in its quest to bring home the school's first state basketball title.
The final few minutes at the Coors Events Center turned out to be pure icing on top of a 63-44 victory for the selfless Raptors, who did what few outside Aurora thought they could do: dominate Denver East and deliver coach John Olander a championship in the program's first trip to the state final.
"This is an amazing dream; I'm speechless right now," said senior TreShawn Wilford, who had 21 points and nine rebounds in the victory. "I want to cry, but I can't, it's not part of my personality. It just feels awesome.
"We knew we could do it at the beginning of the year, but to finally have it and see it in our hands is amazing."
Eaglecrest (23-5) — unranked in the Denver Post's preseason coaches poll — brought the 5A state championship back to the city for the first time since Regis Jesuit won the last of its three straight crowns top finish the 2009-10 season.
The Raptors — who avenged a 20-point loss to Denver East on Dec. 4 — snapped the Angels' 17-game winning streak and denied them a ninth all-time state championship and first since 2004.
Olander admitted Denver East scared him to depth with its athleticism and explosiveness led by junior guard Dominique Collier. His team overcame the Angels' glitz with with another outstanding defensive effort (holding Denver East to 10 points below its previous season-low), a willingness to share the basketball (nine assists) and a 52-35 edge on the boards.
Wilford 21 points included a variety of highlight reel moves, while steady junior Jaisean Jackson added 11 points and sophomore Blend Avdili chipped in eight and almost had a second consecutive double-double with 12 rebounds. Wilford and Rayjon Craig had nine rebounds apiece.
As they have throughout the playoffs, the Raptors started strong and built a double-digit lead in the late stages of the second quarter.
An acrobatic layup by Wilford over an outstretched Robinson made it 26-15 in favor of Eaglecrest and it was 26-17 at the break.
The Angels played well defensively in the paint in the first two quarters, but made just eight of their 27 shots from the field and were 0-for-3 from the free throw line.
Collier and Denver East were scorching in the first minute of the third quarter, however. The Angels scored eight straight points to cut the deficit to just one point and whip their crowd in a frenzy.
But Denver East was never able to seize the lead, as Eaglecrest had a response. Wilford drained a 3-pointer and Sean Watkins had a layup to get the lead back to 31-25 and the Raptors' advantage never slipped below that the rest of the way.
The third period typified Eaglecrest's postseason performance. Wilford, Craig, Avdili, senior Sean Watkins, senior Maurice Perez and junior LaDerian King all had at least one basket in the period, which ended with a 43-33 lead.
Wilford — who had to sit out much of the semifinal win over Mountain Vista because of foul trouble — scored 11 points in the first half and hurt the Angels regularly in critical moments of the second half.
With an eight-point lead midway through the fourth quarter, Wilford's drive to the baseline and crazy reverse layup restored Eaglecrest's double-digit lead and he hit a pair of free throws on the next trip to key a 6-0 spurt that all but put the game away.
"TreShawn's not the reason we won, but he is the reason why we had a good chance of winning the basketball game," Olander said. "Everybody says you have nothing to lose, but to come out and play like that is another thing. I just wanted to make sure we came out and stayed aggressive, stayed aggressive, stayed aggressive. He was aggressive all night."
Watkins hit a free throw and Jackson had back-to-back baskets as the Raptors continue to build an edge.
When Craig pulled down a rebound and was fouled with 2:49 left on the clock, Carey pulled his entire starting lineup — which had played the entire game — with Eaglecrest in command at 56-39.
Notes: Eaglecrest is the fifth Aurora school to win a boys state basketball championship, joining Aurora Central (4A, 1983), Hinkley (4A, 1994; 5A, 1998), Rangeview (3A, 1995) and Regis Jesuit (5A, 2009; 5A, 2010; 5A, 2011). Cherokee Trail, Gateway, Grandview, Overland and Smoky Hill — plus first-year Vista PEAK — are still looking for their first boys state hoops title.
Reach Sports Editor Courtney Oakes at [email protected] or 303-750-7555
(2) EAGLECREST 63, (1) DENVER EAST 44

Score by quarters:
Eaglecrest   12  14  17  20 — 63
Denver East  7  10  16  11 — 44
EAGLECREST (63)
Rayjon Craig 2 3-3 7, TreShawn Wilford 8 3-4 21, Sean Watkins 1 3-4 5, Jaisean Jackson 4 3-3 11, Blend Avdili 4 0-0 8, Maurice Perez 1 0-0 2, LaDerian King 3 0-0 6, Brandon Brown 0 1-2 1, Elijah Ross 0 2-4 2. Totals 23 15-20 63.
DENVER EAST (44)
Javon Griffin 5 2-5 13, Brian Carey 2 0-0 5, Dom Collier 4 1-2 10, Ronnie Harrell 2 0-0 5, Tyre Robinson 3 0-2 6, Kendryck Kelly 0 0-0 0, Randal Jones 0 0-0 0, Jimmy Mokros 1 0-0 3, Bassey Antai 0 0-0 0, Triston Terroade 0 0-0 0, Oliver Zettas 0 0-0 0, Keaghan Dunn-Roberts 0 2-2 2. Totals 17 5-11 44.
3-point field goals — Eaglecrest (2): TreShawn Wilford 2; Denver East (5): Brian Carey, Dom Collier, Javon Griffin, Ronnie Harrell, Jimmy Mokros. Total fouls — Eaglecrest 15, Denver East 17. Fouled out — None. Technical fouls — None.