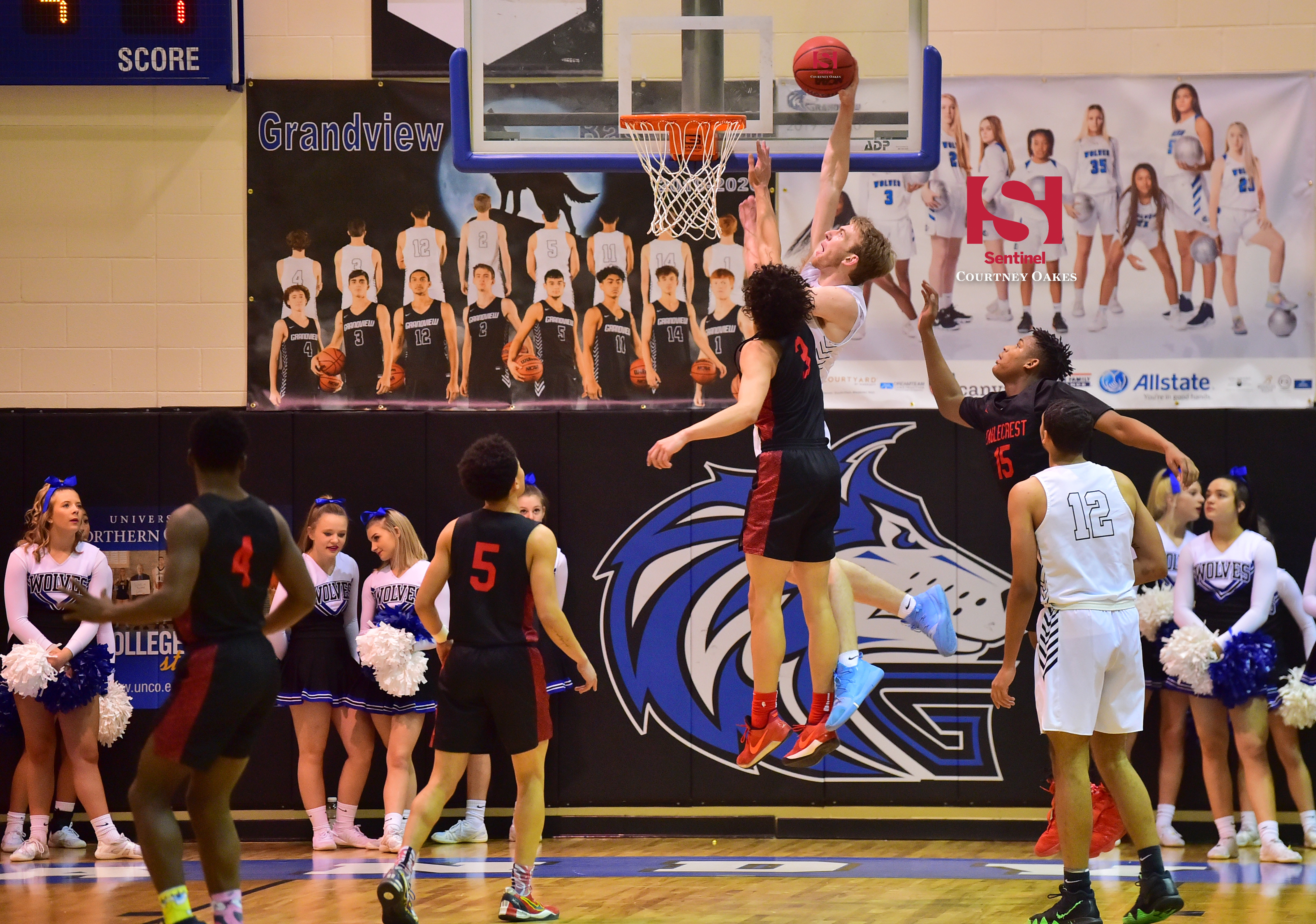 AURORA | With the game still hanging in the balance Friday night, Caleb McGill spun baseline and threw down an authoritative dunk while drawing a foul.
The Grandview senior big man preceded his key three-point play with a hook shot in the lane and followed it with a blocked shot, providing a key sequence as his team pulled away from visiting Eaglecrest early in the second half and held on for a 46-36 in front of a raucous crowd in the first of a two-game Centennial League set between the rivals.
The UC Davis-bound McGill scored 13 if his 18 points in the second half and senior point guard Lian Ramiro made three second-half 3-pointers on his way to a game-high 23 points as the Wolves snapped the Raptors' eight-game winning streak.
"I told Caleb, 'quit shooting layups and start attacking the basket,'" Grandview coach Michael Rogers said after his team improved to 9-4 overall and 3-1 in league play.
"That kind of energy spreads through everybody," he added.
Ramiro provided a spark of his own when he drew a foul on a 3-point shot inside the final minute of the second quarter and made all three free throws to sent the Wolves gratefully into halftime with a one-point lead after a lackluster opening half.
The Colorado State-Pueblo recruit compounded that with a 3-pointer on the opening possession of the second half and McGill took it from there to widen the advantage.
"That was pretty big, it gave us a whole bunch of energy that we needed in the second half," Ramiro said of McGill's dunk. "That's was our momentum breaker and we just built on that."
Eaglecrest (11-2, 3-1) got of to a strong start as junior Ty Robinson knocked down a pair of 3-pointers in the opening frame, but coach Jarris Krapcha's team finished just 1-for-7 from the free throw line during a five-point second quarter and left it trailing.
Foul trouble severely limited the comeback ability for the Raptors, who had their last lead when Seyi Oladipo dished to Adrian Price for an inside layup with 2:30 left in the first half.
Robinson had to sit out after picking up his fourth foul early in the third quarter and during the three-minute stretch he spent on the bench, Grandview added five points to its edge.
Senior Zion Ruckard and junior Skylar Wilson — who tied for team-high honors with 11 points apiece — kept Eaglecrest hanging around.
Wilson gave the Raptors a huge lift when he drained a 3-pointer at the end of the third quarter, then followed it with a steal and another triple in the opening minute of the fourth quarter to cut their deficit to just 31-28.
"I felt like it added a lot of momentum into the run we tried to make," Wilson said. "It was the best I could do to help my team win, we just couldn't come all the way back."
Much of the reason Eaglecrest couldn't complete the comeback was Ramiro, who took advantage of the defensive attention McGill began to require on the interior and made 3-pointers on consecutive possessions to make it a nine-point game.
"It's just the inside-outside game we play, when Caleb gets the ball, that's when they collapse on him and that's when i have my time to hit a shot," said Ramiro, who matched his season-high in points, accomplished in a win over Lincoln before winter break and in a three-point double-overtime loss to Smoky Hill Jan. 8.
The Wolves' lead never fell below eight points the rest of the way.
Rogers was pleased with how his team defended — Grandview held Eaglecrest to nearly half of its season average of 71 points per game — even if the offense was a struggle and 16 of its 46 points came from the free throw line.
"We have to defend until our offense catches up," said Rogers, who got just five points (four of them from Tanner Holtman) from the other six players who played.
The matchup provided a high-stakes appetizer for their next get-together in three weeks time, when the Centennial League standings really begin to tighten up.
The back-to-back nature of the league is what makes it so difficult.
"I love it, I can't wait to get back out there and play them again," said Wilson, whose team gets to host Grandview on Feb. 12.
Next up for Grandview is a visit to Overland (5-8, 2-2) on Jan. 22, the same night Eaglecrest is home to Cherry Creek (10-3, 4-0), which is alone atop the league standings.
Courtney Oakes is Sentinel Colorado Sports Editor. Reach him at 303-750-7555 or [email protected] Twitter: @aurorasports. IG: Sentinel Prep Sports
GRANDVIEW 46, EAGLECREST 36
Score by quarters:
Eaglecrest  13  5    7  11 — 36
Grandview  10  9  12  15 — 46
EAGLECREST (36)
Ty Robinson 4 0-0 10, Donovan Stilson 0 0-2 0, Zion Ruckard 5 1-2 11, Adrian Price 1 0-2 2, Skylar Wilson 4 0-0 11, Seyi Oladipo 1 0-2 2, Ethan Ranzenberger 0 0-0 0. Totals 15 1-8 36.
GRANDVIEW (46)
Caleb McGill 6 6-7 18, Brandon Handy 0 0-0 0, Tanner Holtman 2 0-0 4, Lian Ramiro 5 9-9 23, CJ Thomas 0 0-4 0, Cade Coles 0 1-2 1, Jacob Burr 0 0-0 0, Tyler Watters 0 0-0 0. Totals 13 16-22 46.
3-point field goals — Eaglecrest (5): Skylar Wilson 3, Ty Robinson 2. Grandview (4): Lian Ramiro 4. Total fouls — Eaglecrest 18, Grandview 11. Fouled out — None. Technical fouls — None.