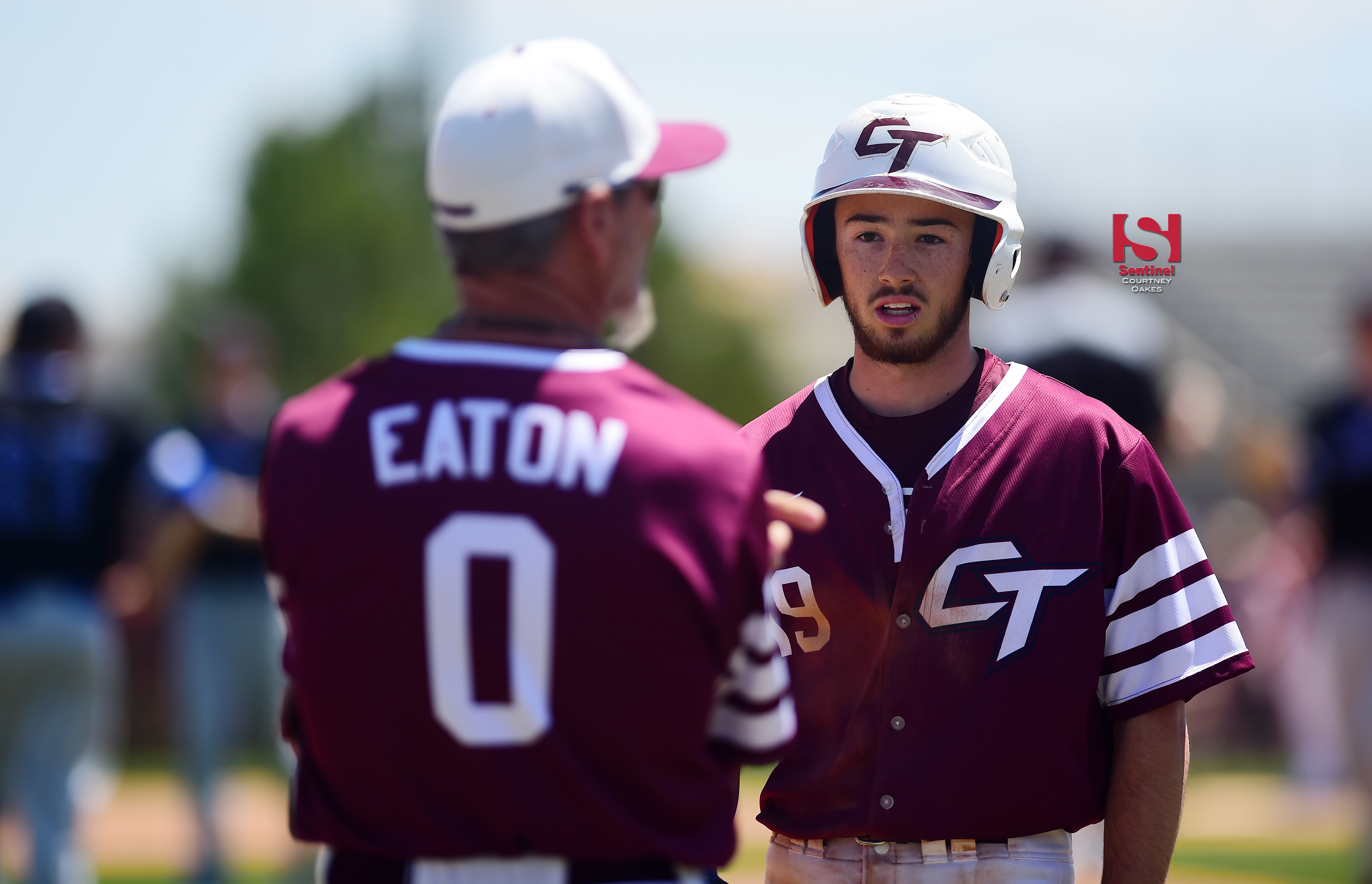 Thirty-nine Aurora baseball players received all-league nods for the 2018 season, making for a very competitive mix on the 2018 Sentinel All-Aurora Baseball Team, which was selected by the Sentinel in conjunction with balloting and input of city coaches.
The city's lone qualifier for the Class 5A Baseball Championship Series was Cherokee Trail, which rode the strength of a large senior class — with nearly a handful of players who earned championship rings during the Cougars' 5A state title run in 2016.
Cherokee Trail (16-8) flourished under new coach Steve Eaton's aggressive style, but no player had more of an uptick than senior outfielder Jake Barber.
The speedy center fielder, a Garden City C.C. recruit, had the green light from Eaton to run every time he got on base (which he did plenty with a .500 on-base percentage) and he made the most with 35 stolen bases, 12 more than anybody in 5A. The total is believed to be the state record for the classification.
The play of senior Gavin Bell next to Barber gave Cherokee Trail one of the top outfields around, as the Adams State University recruit played strong defense, led his team in RBI (24), hit .414 and had 12 of his 29 hits go for extra bases (six doubles, two triples, four homers).
Senior infielder Colten Chase had a monster year at the plate for Cherokee Trail with a .527 batting average and a league-high 39 hits, including at least one in 22 of the 23 games he played in. Versatile senior Blake Mackintosh also earned first team all-league honors on the infield with a .421 average, while he also had 24 hits and drove in a dozen runs, while he also pitched significant innings.
On the mound, the Cougars had a workhorse in senior Isaac Hayen, a right-hander who soaked up 39 2/3 innings and earned All-Centennial League first team accolades. The Colorado Mesa signee struck out 37 batters in those innings and finished with a 3.08 ERA to rank second on his team in both categories.
Junior Kellen Cox had an outstanding season on the hill as well, recording a 5-0 record with 2.04 ERA and 22 strikeouts (against just four walks) in 24 innings of work.
Grandview got hot late in the season, but fell short of making it to the Championship Series. Coach Scott Henry's 13-7 Wolves weren't star-studded, but had plenty of gritty players who were dangerous in their particular roles.
Senior Luke La Flam is headed to Arizona State to pitch and threw well for the Wolves, while he also took advantage of his last chance to hit regularly. La Flam had a team-high 21 hits and led the Wolves with 24 RBI, including a walk-off double to beat rival Cherry Creek during the Centennial League
On the mound, Grandview senior Anders Lamphere was the area's most consistently effective reliever. The right-hander earned the win in both of the Wolves' victories over Cherry Creek — including a shutout 5 2/3-inning stint in one game — and finished with a 1.71 ERA and 14 strikeouts in 18 innings.
Regis Jesuit had Aurora's best pitcher in terms of wins in diminutive senior right-hander Matthew Boyd, who racked up six of the Raiders' eight wins on the season and posted a 2.66 ERA.
Boyd piled up 47 1/3 innings of work and racked up 67 strikeouts in that span of work, with at least five whiffs coming in all nine of his appearances.
Junior outfielder Geno Macias had a huge season for Regis Jesuit, as his .414 batting average was by far the best on the team among regulars. He added 29 hits and drove in 12 runs. Macias, a multi-sport standout who is also a star safety, earned All-Continental League second team honors.
Smoky Hill couldn't sustain the momentum of a 7-2 start, but finished with nine wins and coach Bob Kennedy's Buffs were in every game they played.
Junior Cam Kennedy earned All-Centennial League first team accolades in the outfield, where he used his speed defensively and also stole a team-high 13 bases, in addition to leading his team in hits (21), runs scored (17) to go with 10 RBI and a .356 batting average.
Eaglecrest fell agonizingly short of making the 5A postseason for a second straight season, with senior Zach Sulyma among those leading the charge.
Sulyma played a few positions, but saw plenty of action behind the plate. His seven home runs paced Aurora players and led the Centennial League, while he also knocked in 24 runners.
Overland had a workhorse on the mound in senior right-hander Kevin Zapanta, whose 44 2/3 innings pitched ranked him third among Aurora hurlers.
The Colorado School of Mines signee had a 2.82 ERA and finished with a 5-2 record, picking up his last win with an impressive complete game, 15-strikeout performance against an Arapahoe team that went on to make the semifinals of the 5A Championship Series.
The Trailblazers also had an electric offensive talent in junior infielder Jose Cintron, who had 10 extra base hits on the season and led his club with 17 RBI and 18 runs scored.
Courtney Oakes is Sentinel Sports Editor. Reach him at 303-750-7555 or [email protected] Twitter: @aurorasports. FB: Sentinel Prep Sports
2018 SENTINEL ALL-AURORA BASEBALL TEAM
FIRST TEAM — Pitcher: Matthew Boyd, Regis Jesuit, sr.; Kellen Cox, Cherokee Trail, jr.; Isaac Hayen, Cherokee Trail, sr.; Anders Lamphere, Grandview, sr.; Kevin Zapanta, Overland, sr.; Catcher: Zach Sulyma, Eaglecrest, sr.; Infield: Colten Chase, Cherokee Trail, sr.; Jose Cintron, Overland, jr.; Blake Mackintosh, Cherokee Trail, sr. Outfield: Jake Barber, Cherokee Trail, sr.; Gavin Bell, Cherokee Trail, sr.; Cam Kennedy, Smoky Hill, jr.; Utility: Luke La Flam, Grandview, sr.; Designated Hitter: Geno Macias, Regis Jesuit, jr.
SECOND TEAM — Pitcher: James Cave, jr., Eaglecrest; Preston Ederhoff, Grandview, sr.; Ayden Grimble, Smoky Hill, jr.; Evan Mason, jr., Eaglecrest; Joseph Wasick, jr., Vista PEAK; Catcher: Brodie Marino, Regis Jesuit, sr.; Infield: Ethan Leisge, Cherokee Trail, sr.; Dylan McKee, Smoky Hill, soph.; Dillon Schroeder, Grandview, sr.; Outfield: Jeremiah Blackwood, Vista PEAK, jr.; Jayden Martinez, Grandview, jr.; CJ Peacock, Rangeview, sr.; Utility: Ozzie Dominguez, Aurora Central, sr.; Designated hitter: Matthew Barlow, Eaglecrest, sr.
HONORABLE MENTION: Alex Arellano, Gateway, jr. (INF); Reece Bailey, Smoky Hill, sr. (OF); Nate Blanco, Overland, soph. (OF); Dawson Burch, Rangeview, jr. (OF); Zurik Carrasco, Hinkley, sr. (P); Tony Castonguay, Grandview, soph. (C); Edmund Chavez, Overland, jr. (INF); Andrew Cooper, Rangeview, sr. (C); Garrett Crawford, Overland, soph. (OF); Andrew Danko, Eaglecrest, sr. (OF); Jacob Evans, Vista PEAK, soph. (C); Nick Evans, Vista PEAK, jr. (OF); Jesus Martinez, Hinkley, jr. (INF); Aidan O'Donnell, Regis Jesuit, jr. (P); Colin Richey, Smoky Hill, jr. (INF); Omar Ruiz, Vista PEAK, fr. (INF); Jackson Vanzee, Grandview, jr. (INF); Raul Varela, Aurora Central, jr. (C); Diego Velasquez, Smoky Hill, soph. (P); Caden Wagner, Regis Jesuit, jr.; James Wasick, Vista PEAK, jr. (P)