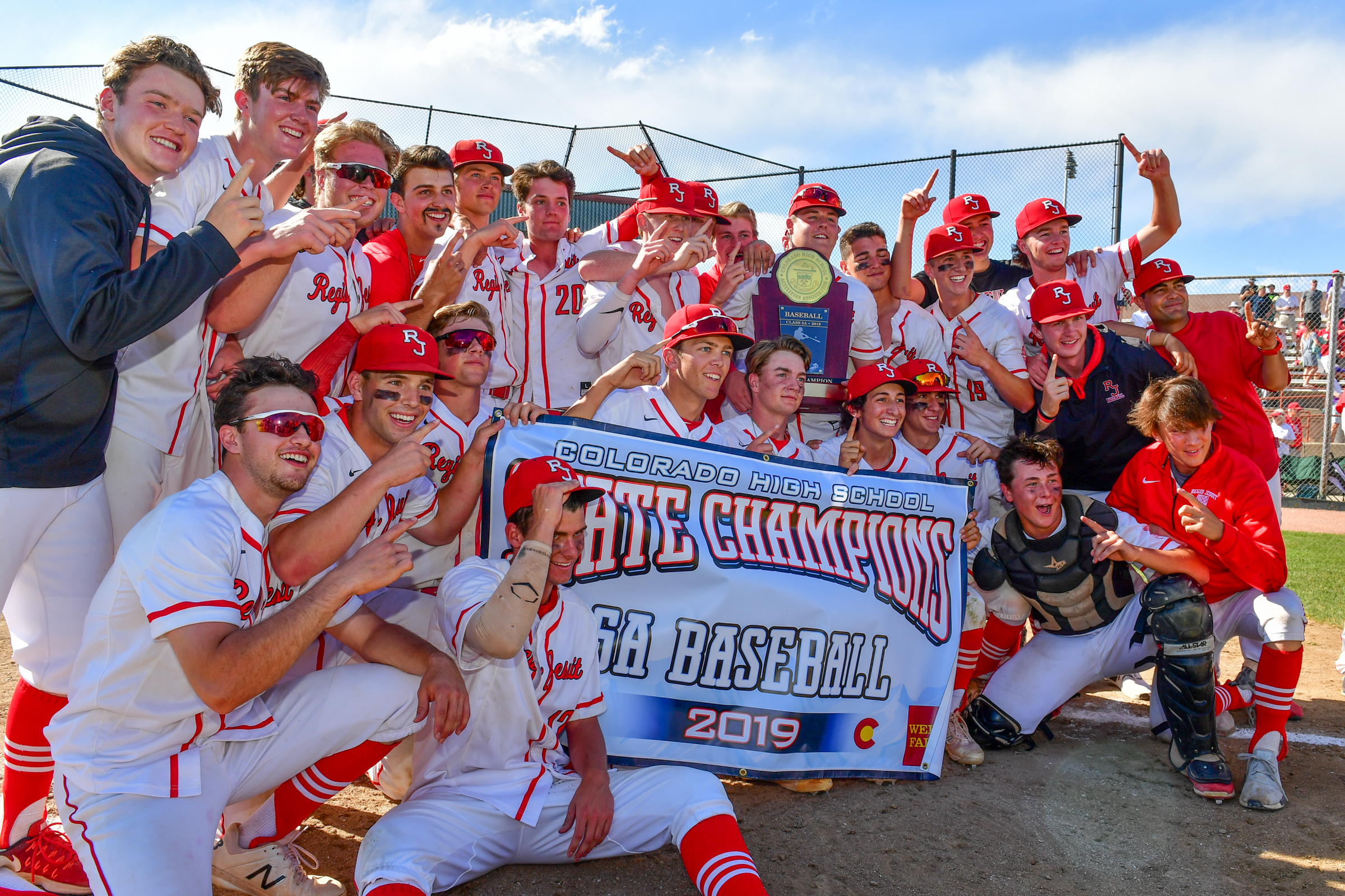 DENVER | A mid-game lightning delay only served to delay a championship celebration for the Regis Jesuit baseball team June 1.
The Raiders jumped out in front of Cherry Creek at All-City Stadium before weather fittingly asserted itself yet again into spring sports with a lengthy delay, but there was no stopping them once they returned to the field.
Regis Jesuit put up four runs after the delay and finished off an 8-3 victory that brought the program's first Class 5A state baseball championship since 2011 and third all-time. The Raiders also won the title in AAA — the top classification at the time — in 1988.
"It's special because it's the highest level that Colorado offers," said Regis Jesuit coach Matt Darr, who won a 2A state title with Denver Christian in 2013 before he joined the Raiders.
"How we want to do things takes some time and it validates the time and effort the kids put into our summer program, our fall program and our weight lifting. It's special because Regis has high expectations."
Regis Jesuit's championship in 2011 came at the expense of Cherry Creek and so did this one, as Darr's team downed a Bruins squad coached by Colorado prep legend Marc Johnson (who recently picked up his 800th career win) which had knocked off defending state champion Mountain Vista in the previous game to earn a chance to play for the championship.
Amazingly enough, the Raiders (24-6) had virtually no drama in the postseason, as they swept through regionals and picked up four Championship Series victories (in five contests) by an average margin of 4.5 runs.
That level of comfort was made possible by the pitching staff, which yielded a total of 11 runs in a total of seven postseason contests.
The performance on the mound left Darr in awe of what he'd seen.
"At the high school level, I've never seen that good of pitching for that long against those quality of opponents," Darr said.
Junior Jacob Thompsen was at the forefront of Regis Jesuit's postseason pitching prowess. The right-hander — who plays shortstop when not pitching — earned three playoff victories and allowed just one run (zero earned) in 17 2/3 innings on the mound.
Though the Raiders expected to face Mountain Vista in the championship game and hoped to get some payback for two losses to the Golden Eagles, Cherry Creek had different ideas with a 4-1 win.
Against the Bruins, Darr turned to Thompsen in the championship game and he delivered yet again. He made it through the first three innings unscathed and took a 3-0 lead into a lightning delay that lasted nearly two hours thanks to an RBI groundout by senior Caden Wagner and a pop-up off the bat of senior Geno Macias that fell and plated two.
Thanks to the durability of Thompsen's arm, Darr was even able to put him back on the mound following the delay. When he returned, Thompsen had a 7-0 edge to work with thanks to a two-run home run by junior Ethan O'Donnell and a two-run single by junior catcher Craig Kenny.
"I knew Jacob wasn't going to throw seven innings, but for him to be out there even for one more inning, the team felt like 'Our dude is still out there,'" Darr said.
Thompsen gave the Raiders another 1 2/3 innings and then junior Chase Allen and sophomore Alec Wills finished off the remaining 1 2/3 with only a slight bit of drama.
Allen finished with 6 1/3 innings of relief against the Bruins over two games and allowed just one unearned run, while Willis worked his second clean inning of the playoffs.
Senior Patrick Strawbridge also did his part in the rotation with two wins in three postseason starts and he soaked up four innings in the Raiders' lone loss that allowed Darr to keep seniors Brent DiBiase and Ethan Gedrose plus Thompsen, Allen and Wills in waiting.
Best of all for Darr, he returns all three pitchers who worked in the championship game, plus O'Donnell and Best (who each had two hits in the final) and a variety of others.
"This is going to make my job easier next year because we have guys who are now going to set the expectations," Darr said. "If we stay healthy, we'll definitely have the elements to do it again."
Notes: The last 5A state baseball championship for an Aurora program came in 2016 when Cherokee Trail won the crown. All-time Regis Jesuit now owns the most state titles among local baseball programs with three, though the 1988 crown came before the school moved from west Denver to its current Aurora campus. Cherokee Trail has two all-time titles, as does Aurora Central (the last in 1969), while Smoky Hill (2001), Overland (1990) and Hinkley (1979) also have wins.
Courtney Oakes is Sentinel Colorado Sports Editor. Reach him at 303-750-7555 or [email protected] Twitter: @aurorasports. IG: Sentinel Prep Sports
REGIS JESUIT 8, CHERRY CREEK 3
 
Score by innings:
Regis Jesuit   102 410  0 — 8  11  3
Cherry Creek  000 021 0 — 3    5  0
WP — Regis Jesuit: Jacob Thompson (4 2/3 IP, 4 H, 2 R, 0 ER, 3 BB, 7 K). Regis Jesuit hitting: Ethan O'Donnell 2-3, HR, 2 RBI, 2 runs; Mac Padilla 1-2, run; Caden Wagner 0-4, RBI; Geno Macias 2-4, 2 RBI; Bryce Parsons 1-3, 2 runs; Owen Best 2-3, RBI, run; Mark Perchiazzi 2-0-0-0, Craig Kenny 1-4, 2 RBI; Jacob Thompsen 1-3