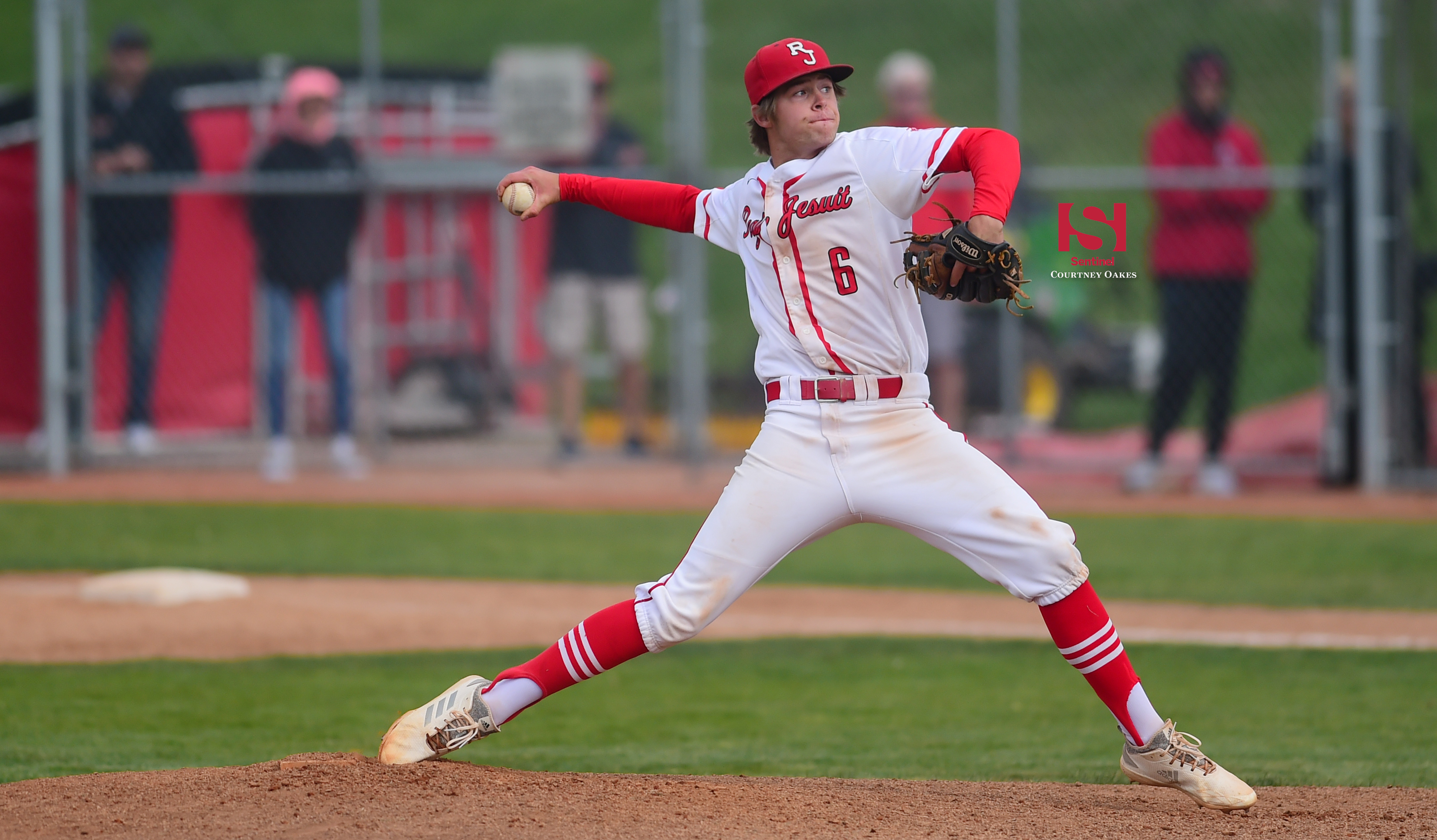 AURORA | On the most stressful day of the baseball season — single-elimination Class 5A regionals — Regis Jesuit coach Matt Darr had to make alternate plans on the mound.
For the pitching-rich Raiders, it turned out to be no problem at all.
Darr shuffled his rotation due to illness to senior Brent DiBiase and the day went as well as could be expected, as senior Patrick Strawbridge and junior Jacob Thompsen threw complete game shutouts to lead Regis Jesuit to the Region 5 championship and a berth in the 5A Championship Series.
"We had to move everybody up and luckily our depth really showed," Darr said after his team defeated Monarch 6-0 and Chatfield 2-0 to make the Championship Series for the first time since 2015.
"The pitching was just outstanding," he added. "You couldn't ask for anything more than that. There was a little bit of traffic, but they worked out of any of those situations and we played good defense, too."
Regis Jesuit improved to 20-5 on the season and is set to open the 5A Championship Series at noon May 24 at Lakewood's All-Star Park against Chaparral (5A Championship Series bracket, schedule).
The Raiders got just enough offense with a combined eight runs in two games, but didn't need much thanks to the work of starters Strawbridge and Thompson, who allowed a combined eight hits and struck out 20 batters in 14 innings of work.
Strawbridge threw his first seven-inning complete game of the season in the opener against Monarch, scattering four hits and striking out eight. Ethan O'Donnell scored what turned out to the game-winning run in the second inning after he got hit by a pitch and scored on a wild pitch.
O'Donnell finished with two hits and drove in three runs and Mark Perchiazzi and Bryce Parsons each had a pair of hits in the victory.
Thompsen wasn't expecting to pitch except a potential relief appearance, but playing shortstop for the first game got him into the flow he needed to throw the second game.
The right-hander was outstanding from start to finish against Chatfield — which downed Fort Collins 6-4 in its first game — as he struck out 12 against just one walk and scattered four hits.
The Chargers mounted a bit of a rally in the seventh inning with a one-out hit followed by a walk, but Darr left Thompsen in after a visit to the mound and he struck out the last two hitters to end the game.
"I told him that I got it and my teammates told him to let me finish and I did," Thompsen said. "It felt great."
Regis Jesuit actually got out-hit in the game 4-2, but junior Craig Kenny — Thompsen's catcher — drove in a run in the second inning with a sacrifice fly and senior Geno Macias earned an RBI with the Raiders' only hit other than Jack Michalek's seventh-inning single.
Darr was relieved to make it through a regional round that has tripped up Regis Jesuit a few times in recent seasons — even on its home field — to earn a chance to use the pitching depth to his advantage in the upcoming double-elimination state tournament.
"I know we'll hit better (in the Championship Series)," he said. "I don't know if we can pitch any better."
Courtney Oakes is Sentinel Colorado Sports Editor. Reach him at 303-750-7555 or [email protected] Twitter: @aurorasports. IG: Sentinel Prep Sports
2019 CLASS 5A REGION 5 BASEBALL
Championship game: Regis Jesuit 2, Chatfield 20
Score by innings (r-h-e):
Chatfield      000 000 0 — 0  4  0
Regis Jesuit  011 000 x — 2  2  0
WP — Regis Jesuit: Jacob Thompsen (7 IP, 4 H, 0 R, 0 ER, 1 BB, 12 K). Regis Jesuit hitting: Geno Macias 1-3, RBI; Jack Michalek 1-1; Craig Kenny RBI; Bryce Parson and Ethan O'Donnell run
First round: Regis Jesuit 6, Monarch 0
Score by innings (r-h-e):
Monarch      000 000 0 — 0  4  0
Regis Jesuit  101 310 x — 6  8  0
WP — Regis Jesuit: Patrick Strawbridge (7 IP, 4 H, 0 R, 0 ER, 3 BB, 8 K). Regis Jesuit hitting: Ethan O'Donnell 2-2, 2B, 3 RBI; Mark Perchiazzi 2-3, RBI; Bryce Parsons 2-3, 2 runs; Sam Doubet 1-2, run; Jacob Thompsen 1-3; Hank Galan run