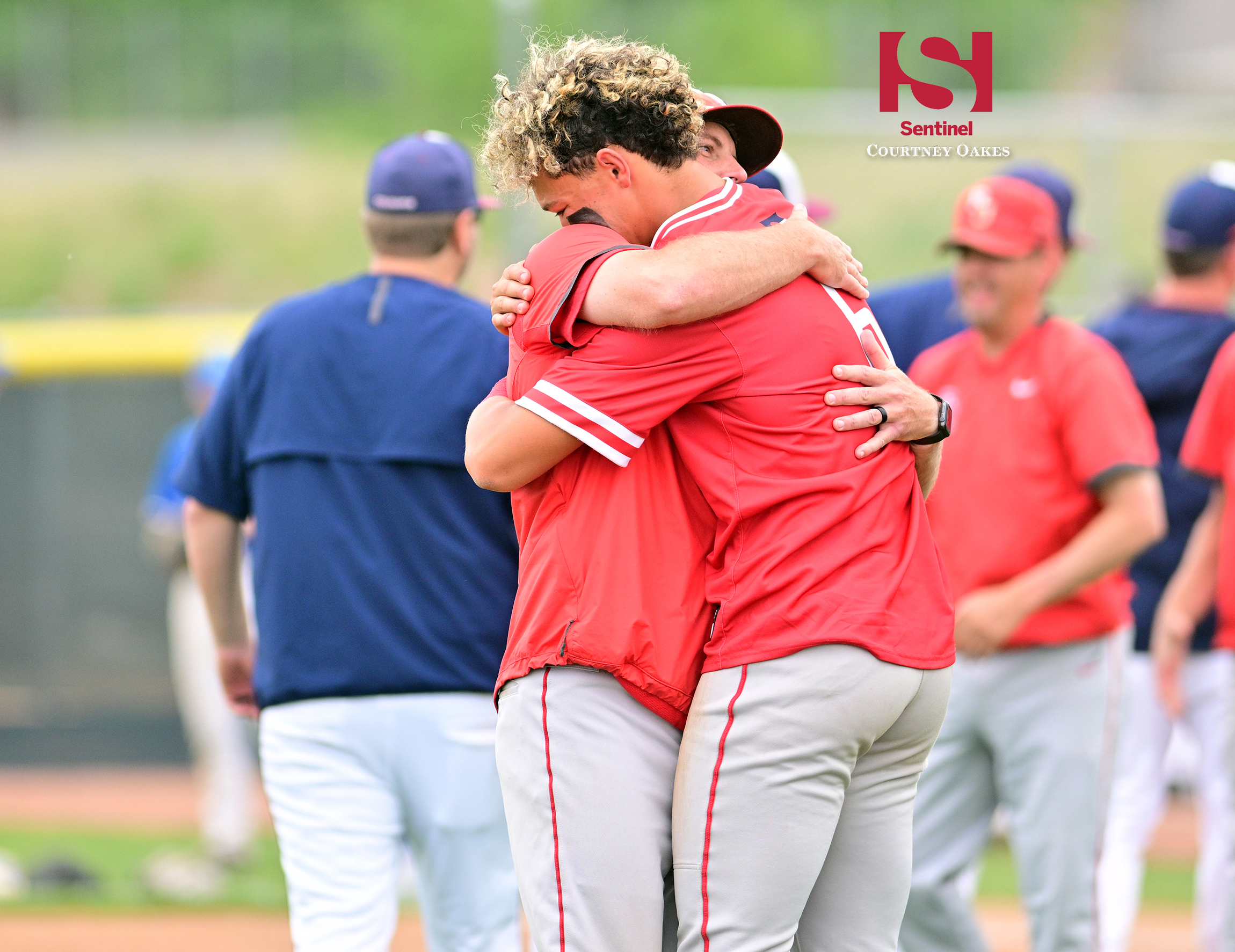 DENVER | The Regis Jesuit baseball team won the Class 5A Championship Series the last time it made it in 2019, but this season's stay lasted three games.
The top-seeded Raiders dropped their first and third games of the double-elimination tournament, with a 10-6 defeat in an all-Aurora matchup with seventh-seeded Cherokee Trail on Saturday afternoon at All-City Stadium bringing their season to an end at 23-5.
"It's hard to win a baseball game against good teams and sometimes you just can't catch a break," said senior outfielder Isaac Wachsmann, who hit a home run in the seventh inning to give him two homers and six RBI in three games.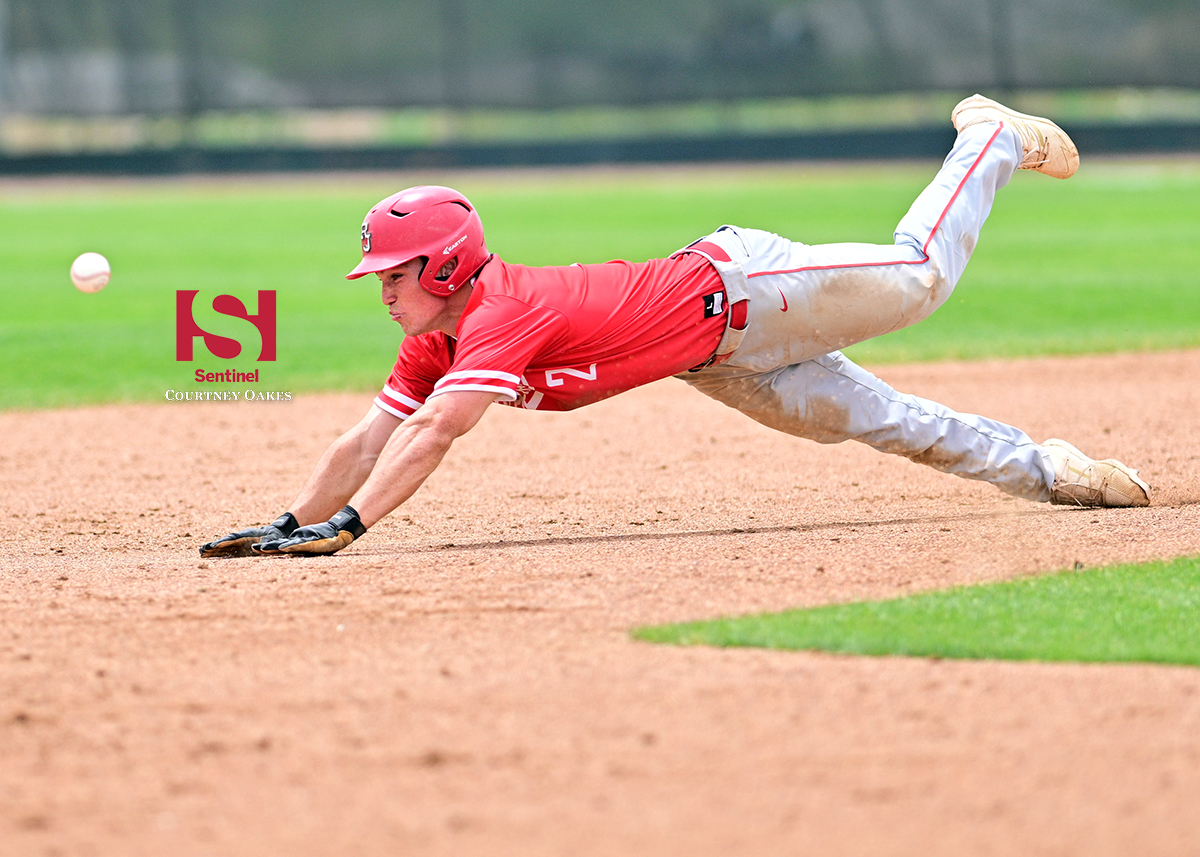 "I'm still proud of our guys, we battled all year. I'm so thankful to be on a team that wants to compete so bad. We came to practice every day, worked hard and trusted each other to do the job. We're sad, but there's nothing we can complain about."
Coach Matt Darr's team bounced back from a 5-4 opening loss to eighth-seeded Douglas County on Friday — a game the Raiders led by a run after five innings after a three-run home run by Wachsmann — with a 4-1 win over fourth-seeded Valor Christian in its first elimination game.
Photo gallery of Regis Jesuit's loss to Cherokee Trail, here.
The Raiders scored twice in the top of the first inning as seniors Nate McHugh and Charlie Rogan drove in runs, while senior Tony Padilla upped the lead with a solo home run on the first pitch of the second inning.
That would be enough offense as senior pitchers Brooks Gerig and Ryan O'Donnell combined to limit the Eagles to a single run in seven innings. Gerig went four innings and struck out seven, working around five hits, while O'Donnell struck out five — including the side in the sixth inning — to preserve the victory.
Photo gallery of Regis Jesuit's win over Valor Christian, here.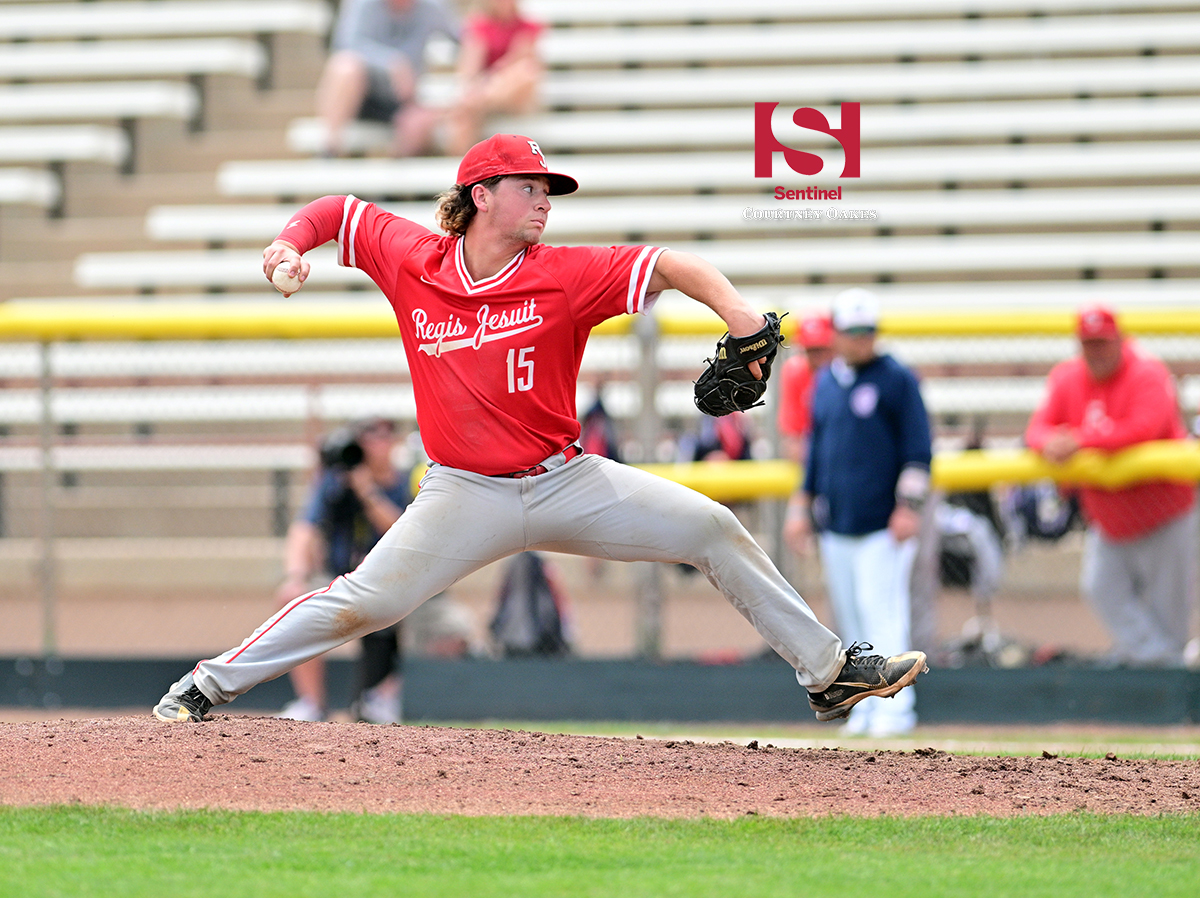 Regis Jesuit's offense again struck early in the second game against Cherokee Trail, as senior Dallas Macias (an Oregon State recruit) doubled, moved up on a wild pitch and scored on Wachsmann's groundball to shortstop.
But by the time the Continental League runner-up Raiders scored again — on McHugh's single to drive in Macias in the top of the third inning — they were in a good-sized hole after surrendering six runs in the bottom of the second inning. The frame was plagued by walks, hit batters and errors, as the Cougars scored six times with just one base hit.
Junior starter Hayden Moore exited and was followed by freshman Christian Lopez, who got out of the inning, but was touched for four more runs in the third as Regis Jesuit's deficit grew to 10-2 with four innings remaining.
McHugh moved from third base to the mound and finished up with three scoreless innings, which allowed the Raiders to chip away at the deficit.
Senior Jack Hutchens doubled in sophomore Andrew Bell in the fourth and Bell drove in Wachsmann with a sacrifice fly in the fifth, while Wachsmann followed Macias reaching on a hit-by-pitch with a two-run home run in the top of the seventh to make it a four-run game. The Raiders stranded two more runners as the game came to a close.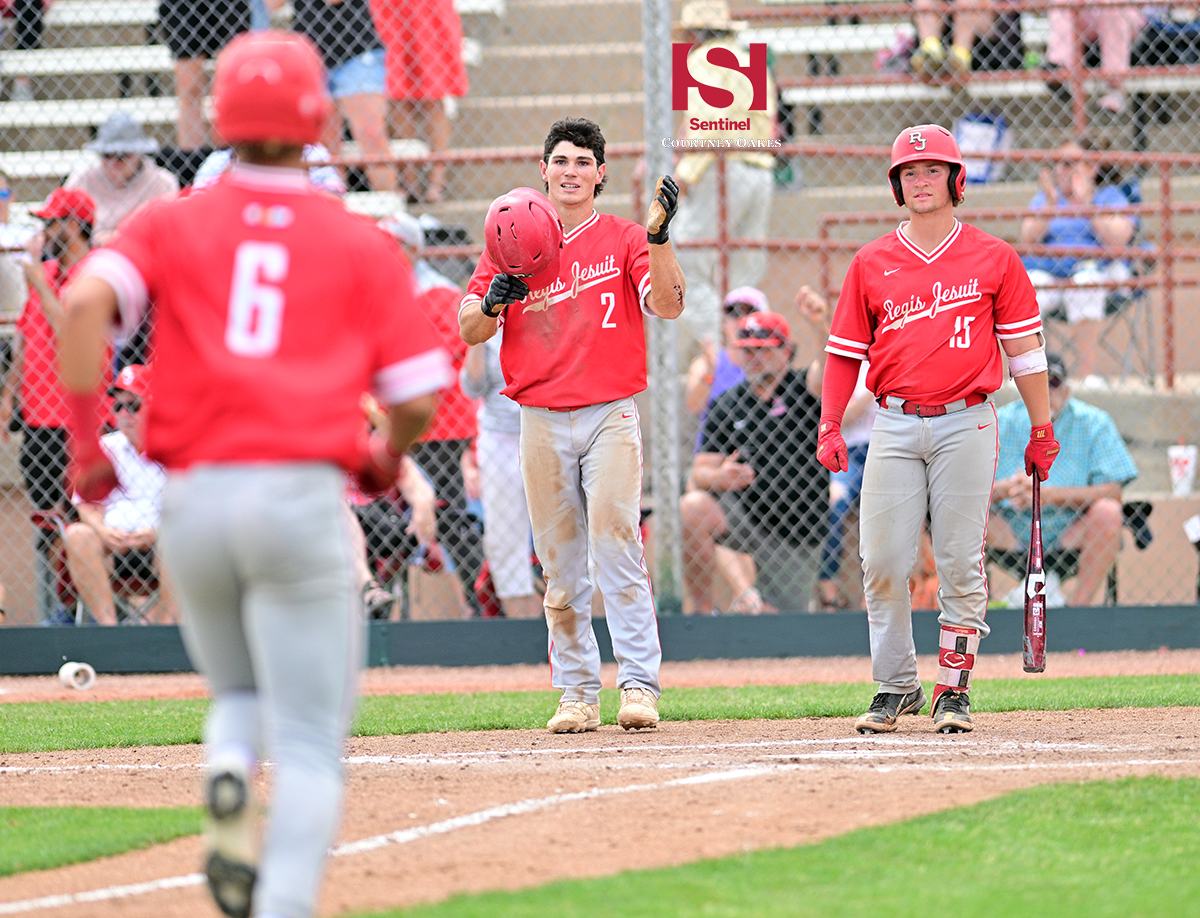 "I kindof had a feeling that it could be my last high school at-bat, so I just wanted to leave it all out there and finish my career that way," said Wachsmann, a Xavier University signee who finished as Regis Jesuit's leader in home runs (10) and RBI (44).
"That was pretty special for me, but more than that I wanted to get the team going so we could rally and see if we could put some more runs together and come back," he added.
Regis Jesuit has a lot to replace next season, as eight of its nine starters in the final game — including Wachsmann and Macias (who hit his 17th double of the season and had 25 extra-base hits) — depart. Two of their top three pitchers also graduated in senior Brian Fischer and Gerig, who had six wins apiece with sub-3.00 ERAs.
Courtney Oakes is Sentinel Colorado Sports Editor. Reach him at [email protected] Twitter: @aurorasports. IG: Sentinel Prep Sports
2022 CLASS 5A BASEBALL CHAMPIONSHIP SERIES

(7) Cherokee Trail 10, (1) Regis Jesuit 6
Score by innings:
Regis Jesuit  101 110 2 —   6
Cher. Trail     064 000 x — 10
REGIS JESUIT (ab-r-h-rbi)
Finn O'Connor 2b-3b 3-0-0-0, Dallas Macias ss 3-3-2-0, Isaac Wachsmann rf 4–2-1-3, Nate McHugh 3b-p 3-0-1-1, Charlie Rogan 1b 3-0-1-0, Andrew Bell dh-2b 2-1-1-1, Tony Padilla c 4-0-0-0, Ben Gonzalez lf 4-0-0-0, Jack Hutchens cf 3-0-1-1. Totals 29-6-7-6. Pitching (ip-h-r-er-bb-so): Hayden Moore (L, 1 1/3-1-6-5-1-2); Christian Lopez (1 2/3-2-5-2-2-2); Nate McHugh (3-1-0-0-0-2).
CHEROKEE TRAIL (ab-r-h-rbi)
Nick Barber cf 2-2-1-2, Brett Barber 2b 3-2-0-1, Thomas Munch 1b 3-0-1-0, Braeden Reichert ss 3-0-0-1, Bowen Tabola c-p 4-0-0-1, Andrew Godfrey p 2-0-0-0, Will Parsons DH 3-2-1-0, Coby Austin lf 4-1-0-1, Kaelen Bing rf 2-2-1-1. Totals 26-10-4-7. Pitching (ip-h-r-er-bb-so): Andrew Godfrey (W, 6-6-4-2-2-6), Charlie Boyd (1/3-1-2-2-1-0), Bowen Tabola (Save, 2/3-0-0-0-1-1)
2B — Regis Jesuit: Andrew Bell, Dallas Macias. 3B — Cherokee Trail: Kaelen Bing. HR — Regis Jesuit: Isaac Wachsmann (1 on 7th inning)
(1) Regis Jesuit 4, (4) Valor Christian 1
Score by innings (r-h-e):
Regis Jesuit      210 100 0 — 4  4  1
Valor Christian  001 000 0 — 1  7  1
REGIS JESUIT (ab-r-h-rbi)
Finn O'Connor 2b 3-0-1-0, Dallas Macias ss 3-1-0-0, Isaac Wachsmann rf 4-1-1-0, Nate McHugh 3b 2-0-0-1, Charlie Rogan 1b 2-1-1-1, Andrew Bell dh 2-0-0-0, Tony Padilla c 3-1-1-1, Ben Gonzalez lf 3-0-1-1, Jack Hutchens 2-0-0-0, Nate Lewis ph 0-0-0-0. Totals 24-4-4-4. Pitching (ip-h-r-er-bb-so): Brooks Gerig (W, 4-5-1-1-2-7), Ryan O'Donnell (3-2-0-0-2-5)
VALOR CHRISTIAN (ab-r-h-rbi)
Brant Kragel 1b 4-1-2-0, Cashel Dugger c 3-0-2-0, Kenan Elarton p 1-0-0-1, Ben Leikam p 1-0-0-0, Steven Lukasiewicz 2b 3-0-1-0, Campbell Credeur cf 3-0-1-0, Gavin Hunt lf 1-0-0-0, Dylan Whitfield lf 2-0-0-0, Ian Kersten dh 2-0-0-0, Joey Yetter ph 1-0-0-0, Roman Bradley ph 1-0-0-0. Totals 26-1-6-1. Pitching (ip-h-r-er-bb-so): Kenan Elarton (L, 3-3-4-4-3-4), Ben Leikam (4-1-0-0-2-5)
2B — Valor Christian (2): Campbell Credeur, Brant Kragel. HR — Regis Jesuit: Tony Padilla (solo in 2nd)