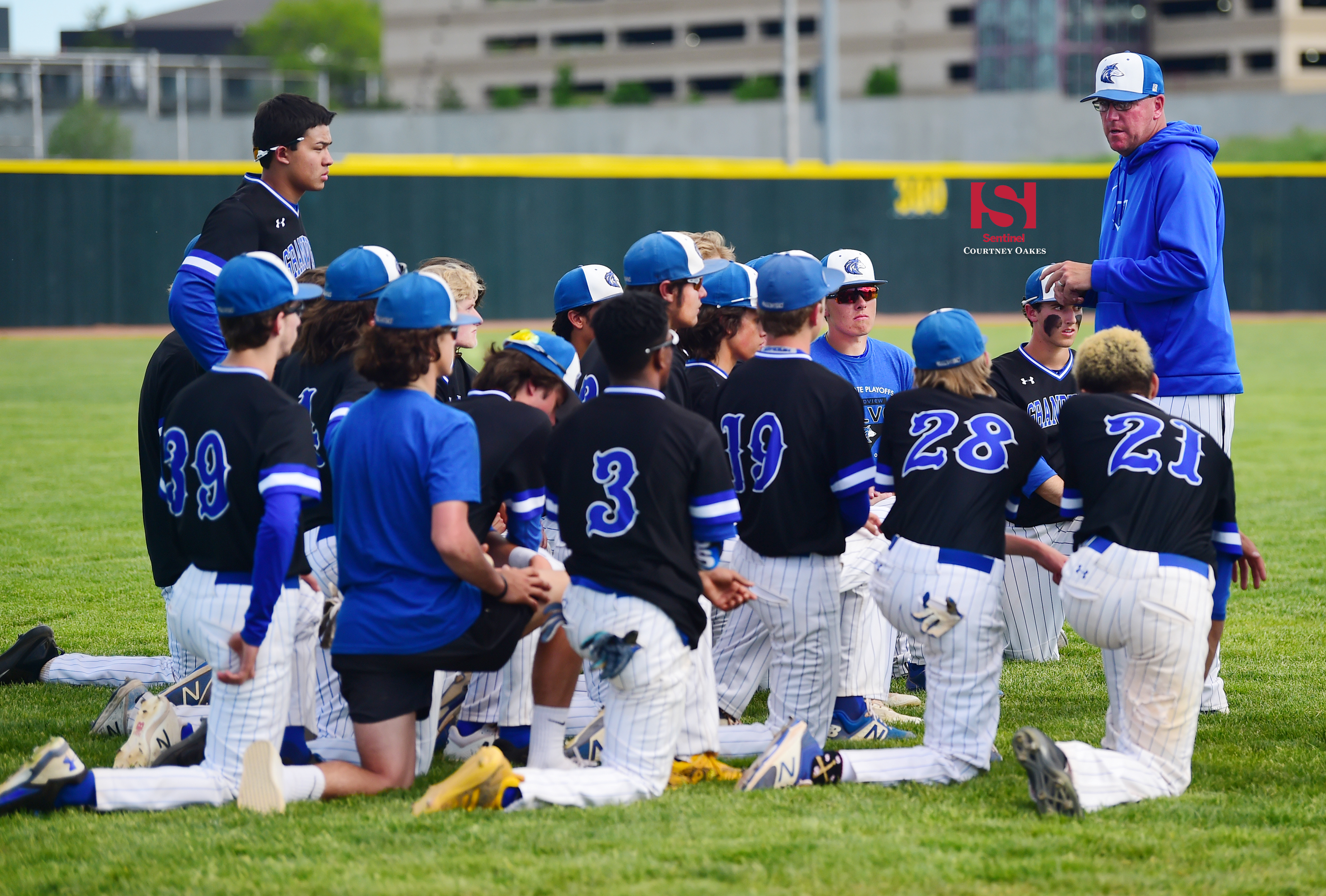 AURORA | The Grandview baseball team reached the crossroads of its season a few weeks ago when its won-loss record hit 3-8.
The Wolves have reached another defining moment in the Class 5A Championship Series as well, as they are down to their last chance in the double-elimination tournament going into Friday's matchup with Cherry Creek.
Grandview's gritty group of seniors dug in once to turn around the season and coach Scott Henry's team will try to do it again after they saw a 16-game winning streak snapped with a 3-0 loss to Regis Jesuit May 25 at All-City Stadium.
"I think this game just puts a chip on our shoulders to be honest," senior Amari Smith said. "We know what we have to work on in practice this week, so we'll be more dialed in and diligent."
Grandview (19-9) will flush the memory of its only defeat since April 9 with an elimination game against the team that dealt it that loss, Cherry Creek. The Bruins — who swept the season series from the Wolves — await in a 10 a.m. game on May 31 at All-City Stadium with the winner moving on to play for the state championship the next day
The winner faces either Regis Jesuit or Mountain Vista — which meet in a 12:30 p.m. contest — in a 10 a.m. game June 1. If currently unbeaten Regis Jesuit wins, Grandview or Cherry Creek would have to beat the Raiders twice to win the title.
If any team is good at forgetting about losses, its Grandview.
The Wolves endured many of them in the first few weeks of the season, though most of them were very competitive. They suffered a one-run loss to Key West in Florida in March, dropped one-run extra inning games to Legend and Regis Jesuit and twice lost to Cherry Creek in Centennial League play in games that went down to the end.
Those losses seem a distant memory, however, especially in the wake of a winning streak that includes four wins in five postseason games, highlighted by a 7-6 upset of top-seeded and defending state champion Mountain Vista May 24.
"I don't really know what we've changed," senior Peter Goldy said. "I felt like even the first few games of the year we were playing really good baseball, we were just barely losing. But we didn't let that get us down.
"We're tough and now we're winning, so we're just trying to keep that mojo going."
Henry has watched his team come through and win games in just about every form or fashion and he's enjoyed every minute.
In the Championship Series, he saw Goldy give a much-needed seven-inning effort on the mound in a 4-1 win over Legacy in which he bounced back immediately from giving up the tying run with a sixth-inning double to score junior Tony Castonguay with the go-ahead run. Smith delivered twice in clutch situations to drive in three big runs.
Against Mountain Vista, he saw senior Josh Hojnowski come through with the team's biggest hit of the season thus far — a go-ahead two-run home run with two outs in the top of the seventh inning — as part of a 16-hit attack.
In the same game, he saw junior Garrett Lippold throw five-plus gutsy innings of relief against a dangerous lineup and then witnessed junior Harrison Boushele — who wasn't even on the varsity team for most of the season — come on with the bases loaded and two outs and close it out.
"Through our winning streak, it really has been all 18 of us that at some point had a big at-bat or pitched really well," Henry said. "I think that is the main reason we could have a streak like that. It's not just one guy that is being counted on, it's a new kid every game.
"I've been pretty hands off the last month and a half. I don't want to get in their way."
The Wolves have thrived by not concentrating on the opposition and instead focusing on what they do well: pitch, play solid defense and come up with timely hits.
"Our biggest recipe is we really just don't care what's happening," Castonguay said. "We worry about what we're doing and that's what's special about us. No matter how many runs we are up or down, we play the same."
Courtney Oakes is Sentinel Colorado Sports Editor. Reach him at 303-750-7555 or [email protected] Twitter: @aurorasports. IG: Sentinel Prep Sports