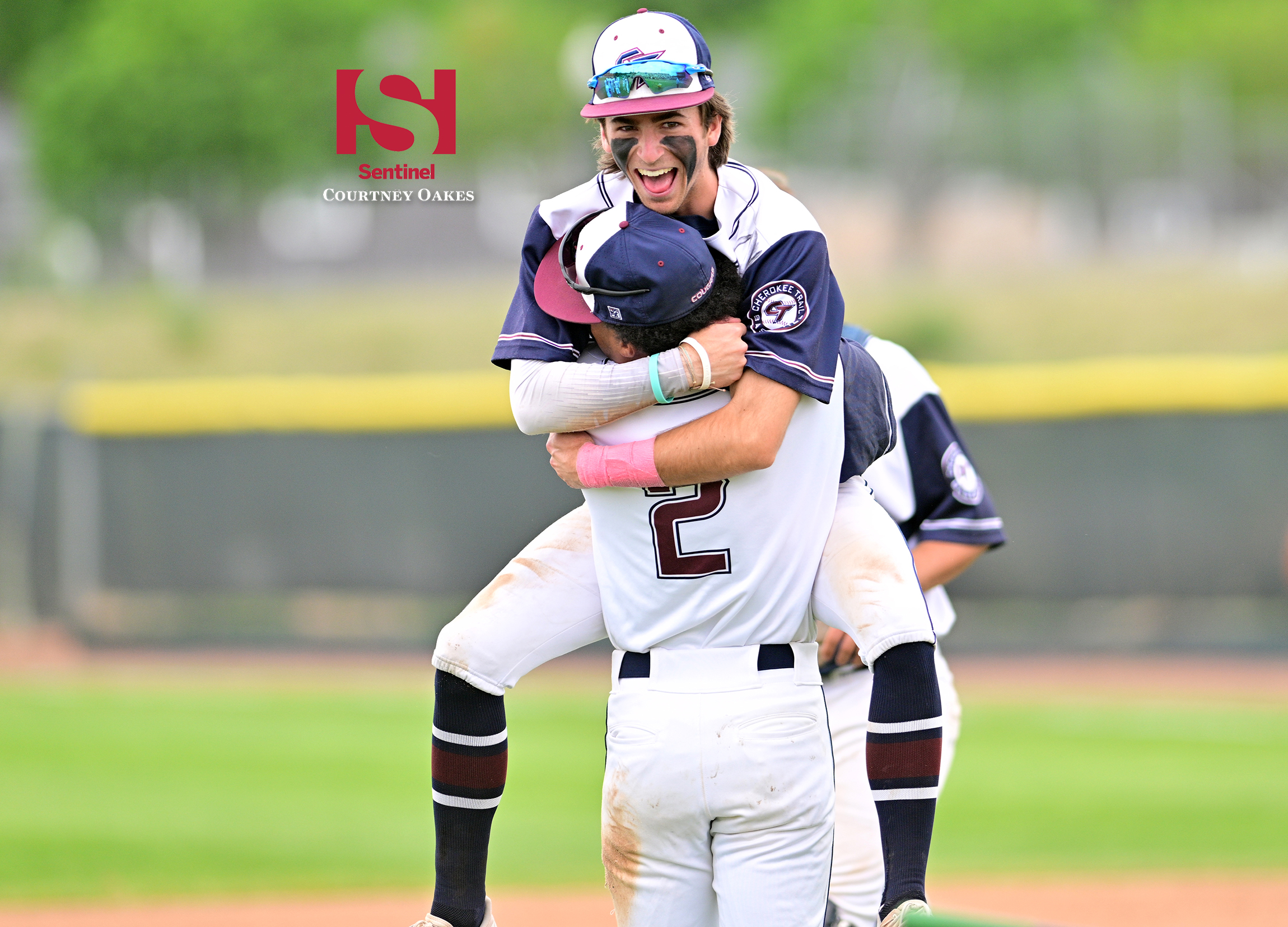 DENVER | If you give the Cherokee Trail baseball team an inch this season, it will take a mile, or at least an extra base or two.
The Cougars came into the season believing that speed and aggressiveness on the basepaths would lead to great things and those elements — combined with some gritty pitching, outstanding defense and the fruits of obvious chemistry — have added up to make them one of just four teams that can still win the Class 5A state championship.
Coach Jon DiGiorgio's seventh-seeded Cherokee Trail team completed a 2-1 opening weekend in the double-elimination 5A Championship Series with a 10-6 win over top-seeded Regis Jesuit Saturday afternoon at All-City Stadium to put them in the mix with frontrunner Broomfield, Chaparral and Legacy in the title chase.
"Nobody in the state but us believed we could make it this far, but we're still going," senior outfielder Kaelen Bing said. "We're happy, but we have a lot more to do."
Photo gallery of Cherokee Trail's win over Regis Jesuit, here.
Cherokee Trail didn't not appear in the top 10 in the Colorado High School Activities Association's preseason 5A coaches poll, but over the course of the season tied for the Centennial League championship and have found their stride in the postseason.
The Cougars knocked off regional host Pueblo West to get into the Championship Series for the first time since 2018 and in the first weekend, downed each of the top-two teams in the last 5A state rankings (Legacy and Regis Jesuit), while they suffered a close loss to the team ranked third in Chaparral.
"We're excited, we had fun and we're just going to keep going at it until we can't," said DiGiorgio, whose team is scheduled to play Broomfield (which went 3-0 on the opening weekend) in a noon game June 3 at All-City Stadium. The tournament concludes June 4.
If Cherokee Trail picks up where it left off from the opening weekend, it will be a definite factor in the conclusion of the tournament.
Senior Tyler Wilcox set the tone with a complete game performance in a 6-2 win over Legacy Friday in the Cougars' opener (story, here), while Cherokee Trail followed that up with another strong performance against Chaparral in a game it dropped 5-3.
Junior Tommy Munch — who had pitched just five innings all season — went the whole way with six effective innings for the Cougars, who lost No. 2 starter Logan Reid to a shoulder injury in the regional tournament.
Munch's effort allowed DiGiorgio to give the ball to senior Andrew Godfrey for the elimination game against Regis Jesuit and the right-hander was up to the task. He went six innings and allowed just four runs to the potent Raiders and had to come out only because he had reached his allotted number of pitches thrown.
"I wanted to go out there and get the job done for my team," said Godfrey, who moved to 7-1 on the season. "I had the team in the back of my mind the whole time and wanted do the best I could so we could keep playing. …I think we are playing our best ball right now. Yesterday against Chaparral was obviously a tough loss, but we had more hits and less errors and played a really good game, we just hit balls at people.
"I think we're in the best spot we've been all season."
Cherokee Trail's defense was on point all weekend and performed well again behind Godfrey, with two big plays coming from senior left fielder Coby Austin, who tracked a foul ball and caught it while going into the fence to retire Regis Jesuit's leadoff batter and dove to make a catch to help limit a Raiders' rally in the fourth inning.
Meanwhile, the Cougars did what they had done so many times on the season offensively. They took advantage of hit batters, walks and errors and made the Raiders pay to the tune of 10 runs between the second and third innings.
"We're scrappy, we have a lot of athletes and we love to take advantage of things," Bing said. "We obviously can all steal bases at will and we stayed true to our offense today, 100 percent. In the second inning, the errors they were making, walks and hit by pitches gave us our chances and we had to keep going."
Added senior outfielder Nick Barber, who had a key two-run single in the second inning, stole two bases and scored twice: "We just really want to punish them (opponents). We have a mindset of putting anything in play, letting them make the mistakes and then capitalize on their mistakes. Defensively, we just want to be sound.
"We want to have fun and we're having a great time right now."
Senior Bowen Tabola came on in relief of junior Charlie Boyd to get the final two outs in the seventh inning after Regis Jesuit had closed to within four runs as Cherokee Trail earned itself another week of practice and at least one more game on the big stage.
DiGiorgio took pride in how his team came to play and is looking forward to the final weekend after his team recovers from three tough games over two days and gets to reset the pitching staff.
"We're going to rehab a little bit and get back to work," DiGiorgio said. "We'll have fun with it like last week. We'll have the music going and just practice.
"This is all for the seniors and the younger guys who get to experience this."
Courtney Oakes is Sentinel Colorado Sports Editor. Reach him at [email protected] Twitter: @aurorasports. IG: Sentinel Prep Sports
2022 CLASS 5A BASEBALL CHAMPIONSHIP SERIES

(7) Cherokee Trail 10, (1) Regis Jesuit 6
Score by innings:
Regis Jesuit  101 110 2 —   6
Cher. Trail     064 000 x — 10
REGIS JESUIT (ab-r-h-rbi)
Finn O'Connor 2b-3b 3-0-0-0, Dallas Macias ss 3-3-2-0, Isaac Wachsmann rf 4–2-1-3, Nate McHugh 3b-p 3-0-1-1, Charlie Rogan 1b 3-0-1-0, Andrew Bell dh-2b 2-1-1-1, Tony Padilla c 4-0-0-0, Ben Gonzalez lf 4-0-0-0, Jack Hutchens cf 3-0-1-1. Totals 29-6-7-6. Pitching (ip-h-r-er-bb-so): Hayden Moore (L, 1 1/3-1-6-5-1-2); Christian Lopez (1 2/3-2-5-2-2-2); Nate McHugh (3-1-0-0-0-2).
CHEROKEE TRAIL (ab-r-h-rbi)
Nick Barber cf 2-2-1-2, Brett Barber 2b 3-2-0-1, Thomas Munch 1b 3-0-1-0, Braeden Reichert ss 3-0-0-1, Bowen Tabola c-p 4-0-0-1, Andrew Godfrey p 2-0-0-0, Will Parsons DH 3-2-1-0, Coby Austin lf 4-1-0-1, Kaelen Bing rf 2-2-1-1. Totals 26-10-4-7. Pitching (ip-h-r-er-bb-so): Andrew Godfrey (W, 6-6-4-2-2-6), Charlie Boyd (1/3-1-2-2-1-0), Bowen Tabola (Save, 2/3-0-0-0-1-1)
2B — Regis Jesuit: Andrew Bell, Dallas Macias. 3B — Cherokee Trail: Kaelen Bing. HR — Regis Jesuit: Isaac Wachsmann (1 on 7th inning)