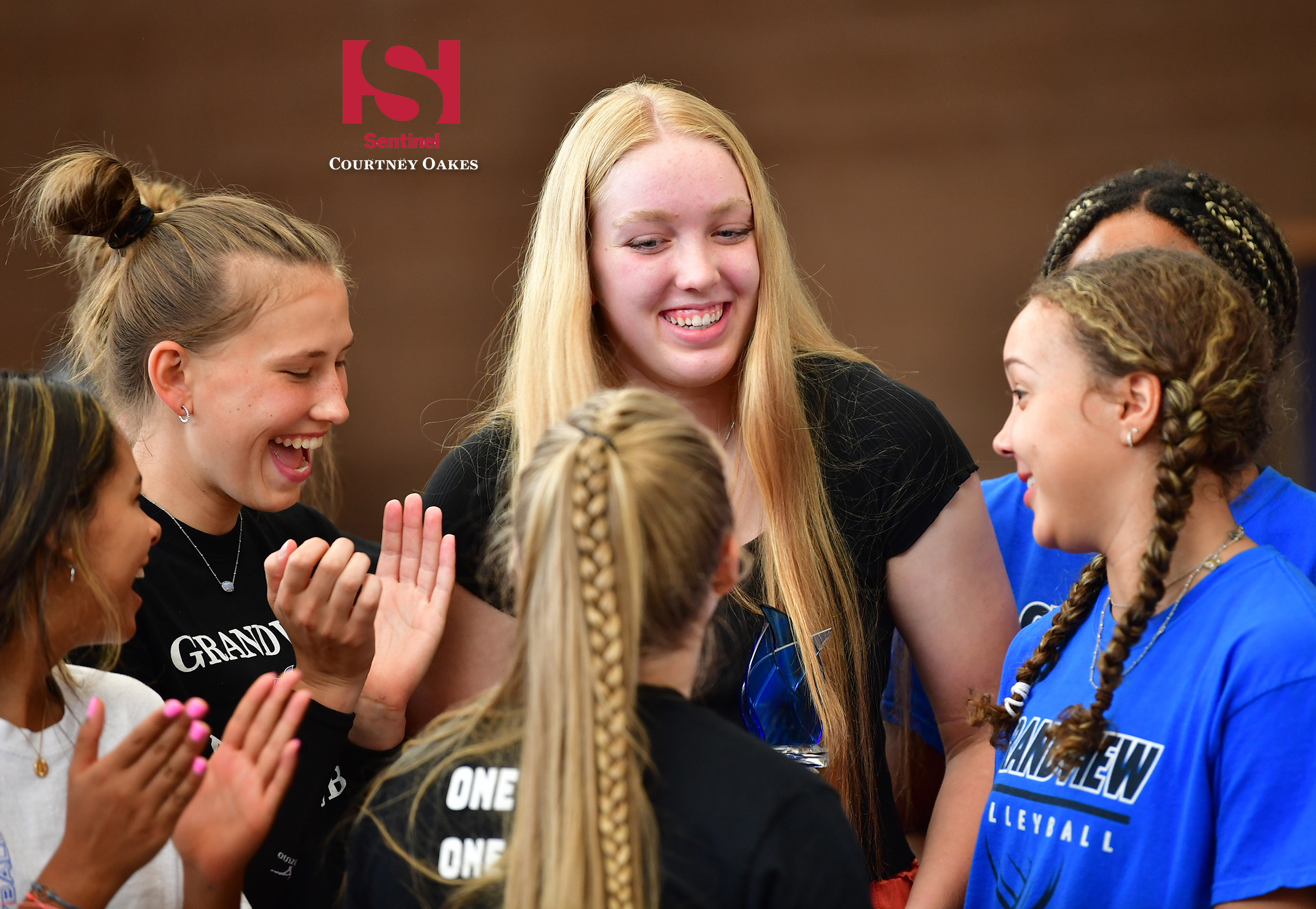 AURORA | Addison O'Grady has already embarked on her career as a Division I athlete, but she returned home to receive an award that put the bow on her impactful time at Grandview High School.
O'Grady — who had been at the University of Iowa, where she'll play DI basketball, since early June — stopped by the school Tuesday to be presented with the prestigious Freddie Steinmark Award.
Flanked by her former teammates on the Grandview girls volleyball team, which took time out of their ongoing practice, O'Grady received the award from Dan Watkins of the Colorado High School Coaches Association as well as Sammy Steinmark, brother of former Colorado prep great Freddie Steinmark, who the award is named for.
"I think it's really good because I always strive to be good in different sports and school," O'Grady said. "It's definitely good the award has to do with academics because that's my main priority. …It was good I was able to achieve this, even with all of the challenges that past two years have brought."
The Steinmark Award — which was previously given out by the now defunct Rocky Mountain News — annually honors one male and one female from across Colorado who represents the complete package of elite athletic talent, academic success and leadership, which Freddie Steinmark displayed while at Wheat Ridge High School in the 1960s.
Steinmark's story was chronicled in the 2015 movie "My All-American."
O'Grady — who is only the second student athlete from an Aurora school to win the award since it started in 1974, following Smoky Hill swimmer Annie Perizzolo in 2007 — certainly fits the bill in all the departments required to win the award.
She posted a 4.52 GPA to finish 21st out of her graduating class of 706 students, while she also scored 1380 on the SAT. O'Grady also has spent time as a volunteer at Children's Hospital Colorado, the VA located in Aurora and the Ronald McDonald House.
Athletically, O'Grady pulled off a rare feat in her senior season as she earned All-State first team honors from Colorado High School Activities Association voters in both girls basketball and volleyball. She helped the volleyball team to the Class 5A state championship match after she was a driving force on the Grandview girls basketball team's push to the 5A semifinals.
O'Grady was on the Wolves basketball team that won the 2017-18 5A state title.
For her accomplishments in both sports, O'Grady also was selected as Grandview's Female Athlete of the Year and shared the Kurby Lyle Award winner as the top female athlete in Cherry Creek Schools along with Cherry Creek's Eliza Hill.
"I really wanted to be the best multi-sport athlete I could be and both of my coaches (Josh Ulitzky in basketball, Rob Graham in volleyball) were really supportive of me and helped me do that," she said.
Graham and Ulitzky both spoke about O'Grady before she received her award and each emphasized how important her team-first attitude was to their respective squads.
O'Grady said she was trying to emulate the leadership she saw from Leilah Vigil and Jaiden Galloway when she was a freshman on the basketball team.
The Steinmark Award has only gone to four athletes from Aurora schools: to O'Grady and Perizzolo on the girls side and to Rangeview's Terry Taylor Jr. and Aurora Central's Pat Manson on the boys side in back-to-back years in 1985 and 1986.
Courtney Oakes is Sentinel Colorado Sports Editor. Reach him at [email protected] Twitter: @aurorasports. IG: Sentinel Prep Sports