Notes from Aurora prep sports, alumni news and more.
TUESDAY, JAN. 18: Smoky Hill High School graduate Jenny Cavnar received a huge accolade from the National Sports Media Association, which dubbed her Colorado's Sportscaster of the Year.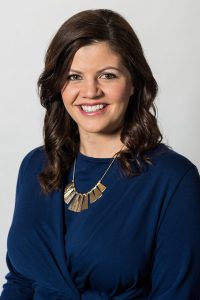 Cavnar, a multi-sport athlete at Smoky Hill and daughter of longtime Smoky Hill and Regis Jesuit baseball coach Steve Cavnar, is an announcer for the Colorado Rockies on AT&T SportsNet. She is the first woman to win the award in Colorado.
A two-time Emmy Award winner with over a decade of experience, Cavnar — a Colorado State University graduate — also made history in 2018 as the first woman to do play-by-play for a Major League Baseball Game in a quarter century when she was on the call for a contest between the Rockies and the San Diego Padres.
The NMSA will honor the state winners and its Hall of Fame Class of 2022 — which includes the late Stuart Scott — at its 62nd awards weekend and national convention, which is set for June 25-27 in Winston-Salem, North Carolina.
MONDAY, JAN. 17: With the celebration of the Dr. Martin Luther King Jr. Day, there was very little on the schedule in teams of prep sports, but the Regis Jesuit girls basketball team was in action in the final game of play in the Classic In The Country Challenge in Berlin, Ohio.
The Raiders finished the three-game set played at the Reese Center at Berlin Hiland High School with a 50-49 victory over Laurel (Ohio) to close out the trip 1-2. Coach Jordan Kelley's team dropped its previous two games (64-54 to GlenOakes and 63-28 to Reynoldsburg), but ended on a high note with a tight victory that was fueled by three players in double figures.
Sophomore Coryn Watts scored 18 points to lead the way in the win, while junior Savitri Jackson added 11 and sophomore Hana Belibi 10 (in addition to 11 rebounds). For the tournament, Belibi and Watts each averaged 12.3 points per game in the tournament
The tournament is part of a busy stretch for Regis Jesuit, which returns to Colorado with an 8-5 record. The Raiders squared off with 5A defending state champion Valor Christian on Jan. 12 (losing 78-68), headed out for the tournament the next day and on Tuesday plays at Mountain Vista (5-8) in their fifth game in a six-day span.
The remainder of play for Regis Jesuit is in the Continental League save for a Jan. 28 home game against powerhouse Grandview.
— Sports Editor Courtney Oakes