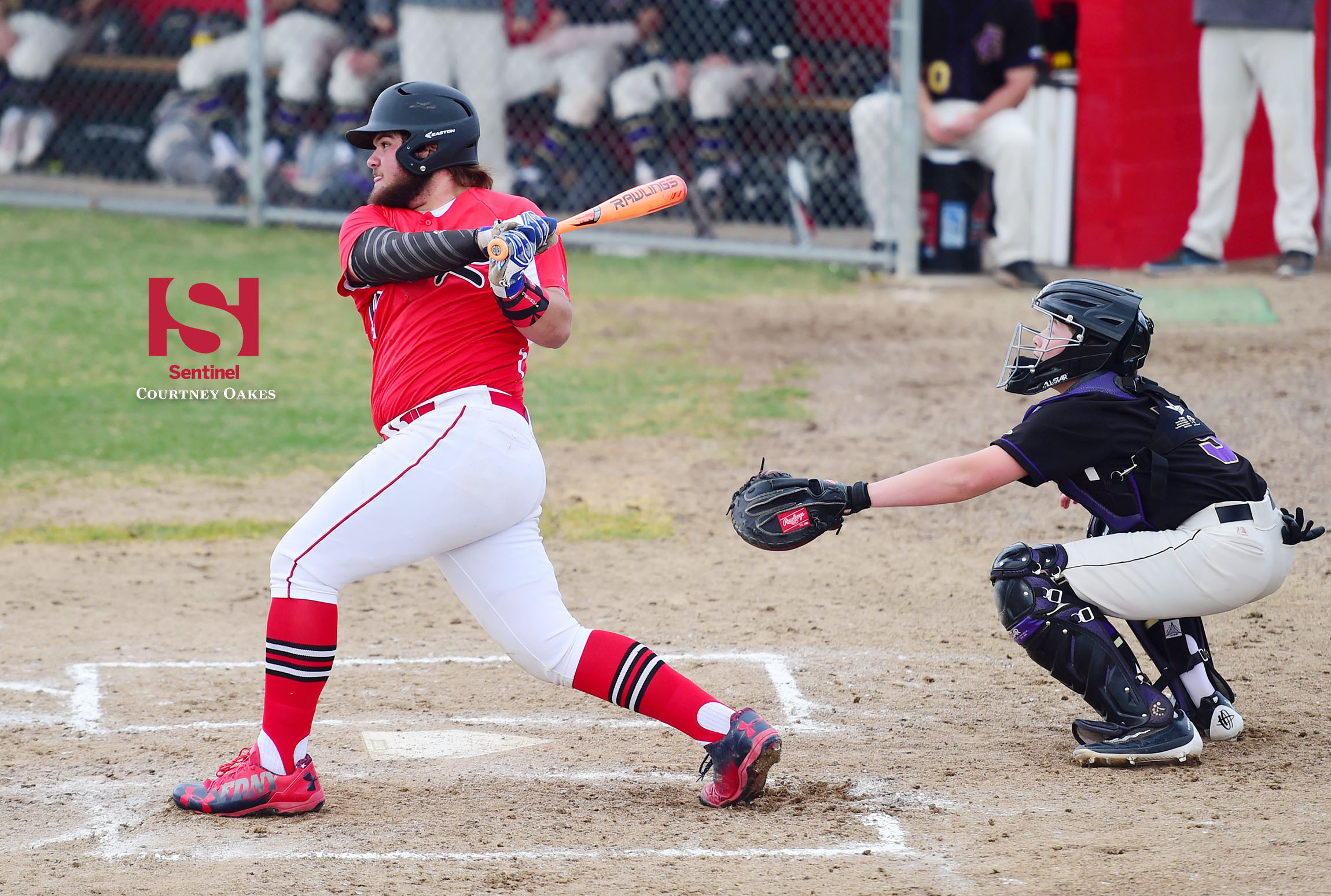 AURORA | 2020 began as usual in Aurora prep sports, with state championship tournaments completed in winter three sports, but nothing was the same after the unwelcome arrival of the coronavirus pandemic.
Preps Year in Review, Part 2, here.
Here's a look back at some of the important happenings in Aurora prep sports in the first half of 2020:
Courtney Oakes is Sentinel Colorado Sports Editor. Reach him at 303-750-7555 or [email protected] Twitter: @aurorasports. IG: Sentinel Prep Sports
FORMER RANGEVIEW BASEBALL PLAYER CODY LYSTER DIES AT 21 OF COMPLICATIONS FROM CONTRACTING COVID-19
Rangeview High School graduate Cody Lyster died late April 7 due to complications from the COVID-19 virus at the age of 21 (full story, here).
Lyster had been in the hospital for a week battling the virus when his heart stopped as doctors were trying to put him on dialysis according to a social media post from his father, Kevin, who had recently been hospitalized himself. Cody Lyster was one of the youngest deaths from COVID-19 in the early stages of the pandemic and is one of just 541 victims under the age of 24 among the 261,530 Americans who had died of the virus through the first week of December.
"How do I craft the words to say I love you," Kevin Lyster's Facebook post read. "The doctors worked on our son for half an hour and at 11:55 p.m. our beloved son and my best friend, Sierra's brother and Lea Ann's baby boy left this world to play baseball on the field of dreams. We were able to say goodbye to him, hug him and hold him afterwards. Please take this virus seriously. We are hollow and at a loss for words."
Well-liked and known for his fun-loving personality, according to those who knew him, Cody Lyster loved the game of baseball and played it throughout his time at Rangeview, where he played on the infield and also pitched.
The major Colorado Rockies fan went on to play club baseball at Colorado Mesa University in Grand Junction, where he was majoring in criminal justice to follow in the footsteps of his father, a police officer at the University of Colorado Anschutz Campus in Aurora.
Posthumosly, the Arapahoe Little League created a Cody Lyster Sportsmanship Award in his honor and Lyster's family received an honorary degree from Colorado Mesa University at a graduation ceremony in December.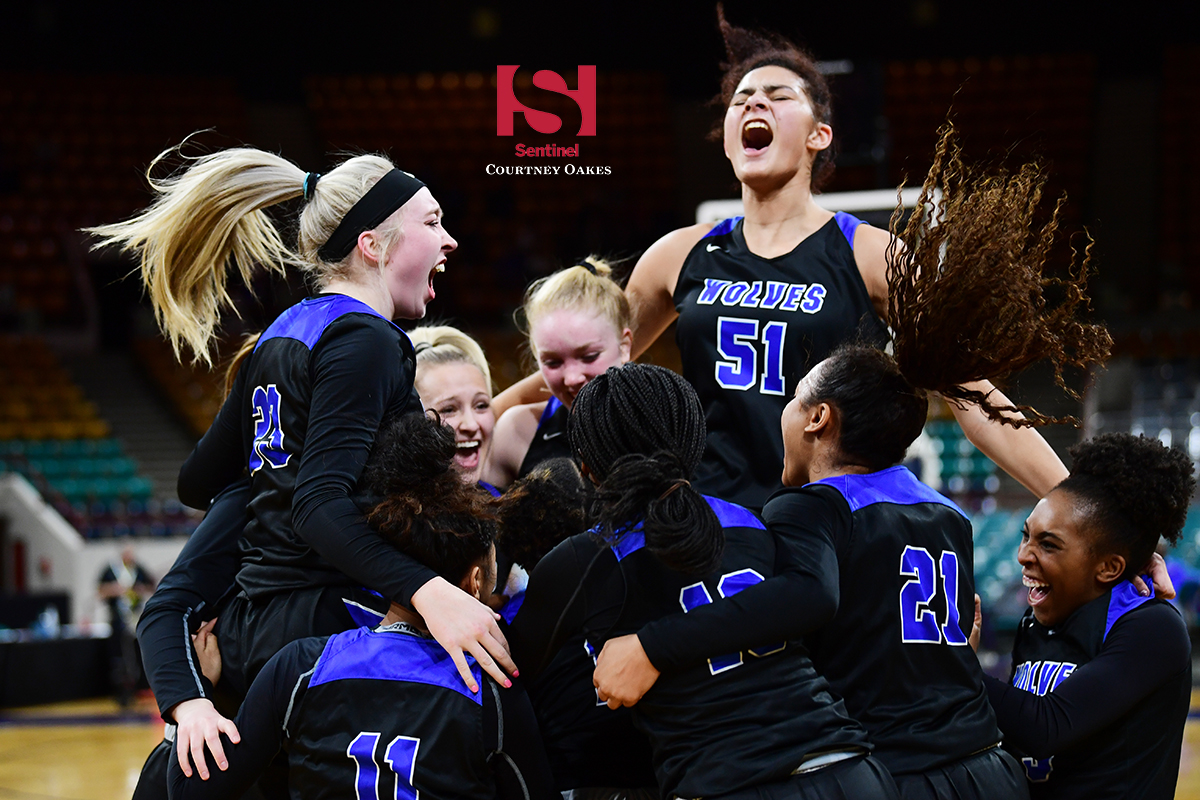 CORONAVIRUS ENDS HOOPS CHAMPIONSHIP BIDS FOR RANGEVIEW BOYS, GRANDVIEW BOYS AND GIRLS
The coronavirus pandemic hit full force at just the wrong time for Aurora boys and girls basketball teams. The escalation of Colorado's COVID-19 concerns and those across the country coincided with the final days of the Class 5A boys and girls state basketball tournaments, with state championships on the fingertips of local teams.
On March 12, coach Josh Ulitzky's Grandview girls knocked off Valor Christian in an epic 5A girls semifinal at the Denver Coliseum to earn a chance to play two nights later against Centennial League rival Cherry Creek, which had ended the Wolves' hopes of a three-peat in the previous seasons' championship game.
The talented-loaded teams split their two league contests and were primed for a deciding game when the Colorado High School Activities Association canceled the remainder of the tournament (full story, here).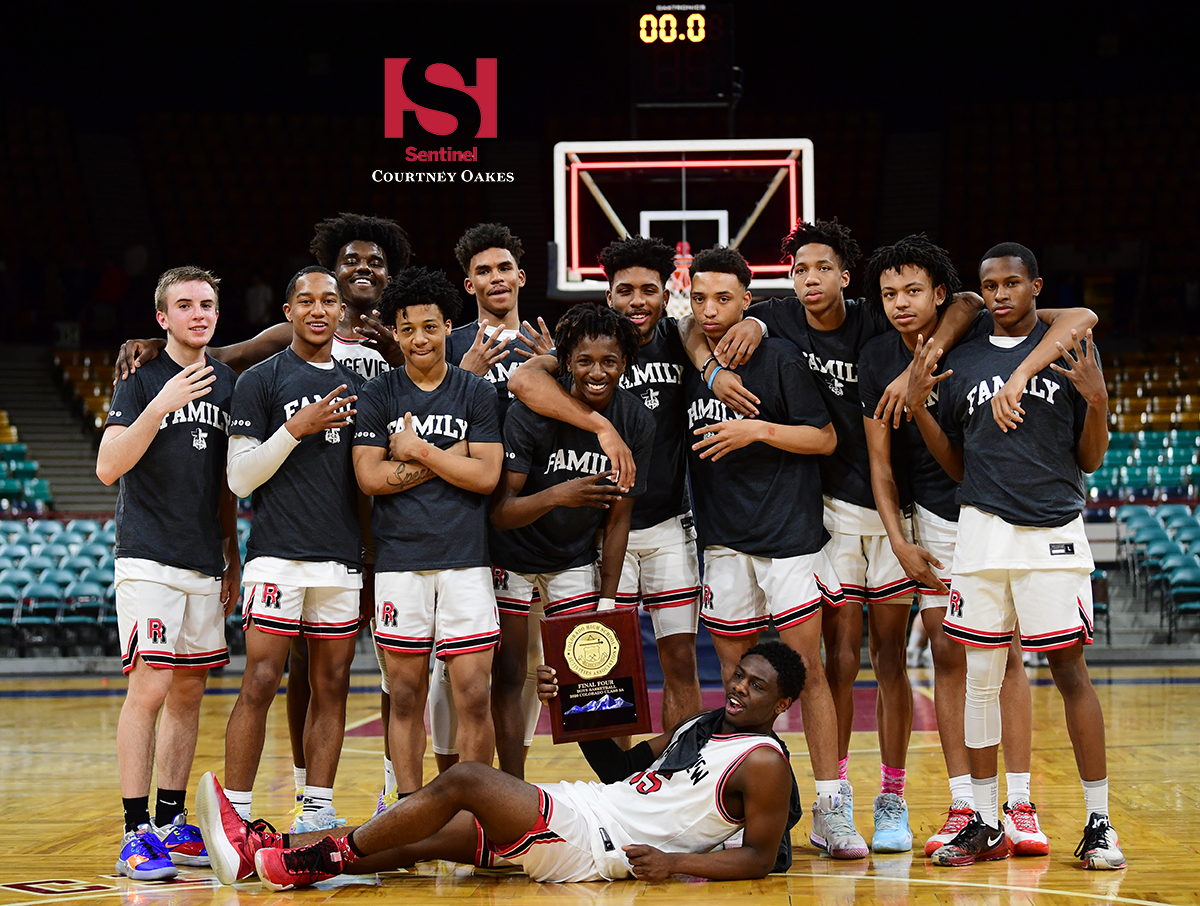 "Everything we've done up to this point was to try and keep the experience of a state basketball tournament for our student participants and high school communities," CHSAA Commissioner Rhonda Blanford-Green said in a press release. "In the face of this unprecedented public health emergency, we are compelled to discontinue play in all tournaments."
CHSAA got in the girls semifinal games with massive attendance restrictions, but left on the sidelines were two Aurora boys teams, Rangeview and Grandview, which were set to meet in one of the two 5A semifinals.
Coach Shawn Palmer's defending state champion Raiders had a 26-0 record — part of a 45-game winning streak that stretched back to the 2018 calendar year — and were attempting to be the first undefeated state champion in Colorado 5A boys hoops since 2004 (full story, here).
Grandview had played Rangeview to within a point in the regular season.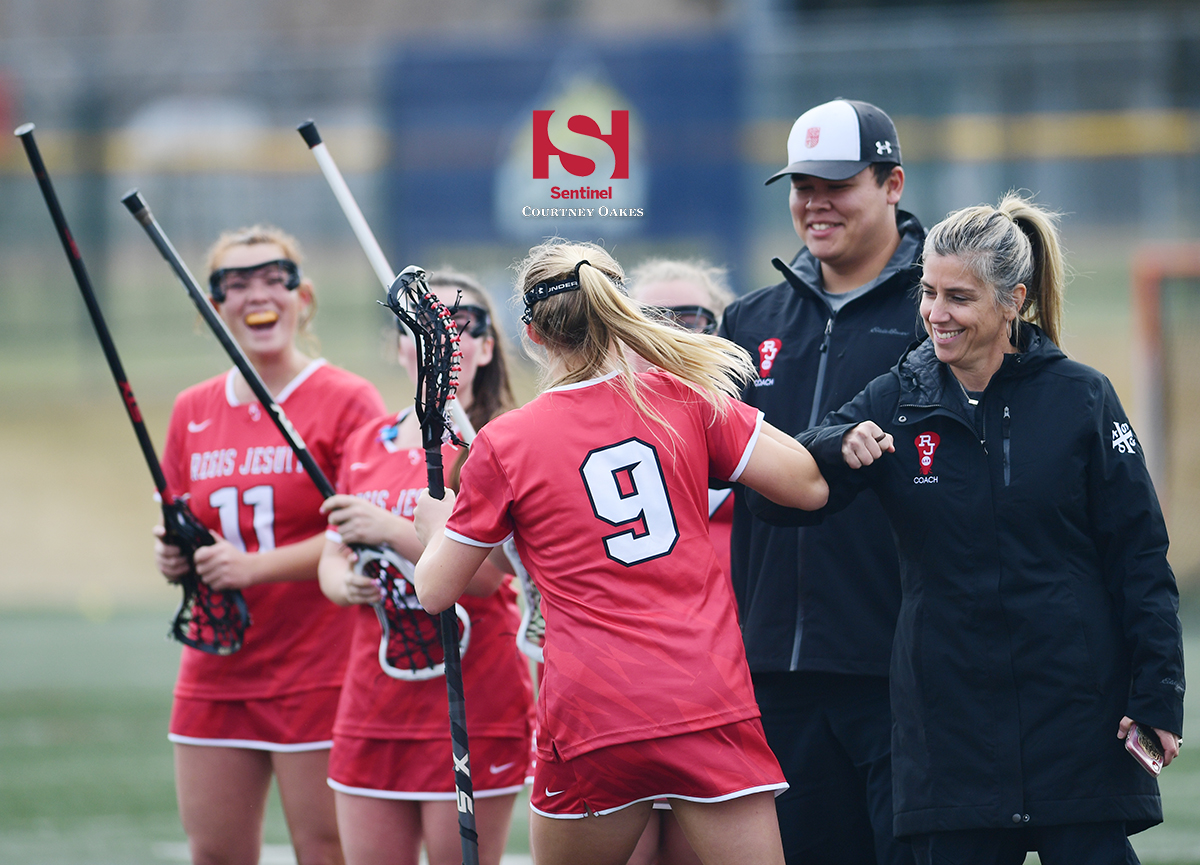 SPRING SPORTS WIPED OUT COMPLETELY BY PANDEMIC
The Opening Day of the regular season for spring sports turned out to be Closing Day as well, as the coronavirus pandemic forced the Colorado High School Activities Association to suspend the season March 12, then ultimately cancel it a few weeks later.
Girls golf and girls tennis had earlier start dates than the rest of the spring sports, so Vista PEAK got in one round of play at the Denver Public Schools Invitational March 5 and the Eaglecrest girls tennis team played a dual match with Lutheran March 11. On the actual first day for all sports, the Regis Jesuit girls lacrosse tea topped Dakota Ridge 18-4.
Aurora Public Schools and Cherry Creek Schools were part of an agreement among 12 Metro area school districts to completely close facilities and complete the school year online, ending the competition season (full story, here) for those schools.
Teams in baseball, girls soccer, boys swimming, track & field and boys and girls lacrosse from other areas held out hope they would be able to resume and CHSAA postponed the restart several times in hopes of playing before it had to cancel.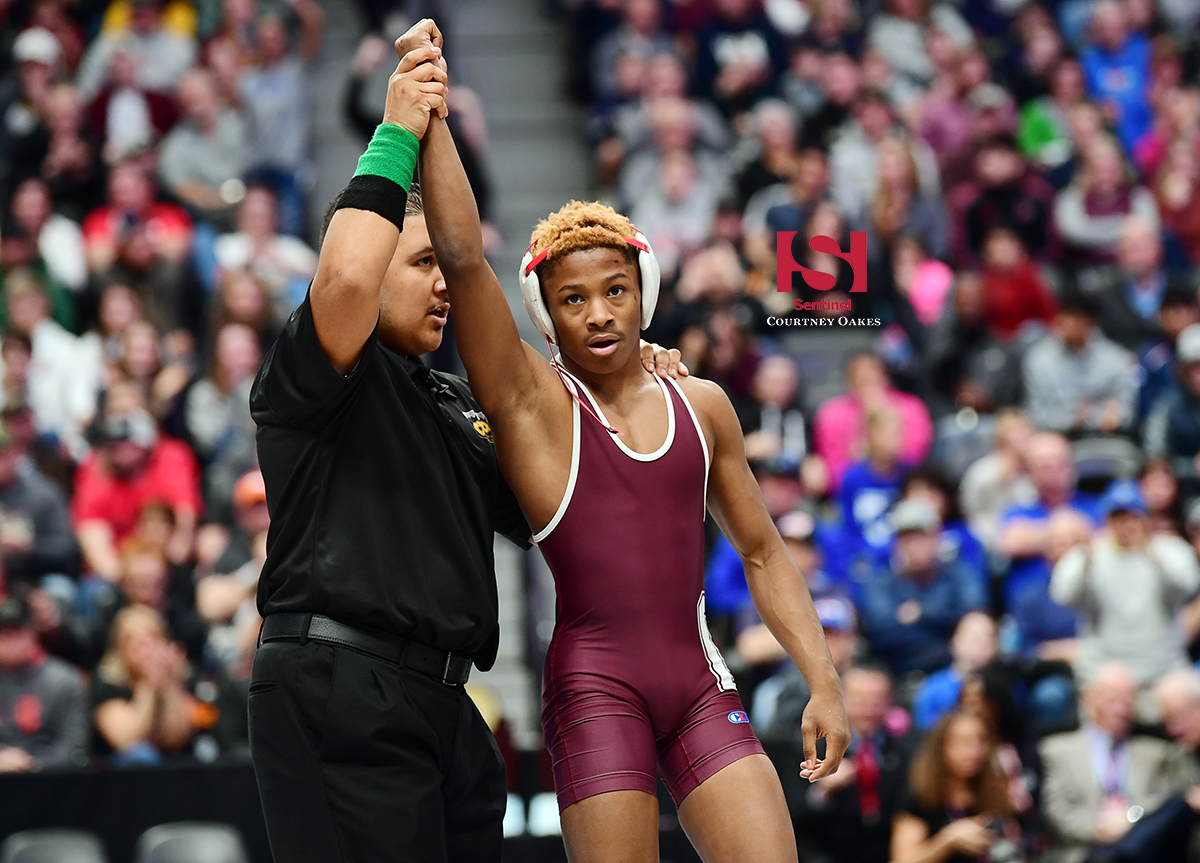 DEREK GLENN JR., SAM HART GIVE CHEROKEE TRAIL PROGRAM ITS FIRST STATE WRESTLING CHAMPIONSHIPS
The Cherokee Trail wrestling program finally saw its championship drought come to an end with not one, but two, titles won on the final night of the Class 5A state wrestling tournament Feb. 22 in front of a massive crowd at Pepsi Center (full story, here).
A rare all-Aurora championship match at 106 pounds pitted Cherokee Trail sophomore Derek Glenn Jr. against Grandview junior Frankie Sanchez and it was Glenn Jr. who came away with a 4-2 decision that gave coach Jeff Buck's Cougars the first state champion after they had been 0-5 in previous state championship matches.
Junior Sam Hart made it 2-for-2 later for Cherokee Trail when he finished a dominant 38-0 season with a 4-2 win over Brighton's Dylan BravoPacker in the 220-pound final. Hart (an Ohio State-bound football player) lost in the state championship match the previous season.
Senior Julian Williams couldn't add a third title for the Cougars when he dropped the 285-pound title match against Columbine's Zach Schraeder, who had a significant size advantage as Williams was wrestling up a class.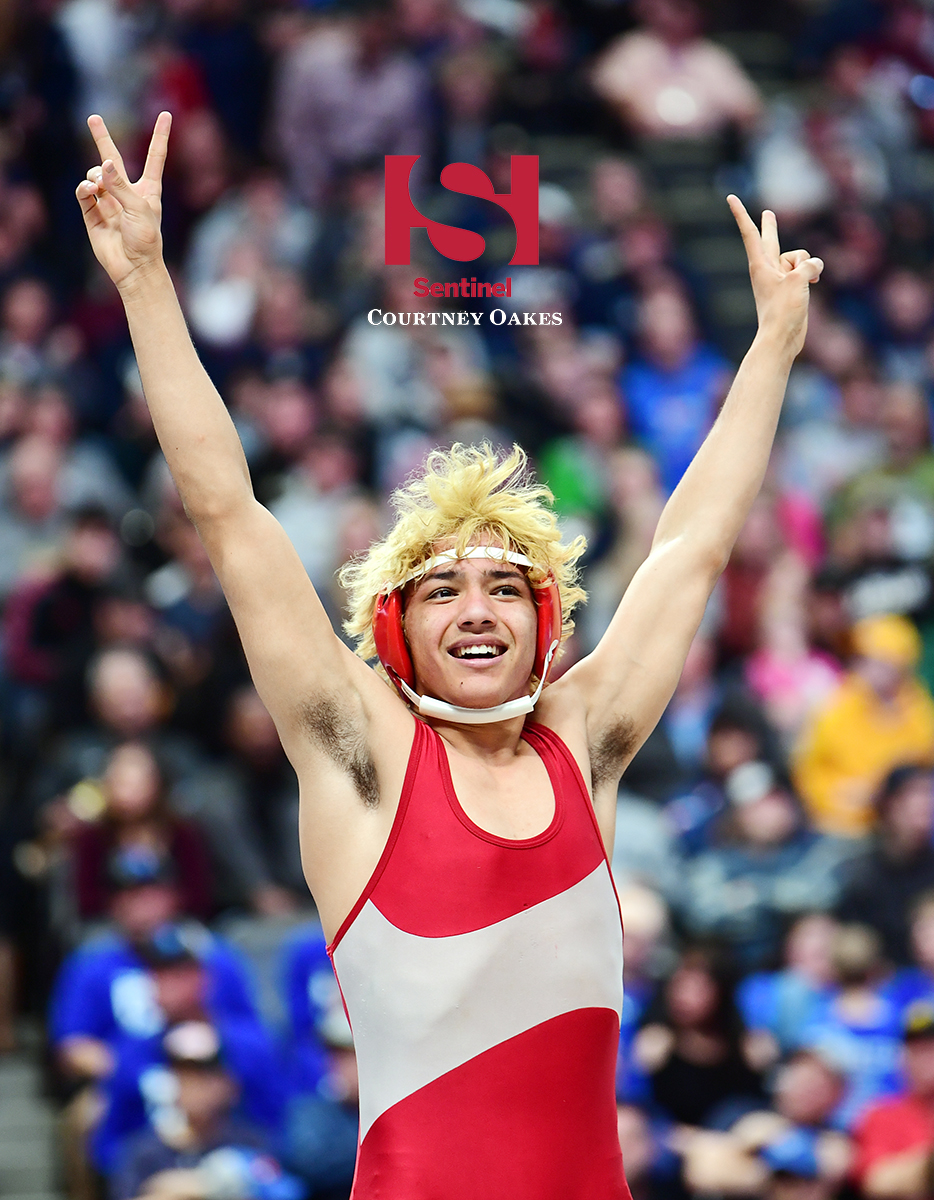 REGIS JESUIT WRESTLER ANTONIO SEGURA REPEATS AS STATE CHAMPION
With a target on his back all season, Regis Jesuit's Antonio Segura survived everything thrown at him by opponents on the wrestling mat and all the adversity his coach heaped on him to win a second straight Class 5A state championship (full story, here).
Raiders' coach Brent Bieshaar entered Segura in matches in three different weight classes during the season and put him in some loaded tournaments outside of Colorado to bring the best out of him and it worked (Feature: Tough Tony, here), as Segura finished 47-5 and beat Legacy's Joey Joiner in the 5A final again.
Segura beat Joiner in dramatic fashion the previous season, but this time came up with five takedowns for a comfortable 10-7 victory. He became the fourth two-time state champion in Regis Jesuit history and gave himself a chance to match John Crowley as a three-time winner if the tournament is contested in 2020.
REGIS JESUIT'S SOPHIA BRADAC FINALLY SNARES ELUSIVE BREASTSTROKE CROWN AT CLASS 5A GIRLS STATE SWIM MEET

Denied the previous year, Regis Jesuit senior Sophia Bradac capped her prep swimming career with the state championship she'd always wanted Feb. 14 at the Veterans' Memorial Aquatic Center (full story, here).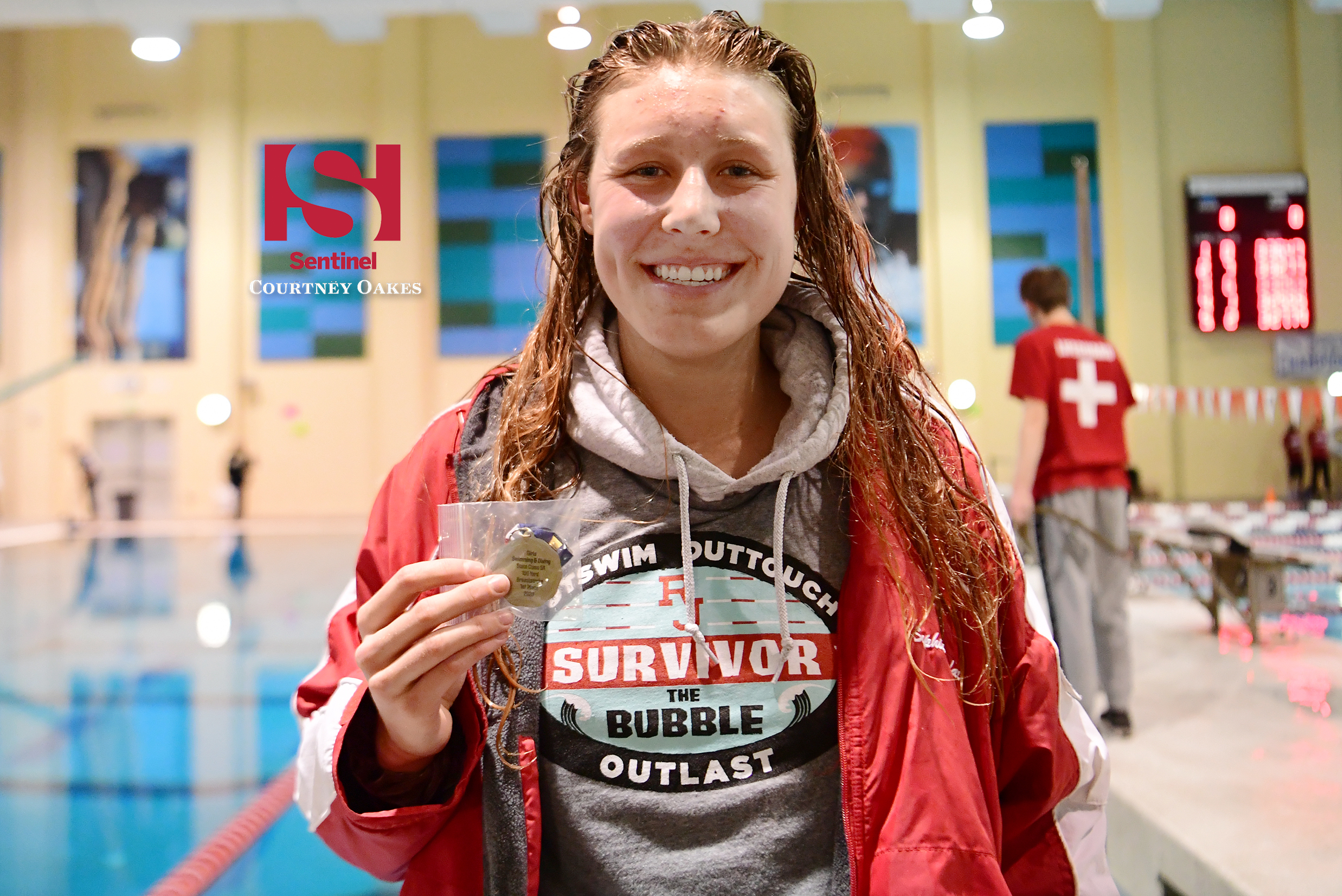 In the Class 5A state championship heat of her favored stroke, the 100 yard breaststroke, Bradac touched the wall in 1 minute, 2.22 seconds, to top her previous lifetime best time by a mere 0.01 of a second and hold off Heritage's Aislyn Barnett, who finished just 0.065 of a second behind.
Bradac, a Notre Dame signee, had family company in the water as younger sister Catherine also qualified for the championship final in the event. She finished eighth.
Other notables from the first half of the 2020 Aurora prep athletic year:
・Some seniors got to compete in their final seasons in high school before the pandemic arrived, but some did not. Several of Aurora's senior shared their feelings in the Sentinel Senior Series, including Grandview's Lily Williams (story), Cherokee Trail's Beam Boonta (story), Overland's Graham Ike (story), Cherokee Trail's Luke Flay (story), Regis Jesuit's Katie Berrian (story), Grandview's Tony Castonguay (story), Overland's Beneyam Yifru (story), Evans Scholarship winner Dakota Makinen (story), Regis Jesuit's Jackson Connelly (story), Salem Scobee of Lotus School For Excellence (story) and Rangeview's Obi Agbim (story).
・The Regis Jesuit ice hockey team qualified for the Frozen Four for a 13th consecutive season, but fell short of a fourth straight trip to the state championship game after a 2-1 loss to Valor Christian March 5 at Pepsi Center (full story, here). The Raiders got a goal from William Laws to tie the game in the second period, but a fluke bounce on a puck off the end boards that deflected off the goaltender's skate and in proved to the difference. Regis Jesuit had coach Dan Woodley back on the bench after he was absent in the wake of the tragic death of his son, Cale, a former Raiders standout.
・Two Aurora senior girls swimmers earned big awards during the winter season, as Regis Jesuit's Jada Surrell-Norwood was voted Class 5A Swimmer of the Year by league coaches, while Smoky Hill's Maggie Robben was one of three co-winners of the prestigious Hoyt Brawner Award as top senior swimmer, scholar and citizen (full story, here). Surrell-Norwood's Raiders finished an Aurora-best third place at the 5A state meet as Sophia Bradac won a state title in the 100 yard breaststroke (see above) and seven swimmers placed in two individual events for the Raiders. Grandview finished 17th, Smoky Hill 18th, Cherokee Trail 20th and Eaglecrest 24th (state recap, here and full results, here).
・Girls wrestling finished its second pilot season as it prepared to become officially sanctioned by the Colorado High School Activities Association in 2021. With the option to no longer have to wrestle boys, girls wrestling has grown tremendously across the state and quite a bit in Aurora, as Cherokee Trail, Eaglecrest, Overland, Regis Jesuit and Vista PEAK all sent wrestlers to regional tournaments (full Grappling with Change feature, here). Seven girls from Aurora programs qualified for the state tournament and Vista PEAK's Elisa Abeyta and Ashley Jaramillo along with Eaglecrest's Blythe Cayko placed (full story, here).
・The basketball community rallied around Regis Jesuit junior guard Avery VanSickle and her family after her father Bryan — a longtime fixture in youth basketball — was diagnosed with Stage 4 melanoma on the opening day of the girls basketball season. VanSickle received tremendous support from her Regis Jesuit community, while teams in the Continental League and elsewhere raised money to contribute (full story, here).
・The Grandview wrestling team had seven qualifiers for the 5A state tournament and four of them earned podium spots as top-six placers. Senior Joe Renner (182 pounds) and junior Frankie Sanchez Jr. (106 pounds) both lost in state finals, while sophomore 126-pounder Sonny Quintana took fifth and senior Alex Santillan ended up sixth at 132 pounds. Half of Smoky Hill's two state qualifiers made the podium as heavyweight Alex Angeles ended up sixth (full results of 5A/4A state wrestling tournament for the 33 Aurora qualifiers, here).
・The Eaglecrest cheer team won the Colorado state championship in December of 2019, then added a national title when it won the UCA National High School Cheerleading Championship meet in February at Disney World. The Raptors finished on top of a field of 17 teams from across the country in the Medium Varsity Division I group (full story, here).
・The Cherokee Trail girl swim team established program records in just about every event, forcing coach Kevin Chatham — who has a fear of heights — to climb a tall ladder to change the numbers on the recordboard above the school's pool (feature, CT's New Heights, here).
・Regis Jesuit's Jada Moore and Grandview's Tomia Johnson were the only local basketball players to receive nominations for the McDonald's All-American Girls Basketball Game (full story, here). Neither was selected for the 43rd annual game, which was scheduled to be played on April 1 in Houston, Texas, but was canceled due to COVID-19.
・The Hinkley wrestling team played host to the "Town Center Takedown" in January, the second year in a row that the Town Center of Aurora became the venue for a wrestling dual match held on a mat assembled in an open area of its lower level. The Thunderbirds tied with Denver West 48-48 with more matches contested than usual (full story, here).
・Local basketball players reacted to the shocking death of former NBA great Kobe Bryant, who was killed in California a helicopter crash along with his daughter and several others. The Rangeview boys basketball team played host to a game where they asked fans to wear purple and gold in honor of Bryant's Los Angeles Lakers (full story, here).
・The Rangeview girls swim team won the annual Aurora Public Schools Championship meet yet again by winning 10 of the 12 events contested in the 31st annual meet — held at Hinkley High School — with Hinkley in second, Gateway in third and Aurora Central in fourth. Rangeview Jasmine Johnson won both of her individual events and finished her four-year career at the meet without a loss (full recap, here and results, here).
・Rangeview has had only two boys basketball coaches since it opened in 1983 and current coach Shawn Palmer moved in front of Terry Taylor Sr. with his 288th career victory came with the Raiders' 60-43 road win at Hinkley (full story, here). With the pandemic ending Rangeview's season before the semifinals, Palmer and Company will come into the 2020-21 season having not lost since Dec. 22, 2018.
・Gateway High School officially dedicated its basketball court in honor of former coach Jeff Sweet, who was in attendance at a Feb. 4 ceremony along with a number of his former assistants and former players. Sweet coached the Olys to 321 victories and never had a losing season from when he took over in the 1990-91 season to when he stepped down after the 2010-11 campaign (full story, here).
・Three Aurora prep athletes were named winners of Lynch Family Legacy Scholarships — worth $24,000 over a span of four years — handed out by the John Lynch Foundation. Gateway multi-sport athlete Malia Jimerson, Grandview baseball player Tony Castonguay and Regis Jesuit soccer player Braden Murphy got the news in June (full story, here).