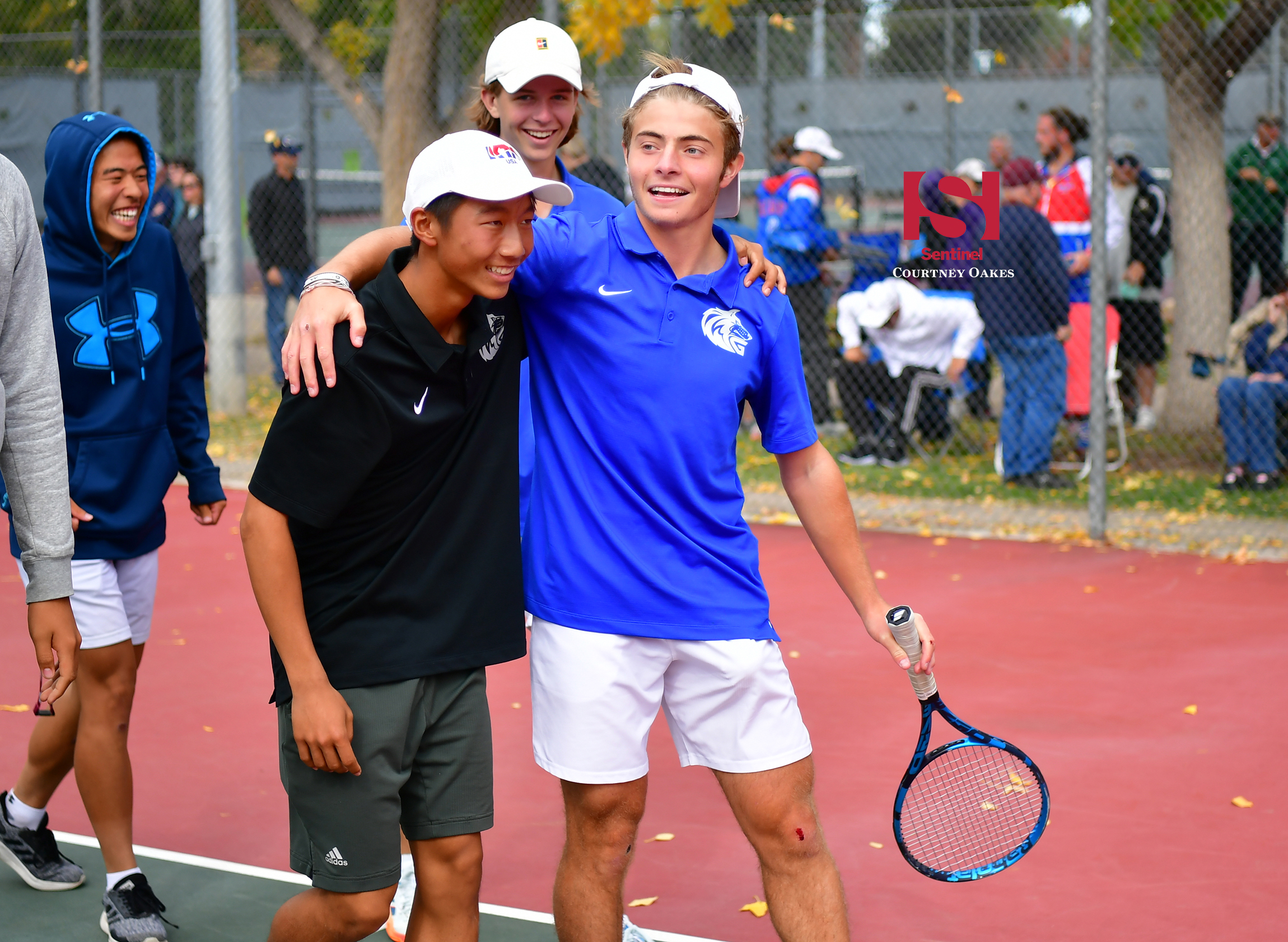 The sounds of crunching leaves and fall prep sports season have come to an end, with preps shifting indoors for the winter season of competition.
Fall prep sports in Aurora and around Colorado had to jump through all sorts of hoops to happen last year during the specter of the coronavirus pandemic, but returned to a sense of normalcy this year.
That's not to say everything was the same from pre-pandemic days as there were new possibilities, new formats and new perspectives — most well-received — while the action on the football, boys soccer and field hockey fields, golf and cross country courses, gymnastics floors and volleyball courts looked remarkably like it did before sports had its brakes applied for safety's sake.
It was certainly not Aurora's most lucrative fall in terms of championships as only one gold medal came home — which came from the boys tennis season as Grandview's Eduard Tsaturyan won the coveted No. 1 singles state championship — but plenty of other hardware was earned and the storylines in sports ran deep. The impact and success of any athletic season cannot be measured simply with the end result of a championship or not.
For the first time in many years, no city football teams will be practicing over the Thanksgiving break — a right reserved only for the final four teams left in contention for state titles — however that doesn't tell the tale of a fascinating season on the gridiron that included a lot of change in addition to the abnormally early end.
Championship contenders from Aurora emerged in field hockey and boys soccer — though both came home with runner-up prizes — but the respective runs of those teams were notable for a variety of reasons.
All-time results were achieved on the golf course for one local school with more than three decades of history, a city softball team finished completely on the better end of the spectrum of results from the previous season and cross country remained strong locally although a raised level of competition at the state meet might not reflect that accurately.
The city's lone gymnastics team finished the season with its best event performance and its best team score and so much more happened in a quick sprint of a season that started before school began in the summer and ended just as teams enter the holiday season prior to start of the new season in a short time.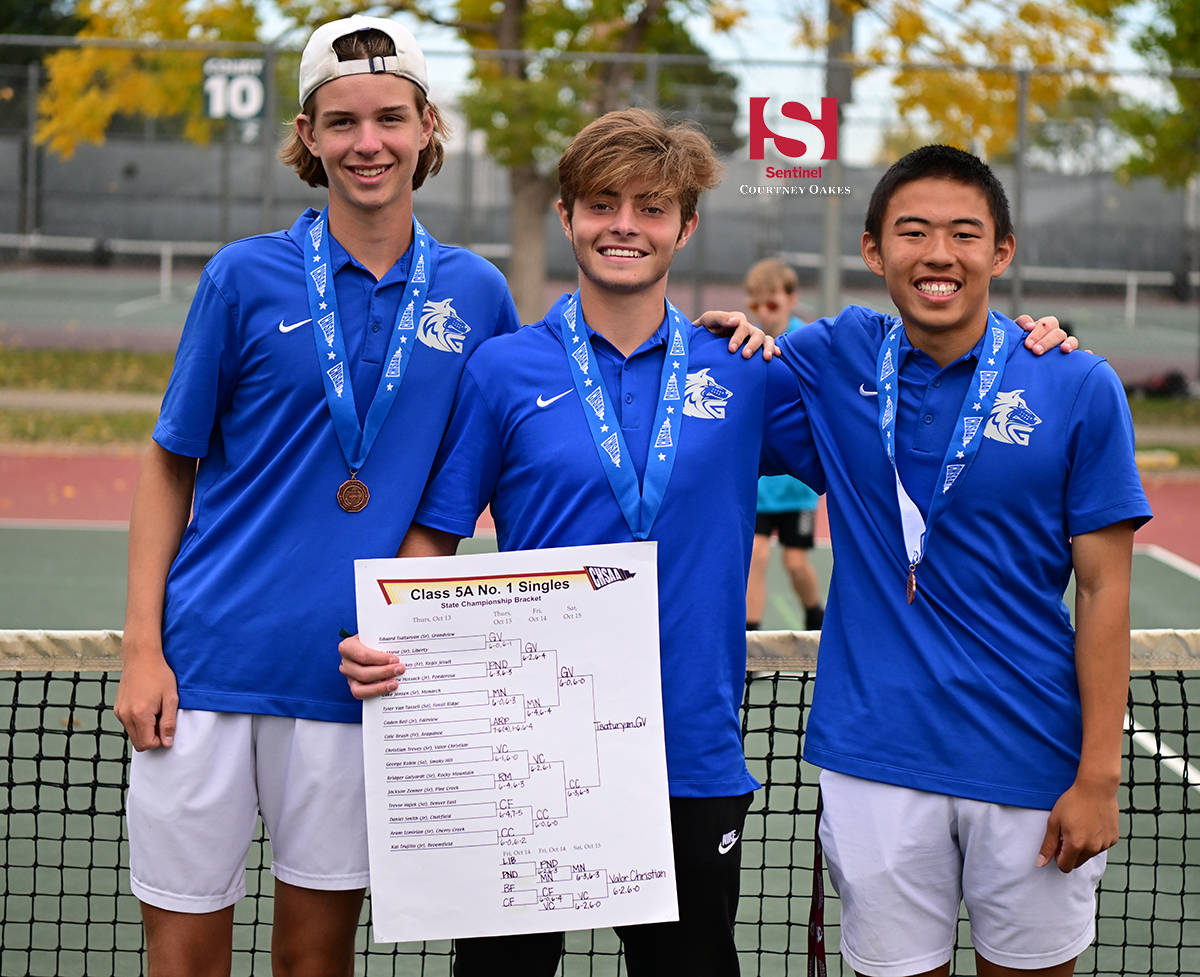 HOLDING COURT
Boys tennis proved to be one of the most successful pursuits for Aurora in the fall, as it yielded the only state championship, while Aurora programs also were in the vanguard of a newly-formatted season.
That state title came from senior Eduard Tsaturyan, who completely transformed Grandview's tennis program in his one and only season during which he claimed the Class 5A No. 1 singles crown.
Born in America, but trained in Russia, Tsaturyan joined a Wolves program that had long been competitive, but generally finished in the middle of the Centennial League standings and sparked the program to the best season in school history. Grandview qualified nearly its entire team for the state — missing out at only one singles position — and showed it belonged.
Tsaturyan first raised some eyebrows when he rolled past Cherry Creek's Aram Izmirian — the 2021 5A No. 1 singles state champion — in Centennial League play, which happened to be the first victory at any position for longtime coach Jeff Ryan over Cherry Creek.
Tsaturyan won the rematch as well in the state title match at City Park, though he had to rally from a set deficit to win the program's first-ever state title.
Joining Tsaturyan with medals for the Wolves were the No. 3 doubles team of seniors Mark Yan and Caleb Hodges, who finished third.
Additionally, Grandview and Regis Jesuit both qualified for the new Class 5A team state championship tournament that debuted this season. The Raiders made it to the semifinals, while the Wolves lost in the second round. Regis Jesuit had a state finalist individually as well in No. 3 singles player Brady Jenkins, who finished as the state runner-up.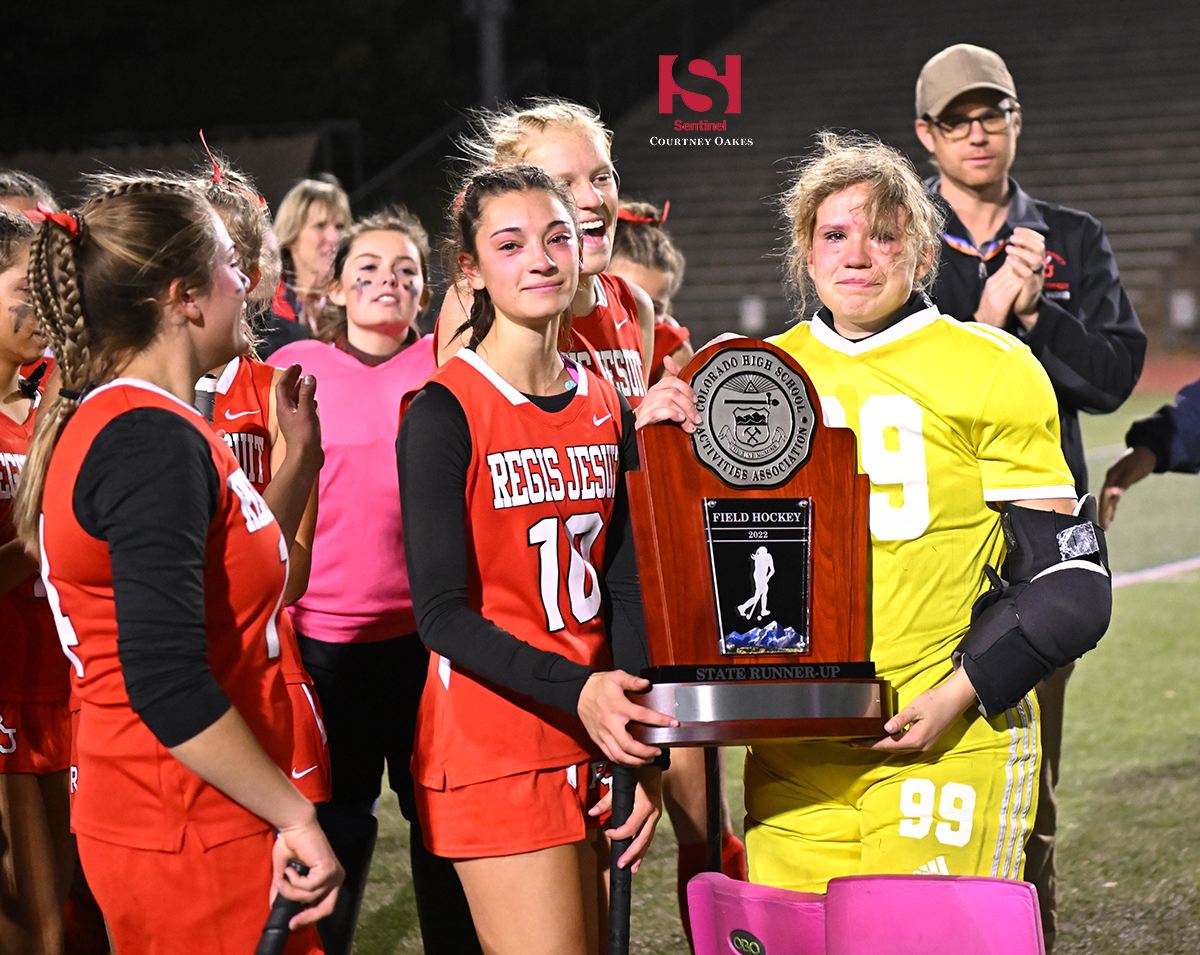 SEVERAL RAIDERS' RUNS COME TO AN END
The Regis Jesuit field hockey team had yet another outstanding season, but Colorado Academy kept it from being perfect.
The Raiders had won back-to-back state championships as it took the 2020 title for a season that was played in the spring of 2021 instead of the previous fall due to the coronavirus pandemic ( as the sport as a whole made the choice to play then) and then earned another just a few months later that was the cherry on top of an undefeated season.
Coach Spencer Wagner's team made it six games into the new season 5-0-1 to extend an unbeaten streak to 32 games stretching back to March 31, 2021, but that came to an end with a 2-1 loss to Colorado Academy Sept. 17. The Mustangs won again 2-0 when the teams met in the regular season final and a third matchup arrived Nov. 2 at Stutler Bowl with the state title on the line.
Regis Jesuit made it into the championship game for a fifth straight season as a goal from senior Emily Bradac stood up in a 1-0 win over Kent Denver in the semifinals, while Colorado Academy survived an overtime game with Arapahoe to get there.
The Mustangs made it a clean sweep with a 2-0 victory at Stutler Bowl to deny the Raiders a three-peat.
Regis Jesuit's performance wasn't the only notable achievement for Aurora in field hockey, despite the fact the city has only three total programs.
Smoky Hill made some noise as well after Lisa Griffiths came on as head coach. The Buffaloes had a 75-game winless streak that stretched back near six full calendar years going into a Sept. 6 contest against Poudre School District at Stutler Bowl. A goal by sophomore Darian Smith held up to give Smoky Hill its first win since Oct. 8, 2016.
The Buffaloes didn't stop there, however, as they won two more games — including a victory over Grandview — and made it into a postseason play-in game against St, Mary's Academy, which they dropped 5-2 to end a very positive season.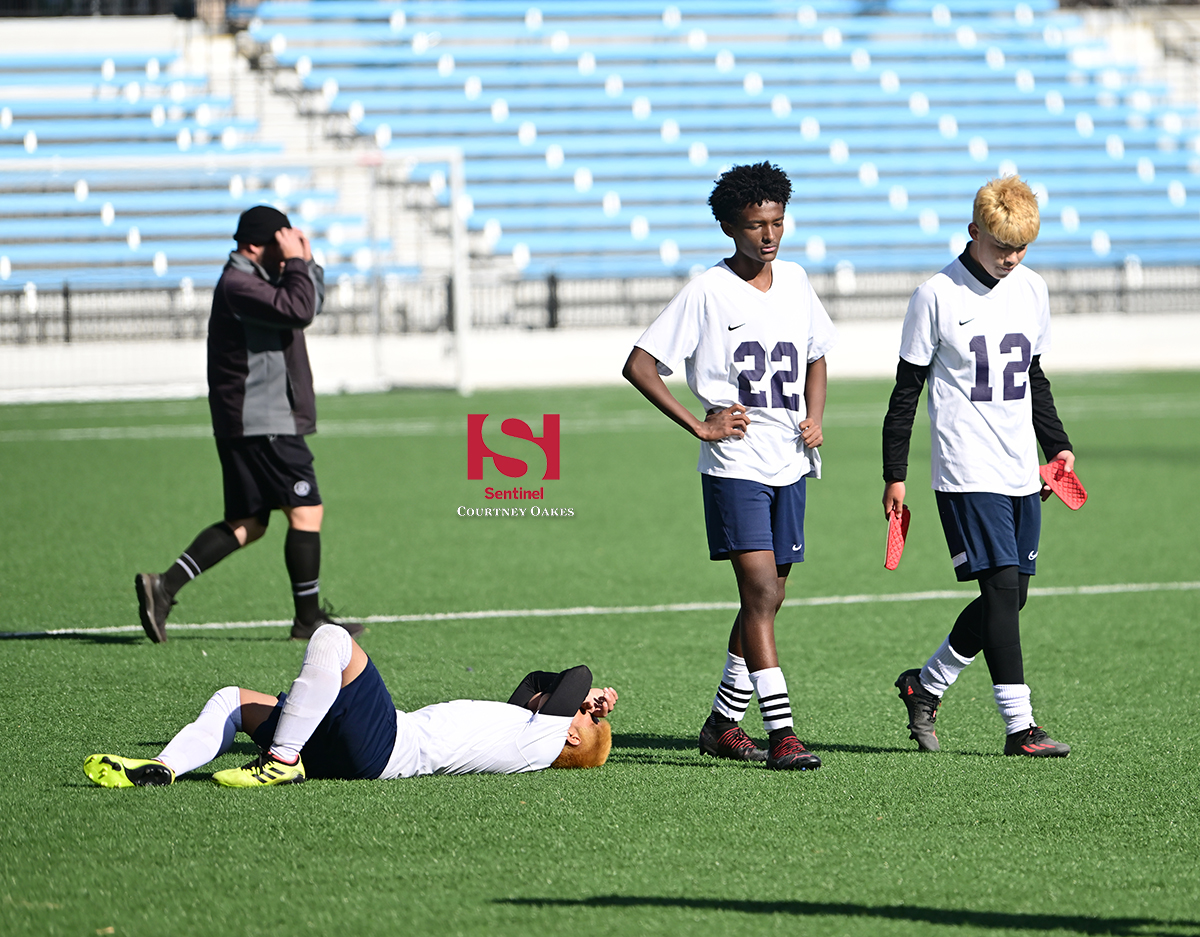 METEORS AGAIN SECOND ON BOYS SOCCER PITCH
Despite many obstacles, the Lotus School For Excellence continues to build a quality boys soccer program that has grown into one of the best in Class 2A over the last two seasons.
The Meteors finished as the 2A runners-up in 2021 when they were hit hard by COVID-19 quarantines in the week leading up to the title game and were without several of its top players for the contest. Coach Bennett Pang's team earned its way back to Switchbacks Weidner Field this season despite significant turnover in the roster and changes in the composition of the classification that saw several 3A teams drop down.
Lotus took their best swing Nov. 12 as it went ahead early on a goal by senior Abeneazer Getachew, who also scored the goal that turned out to be the game-winner in the Meteors' win over Bishop Machebeuf in the semifinals. That lead would disappear in a short span in the second half, however, as Vail Mountain tallied twice and went on to 2-1 victory.
It was the best result for a team from Aurora on the pitch, followed by Cherokee Trail's run in the 5A playoffs. Coach Mark Hill's Cougars capped off an outstanding season with playoff wins over Chatfield and Rampart, but ran into a buzzsaw in Denver East, which won a 5-0 contest between the teams in a quarterfinal contest Nov. 5 at Englewood High School.
Cherokee Trail finished 13-5 and matched the deepest postseason push for the program in the 5A playoffs.
Denver East also knocked out Grandview — the 2021 season champion — in the first round, which also saw close losses for city qualifiers Overland (which broke a long postseason drought), Rangeview and Regis Jesuit.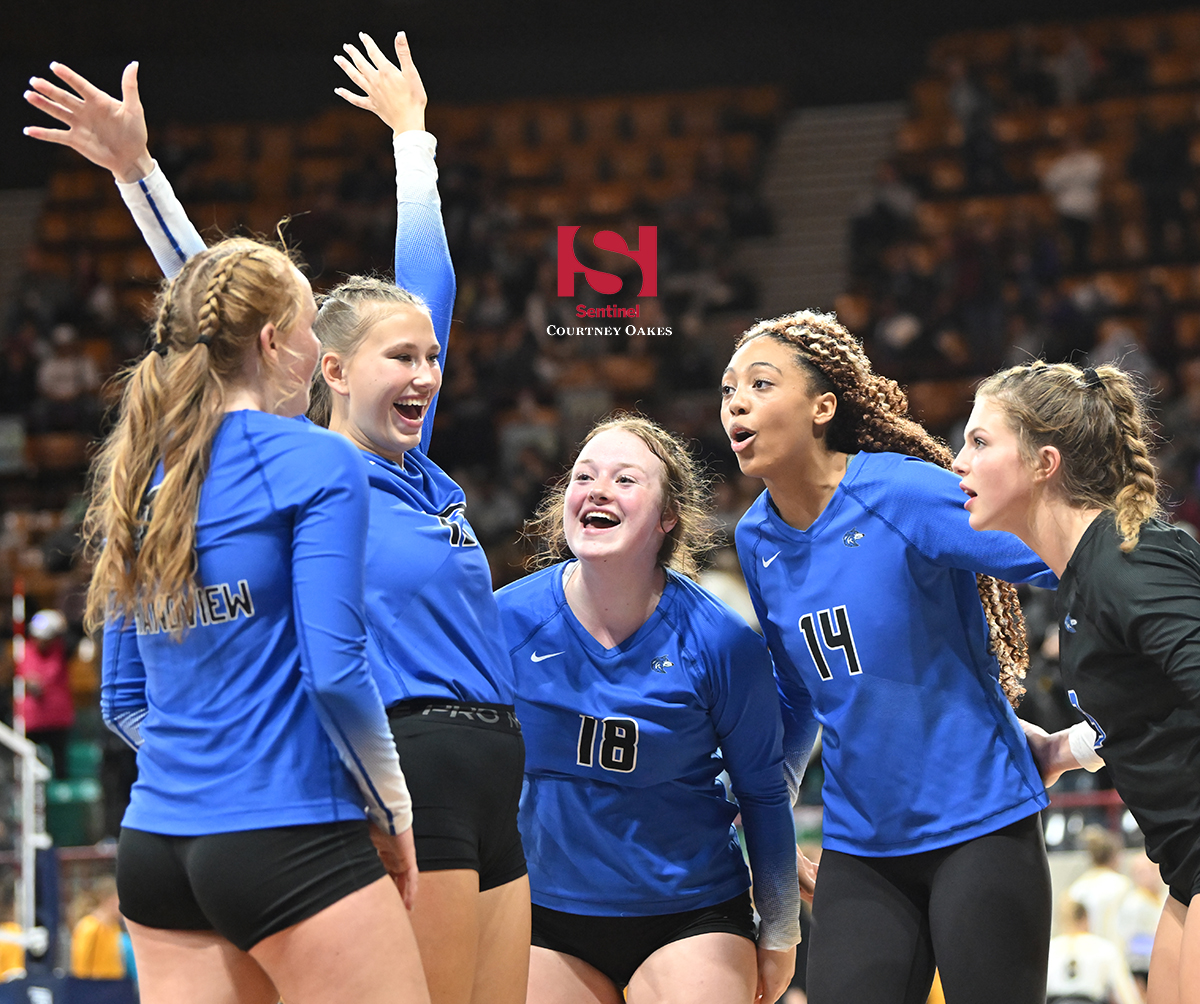 WOLVES BATTLE ON COURT IN 5A GIRLS VOLLEYBALL STATE TOURNAMENT
The Grandview girls volleyball team came into the 2022 season coming off appearances in the Class 5A state championship match in each of the past two seasons, when the state tournament had shifted to the World Arena in Colorado Springs.
The tournament returned to the Denver Coliseum — its home prior to the coronavirus pandemic — and coach Rob Graham's Wolves made a serious push to earn a third straight chance to win a state title. Grandview defeated Denver South and Rampart on the opening day (launching an epic rally to win the last three sets from the Rams), but got stopped by eventual state champion Valor Christian in winners bracket play.
The Wolves bounced back to earn their way into the semifinals, but were stopped by Rock Canyon in a lengthy match that included a set won by the Jaguars that went to 35-33 (a traditional set is the first to 25 points). Grandview, which expects to return a significant core of players that have played a great deal of high-level matches, won the Centennial League Challenge at the end of the regular season and finished the season 22-8.
Aurora's other 5A state tournament qualifier was Cherokee Trail, which earned its way there for the first time since 2019. Coach Harry Hendon's senior-heavy Cougars played a lot of volleyball over just two matches, but fell to both Centennial League rival Cherry Creek as well as Fossil Ridge to have its season end. Cherokee Trail dropped 10 matches on the season and all but one came to teams that remained alive going into the final day of the three-day state tournament.
Vista PEAK took a big step forward by qualifying for the regional postseason, as did Eaglecrest.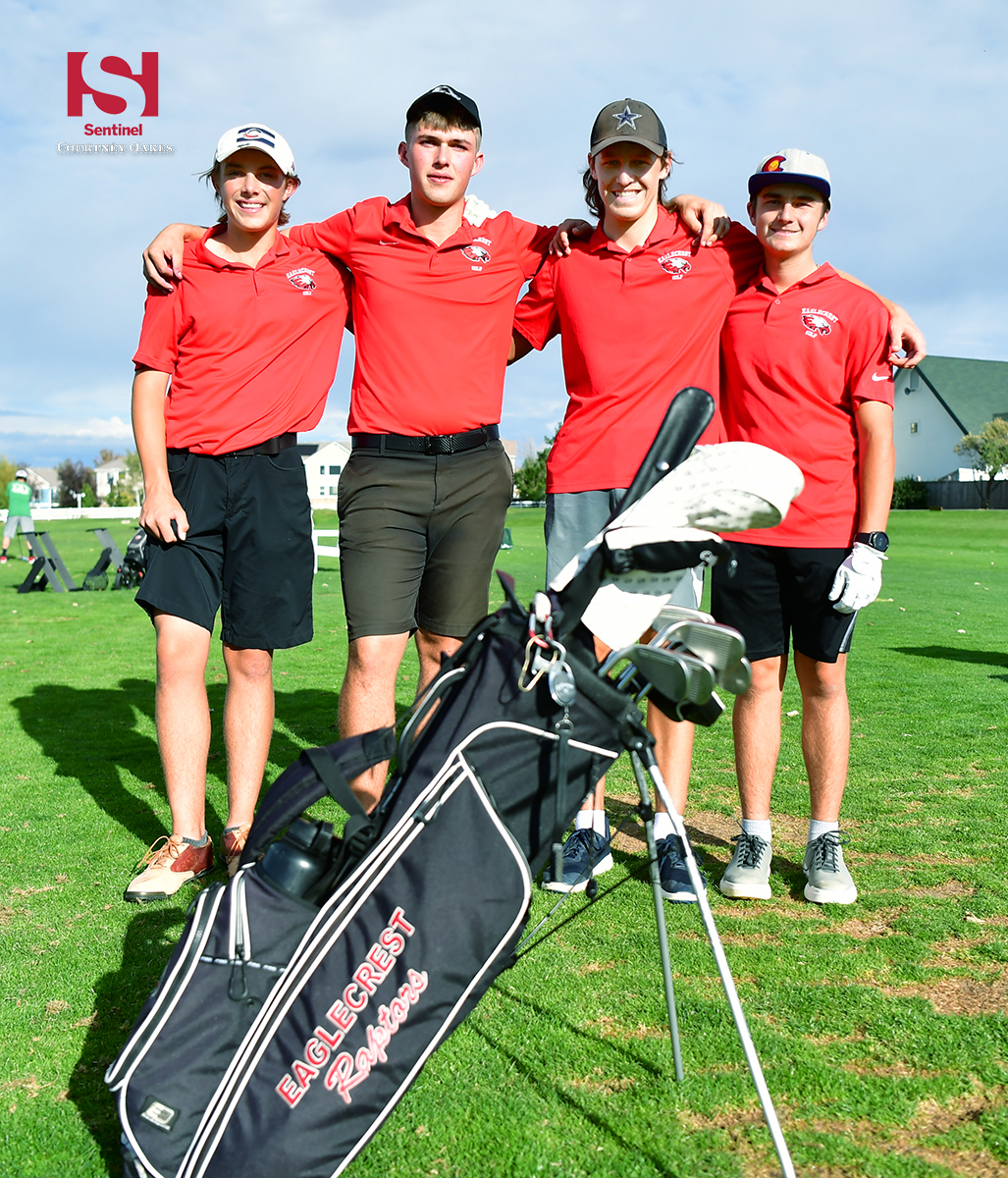 RAPTORS FLY THEIR HIGHEST ON GOLF COURSE
The Eaglecrest boys golf program reached new heights during the 2022 season, which saw the Raptors qualify four players for the Class 5A state tournament for the first time in the school's 32-year history.
With Andrew White — a state qualifier as an individual in 2019, 2020 and 2021 — at the forefront, coach Stan Adams' Eaglecrest team had a strong foundation, while the arrival of White's freshman brother, Gregory, plus the significant improvements of senior Preston Unrein and junior Noah Bennett brought it all together.
The Raptors flourished in regional play, where they finished as the runner-up to qualify automatically as a team. In a very competitive two-day tournament at City Park G.C. in Denver, Eaglecrest more than held its own and finished tied with Cherry Creek for top honors among Centennial League teams in fifth place.
Gregory White shot 1-under-par in the final round to earn a share of eighth place individually in his state debut. He was joined by Bennett and Andrew White in the top 40.
Regis Jesuit played better on the second day, but finished 15th in the final standings.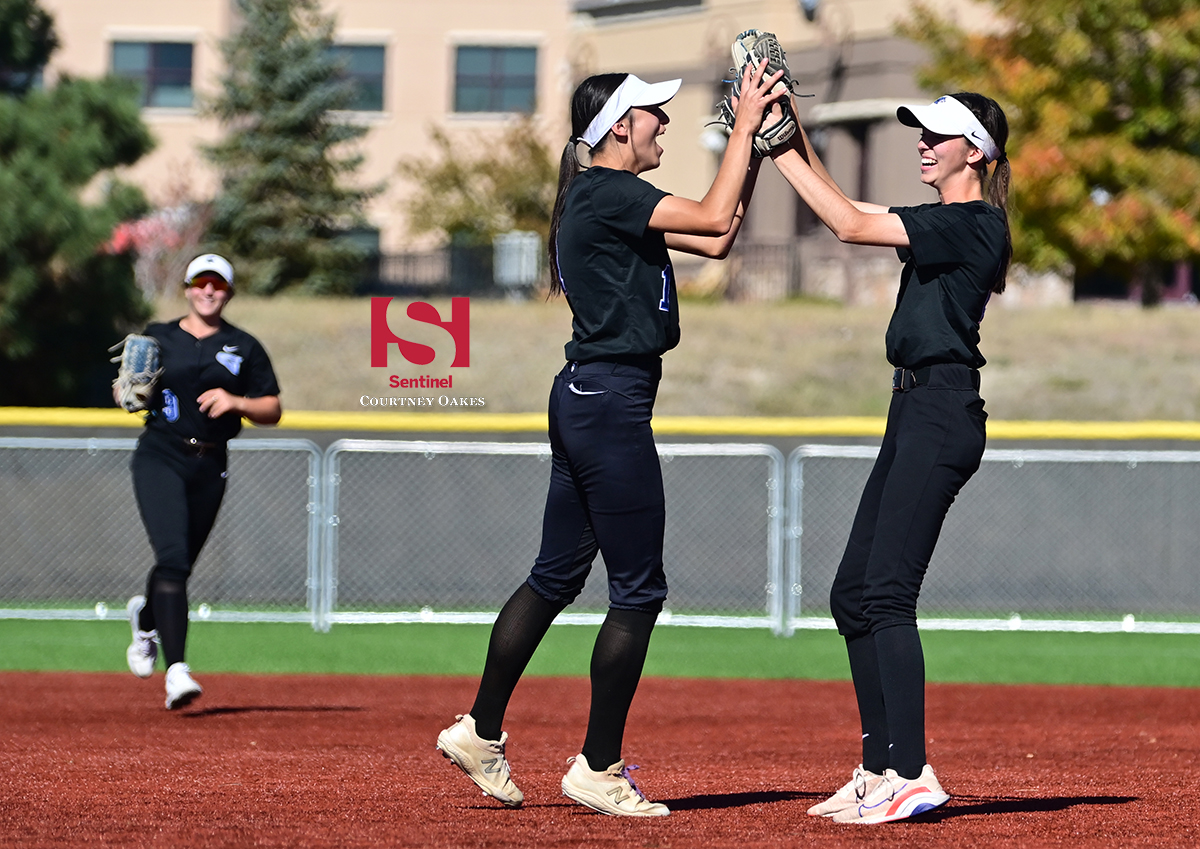 GRANDVIEW MAKES BIG DIAMOND SHIFT
The Grandview softball team's 2022 season made 2021 look like a distant memory.
The Wolves finished with a sub-.500 record and didn't have the chance for any type of postseason play, but things were remarkably different this time around. Coach Liz Carter's team caught fire after some close losses against some of the state's elite teams and nearly made it through the entire Centennial League schedule unscathed, suffering only one loss to rival Cherokee Trail.
The Wolves — fueled by the outstanding play of several underclassmen around two key seniors in pitcher Makayla Valle and infielder Carmela Tejada — went on to win their regional and qualify for the program's first trip to the state tournaments since 2015.
Grandview kept its hot play going with a victory in the opening round at the Aurora Sports Park before it ran into a hot Douglas County team that topped it 10-5 to end the Wolves' season at 19-8.
Cherokee Trail has become a state tournament regular and got back there again with an impressive regional performance, but coach Caley Mitchell's Cougars — who also had a core of underclassmen — lost a 10-inning marathon to Ponderosa in the opening round.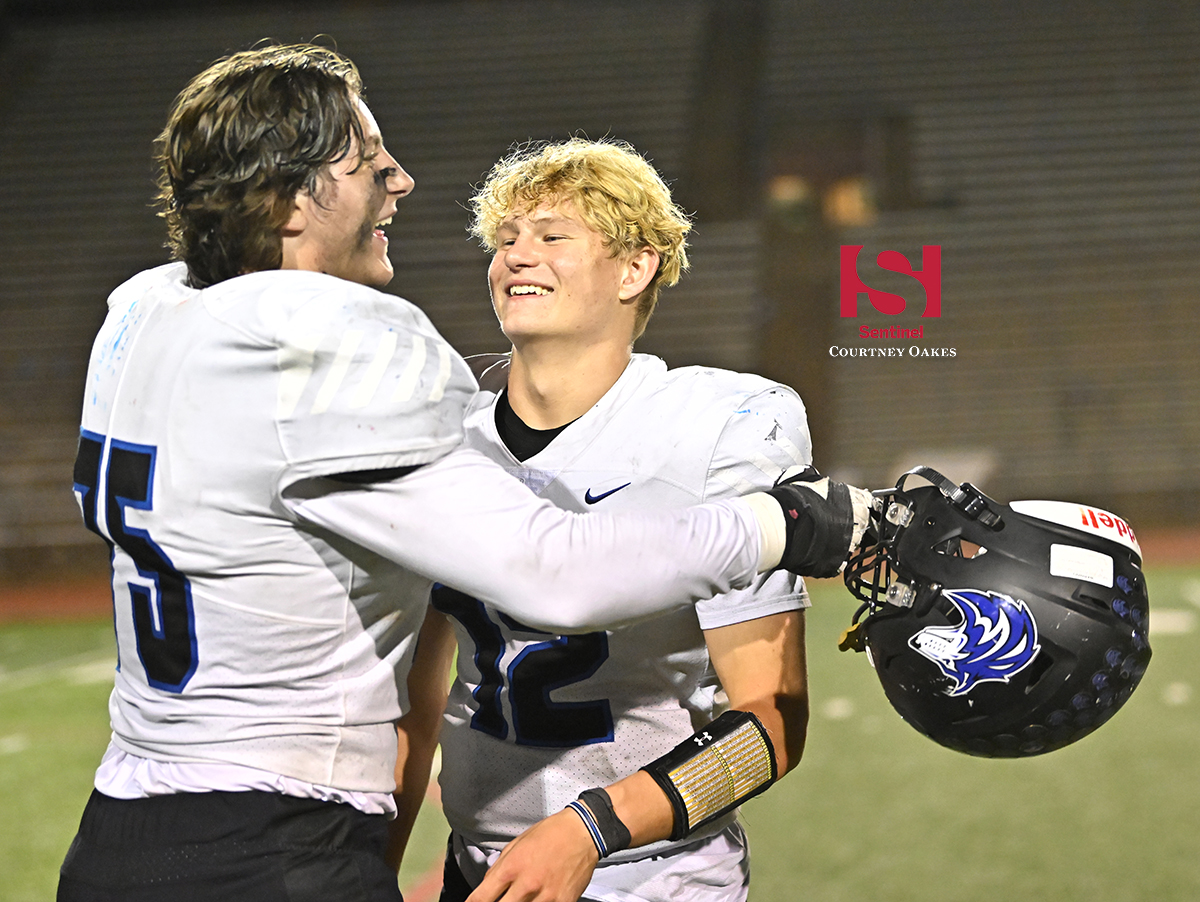 RAIDERS, WOLVES STOPPED IN 5A GRID QUARTERFINALS
It was quite a different season on the football field for Aurora in 2022, with new conference alignment, the turnover of more than half of the head coaches of city programs and an increased Class 5A playoff bracket that went to 24 teams.
When it was all said and done, it was still light on postseason qualification for the city as only Cherokee Trail, Eaglecrest, Grandview and Regis Jesuit made it into the postseason bracket.
The Cougars (a very young team in its first season with Justin Jajczyk as head coach) fell out in the opening round, as did the Raptors, who were back in the playoffs with a nice resurgence following an atypical 1-9 season in 2021 as Mike Schmitt returned as head coach after a lengthy absence.
Coach Tom Doherty's Wolves (who capped their regular season with a massive win over No. 1 Cherry Creek) and coach Danny Filleman's Raiders each got passage to the second round with top eight seeds and both were victorious in their first postseason contests, but both were stopped in the quarterfinals.
Aurora remains in the search for its first state football champion since Grandview won the title in 2007.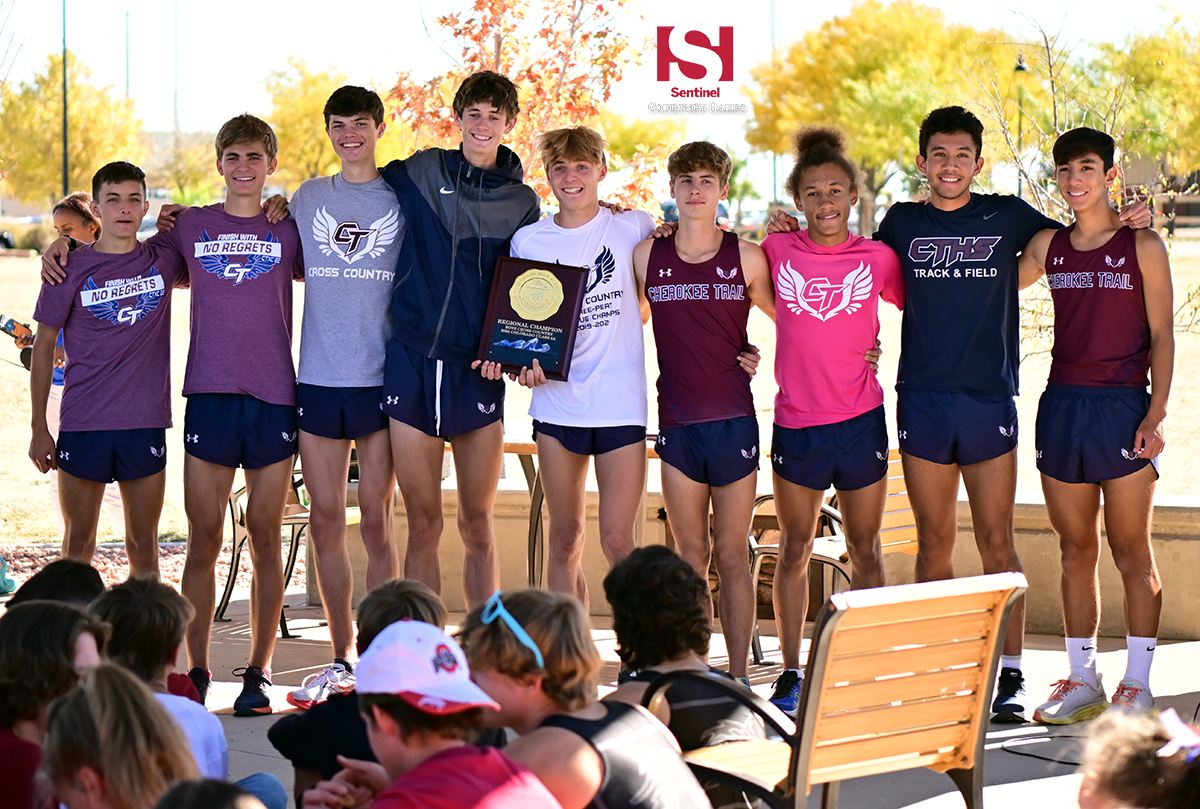 COUGARS RUN INTO TOUGH 5A BOYS STATE XC FIELD
The Cherokee Trail boys cross country team had the look for a state championship contender for the whole regular season, but it turned out that many more teams than expected were able to make the same claim.
The Cougars had nearly their entire team back from last season's third-place squad, but when all runners had crossed the finish line at the Norris Penrose Events Center in Colorado Springs, they ended up with five teams in front of them in a tightly packed race for the title.
Aurora programs again were held off the top 10 individual medal podium with Cherokee Trail's Hunter Strand registering the top finish with a 15th-place performance, while Brady Smith took 20th.
Grandview and Regis Jesuit also qualified for state as teams and don't lose many seniors going forward. The Raiders got a strong performance from David Flaig, who finished in 19th place.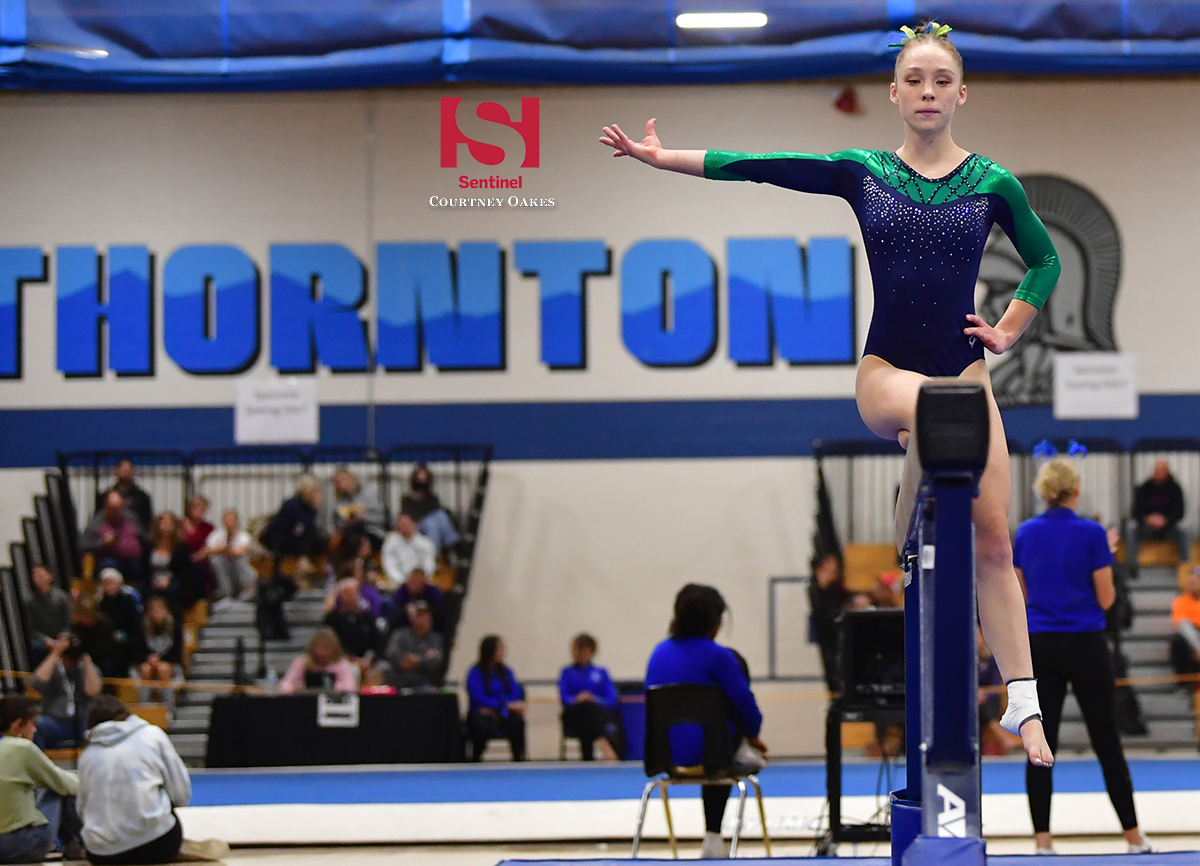 OVERLAND EARNS BEST SCORE OF YEAR AT 5A STATE GYMNASTICS MEET
The Overland gymnastics team saved its best for last at this season's Class 5A state meet and that was good enough for a tie for fourth place in the final team standings in competition at Thornton High School.
The Trailblazers — a mix of athletes from several city schools — lost some key performers from last season and had a smaller than usual group, but still held their own with the state's best despite an inauspicious start to the team competition on the vault. Overland got better with each event and wowed on the floor exercise with four gymnasts in the top 10 to finish strong.
Junior Kyla Burke earned fifth-place in the all-around competition and some young gymnasts got a chance to compete on the big stage to set themselves up for next season for coach Lisa Sparrow's Trailblazers. Burke was among a handful of gymnasts that earned their way into the individual event finals and sophomore Ryann Walline earned a medal for a seventh place finish.
COUGARS EDGE RAIDERS AT 5A GIRLS STATE XC MEET
The Cherokee Trail and Regis Jesuit girls cross country teams went head to head in the final two weeks of the season at both regionals and the Class 5A state meet and both squads — though not in contention for state championships — had the advantage on each other in the final two races.
The Raiders were the top performer in the regional meet as they grabbed second place and the Cougars were fourth, while their order got flipped when the 5A state race concluded at the Norris Penrose Events Center, as the Cougars edged the Raiders by 10 points for 16th place.
Senior Mckenna Mazeski couldn't replicate her seventh-place finish from the previous season, but she still led city competitors with a 21st-place finish. Grace Kirkpatrick, Grandview's only state qualifier as the Wolves just missed out on team qualifying at the regional meet, finished 32nd.
Courtney Oakes is Sentinel Colorado Sports Editor. Reach him at [email protected] Twitter: @aurorasports. IG: Sentinel Prep Sports