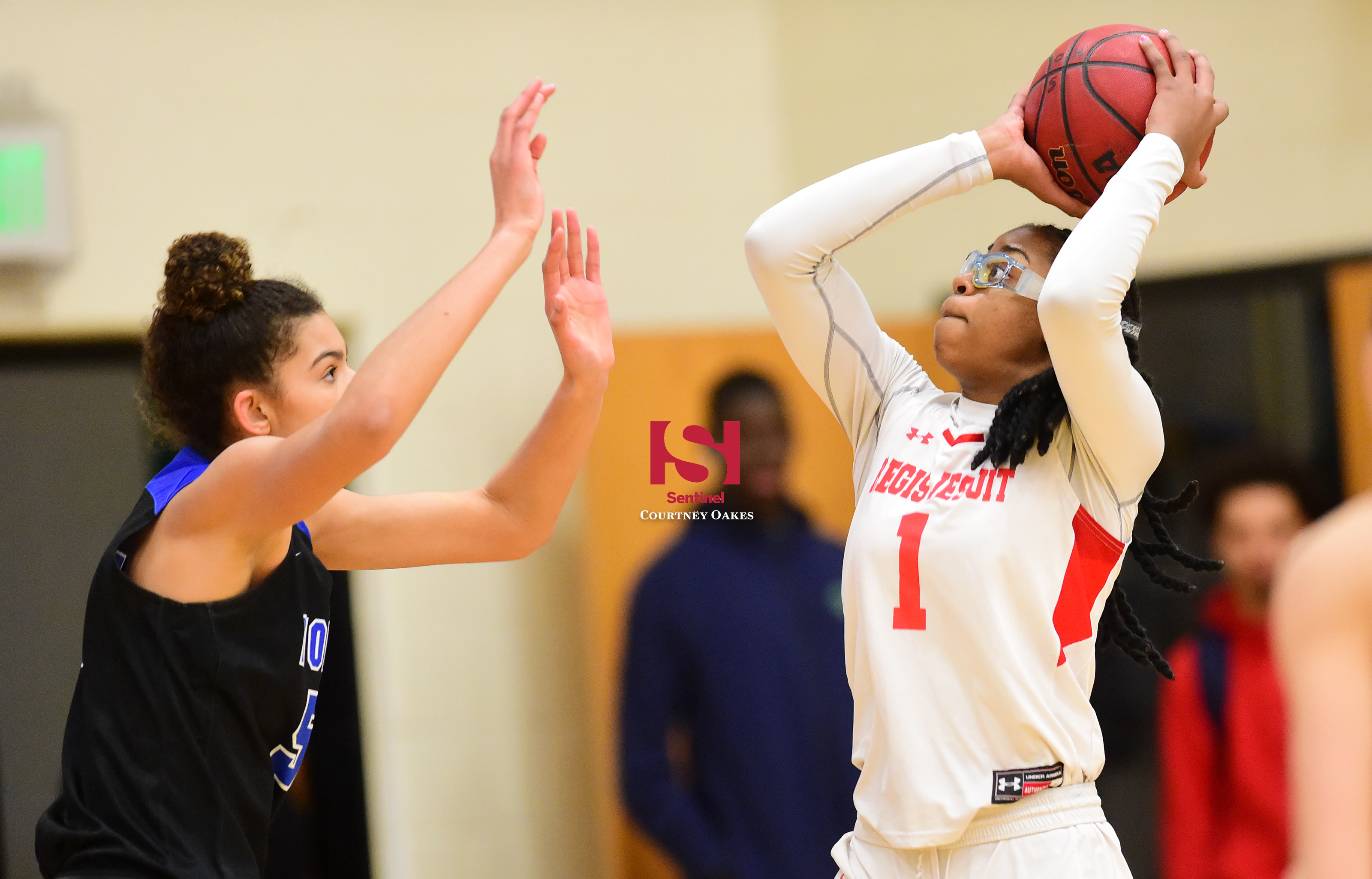 AURORA | Jada Moore made a total of 19 3-pointers during the recently completed season for the Regis Jesuit girls basketball team.
It seemed like the Raiders' junior standout guard matched that number of triples in Saturday's A-Town All-Star Girls Game.
Moore in fact drained four 3-pointers — including two she banked in from more than 30 feet away — on her way to a game-high 18 points in Team West's 76-48 win over Team East at Smoky Hill in the third annual contest presented by Sentinel Colorado featuring 20 of the city's top girls basketball players.
Team West — coached by Eaglecrest's Robby Gabrielli and his staff — got nine points apiece from Cherokee Trail's Makayla Hemingway and Grandview's Tomia Johnson connected on 10 3-pointers in all, which helped it pull away from Team East, led by Regis Jesuit's Francesca Belibi.
Belibi, a Stanford recruit, McDonald's All-American and Colorado's Gatorade Player of the Year, didn't get a dunk in the game, but displayed her abundant athleticism on her way to a team-high 15 points for coach Howard Payne (Vista PEAK)'s Team East.
Regis Jesuit's Avery VanSickle, Rangeview' Angel Broadus and Gateway's Kaushnic Noble added six points apiece for Team East.
A 3-pointer by Belibi brought Team East within seven points in the opening minute of the second half, but Team West went on a 22-3 run to put the game away. Included in that was four points from 6-foot-7 freshman Lauren Betts — who helped Grandview make it to the Class 5A state championship game — and five from Moore.
Moore banked in her fourth 3-pointer inside the final five minutes.
Notes: Nineteen of the 20 players in the game — selected by Sentinel Colorado in conjunction with nominations and balloting of Aurora coaches — scored at least two points. …Eaglecrest senior Raquel Turner scored eight points for Team West as a replacement for Regis Jesuit's Sidney Weigand, who was unable to play in the game due to a conflict with lacrosse, where she is a West Point recruit. Grandview's Alisha Davis and Addison O'Grady were also selected, but were unable to play due to previous commitments.
Courtney Oakes is Sentinel Sports Editor. Reach him at 303-750-7555 or [email protected] Twitter: @aurorasports. FB: Sentinel Prep Sports
TEAM WEST 76, TEAM EAST 48
Score by halves:
Team West  35  41 — 76
Team East   25  23 — 48
TEAM WEST (76)
Makayla Hemingway (Cherokee Trail) 3 0-0 9, Raquel Turner (Eaglecrest) 4 0-1 8, Lauren Betts (Grandview) 3 0-0 6, Denali Hughes (Vista PEAK) 3 1-2 7, Dominique Rodriguez (Cherokee Trail) 1 1-2 5, Jada Moore (Regis Jesuit) 7 0-0 18, Seiarra Hughes (Vista PEAK) 2 0-1 4, Tomia Johnson (Grandview) 3 1-1 9, Zana'e Hodges (Aurora Central) 1 1-1 5, Jadyn Ross (Eaglecrest) 2 0-0 5. Totals 29 4-8 76.
TEAM EAST (48)
Francesca Belibi (Regis Jesuit) 7 0-0 15, Kaushnic Noble (Gateway) 2 1-2 6, Aaliyah Caston (Hinkley) 1 0-0 2, Angel Broadus (Rangeview) 3 0-0 6, Keara Felix (Overland) 1 0-0 2, Allyah Marlett (Grandview) 2 0-0 5, Avery VanSickle (Regis Jesuit) 2 0-0 6, Brianna Linnear (Rangeview) 2 0-0 4, Kaya Evans (Vista PEAK) 1 0-0 2, Bri Paige (Smoky Hill) 0 0-0 0. Totals 21 1-2 48.
3-point field goals — Team West (10): Jada Moore 4, Makayla Hemingway 3, Zana'e Hodges, Tomia Johnson, Jadyn Ross; Team East (4): Avery VanSickle 2, Francesca Belibi, Allyah Marlett.