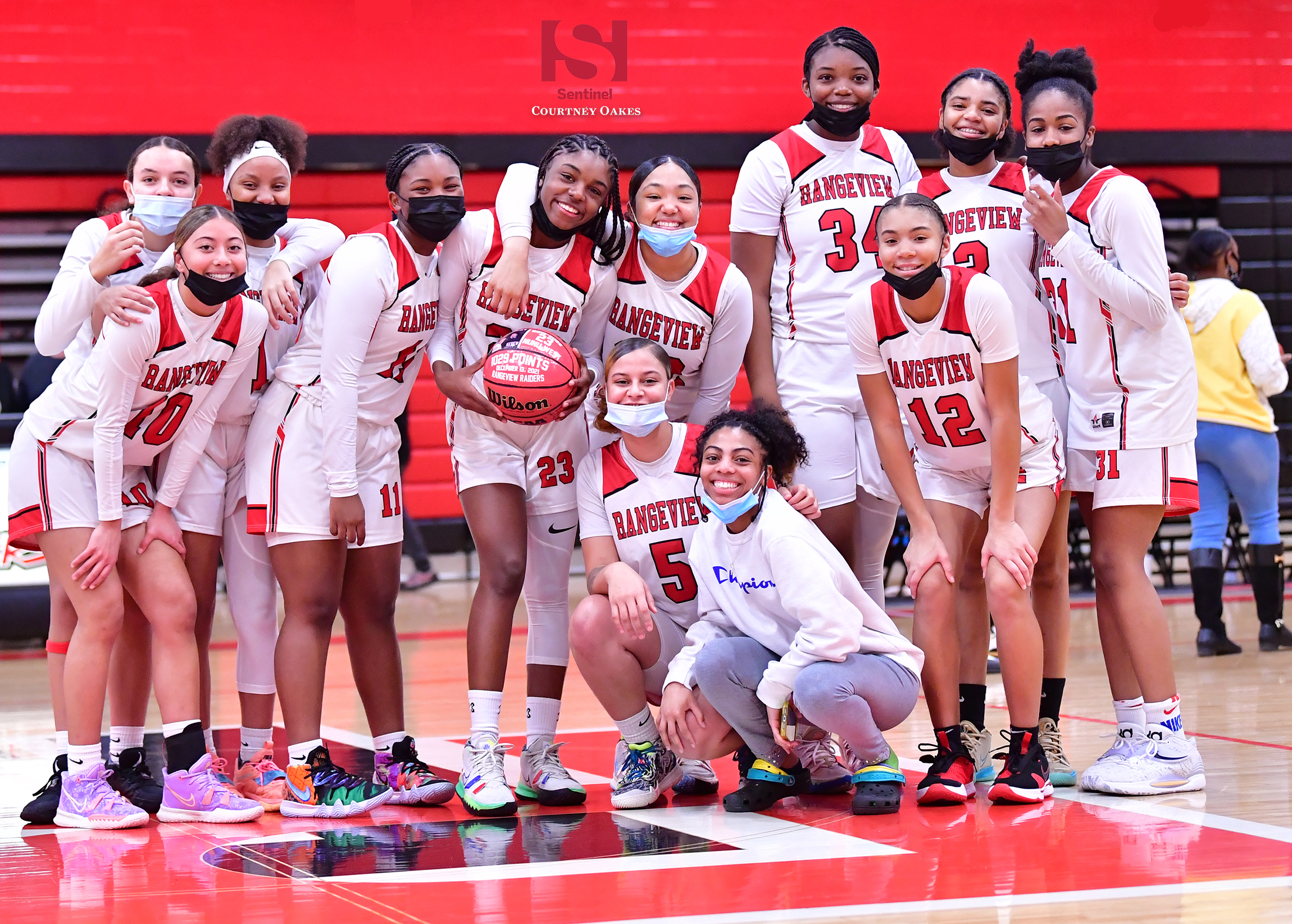 Notes from Aurora prep sports, alumni news and more.
SATURDAY, JAN. 15: Before its home game against Rocky Mountain, the Rangeview girls basketball team honored senior Ny'Era West for passing the 1,000-point career milestone.
West, a versatile 5-foot-7 guard who is in her fourth season as a significant contributor for coach La Monte Weddle's Raiders, passed the mark prior to winter break and bumped her total to 1,113 for her career with a 13-point effort in a 66-47 win over the Lobos.
Weddle and Rangeview principal Lisa Grosz — an alum who is one of the school's most decorated girls basketball players — presented West and her family with a big and large basketball commemorating the accomplishment. (Smugmug gallery, here).
West accomplished the feat despite a junior season that was shortened significantly due to the coronavirus pandemic, though she averaged a career-high 18.6 points per game. West has averaged 15.0 points per game for her career and has contributed in every other way. She's averaging a career-high nine rebounds her game in 11 games this season — boosted by pulling down 17 against Rocky Mountain — and for a fourth straight season she is averaging more than three steals per game.
West is one of three current active Aurora girls basketball players with more than 1,000 career points. Grandview's Lauren Betts reached 1,000 points last season and her Wolves' teammate Marya Hudgins passed the mark earlier this season, which was recognized prior to Grandview's Jan. 5 game against Mullen.
Rangeview has done a lot of winning in West's career, as it is 61-16 over the past four seasons. The Raiders have a stiff test ahead at 7 p.m. Jan. 18 when defending Class 5A state champion Valor Christian visits.
— Aurora high school played host to two large competitions, as the Eaglecrest boys wrestling team ran the annual Armando Rodriguez Memorial tournament and the Smoky Hill girls swim team played host to the annual Smoky Hill Invitational. …Coach Javier Quintana's host Raptors did the memory of Rodriguez — a former assistant coach who died in 2017 — proud by finishing well atop the 22-team field with 226 points that included champions in 170-pounder Dominic Archuletta and heavyweight Mike Witt plus 16 other placers in the top eight. Full Armando Rodriguez Memorial team scores and placing results, here. … Susan Stone took part in the Smoky Hill Invitational for the first time as Buffs' head coach and saw her team finish fifth among 12 teams with one individual champion in senior Annelise Thomas, who also set the Smoky Hill program record of 57.34 seconds during her runner-up finish in the 100 yard butterfly. Cherokee Trail finished an Aurora-best third in the standings and had winners in sophomore Emme Metzmaker (200 yard freestyle) and senior Skylar Brgoch (100 yard butterfly). Full Smoky Hill Invitational results, here.
FRIDAY, JAN. 14: Former Rangeview High School boys basketball star Tyrei Randall sent social media into overdrive with his wild game-winning shot for the Metro State men's basketball team in a road game against Colorado Mesa. With his team down by two points with less than two seconds left, Randall collected a rebound on a miss free throw and lofted a shot from 3/4 court that found nothing but net, lifting the Roadrunners to an 85-84 victory. For the season, Randall is averaging 12.7 points per contest. Another former Aurora prep product, Laolu Oke, is also having another outstanding season for Metro State. The 6-foot-8 Overland graduate — last season's RMAC Defensive Player of the Year — has started all 15 games for the Roadrunners and has averaged 14.1 points and 12.1 rebounds per game. …Former Regis Jesuit girls basketball star Fran Belibi as among a contingent of players with Colorado roots playing for the Stanford women's basketball team, which played at the University of Colorado. Belibi logged 15 minutes, scored two points and pulled down seven rebounds for the second-ranked Cardinal, which prevailed 60-52 over the previously undefeated Buffaloes. Ashten Prechtel (Discovery Canyon H.S.) and Jana Van Gytenbeek (Cherry Creek H.S.) also played in the contest for Stanford. For the season, Belibi has played in 15 of 16 games (with two starts) and averaged 7.1 points and 3.7 rebounds in 12.3 minutes per contest.
THURSDAY, JAN. 13: Rangeview High School athletic director Shawn Palmer announced the official hiring of Chris Dixon as its new head coach. Dixon, who takes a job that was left by Mike Holmes following the completion of the fall season, jumped at the chance to coach at Rangeview, where many of the players who were at Columbia Middle School — where he is a student liaison — were on his teams. Dixon is the third new hire for Aurora programs ahead of the 2022 fall season (story, here), joining Mike Schmitt (Eaglecrest) and Justin Jacjczyk (Cherokee Trail).
PHOTO GALLERIES: To view albums of Aurora prep sports photos available for purchase, click here to visit the Smugmug gallery.
— Sports Editor Courtney Oakes