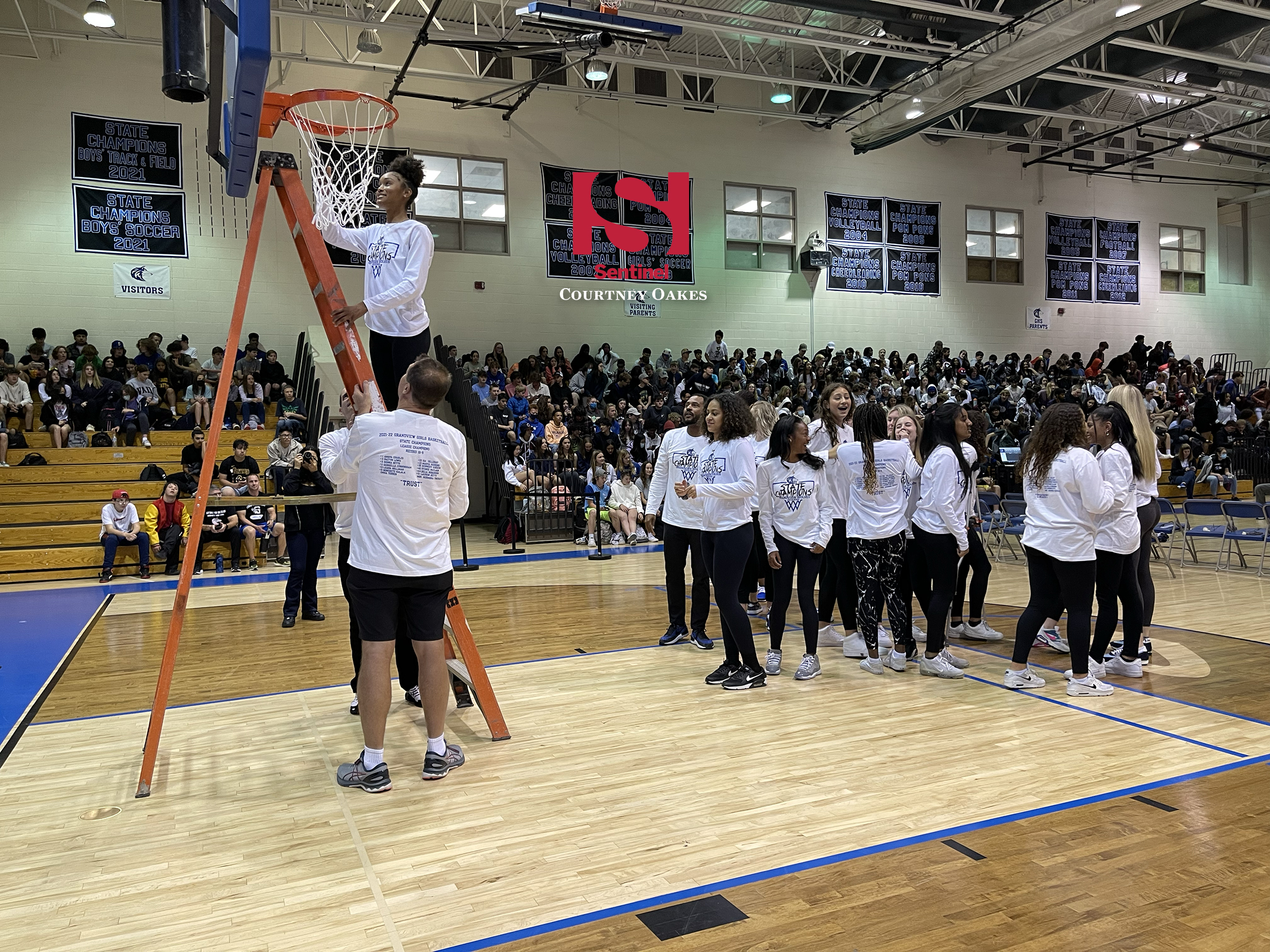 Grandview High School honored its state and league champions at an assembly Friday afternoon in the school's gymnasium.
Coaches and players from coach Josh Ulitzky's Class 5A state championship-winning girls basketball team climbed the ladder and cut down the nets on the hoop in their home gym after they presented the trophy to Lisa Roberts, the school's principal.
Also among the teams honored was coach Brian Wood's boys soccer team, which captured the 5A state championship in the fall season (story, here).
The school also recognized the achievements of the school's Cyber Patriot and Esports – League of Legends teams.
WEDNESDAY, APRIL 27: The Regis Jesuit boys volleyball team is finally healthy and at just the right time.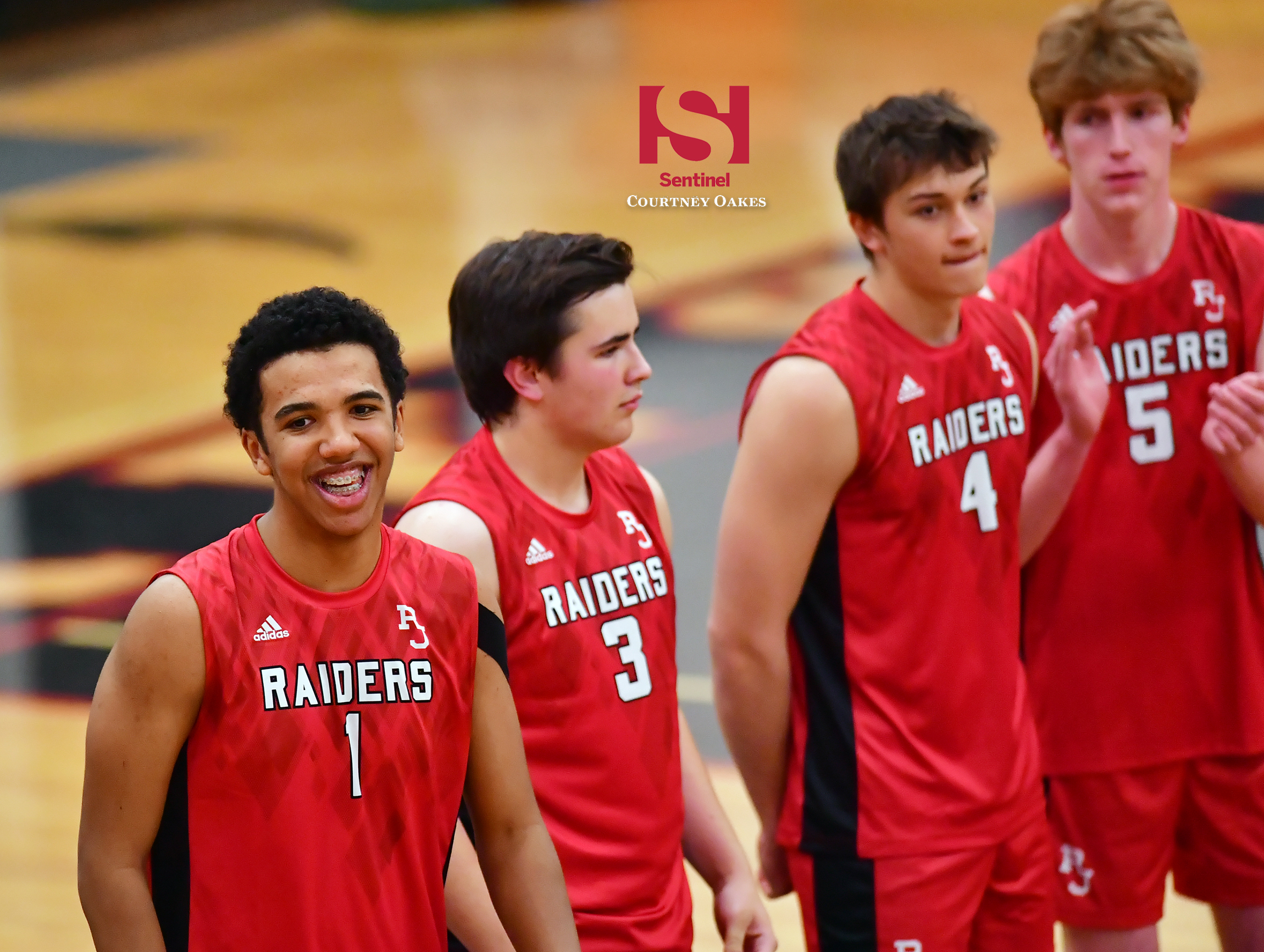 With star senior outside hitter Tristan Christofferson in and out of the lineup as well as others, the 14-8 Raiders have taken some losses, especially with a schedule that has been quite challenging, but coach Kristi Gauss believes they are ready for the postseason.
"I think my team is strong right now; we've had some injuries and illness, but at the moment, we are healthy and ready to go," Gauss told the Sentinel Wednesday after her team's inclusion in the 16 teams to make the regional playoffs as revealed by the Colorado High School Activities Association (full seedings and pairings, here).
Regis Jesuit ended up as No. 10 overall after a seeding process that took into consideration RPI standing (the Raiders were No. 11 in that formula) and the final state coaches poll (which saw Regis Jesuit rated No. 9).
Though Gauss had hoped to play Saturday, the Raiders will instead play at sixth-seeded Thornton (20-3) at 7 p.m. Friday. The teams did not play during the regular season.
Aurora's two other qualifiers, No. 3 Eaglecrest and No. 5 Cherokee Trail, also will be in action on Friday. The Raptors play host to No. 14 Poudre School District at 6:30 p.m., while the Cougars welcome 12th-seeded Cheyenne Mountain at 6 p.m.
TUESDAY, APRIL 26: Paul Jefferson can stand in one place and survey all that Gateway High School has to offer athletically. He likes what he sees when he does.
The school's new athletic director — who took over the position on March 21 — sees a track, multiple football practice fields, baseball and softball diamonds, tennis courts and a soccer pitch all in close proximity to the school, which is a big change from his previous stop as athletic liaison and then two-year athletic director for the Far Northeast Warriors regional athletic program in Denver.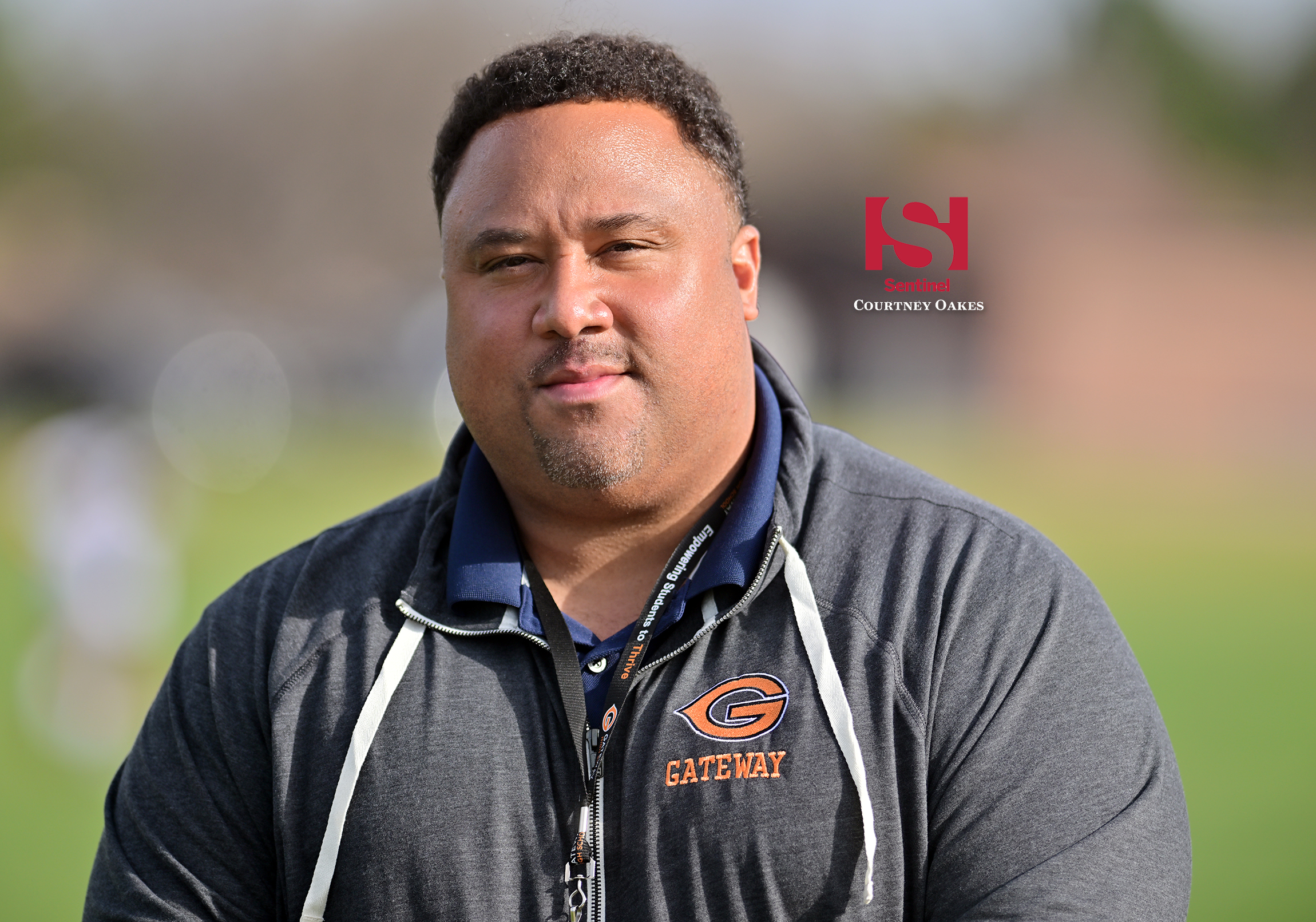 In that role, the 39-year-old Jefferson had to help a combination of athletes and coaches from 12 different schools in a 4 1/2-mile radius come together in multiple sports at multiple practice venues, which was a major challenge. Now, he has everything right in front of him, literally.
"You look out of this building and know you have all that space not that far away, which is great," Jefferson told the Sentinel recently. "There's all that, a pool, a beautiful weight room and a lot of neat things about this place when you really look at it."
It has been a whirlwind for Jefferson, who has spent the majority of his time on the job getting to know the coaches on staff and attending as many events as possible to connect with the athletes and spectators.
"This job, at its core, is simple: take care of your kids and take care of your coaches," he said.
While he continues to get his bearings on what he can provide to the school's athletes and coaches to help them succeed, Jefferson has also had to jump right in to the hiring process for a new head football coach after the departure of Ernest Collins Jr. after one season.
Jefferson is certainly qualified to hire a football coach, as the Pennsylvania native played fullback at Penn State until he graduated in 2004. He played in the Arena Football League and has also coached at the high school and college level.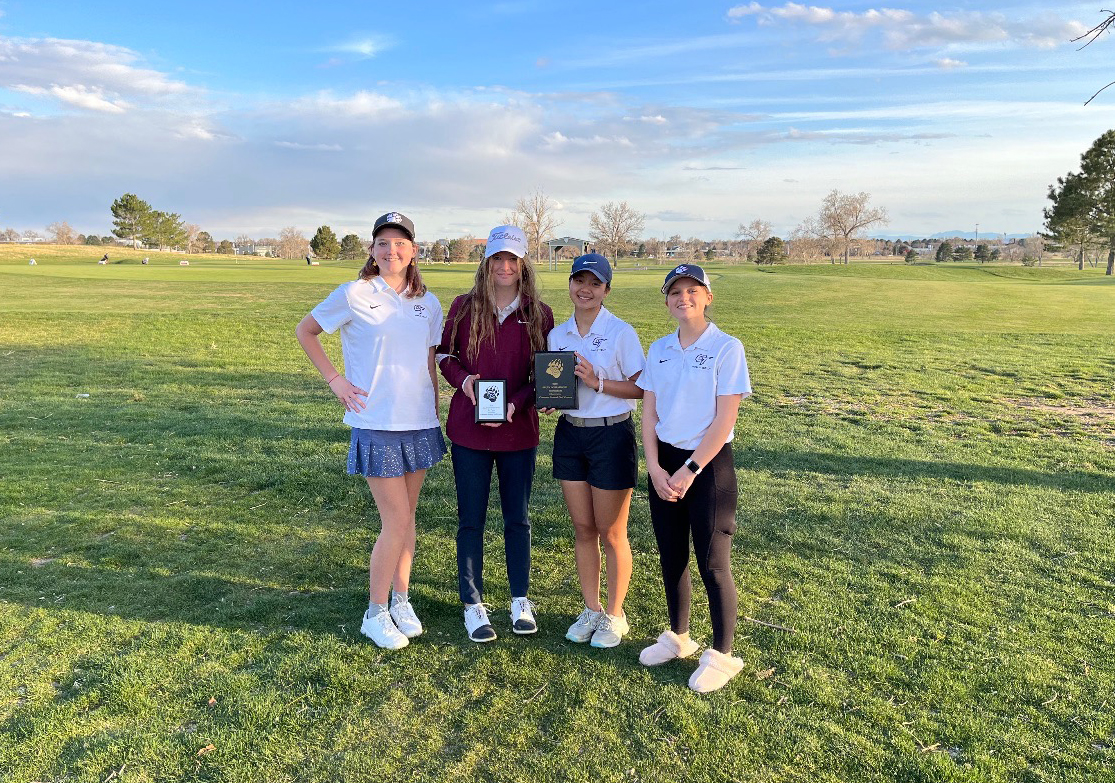 MONDAY, APRIL 25: The Cherokee Trail girls golf team has gotten better as the season has gone along and landed some hardware. (Full recap and full scores, here).
Coach Justin Jajczyk's Cougars played well at CommonGround G.C. to finish eight strokes clear of their closet pursuer in a gathering of 12 scoring teams — which also included Grandview — plus some individuals from other programs.
Cherokee Trail was the only team to place its top three players in the top 10 and the threesome of junior Bead Boonta and freshmen Kayleigh Babineaux and Haylee Clark combined for a team score of plus-30 243, which bettered Rock Canyon's 251 for top honors.
Babineaux led the way with a third-place finish with a plus-6 77 after a round in which she made three birdies, while Boonta made a birdie on her final hole (a par-5) to come in at 80 to tie with Eaglecrest's Savanna Becker for fourth and Clark grinded for an 86 to round out the Cougars' scoring.
— On a beach far, far away from Aurora, two former city prep standouts helped Colorado Mesa University earn a Division II national championship.
Cherokee Trail graduate Savannah Spitzer and Rangeview grad Sierra Hunt — both sophomores — contributed heavily for the Mavericks, who took to the DII beach volleyball crown at the AVCA Small College Championships April 16 at Hickory Point Beach in Tavares, Florida.
Matches consist of competition for five pairings with a point awarded for each win.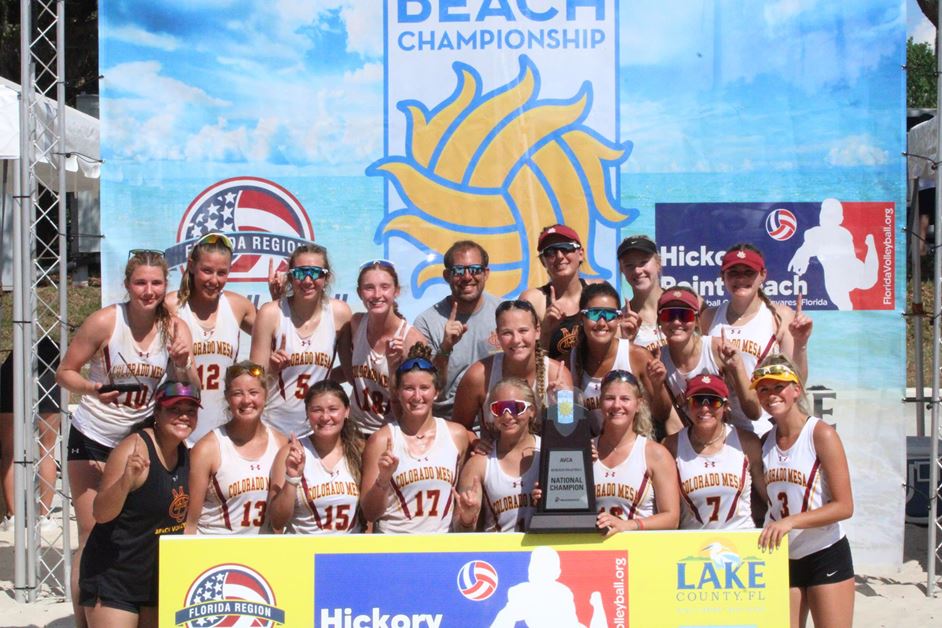 Colorado Mesa defeated Spring Hill College (out of Mobile, Alabama) 3-1 in the championship match after taking down defending DII champion Tampa in the semifinals. In the championship-winning competition, Hunt and partner Ara Norwood (who hails from Ridgway, Colorado) scored the first point for the Mavericks with a 21-12, 21-18 win in their match as the No. 4 pair. They were 5-1 in the tournament.
Spitzer and partner Hahni Johnson — the team's No. 1 pair — did not need their result to count in the championship match, but received All-American honors. The duo was 3-2 in their five matches at the tournament, while the final match was called early because Colorado Mesa already had the points needed to win.
A total of 34 teams from NCAA Division II and Division III plus NAIA and Two-Year Colleges took part in the AVCA Small College Championships, which began in 2018.
It's been a good year for former Aurora prep athletes at Colorado Mesa. Back in March, Rangeview graduate Isaiah Cheeks — who competed with the Aurora Public Schools co-op team — won the Division II national championship in 3-meter diving (story, here).
— Sports Editor Courtney Oakes