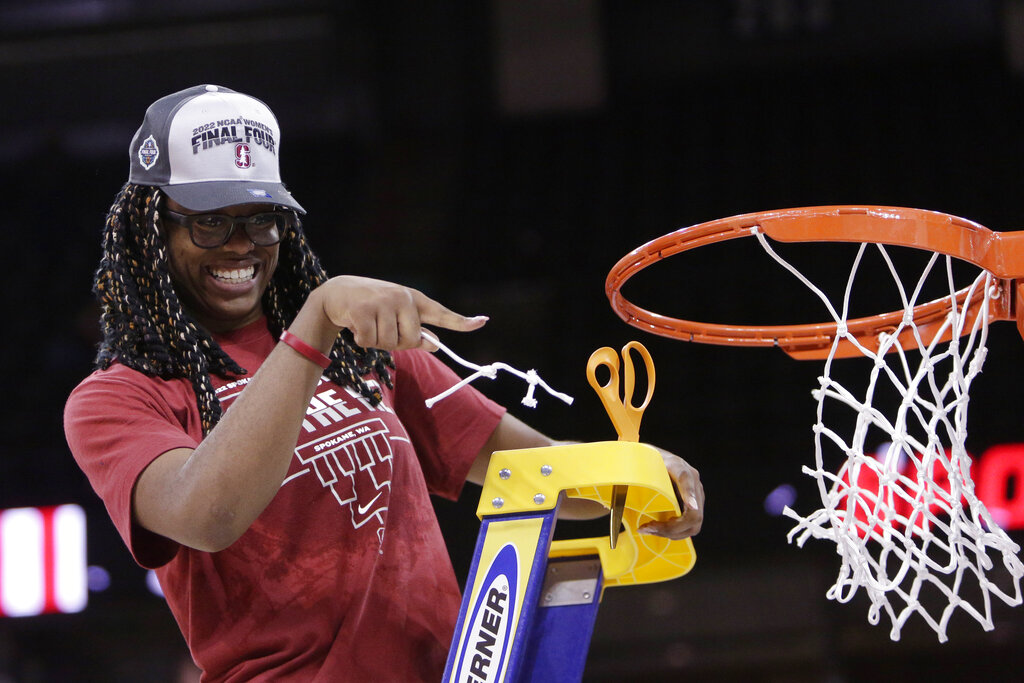 Fran Belibi and the Stanford women's basketball team is back in the NCAA Final Four.
The former Regis Jesuit star and the Cardinal — last year's national champion — continued their repeat quest with a 59-50 win over Texas Sunday in Spokane, Washington.
Belibi registered 25 minutes of playing time and pulled down 11 rebounds to go with seven points to help Stanford avenge an early-season loss to the Longhorns and earn admission to the program's 15th all-time semifinal.
— The Regis Jesuit ice hockey team had its run at the USA Hockey National High School Championship tournament in Texas stopped Sunday with a 5-3 loss to Stevinson, Illinois. The Raiders dug out of a 3-0 deficit after one period on goals by Andrew Gleason, Caden Balatbat and Jacob Zinno in the second period, but their opponents scored twice in the final period to make it to Monday's championship game against Shattuck-St. Mary's from Minnesota.
SATURDAY, MARCH 26: The Colorado Coaches of Girls' Sports (CCGS) All-State basketball games — featuring some of the top senior girls players from across Colorado in multiple classifications — are scheduled to be played Sunday at Grandview High School.
A slate of five games begins at 9 a.m. with the Class 1A game and progresses through 2A (10:30 a.m.), 3A (noon), 4A (1:30 p.m.) and finally 5A (3 p.m.), with the final contest including two Aurora participants, both from Rangeview.
Genesis Sweetwine and Ny'Era West, who both helped the Raiders to an 18-6 record and a spot in the Sweet 16 round of the 5A state playoffs, will play on opposing sides in the game, with Sweetwine (who averaged 10.1 points and 2.6 assists per game) set to suit up for the Blue Team and West (who averaged 15 points and 7.8 rebounds per game) part of the Red Team roster.
It will cap an all-star weekend for several Aurora basketball players, who took part in The Show all-star games at Metro State.
CCGS 5A Rosters (Aurora selections bold and uppercased) — Blue Team: Avery Bang, Chaparral; Payton Bang, Chaparral; Mariah Hilliard, Valor Christian; Kaitlin Kyle, Ponderosa; GENESIS SWEETWINE, RANGEVIEW; Bela Voglund, Poudre; Jasmyn Williams, Arvada West. Coach: Cory White; Red Team: Gabby Beauperthuy, Doherty; Emily Hovasse, Highlands Ranch; Brianna Sealy, Air Academy; Payton Sterk, Doherty; NY'ERA WEST, RANGEVIEW; Alex Pirog, Highlands Ranch; Sabus Saya, Ralston Valley. Coach: Caryn Jarocki, Highlands Ranch
THURSDAY, MARCH 24: The Regis Jesuit ice hockey team moved along from the disappointment from the Class 5A state playoffs by winning on a national level.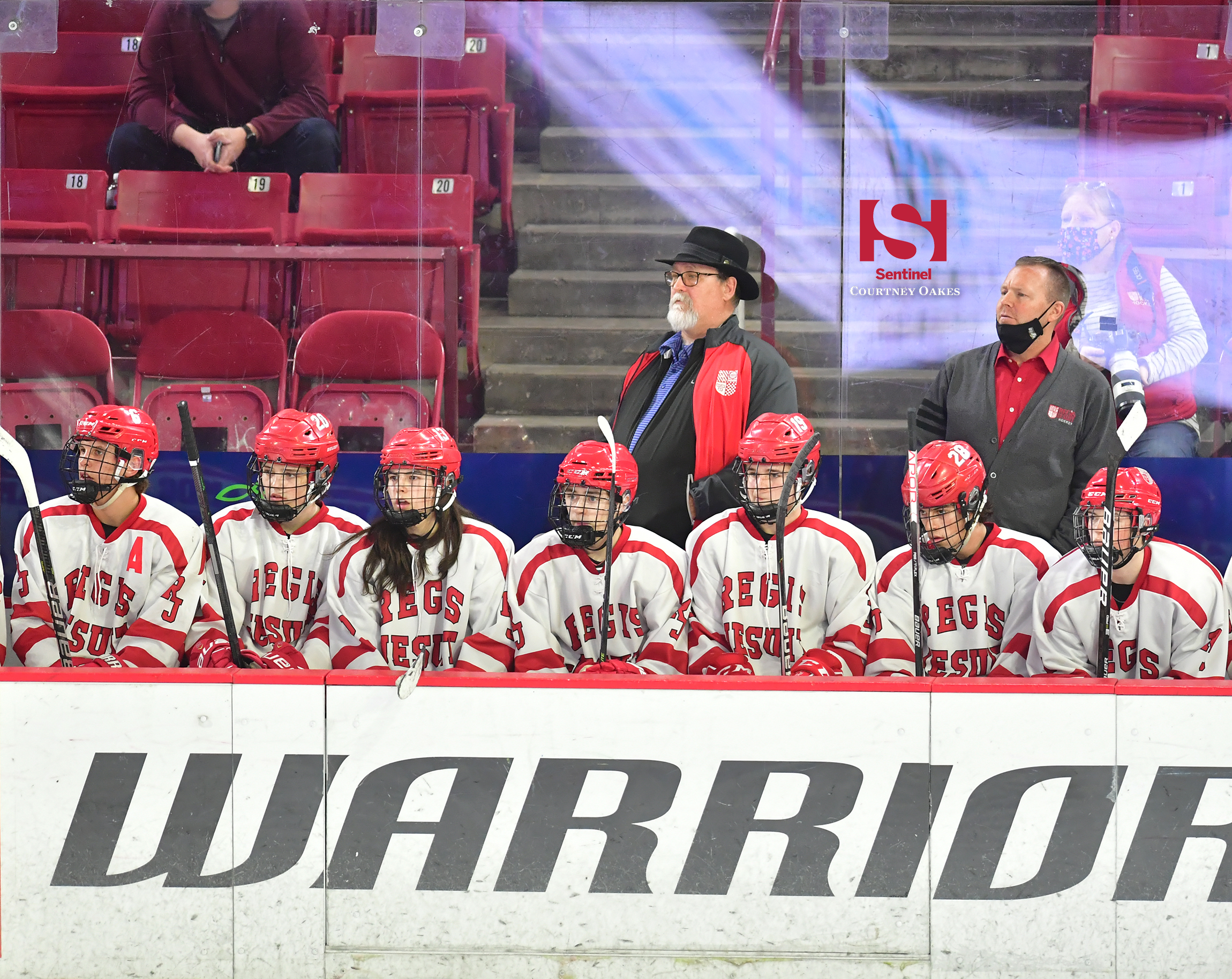 Coach Dan Woodley's Raiders opened up the USA Hockey High School National Championship tournament with a 10-3 victory over the Centennial Chiefs from Minnesota Thursday at the Children's Health StarCenter-McKinney Arena in McKinney, Texas.
Sean Holloway, James Manville and Jacob Zinno also scored two goals apiece and Caden Balatbat, Robbie Dembeck, Jake Filler and Andrew Gleason also lit the lamp for Regis Jesuit, which scored all 10 of its goals in the final two periods after trailing the Chiefs 1-0.
Goaltenders Logan Zlot and Ryan Miller combined to stop 21 of the 22 shots from Centennial.
Regis Jesuit got off to a strong start in the NHL Pool of the 16-team tournament featuring teams from across the country and skates against North Broward Prep (Florida) at 2 p.m. Friday.
WEDNESDAY, MARCH 23: Former Regis Jesuit standout pitcher Ty Blach is set to start for the Colorado Rockies in Wednesday's Spring Training contest against the Kansas City Royals.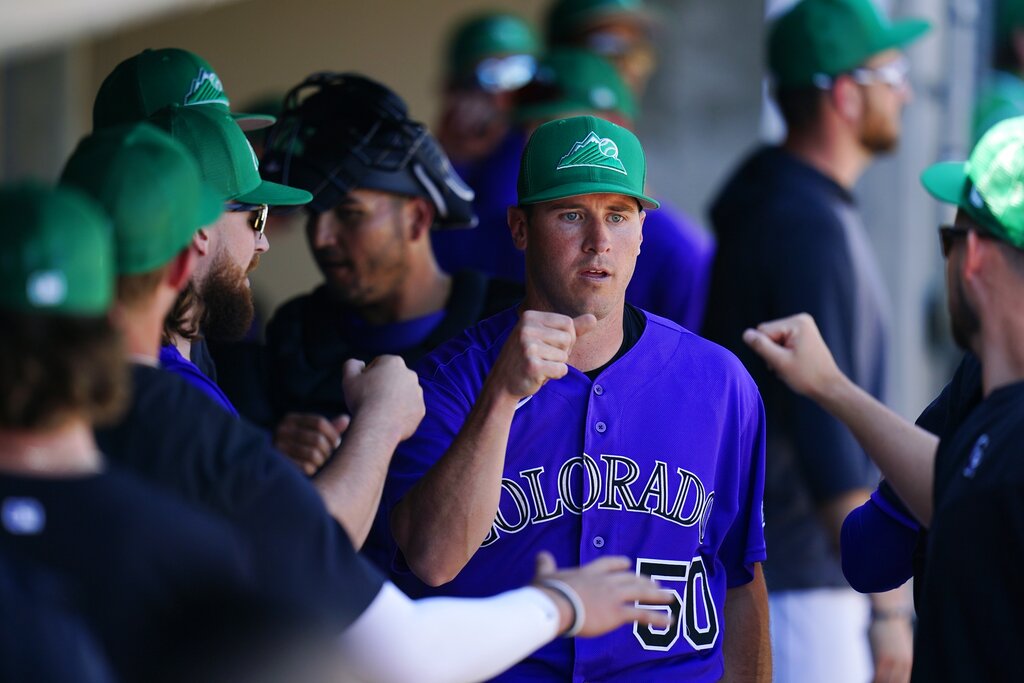 Blach, a 31-year-old who has spent six professional seasons with the San Francisco Giants and Balitmore Orioles, is scheduled to appear for the second time in Arizona for the Rockies.
The left-hander started and logged two innings in his previous appearance and finished with four strikeouts.
Blach last pitched in the major leagues in 2019 with the Orioles, when he was 1-3 with an 11.32 ERA in five starts. For his career — which includes 87 games with the Giants — Blach is 16-22 with a 4.99 ERA.
TUESDAY, MARCH 22: Rangeview High School announced the hiring of a new head boys wrestling coach in Adam Bird, a former assistant and Rangeview alum who takes over the lead role in place of Ruben Medina. The Raiders expect to have back their lone qualifier for the Class 5A state wrestling tournament in Greg Brooks, who placed fourth at 182 pounds.
SUNDAY, MARCH 20: Fran Belibi and the Stanford women's basketball team have now taken two steps towards defending the national championship it won a year ago.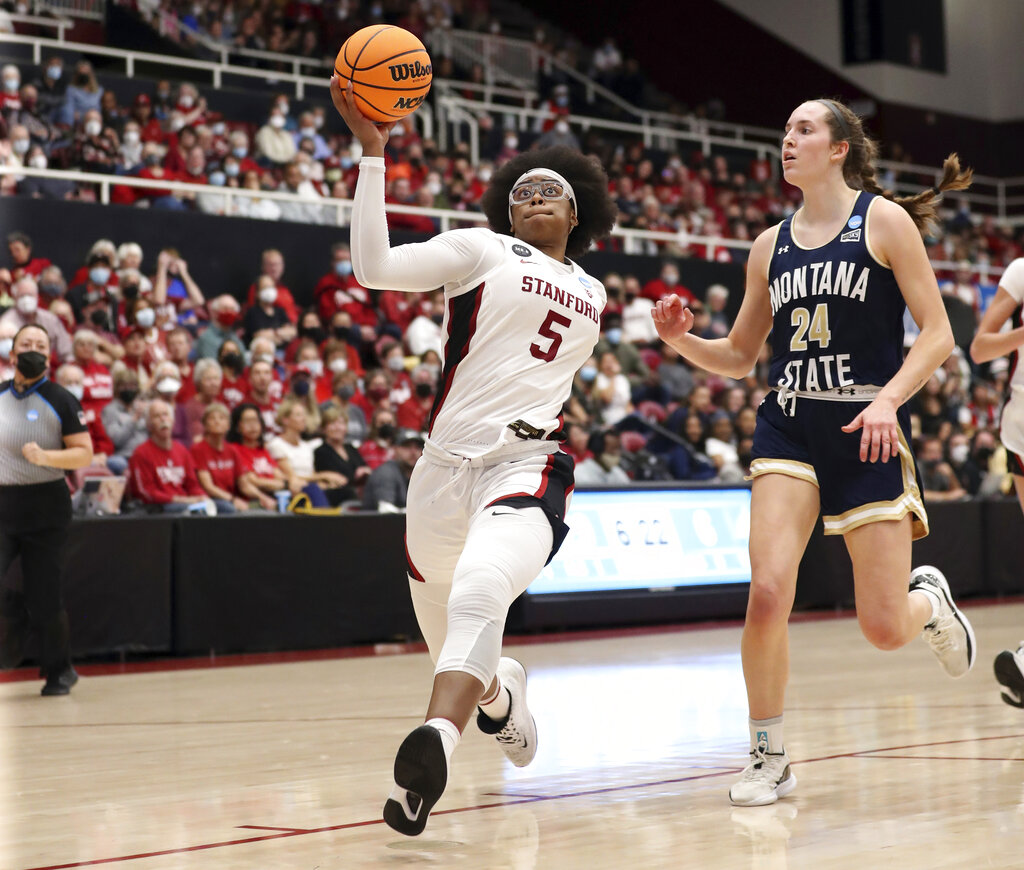 The former Regis Jesuit High School star provided a major highlight Friday night when she threw down a fastbreak dunk during a big win for top-seeded Stanford in its NCAA women's tournament opener, then she was part of the Cardinal's rout of Kansas Sunday that advanced it into the Sweet 16.
Belibi registered five points and had five rebounds on a night in which teammate Lexi Hull scored a career-high 36 points as Stanford won its 22nd straight game. The Cardinal move into a Sweet 16 matchup against No. 4 Maryland on March 25 in Spokane, Washington.
— While Belibi's team moved on, another former Aurora prep star's run came to an end in the NCAA women's basketball tournament when Addison O'Grady's second-seeded University of Iowa team fell victim to Creighton.
O'Grady, a former Grandview High School standout, logged eight minutes for the Hawkeyes in a tough 64-62 second round loss for the Hawkeyes on their home floor in Iowa City, Iowa.
— Sports Editor Courtney Oakes