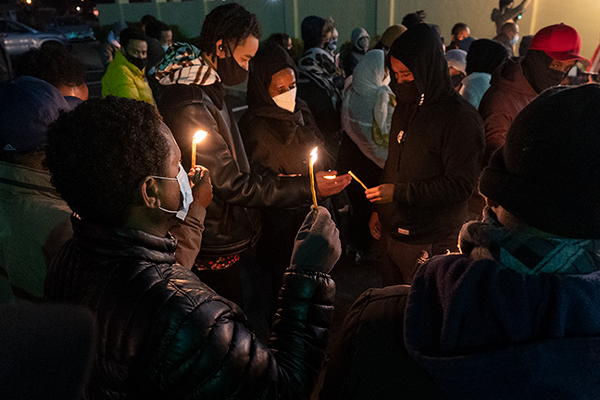 Daniel Woldu hasn't seen his father in months. 
The Ethiopian-born Auroran said his father visited the country's northern Tigray region just weeks before intense fighting broke out there in early November. He hasn't been able to leave the country since, Woldu said — but so far, he is safe. 
Woldu said his father's situation is comparatively sunny among the dark stories he's hearing from the communities of thousands of Ethiopian immigrants living in the Aurora-Denver metroplex. 
"People are getting massacred and displaced from their homes," said Woldu, a financial analyst born in Tigray who sits on the board of the Tigray Community of Colorado. "It's really a genocide."
The conflict, which was spurred over election disagreements, has torn apart Africa's second-most populous country of 110 million people and threatens to destabilize the entire region. More than 8,000 miles away in Aurora, ethnic tensions fanning the flames of war are also bruising relationships between local Ethiopian community groups.
Ethiopians are the second-largest community of foreign-born immigrants in Aurora, second only to Mexican-Americans. More than 3,100 Ethiopians called the city home between 2014 and 2018, according to city data. It's one of the country's largest Ethiopian diaspora communities. 
Within the robust Ethiopian community, opinions vary not only on the causes and solutions to the raging war — there's also disagreement about whether the conflict exists.
Tigrayans and their allies have repeatedly marched in downtown Denver, calling for federal troops to leave the northern region. On Jan. 3, almost 100 people  gathered for a candlelight vigil to honor lives lost during the "senseless" war.
Meanwhile, other local Ethiopian-Americans have blamed the conflict on Tigrayan political leaders while siding with the Ethiopian army and Prime Minister Abiy Ahmed. 
"Those who lose their leadership positions are using the media, using the foreign media," said Samuel Gebremichael, executive board director of the Aurora-based Colorado Ethiopian Community group. "It looks like there is a civil war in Ethiopia. But there was an attack, and the government handled it. The situation is now settled."
"…Now, Tigray is in a good situation," he added. 
Ethiopians in Aurora began watching closely as war broke out in their home country while the world remained fixated by U.S. election results in early November. 
Regional leaders in Tigray had broken with the federal government to hold local elections. But nationally, Ahmed — who won the Nobel Peace Prize in 2019 — had canceled elections because of COVID-19 risks. 
Fighters with the Tigray People's Liberation Front came in contact with federal forces on Nov 4. Within weeks, Ahmed claimed to have captured key cities in Tigray and ended the conflict in what he called a "law enforcement operation." 
The federal government quickly imposed a media blackout and arrested journalists, making it difficult to watch the course of the conflict from the outside. 
But reports have made clear that the violence erupted into a multi-sided, chaotic war involving Tigray fighters and the Ethiopian army but also marauding troops from neighboring Sudan, Eritrea and civilian militias. The violence has spread out of Tigray in massacres along ethnic lines and may include war crimes, according to human rights officials. According to some reports, the United Arab Emirates even launched drone strikes on civilians in support of Eritrea. 
"It's obviously a very complicated conflict with a long history," said Aurora Congressman Jason Crow. The Democrat is working with constituents like Woldu to reach family members trapped in the country. 
The U.S. government hasn't officially taken a side in the conflict. 
Information that has trickled out from the Tigray region, especially from first-hand accounts, paints a grim picture for observers. The state is locked tightly under a telecommunications and electricity blackout. 
As of late December, close to 1 million Ethiopians had been displaced by the violence. Woldu has read no shortage of accounts from camps in Sudan now home to tens of thousands of refugees.
Guesh Tesla, a recent arrival to one such camp, told the Associated Press he saw dogs feeding on the bodies of civilians near his hometown of Rawyan, where he said Ethiopian soldiers beat him and took him to the border town of Humera. 
There, he said, he was taken to a courthouse he said had been turned into a "slaughterhouse" by militia from the neighboring Amhara region. He said he heard the screams of men being killed, and managed to escape by crawling away at night.
"I would never go back," Guesh said.
Refugees also recounted being dragged into the streets, beaten and left for dead by rogue militias. 
"This has huge consequences for what happens in the Horn," said Woldu, referring to the Horn of Africa region on the continent's eastern edge. "But the primary victims right now are the civilians in Tigray." 
He said his father is currently in Mekelle, the Tigrayan capital, eagerly awaiting to escape the country. 
But he acknowledged he's hearing stories that are far worse from other community members. Notably, he spoke with two refugee children who said fighter jets had bombed a church and a school. 
And such violence is not only sequestered to the north, according to local Ethiopian activists. 
Members of the Oromo Community of Colorado, an Aurora-based nonprofit organization that advocates for natives of the large Ethiopian state Oromia, said Oromo have been the target of increased violence since Ahmed was elected in 2018.
"There is a lot of anxiety because we are physically here and in peace, but mentally, for myself, I am traumatized when talking to my cousins back home," said Rashid Said, a 38-year-old civil engineer who moved to the Denver area from the Arsi zone of Oromia in 1992. "They do not want to talk long and they try to cut the conservation short because if you say something inadvertently against the government, they could be put in jail or killed. It's almost the exact same thing as what's happening in the north but in Oromia. But the international community is not hearing it at the same level."
Some 10,000 Oromo call Colorado home, according to Mohammed Warid, the current chairman of the local Oromo-focused nonprofit on South Havana Street, all of whom are familiar with persecution from the Ethiopian government.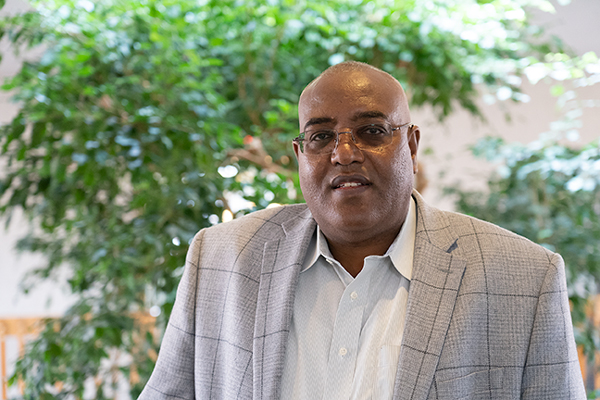 "We were like second citizens in the country for many years," Warid said. "We were forced to learn the Amaharic language, change our name, forced to take Christianity as religion … that has been the norm in Ethiopia."
Now, Warid and others in the Oromo community say they will stand with their Tigrayan neighbors to protest the actions of Ahmed's government.
"We are supporting them and their cause — they want nothing but equality, freedom and self-rule," Warid said. "We will show up."
He said he and other Oromo plan to attend an upcoming demonstration in Denver calling for Ahmed to end the conflict in the north. 
"Their cause is our cause," Said said of the Tigray.
But marches like the one planned for Jan. 8 haven't included most of the near-30,000 Ethiopians in the Denver metroplex. The chaos in the country, while apparently abrupt, has roots in long-standing ethnic tensions that are also growing in Aurora. Locally, Ethiopian community groups are drifting apart, some activists say.
More than 80 ethnic groups call Ethiopia home. Many groups have distinct cultural histories, languages and religious practices. 
In this environment — where Ethiopians often identify more with their ethnicity — that's made government a tenuous task: policies benefiting one group, or in the name of national unity, are often seen as marginalizing another ethnic group. 
Although Tigrayans only represent about 6% of the total population, the small ethnic group has a fierce affinity for self-determination, Woldu said. The Tigrayan People's Liberation Front played a central role in modern Ethiopian politics after a decades-long civil war ended in 1991. After Ahmed took power in 2018, he made moves that effectively sidelined the group. 
In November, the fighting broke a fragile peace that had weathered severe ethnic violence. 
Ethiopian security forces killed more than 75 people and injured nearly 200 during deadly ethnic unrest in June and July following the killing of Hachalu Hundessa, a popular singer. 
Some victims were beheaded, tortured or dragged in the streets by attackers, according to the Ethiopian Human Rights Commission. The group said the violence often targeted ethnic Amhara or Orthodox Christians.
Now, some Tigrayan refugees say they are at the mercy of ethnic Amhara militia groups wreaking havoc in the region. Ahmaras make up about 25% of the country's population. 
From Aurora, many Ethiopians have taken to social media to condemn the rebellion and throw support behind Ahmed. 
"They thought that Ethiopia was their personal property," Mel Tewahade, an Ethiopian-born Aurora resident and financial planner, said of the Tigrayan rebels on a live-streamed talk show last week. 
Tewahade did not respond to the Sentinel for an interview request. In numerous Facebook posts, Tewahade has said the fighting in Tigray is largely over — echoing Ahmed's official comments about the war — and condemned Tigrayan rebels. 
"Most of the sabotage that was implemented, financed, and encouraged by the Tigray Liberation Front is no more. So, Ethiopia is going to move forward very nicely," Tewahade said on the talk show. 
Gebremichael, of the Colorado Ethiopian Community, said Tigray activists are trying to use ethnic grievances to further divide the community here. He declined to say which ethnic group he belonged to and argued that Ethiopians need to put ethnic politics to rest. 
"If we can't come up together, we will not survive," he said. "That is my fear."
Woldu said Gebremichael's organization is made up mostly of Ahmaras who support Ahmed.
In November, the CEC said in a Facebook post that Ahmed's military campaign was intended to "bring the fugitive TPLF junta leaders to justice."
"We respect everybody's right to express their opposition about the operation, but it should not be in the name of the larger Ethiopian Community," the post read. 
Many other local Ethiopians including Tewahade have complained on social media that Tigyaran Ethiopians are falsely claiming to represent the entire country when marching through local streets or calling attention to an ongoing "genocide."
"There are people who hide under the word Ethiopia as an umbrella and think they're speaking for all Ethiopia when they're really speaking for their own little group," Said said.
The upshot, for local Tigrayan Agazi Abay, is that he can't go to his church anymore. Too many people in the local Ethiopian community are pretending that the war isn't continuing, he said, or supporting Ahmed. 
"It's almost like being betrayed by someone you thought cared about you," he said. 
However, Ahmed's backers are facing a sustained protest movement from Abay, Woldu and local Tigrayans, who quickly mobilized in November. They're aiming to draw local and international attention to the plight of their friends and family members trapped in the bedlam. 
That's taken the form of multiple marches in Denver. On Dec. 28th, Tigrayans and other groups aligned with their cause occupied the steps of the state Capitol building. 
"The Nobel Prize winner Abiy Ahmed is bombing his own people," read one man's sign. 
Woldu said the movement's demands include pulling Ahmed's troops out of Tigray and allowing humanitarian aid into the choked region. He also wants the government to allow journalists into Tigray and for international observers to investigate whether war crimes took place. 
"We want the people of Colorado to demand their government, the U.S. government, stop funding this repressive regime and this infant dictator," said Jamal Said, a past chairman of Oromo Community of Colorado.
The U.S. obligated more than $1 billion in assistance to Ethiopia in 2020, data show.
Activists also took to Twitter last week with the hashtag #TigrayGenocide to raise awareness. 
Woldu said that Ethiopians in metro Denver will remain civil. But he doesn't expect that any organizations will begin the hard work of repairing tensions amid a devastating conflict. Elections — an opportunity to peacefully resolve the conflict in Ethiopia — are tentatively planned for June. 
Woldu expects inter-ethnic relationships here to "be hindered for a very long time." 
"I don't think that we'll go back to pre-November 3rd again," he said.
— Sentinel Colorado Staff Writer Quincy Snowdon contributed to this story.