AURORA | Alec Oughton has been tentatively named chief of Aurora Fire Rescue, beating out the city's interim fire chief and 34 others to become Aurora's next top firefighter.
The leader of Virginia's Henrico County Division of Fire replaces interim chief Alan Robnett, who was tapped to lead AFR after former chief Fernando Gray stepped down in July.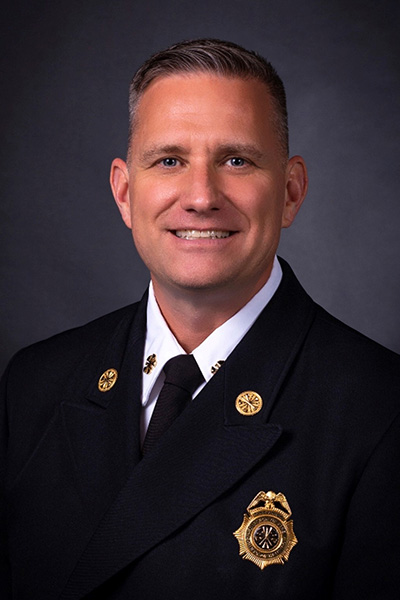 "I fell in love with this area in 2007, when riding through it as part of a pediatric cancer research fundraiser. It is a beautiful area with amazing people, and I've felt a strong pull toward this community since," Oughton said in a statement Monday. "I truly look forward to connecting with, and caring for, Aurora's residents and Aurora's firefighters."
Oughton has spent 24 years with his current department, which is approximately the same size as Aurora's agency, and has worked in firefighting and emergency medical services for around 27 years.
In a taped interview, he said he would welcome input into the operations of the agency from community members as well as rank-and-file firefighters.
"There are two constituency groups that I care a lot about in this industry, and that is the community that we're charged to care for, who trust us to care for them and have their best interests at heart, and it's the workforce that delivers that service," he said.
He also said that, ideally, he would spend the majority of his time engaging with the public and partner entities on behalf of Aurora Fire Rescue.
"In a good agency … the deputy chiefs run the fire department, and the fire chief belongs to the people. And the people are the community, the people are peer agency heads, the people are community stakeholders and response partners. Your fire chief should be out, and about, and connecting," Oughton said.
Aurora hired an outside consultant, CPS HR Consulting, to help entice candidates for the job. Oughton was selected as one of nine semifinalists by a panel of community leaders.
City officials further narrowed the field down to four finalists, including Oughton, Robnett, Austin Fire Department assistant chief Richard Davis and Billings Fire Department chief Froilan "Pepper" Valdez.
The finalists visited Aurora earlier this month to participate in a two-day, in-person interview process where they met with members of the community, Aurora City Council members and city officials. They also answered questions submitted by the public in a series of recorded conversations.
Afterward, City Manager Jim Twombly named Oughton as his pick to lead the agency. The Aurora City Council is scheduled to vote on finalizing Oughton's appointment during its regular meeting Jan. 30.
"I found his engagement with Aurora community members, council members and me to be authentic and genuine, and I believe he will garner the support of our dedicated fire personnel and the Aurora community," Twombly said in a news release. "He is committed to our ongoing public safety changes and will add a new perspective to our work."
Assuming his appointment is confirmed by the City Council, Oughton will start work at Aurora Fire Rescue on March 13.