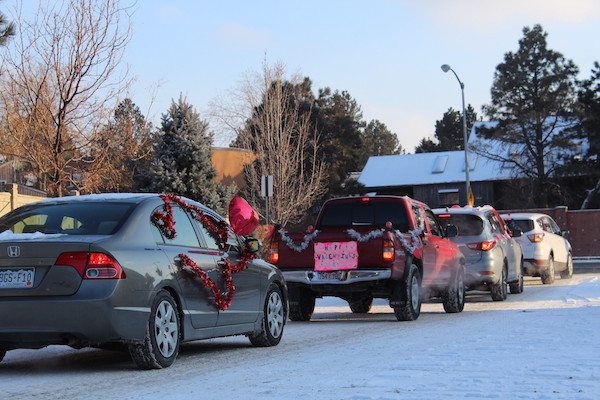 AURORA | It's been more than 300 days since any visitors or volunteers have been inside Chelsea Place Memory Care.
But this Valentine's Day, a few dozen local high school students found a way around the pandemic to show a little love to the Aurora residents: A car parade for the elders who have spent nearly a year physically isolated from the outside world.
"In a normal year I would have had at least 40 kids in my building for the past four to five weeks," said Jenni Dill, the center's engagement director. "It's incredibly different not to have that this year."
The students, driving cars decked out in pink and red messages, circled the building on a frigid Sunday, Feb. 14, hoping to deliver some cheer to what's been oftentimes an often lonely year for the elders. 
"Isolation has really taken its toll," Dill said. Keeping the elders physically safe has come with the cost of the in-person enrichment so many residents found through volunteering in the community or offering life advice to high school students who spend several hours a week serving meals or playing games. 
Instead, there have been car parades — the students put on a Mother's Day parade in May — and several of the elders have pen pals, Dill said. But it isn't quite the same as an afternoon of manicures or learning to sew, common pre-pandemic activities — or just visiting.
"They're just some of the nicest people I've gotten to interact with," said Olivia Baptiste, a Regis Jesuit High School senior. She organized the Valentine's Day parade.
She completed two weeks of service at Chelsea Place last January, just before pandemic hit. 
"They just cared so much about us, and you could see how happy they were to have us there," she said. 
The parade was a way to get a little of that back.
Like so many other long term care facilities, Chelsea Place has felt the wrath of the virus. 
A COVID-19 outbreak began at the center on Nov. 24 and lasted nearly two months. In all, there were 51 cases (26 among staff) and nine resident deaths, according to state health department data. 
Being a memory care center has put an added layer of difficulty during the pandemic. 
"There's this whole dementia piece that when your daughter shows up at the window, she should come in. That's hospitality," Dill said. "A lot of that frustration and confusion has been put on me and my staff. There's not always that comprehension."
"At a certain point — we have this term 'surplus safety' — you're protecting them to death," she said.
That isolation has been on Baptiste's mind, too. 
"Being there physically is obviously being a detrimental risk to them, but so is depression and being isolated," she said. 
Dill placed Zoom stations throughout the route so that residents watching from inside could see the parade from different vantage points. Everybody has gotten pretty good at the technology piece of keeping elders connected to the outside world, she said.
For Baptiste, spending a day meant for love as close to people she's come to call friends was important. She said she's learned a lot from the Chelsea Place elders.
"What I've always tried to remember is that when we limit who we can be friends with, who we can spend time with and who we can love, we limit who we can learn from," Baptiste said. "I've never been proven wrong that when you interact with people who are different from you, you learn something from them."