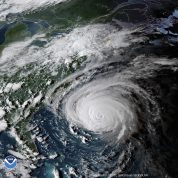 WILMINGTON, N.C. |  Hurricane Florence's leading edge made landfall on the Carolina coast Thursday, damaging trees and gushing sea swells over roads across the Outer Banks.
Winds reached 105 mph as they reached the shoreline.
Conditions will only get more lethal as the storm pushes ashore early Friday near the North Carolina-South Carolina line and makes its way slowly inland, forecasters said.
Florence's ocean water surge could cover the area in as much as 13 feet, and as much as three feet of rain could fall over the next several days.
The winds weakened from a peak of 140 mph earlier this week.
But North Carolina Gov. Roy Cooper warned: "Don't relax, don't get complacent. Stay on guard. This is a powerful storm that can kill. Today the threat becomes a reality."
The storm it could cause epic damage akin to what the Houston area saw during Hurricane Harvey just over a year ago, according to forecasters.
"It truly is really about the whole size of this storm," National Hurricane Center Director Ken Graham said. "The larger and the slower the storm is, the greater the threat and the impact — and we have that."
Wilmington resident Julie Terrell also shared concern over Hurricane Florence.
"On a scale of 1 to 10, I'm probably a 7" in terms of worry, she said. "Because it's Mother Nature. You can't predict."
Close to 1.7 million people in the Carolinas and Virginia were ordered to evacuate the area. Another 10 million residents are located in areas currently being monitored.
As of 2 p.m., Florence was centered about 110 miles southeast of Wilmington, its forward movement slowed to 10 mph. Hurricane-force winds extended 80 miles from its center, and tropical-storm-force winds up to 195 miles.