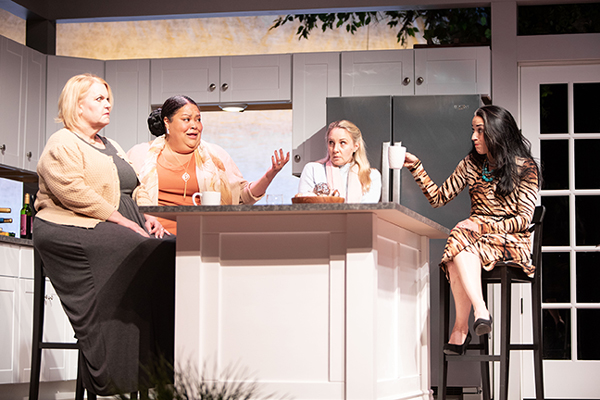 "Hurricane Diane" — a tale about Earth's ecological destiny — was selected as part of the lineup for the Aurora Fox Arts Center's 37th season long before the state's latest bout with the effects of climate change. 
The Marshall Fire swept through Boulder County in the very last days of 2021, burning down over 1,000 homes in Louisville and Superior and claiming two lives. Colorado is no stranger to fatal and costly natural disasters, particularly fires and floods. 
But the fire, which took place in the dead of winter, left many people stunned. Its victims are now faced with a painful choice: rebuild, potentially at significant expense, in a place that could experience fire danger again in the future? Or uproot their families and go somewhere new?
It's a struggle familiar to the characters in the play, who near the beginning are reminiscing about a massive storm that tore through their New Jersey suburb. The experience bonded them as neighbors as they huddled together in a reinforced basement, but left plenty of damage in its wake. And now, another storm is on the horizon.
"Hurricane Diane," which opened this past weekend and runs through April 10, combines the familiar and the fantastical to tackle the subject of climate change. The main character, Diane, is actually Dionysus, the Greek god of nature and fertility. Posing as a lesbian permaculture gardener, Diane is on a mission to create a brand new cult following and restore the earth to its former glory. But first, she'll have to convince a group of New Jersey housewives to get on board.
Janae Burris, who also performed in the Fox's previous play "Dontrell, Who Kissed the Sea," plays the role with humor and charm, winning the audience over in just the first few minutes. Impressively, Burris is performing while pregnant, and will also be delivering a one-woman comedy special at the Fox on April 16 called "Long Overdue" just days before she's scheduled to deliver her actual baby (tickets will be on sale soon).
The other four actresses are just as charismatic in their roles as the eccentric residents of a New Jersey cul-de-sac. Sweetheart Beth (Shannan Steele) is letting her lawn run wild as she struggles to deal with the fallout of her husband leaving her. Pam (Karen Slack) is a no-nonsense Italian-American with a love for animal print that could rival the Greeks. Renee (Chelsea Frye) is a bisexual nature lover who's butting heads with her boss at the HGTV magazine. And Carol (Emma Messenger) is in an unhappy marriage but unwilling to acknowledge that she wants more from her life (except a beautiful front yard).
Diane attempts to win over the women (and get them to let her turn their prim suburban lawns into permaculture paradises) one-by-one as they grapple with minutiae of their own lives. Things come to a head as another hurricane comes bearing down on the New Jersey coast.
The play is written by Madeleine George, the spouse of Lisa Kron, the widely acclaimed writer of the "Fun Home" musical. George has plenty of accolades in her own right — her play "The (curious case of the) Watson Intelligence" was a finalist for the 2014 Pulitzer Prize in Drama, and in 2016 she received a prestigious Whiting Award. She's also written for the Hulu original "Only Murders in the Building," a sendup of the true crime genre starring Steve Martin and Selena Gomez.
"Hurricane Diane" premeried in 2017 at the Two River Theater in New Jersey, and had an off-Broadway debut in New York City in 2019. This is its Colorado premiere. In a director's note, director and executive producer Helen R. Murray said that the play's feminine core and environmental themes drew her to it.
"It seems fitting to me that Madeleine George uses the power of Greek myth to tackle the obliteration of our environment," she wrote. "But this play is much more than a tome to recycling or a missive to 'leave no trace.' 'Hurricane Diane' takes on the entire apathy, and sometimes antipathy, that humans have for our natural world. In the play's embrace of these four desperate housewives, and in giving such a voice to their privilege, Madeleine George magnifies how completely out of touch they (and, unfortunately, we) are when it comes to the kind of environmental revolution needed in order to save our planet."
The Fox has been punching above its weight this season. It would be understandable if it chose to stick to familiar fare in an attempt to entice theatergoers back during an uncertain time for live performances, but instead it launched an ambitious run of mostly lesser-known shows with quirky concepts (all child actors, a pageant about Scientology) and diverse themes featuring Black and LGBTQ main characters. It's a testament to the commitment Fox has to serving its audience, and Aurora is the better for it. There's no need to drive to Denver to get high-quality theater (though the DCPA is putting out a great run as well).
The play, which has a runtime of a little over 90 minutes, includes explicit language and some sexual content. In this reviewer's opinion it would be appropriate for mature teenagers (though possibly not the kind of thing most people would want to watch with their parents). As per local public health guidelines masks are recommended but not required, and the concession stand is once again open.
The only main complaint is the ending, which leaves a little to be desired. It ends on somewhat of an abrupt note that leaves the watcher wondering how the rest of these characters' stories are going to play out. But in this case, art imitates life. The story of how we confront climate change as a society is still unfolding. It's up to us to choose what happens next.
If you go:
Runs through April 10, Thursdays-Saturdays at 7:30 p.m. and Sundays at 2 p.m. Approximate 90 minute runtime, no intermission. Content advisory: adult language, discussions of a sexual nature. Adult tickets $28-$40, $20 for seniors 60+, military and students. Purchase online at aurorafoxartscenter.org or by calling 303-739-1970. Masks recommended but not required.