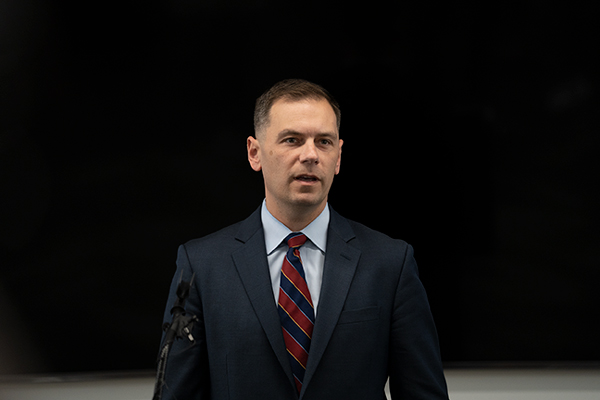 AURORA | Eighteenth Judicial District Attorney John Kellner, a Republican, announced Thursday he will run to unseat Colorado Attorney General Phil Weiser this fall.
Kellner said in a news release that Weiser has "failed" in his first term and will run on a platform of making Colorado "safer."
"Colorado needs an attorney general who is willing to lead from the front — and that is why today I am announcing my campaign for Colorado attorney general," Kellner said in a statement to the press. "I will not let politics get in the way of the strong leadership necessary to turn the tide on Colorado's crime wave."
Kellner joined the Cold Case Unit in the district attorney's office in 2013 and was sworn in as District Attorney in January 2021. He beat Democrat Amy Padden for the spot in 2020, winning 50.1% of the vote.
When elected, Kellner was set to serve as the final DA of the 18th as it is currently arranged. Arapahoe County will be parceled out of the jurisdiction, which currently covers about 88% of Aurora, beginning in 2025. Voters in Douglas, Elbert and Lincoln counties will elect a new DA in 2024 for the new 23rd Judicial District.
As of Thursday, only one other person — Robert Barbrady of the American Constitution Party — had filed paperwork to challenge Weiser, a Democrat. Weiser's reelection campaign has raised more than $2.6 million so far, according to the Colorado Secretary of State's website. Kellner has not yet reported any contributions.
Previously, Kellner served five years on active duty with the U.S. Marine Corps, including a deployment to Afghanistan as a deputy judge advocate. He graduated from the law school at the University of Colorado Boulder.
Kellner was born in Virginia. He resigned from active duty military service in 2011 but still serves in the Marine Corps Reserves. Kellner accepted a job as a prosecutor in the Boulder County District Attorney's Office after returning to civilian life. In 2016, he was named "prosecutor of the year" by the Colorado District Attorney's Council.
The state's top attorney is elected every four years. Responsibilities of the post include investigating government agencies accused of breaking the law or violating the state or federal constitution.
Recently, Weiser's office found that Aurora police were using force disproportionately against residents of color and that paramedics had administered sedatives inappropriately. The agencies have since agreed to a framework for reforms in the state's first of its kind consent decree.
In 2018, Weiser defeated Kellner's predecessor in the DA's office, George Brauchler, securing his first, four-year term with about 51.6% of the vote to Brauchler's 45.1%.