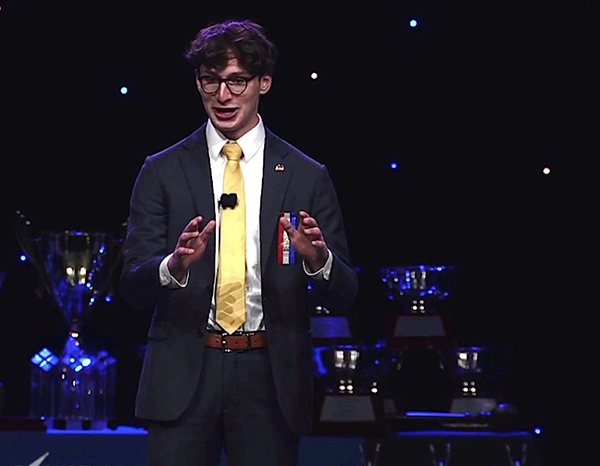 AURORA | In 2020, Smoky Hill High School student Peter Alisky said his ultimate goal would be to win a national debate championship title. 
Two years later, that dream has become a reality. Weeks after graduating, Alisky won the national championship in extemporaneous speaking at the 2022 National Speech and Debate Championship in Louisville.
"I was in complete disbelief," Alisky said about realizing he'd won. "This championship is like it's the paragon of success in the activity. It's never something I imagined I'd actually end up winning."
When he started high school Alisky was initially more interested in robotics, but there wasn't a good program at Smoky Hill. He needed something else to fill his time so he decided to follow in his older brother's footsteps and join speech and debate.
He quickly became enamored with the activity, particularly its fast-paced nature and the way it required him to stay on top of current events. He enjoyed competing, but the team was relegated mostly to the local level — entry fees for national competitions were steep, not to mention the cost of travel.
"We're a big public school, the debate team doesn't exactly get a ton of funding," Alisky said.
That all changed when the pandemic put school, and the rest of life, online. Suddenly Alisky could attend competitions hosted by Harvard, Yale and other major universities from his computer, and many of the entry fees were reduced as well.
Alisky started a tutoring business to pay for entry fees and started competing in as many debate competitions as possible during the pandemic, eventually becoming nationally ranked. During his junior year, from September to March, he competed in a tournament every single weekend.
His hard work paid off when he qualified as a senior to attend the national championships. None of the Smoky Hill coaches could make it to Louisville, so his mom signed on as an assistant coach for the team and took a week off of work so she could travel with him.
"She's the best," he said.
The competition lasted six days and 13 rounds. In the extemporaneous speech event, competitors are given only half an hour to put together a speech related to politics and current affairs, after which they are cross-examined by another competitor.
"It's kind of the combination between speech and debate in the activity," Alisky said.
The speech he gave in the final round was about whether gun control legislation could make it through Congress. He felt really good about the final speech and thought his entire performance had been strong, but was still in shock when he found out he won.
"It was the result of a lot of work paying off in a single moment," he said.
Alisky said he couldn't have done it without the support of his family, including his brother Michael, who became his main coach once he reached the higher levels of competition.
"He really, really helped me refine my skills," Alisky said. 
Along with a trophy, the award comes with a $1,250 scholarship and a paid trip to California to compete in a debate hosted by the Reagan Foundation at the end of July. This fall he will start college at Stanford, where he plans to study economics, an interest that was spurred by speech and debate.
"More than anything, speech and debate has taught me to dream big," he said.