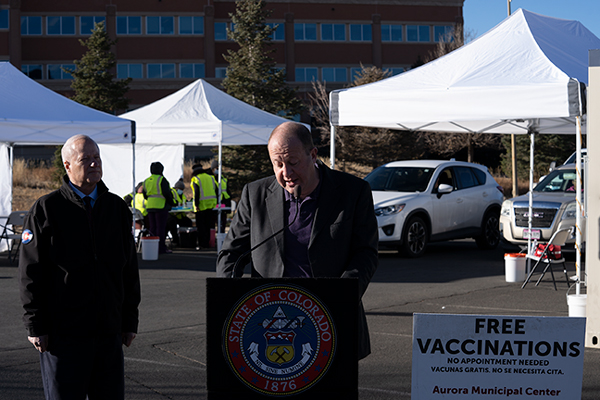 AURORA | Gov. Jared Polis said the nascent but increasing spread of the omicron variant of the coronavirus is a new and flashing signal for those unvaccinated to get the shot.
"We now face a new threat with the omicron variant," Polis said Thursday at a drive-thru vaccination center in Aurora.
Polis said that while researchers are still trying to glean details about the new variant, experts are confident it's easily spread, and that those unvaccinated are at far greater risk of severe illness than those who have complete vaccines.
Polis said a fifth case of an omicron variant infection has been identified in Colorado, and that one of the cases was contracted through community infection, rather than someone traveling to prone areas or having contact with someone like that.
Polis joined Aurora Mayor Mike Coffman at an outdoor, drive-thru vaccination clinic at Aurora City Hall with multiple open appointments and even the capability of "walk-in" requests for vaccination.
Polis appealed to people discouraged or inconvenienced by long wait times at some local pharmacies and clinics for vaccine appointments.
"That's why sites like this one in Aurora are so important," Polis said, adding that anyone from or outside of Aurora can show up even without an appointment for a vaccine.
As he spoke, a steady flow of motorists came through for vaccinations. There was never a waiting line of more than four cars during the morning press conference.
Coffman said vaccination is critical, especially as the holidays approach.
"Help protect yourself. Help protect your family. Help protect your co-workers. Help protect your community," Coffman said, in English and Spanish.
Polis said that as of Thursday, about 81% of eligible residents age 12 and older have taken at least one dose of a coronavirus vaccine, and that Colorado is among top states vaccinating those eligible under 12.
Despite that, hospitals across the state continue to struggle against an overload of COVID-19 patients, resulting in postponed non-critical surgeries and treatments, and stressing health workers.
As of Wednesday, the state reported 1,127 people hospitalized with COVID-19, of which, only 176 are unvaccinated.
Polis said gradually reducing numbers of people hospitalized with the virus is promising, but "the pandemic is not over."
Polis drew criticism from some health officials last week by saying on local and national media that the pandemic "emergency is over."
Wednesday, he maintained that more than a year after the pandemic first struck the state, much has changed.
"We have many more tools now to fight the virus," Polis said, including widespread testing, effective vaccines, stockpiles of medical supplies and the ability to increase hospital capacity if demand overtakes availability.
During the past few weeks, Polis has tendered that as an argument against a statewide mask mandate, much to the consternation of local health department officials.
When pressed as to whether his comments about the emergency ending conflict with his message of urgency to get vaccinated and wear masks when inside in public places, Polis said vaccination is key to managing and mitigating the pandemic.
"The emergency is not over for you if you haven't been vaccinated," Polis said. 
The Aurora Municipal Center vaccination clinic is open today until 6 p.m. at 15151 E Alameda Parkway. Clinic hours are 9 a.m. to 6 p.m. Monday through Thursday and 9 a.m. to 7 p.m. Friday through Sunday. Click here for more information and to make an appointment. 
For other regional vaccine clinics, click here.
For statewide vaccination sites and details, click here.