One year ago last week, a cross section of Aurorans gathered at a local church to discuss how to repair the increasingly fractured relationship between residents and area police officers.
For some two hours, dozens of denizens spoke in small groups about what they wanted to see in a nascent task force that was expected to be charged with improving ties with local cops and possibly pave the way for independent oversight of the municipal force.
Formally approved via a council resolution in February, the creation of the task force was seen by many as a step toward retooling a police department plagued by claims of excessive force, intoxicated officers and leadership turmoil.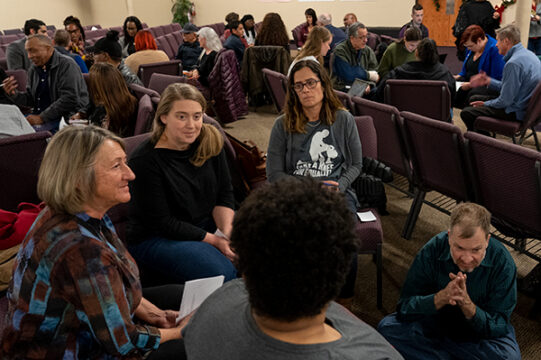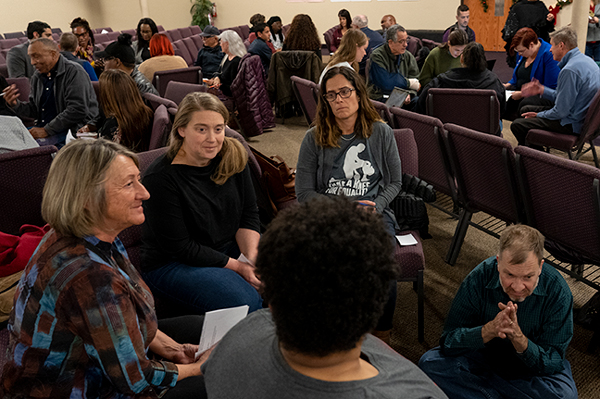 Now, one pandemic and national racial reckoning later, it's just one of a throng of inquiries and entities tasked with reforming a beleaguered municipal police force. But the gaggle of additional investigations and evaluations of Aurora first responders this year have not altered the focus of the task force, according to city councilperson Nicole Johnston, who shepherded the creation of the group in late 2019.
"I think a lot was probably assumed and leaning on the task force when it was created because they were the only voice for reform when nothing else was happening, but the scope has really always been targeted on that independent oversight mechanism as well as communication," Johnston said. "The great thing about all of this happening with the calls for reform on the national, state and local levels is we're not the only show in town. It's a good thing we had multiple investigations and we have consultants; it doesn't all have to be on the task force to address the myriad issues that we're facing … There are other ways to address other reforms."
The 12 members of Aurora's Community Police Task Force have continued to meet twice a month since July. Although members say their timeline is fluid, the group is expected to unveil some initial recommendations to city council next month regarding what some of those balms may look like.
However, at least one member of the panel is aiming to delay the new recommendations in an effort to get additional legal input on the creation of a new and possibly permanent review entity.
"We will be a leg that can't reach the ground to run if we can't put this together appropriately," member Candice Bailey said. "… We're being asked to do this in a timeline that is unrealistic."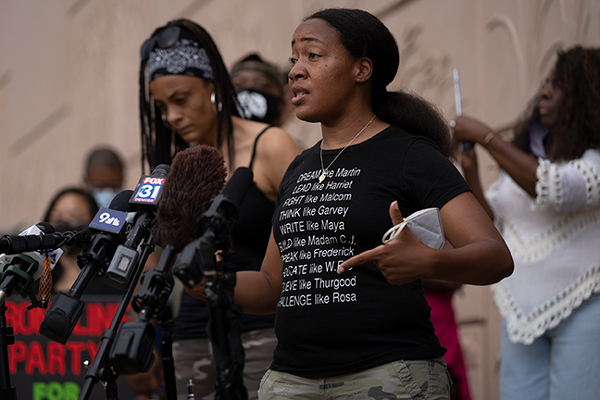 Other members told The Sentinel they're eyeing the establishment of an independent monitor's office with power rivaling the city's police department and Civil Service Commission on police firing, hiring, training, mental health supports and more. They're considering how the new task force might permanently fit into the fabric of Aurora's city government.
"It's gonna be groundbreaking," said Lindsay Minter, a task force member and former U.S. Border Patrol agent and U.S. Immigration and Customs Enforcement staffer. "I think we can create something in Aurora that can be a framework for the rest of the U.S. I think it will be great, if they let us do our jobs."
The initial recommendations will likely be presented to the city council's public safety committee next month, according to Johnston. Any ordinances eventually bolted onto the suggestions will then need to receive approval from the majority of council members.
Failing to earn council and eventually police support for the recommendations remains a concern for at least some members of the group.
"It seems like a bunch of lip service from the police in terms of how they'll listen to our recommendations," said Jason McBride, who sits on the community police panel and spends his days working as a Secondary Prevention Specialist with the Struggle of Love Foundation. "They really have an opportunity to have some of these things come to fruition, but it's kind of like they asked all these scary questions and we give them the answers, and then they're afraid of the answers."
Police brass have worked with the task force for months, recently providing members with a lengthy presentation on a slew of department policies and protocols. And two months ago, Police Chief Vanessa Wilson unveiled her own reform package dubbed "A New Way" intended to warm up frosty bridges between cops and community members.
Johnston lauded the plan, saying the task force may ultimately recommend doubling down on certain aspects.
"The task force is one of many cogs in the wheel," she said. "I like that Vanessa Wilson did not say that, 'we're waiting for the task force to do anything.' And we can always take it a step further."
But ties between the task force and Aurora police haven't been pervasively amicable. Throughout the year, the president of the police department's primary bargaining union has not been coy about his skepticism of the group, calling the entity a "farce."
"In their own minds, they think that they are going to make a difference and that they are going to reform police. And it's just ludicrous," Aurora Police Sgt. Marc Sears said. " … They truly believe they have the ability to come in and change the way we do everything. The people on that task force are such radicals, and if the City of Aurora allows them to actually have that much of an impact, you're going to have a city that is going to burn down."
A string of controversies
Indeed, there have been multiple dustups between members of the task force and city and police leaders in 2020, placing certain members of the incipient body at the epicenter of multiple controversies.
Earlier this summer, several members of the task force were named as plaintiffs in a class action lawsuit filed against the city, Aurora police and local sheriff's deputies claiming officers used excessive force during a violin vigil in late June.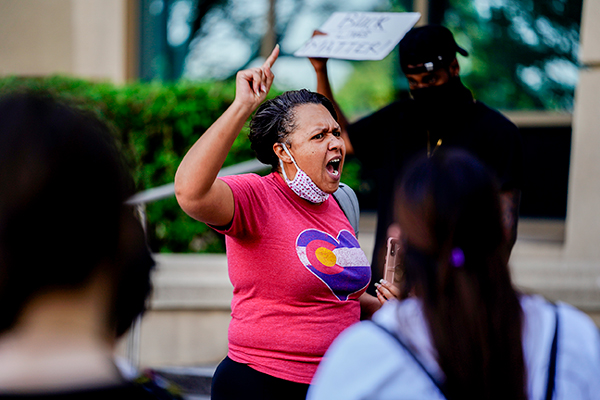 The issue devolved into claims that Mayor Mike Coffman pressured certain plaintiffs and task force members to drop the suit, citing conflicts of interest. Another task force member, Jeanette Rodriguez, has been a deputy with the Arapahoe County Sheriff's office — several employees of which are named as defendants in the complaint — for more than a decade.
Months after the suit was filed in federal court, Sears threatened criminal charges against Bailey for her conduct at another protest this summer. No such charges ever materialized, but Sears has continued to condemn Bailey's actions at demonstrations throughout the year.
"Having these very immature responses and being part of a task force that's trying to give recommendations is quite frankly a laughing stock," Sears said of Bailey's actions. "I don't know how you put validity behind recommendations like that when she's a left field activist. It's appalling."
Bailey has refuted Sears' claims that she engaged in any criminal behavior at demonstrations this summer.
"Marc Sears chose to blow a dog whistle on me," she said. "He was calling in the troops to come and get me but the realization was I had done nothing wrong."
Sears this summer was prevented from joining the new task force after council members questioned his own criminal history. Another officer was eventually named as an ex-officio member of the group.
The involvement of that officer, Virgil Majors, has been a lingering bone of contention among some members of the group who have remained skeptical of the police department's direct involvement.
"There's no way he should be on the task force," McBride said. "That's their way of spying on what we're doing to tell you the truth."
Bailey has also publicly questioned the department's involvement with the task force during periodic meetings earlier this year.
"There are two members on the task force who are currently working in law enforcement," she said. "And one of them is a voting member, which completely negates our original stance on that issue."
McBride said he's remained irritated learning more about the layers of internal city panels tasked with evaluating whether officers acted appropriately during their most contentious interactions.
"(Police) have a different set of rules," McBride said. "And I think that's absolutely ridiculous."
How some of those internal machinations have played out in the case of Elijah McClain has sown further discontent in the city for more than a year. The department's force review board in January determined that the three officers who stopped McClain on Billings Street last year had a "lawful reason" to contact him and used proper restraint tactics they were trained to employ, police said. The control hold they applied to McClain's neck was formally banned in Aurora earlier this summer.
That prohibition on carotid control holds in Aurora came several weeks before a new state law — propelled to passage, in part, by renewed interest in McClain's death this summer — banned the same maneuver statewide. The sweeping police reform measure also tightened so-called failure to intervene requirements for state law enforcement officials, made cops open to civil lawsuits for on-duty actions and created a new data warehouse focused on use of force expected to roll out in the coming years.
Many options
Omar Montgomery, President of the local National Association for the Advancement of Colored People branch, said task force members must first decide how much power a permanent, community oversight office might have.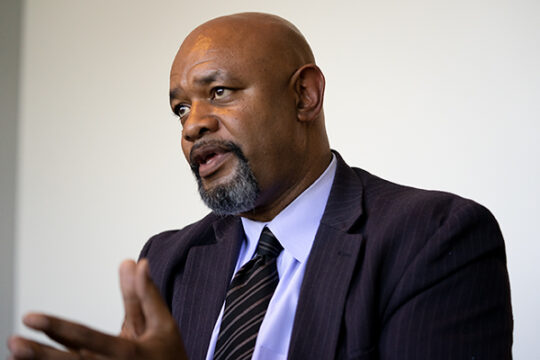 Montgomery wondered how the office's power would measure against Wilson's office, and the Civil Service Commission. Together, the two bodies have the final say on police firing and hiring issues. Although the Civil Service Commission is made up of community members, activists have criticized the board for being too friendly toward Aurora police officers. Former Police Chief Nick Metz was himself critical of the commission after members in 2018 reversed his recommendation to fire an officer who was recorded on body camera using a racial slur.
Any new police oversight board's level of power would determine whether community members can overhaul, or simply scrutinize, police hiring and body camera practices or decide once and for all whether a cop will leave the force.
"I like where we're going, but at the same time, there's still some very critical questions that have to be addressed and answered," Montgomery said.
He wouldn't say yet how much power he thinks the community should have.
Minter said the task force will create "real oversight" of police: a place where residents can make complaints, get real results, and have an "actual say" in the process.
With other task force members, she's aiming to create an independent oversight office with a budget of its own. In her plan, the office would be just as powerful as Wilson and the Civil Service Commission.
That might mean community members could override those groups to hire more non-white cops.
Aurora City Councilperson Allison Hiltz blasted Aurora's police hiring practices as "racist" in September after a report detailed disproportionate hiring practices favoring white candidates.
In the past three years, only 1.1% of Black applicants who met the minimum qualifications to be hired onto the city's police force were admitted to the academy, according to city data. That number is dwarfed by the 4.24% of white applicants, 3% of Hispanic applicants and 3.6% of Asian applicants who make it through the lengthy vetting process.
Some Task Force members also want power to "audit" police body-worn camera footage, Minter said.
"I think they think that they got a whole bunch of pansies on this task force," she said.
But she emphasized that community power in the process should also award police officers for doing their jobs right. She said that might mean handing out community engagement awards to police officers making a positive difference or building relationships on Aurora streets.
Renewed urgency
No matter what the task force ultimately recommends, public attention has remained on Aurora police in recent weeks and months after an unprecedented summer of unrest.
On back-to-back days last week, it was announced that Aurora police settled in one excessive force lawsuit and were named as defendants in another. Attorneys for David Baker, the 32-year-old who died after a fight with local police in December 2018, filed a wrongful death suit against the city in federal court Dec. 9. A day later, the local branch of the American Civil Liberties Union announced it had reached a $285,000 settlement agreement with the city in an excessive force lawsuit stemming from the 2016 arrest of a Latino man. Those announcements came about four months after attorneys representing McClain's parents and estate filed a 106-page complaint against the city, claiming that Aurora first responders violated the massage therapist's constitutional rights and negligently caused his death.
Also last week, a woman prompted a social media firestorm after she claimed police "jumped" her at a local apartment complex. In an unusual move, the department quickly released body camera footage of the arrest, which showed officers arresting the woman, Alexandra Stevenson, after she admitted to having a gun and repeatedly honking her car horn to protest someone taking her parking spot.
"It was such a brutal interaction overall," Bailey said of the footage of Stevenson's arrest.
Other task force members said the excessive force lawsuits and Stevenson's interaction with police had reinvigorated their work. Montgomery said that, if there is a police brutality case in the future, community oversight of police "will help address that" at the very least.
On top of the recent flurry of contentious headlines, civil service commissioners early next year are expected to consider appeals from a trio of officers who were fired this summer for posing for a photograph mocking the death of McClain beside a memorial commemorating him.
Parallel Elijah McClain and other reform investigations
As the clock winds down on the task force's incubation period, dozens of other inquiries into Aurora police and the controversial death of McClain, the 23-year-old massage therapist who died days after police detained him on his way home from a convenience store in August 2019, grind on.
---
The Breakdown
Here's a review on where several of the ongoing investigations stand heading into 2021.
U.S. Attorney's Office, Department of Justice and FBI investigation into McClain's death
The federal entities announced in late June that investigators had been looking into how local offices handled the investigation into McClain's death since 2019. In a rare sidestep of the secrecy that typically pervades such investigations, the trio of organizations noted the heightened attention McClain's death received this summer following the death of George Floyd as a reason to disclose the existence of the inquiry. A spokesperson for the U.S. Attorney's Office in Colorado did not provide clarification as to when the investigation may conclude. The inquiry could, in theory, lead to a consent decree with the city, which could impose additional oversight over local police.
Colorado Attorney General's investigation into McClain's death and Aurora police patterns and practices
Gov. Jared Polis has tabbed Attorney General Phil Weiser to investigate McClain's death, and possibly impanel a state grand jury to explore criminal charges against the first responders who detained and sedated the unarmed Black man. Weiser's office in August also confirmed that state prosecutors are examining whether the local department habitually violates resident's constitutional rights. A spokesman for Weiser's office declined to provide an updated timeline regarding when the query may be completed. The investigation could also potentially result in a consent decree for the city. Language in Polis' order has been tweaked multiple times in an effort to expand the scope of the probe to activists' chagrin.
Municipal investigation into McClain's death led by Jonathan Smith
City management has tabbed Washington D.C.-based civil rights attorney Jonathan Smith to examine city policies related to McClain's arrest, including use of force by police officers and the use of ketamine by Aurora Fire Rescue paramedics. City Manager Jim Twombly told council members last month that Smith has interviewed multiple public safety personnel for the past month, and is currently in the process of writing a report on his findings. Smith, who is the executive director of the Washington Lawyers' Committee for Civil Rights and Urban Affairs, is expected to present his findings to city council members at a study session in January, according to Twombly. City staffers had previously contracted with a former Connecticut state trooper to lead the investigation, though that agreement was axed earlier this summer after council members cried foul on the investigator's standing ties to law enforcement.
Municipal investigation into Aurora police policies and procedures
Officials have called on 21CP Solutions, a Chicago-based consulting group focused on analyzing and modernizing police procedures across the country, to coordinate a "comprehensive review" of the city's police force. The group will evaluate the department by looking at leadership structures, use of force practices, discriminatory policing, accountability, arrest protocols, hiring approaches and a smattering of other subject areas, officials said in a news release. City Manager Jim Twombly said in November that the group is now also evaluating how the local civil service commission plays into the hiring process for public safety personnel. The group is expected to gather public comments to inform their research in the coming months.
State health department investigation into ketamine administered to McClain
The Colorado Department of Public Health and Environment in July confirmed that officials with the agency are looking into the sedative paramedics injected into McClain on Aug. 24, 2019. The probe was prompted by new information officials received about the incident in August, according to a department spokesman. The same CDPHE representative confirmed the investigation is ongoing, but declined to provide a date when the findings may be made public. City council members in September unanimously voted to halt ketamine usage in the city until the municipal investigation into McClain's death is complete. The practice of using the drug on suspects across the country was the subject of a lengthy newscast on 60 Minutes on Dec. 13.