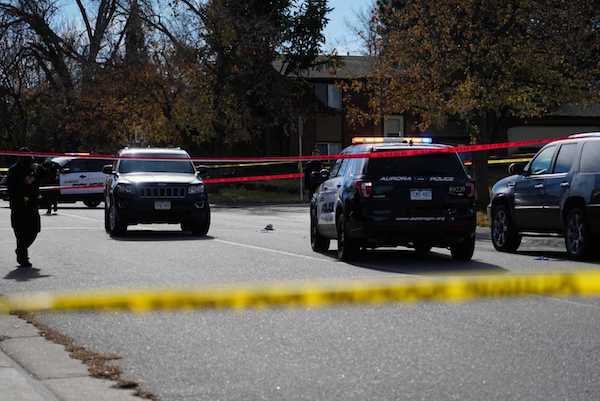 AURORA | Aurora police have arrested a teenager on suspicion of shooting and killing a man following a road rage incident on East Yale Avenue Monday morning.
On Tuesday, investigators announced they have recommended a first-degree murder charge against Romeo Desean Thompson, 19. Thompson is also being held on a weapons charge.
Police believe Thompson shot and killed an unidentified man in the intersection of Yale and East Brown Drive shortly before 12 p.m. Nov 16.
The man who was shot was taken to a local hospital with "serious injuries" Monday morning, according to a tweet from the Aurora Police Department. He was pronounced dead later the same afternoon.
The Arapahoe County Coroner's Office is expected to identify the man in the coming days.
In a news release, police said "a possible road-rage incident" precipitated the shooting.
Authorities earlier in the day asked people to avoid the area while officers collect witness statements and collect any available video surveillance footage.
Longshore said the shooting occurred on the roadway. Multiple police vehicles were parked on East Brown Drive with crime scene tape cordoning off the area shortly after noon.
Thompson is currently being held without bond at the Arapahoe County jail, according to county records. He's set to appear in court at 8:30 a.m. Nov. 18.
Thompson has a slew of additional pending cases in Arapahoe County, including a pair of lower-level misdemeanors filed last year and a pair of felony cases filed in juvenile court in 2017, according to jail records.
Anyone with additional information related to this shooting is encouraged to call the Denver Metro Crime Stoppers at 720-913-7867. Tipsters who call the Crime Stoppers can remain anonymous and be eligible for rewards up to $2,000.
The shooting Monday came after a trio of shootings in the city over the weekend. Early Sunday, a girl and a man were each shot in the 9700 block of East Colfax Avenue. Both are expected to survive.
Hours before the Colfax shooting Nov. 15, a man was shot in the alley behind a home at 1923 Dallas St. He is also expected to survive his injuries.
On Friday night, another man was shot in the city's Pheasant Run neighborhood. Investigators identified a suspect wanted in connection to the non-fatal shooting, but had not made an arrest as of Saturday.