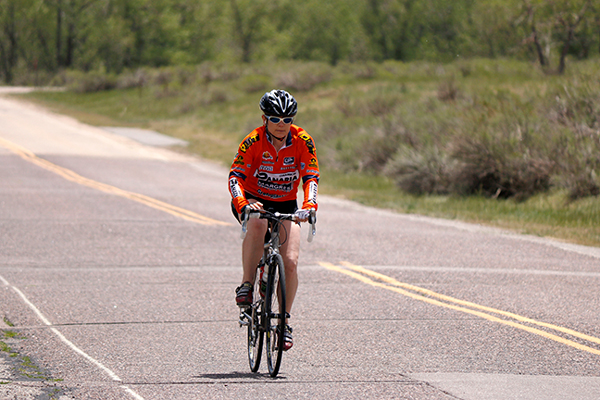 Silver linings can be hard to find during the pandemic era. But with many employees stuck at home — and without many options for a social life — more and more Aurorans are discovering life on two wheels. 
That's a welcome turn for Tom Tobiassen, president of cycling club Bicycle Aurora. The posse has organized rides and agitated for more bike-friendly projects since 1998, so the recent popularity of cycling is sunny news in an otherwise stormy era. 
Since the pandemic clobbered the region in March, Aurora's vast map of multi-use trails have seen bunches of cyclists, runners and pedestrian gawkers, officials say. Many bike shops have been slammed with old bike repairs and frenzied customers looking for the latest tech. While the region rested in May, city government even finalized a brand-new, protected bike lane leaping over Interstate 225. 
"People are just scrambling to find bikes, new or used, and fix them up," Tobiassen said. These days, he's helping more greenhorn cyclists change a tire while forging ahead with advocacy to connect and build bike lanes. 
Jack Todd, communications and policy manager for Bicycle Colorado, said last month that many Denverites and Aurorans had discovered cycling as a much-needed outlet for exercise and fresh air that didn't involve risking exposure to COVID-19. 
"We heard from tons of people early on who were saying, 'Oh my God, it's so nice to get out on a ride right now," Todd said. 
Like many aspects of pandemic life, however, lockdowns have strained some bicycle community resources, disrupted supply chains and postponed cycling events.  
'Absolutely nuts'
Official estimates of local cycling trends are hard to come by. Anecdotally, Aurora's multi-use trail systems have seen more traffic since COVID-19 arrived, according to city senior transportation planner Tom Worker-Braddock.
News reports during the pandemic have chronicled a global surge in cycling, from Wisconsin to Edmonton, Canada and Milan. The New York Times even described the tight market for bikes this summer as a regional "shortage" strangling the northeast. 
Market analyst firm The NPD Group estimated sales of bicycles, helmets, bike accessories and even indoor bikes spiked by 75% during April compared to that period during the previous year.
We're able to float, and we're not hurting.

— Ernie Clark, Second Chance Bikes
That's when U.S. residents began looking for ways to safely leave the house amid stay-at-home orders. According to NPD, the greatest market growth was seen in moderately-priced rides tailored for leisure and family rides. 
Dirk Sorenson, an NPD analyst focusing on sports industries, called the trends "an absolutely amazing moment for the bike community." 
"This is a unique and powerful chance for retailers, manufacturers, and non-profit organizations to engage new riders," Sorenson said in a statement. 
Another analyst, Technavio, recently estimated the global bicycling industry will grow by more than $10 billion from 2020 through 2024. 
People may also be buying and riding bikes out of necessity, according to Danny Katz, a member of Denver Streets Partnership and executive director of the Colorado Public Interest Research Group. 
He said people turned to two wheels when strapped for cash during the pandemic. 
On the ground in A-Town, the hardships largely haven't hit bike shops in an otherwise challenging time for small businesses.
Aurora nonprofit Second Chance Bikes isn't going anywhere, said founder Ernie Clark. 
The shop at 4122 S. Parker Rd. is staffed by volunteers and tapped into a network of donors, he said, allowing the crew to continue hocking bikes for area youth, homeless veterans and other people in need — no small thing for the Aurora institution in a brutal era for nonprofits. 
"We're able to float, and we're not hurting," Clark said. 
He said the biggest flurry of activity came in the spring, when demand was really high. Behind the scenes, Clark said that's still true. Bike parts are back-ordered from China, he said, and many bike shops are still delaying orders of new bikes because of supply chain shortages. 
He said it's still harder to find a basic bike at Walmart these days. 
Colorado Cycling Company, which hocks and services bikes and parts in two Aurora locations, was still slammed with customers last month. Andrew Quirk, manager of the location near the intersection of East Iliff Avenue and South Buckley Road, said the shop had been "insane" since the pandemic arrived. 
"Absolutely nuts," he said. "We are busier than we have ever been."
Tobiassen and others have noticed more cyclists out in Aurora testing themselves on regional trails, like the Toll Gate Creek Trail and Highline Canal Trail. Meanwhile, families are enjoying leisurely rides.
Plus, Tobiassen is seeing more and more "e-bike" riders straddling bikes boosted by electricity.
The e-bike market has boomed as well in 2020.  Another market estimate, from analyst Valuates Reports, said that sector's global value will almost double by 2025.
New projects
Like much of the Denver metroplex, Aurora is threaded with multi-use trail systems especially popular with cycling enthusiasts, dog-walkers, runners and the like. These smooth, paved throughways span from the High Line Canal in Lowry to the trails circling the Aurora Reservoir. 
They're important arteries for commuting by bike and also for recreation. 
When connecting Aurora's trails and bike lanes, one could bike from downtown Denver to Cherry Creek State Park, the Aurora Municipal Center or Smoky Hill, according to the city's bike map.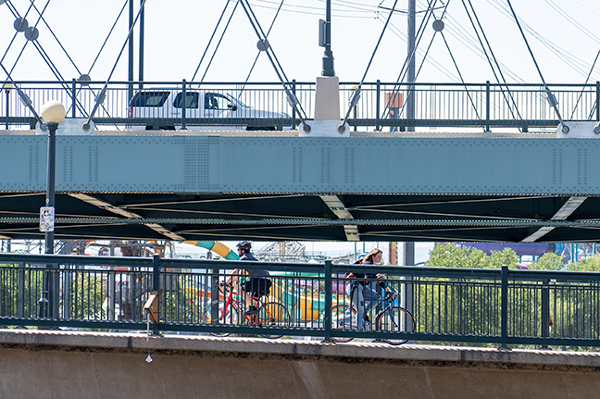 Despite years of investment and cycling's current popularity, the trail and lane network as a whole is far from connected. 
A close look at Aurora's vast trail map reveals isolated threads of trail on the city's northeast frontier near the Gaylord Rockies hotel and Denver International Airport. Little patches of developed trails also lay near Vista PEAK Preparatory on East Sixth Avenue and near Murphy Creek. 
Worker-Braddock said that's because the trail systems usually follow development, but the city plans ahead to connect pieces between emerging neighborhoods. That development, while frenzied on Aurora's vast eastern flank, is still patchy. 
He said having a smooth, multi-use trail in the neighborhood creates another draw for would-be residents flocking to east Aurora. 
Many trails have yet to connect in the city proper. The Toll Gate Creek Trail, for instance, still has a big gap spanning from the Aurora Municipal Center to Sand Creek Park near the intersection of Peoria Street and Fitzsimons Parkway. 
It takes time to plan and build bike lanes. But Tobiassen, an incurable advocate for bikes and bike lanes, said Aurora's city government is doing a good job of supporting cyclists.
Worker-Braddock pointed out that a driver has many options to cruise between points in the city. It's his priority to help cyclists, pedestrians and people without cars to travel as freely.
"The city has recognized that it's important to provide a true choice for its residents," he said. 
Commuting by bike is generally much less expensive  than owning and driving a car. According to the city's master bike plan, transportation costs ranked only behind shelter costs for the average U.S. household in the last decade.
It's also in the city's interest to cut pollution from cars and alleviate clogged roads, according to the master bike plan. 
In May, city government unveiled the latest bike project. It's a protected bike lane spanning from the intersection of East Mexico Avenue and South Buckley Road over Interstate 225 to Utah Park. From there, the trail connects with the regional Westerly Creek trail. 
Worker-Braddock said Aurorans are using the trail, and he's received lots of positive community reactions. Tobiassen said he'd like to see more activity.
That project was finalized amid several ongoing plans. 
In East Aurora, the E-470 Public Highway Authority built a bike lane adjacent to the throughway. The city is slowly filling in pieces to connect that trail with the surrounding neighborhoods. 
Tobiassen, who wears many hats as a member of many city committees, also sits on the Sand Creek Greenway advocacy group board. He said construction just started to fill in the hole in East Toll Gate Creek's connection to Sand Creek. That will be a major trail link; the Sand Creek trail snakes through Denver to Stapleton and into Commerce City. 
It's all part of Tobiassen's goal to get cyclists "from anywhere to anywhere." 
City staff are also scrutinizing opportunities for "cost-effective" bike-friendly measures when repaving streets, Worker-Braddock said. That might mean stamping a "sharrow," the bicycle symbol painted onto roads. 
Plus, the city is looking for public input to envision a more bike-able and walk-able Havana Street. 
More projects?
Katz, the bike policy guru, said cities should do more than ever to make sure cycling is easy and safe while the pandemic continues. 
He said many people are still in financial misery, but public transit options have become fewer and fewer. The Regional Transportation District, or RTD, faces a $166 million budget shortfall because of reduced ridership amid the pandemic, according to the Denver Post. RTD planners responded by cutting buses and rail lines. This summer, city officials sounded alarm bells about the possible loss of the R-Line. 
That leaves cycling as a strong option for struggling Aurora and metro Denver residents, Katz said. 
But he recognized that local governments are also seeing big budget deficits, which may limit local investment in more bike infrastructure. Aurora faced down a budget deficit of $26 million this year because of low revenues, including from sales taxes. State government faced a $3 billion shortfall. 
Katz said Aurora and other cities should still forge ahead without breaking the bank. That might mean partially blocking some roads to reduce car speeds and allow for more cyclists and walkers. Or, they could paint bike-protected areas onto streets.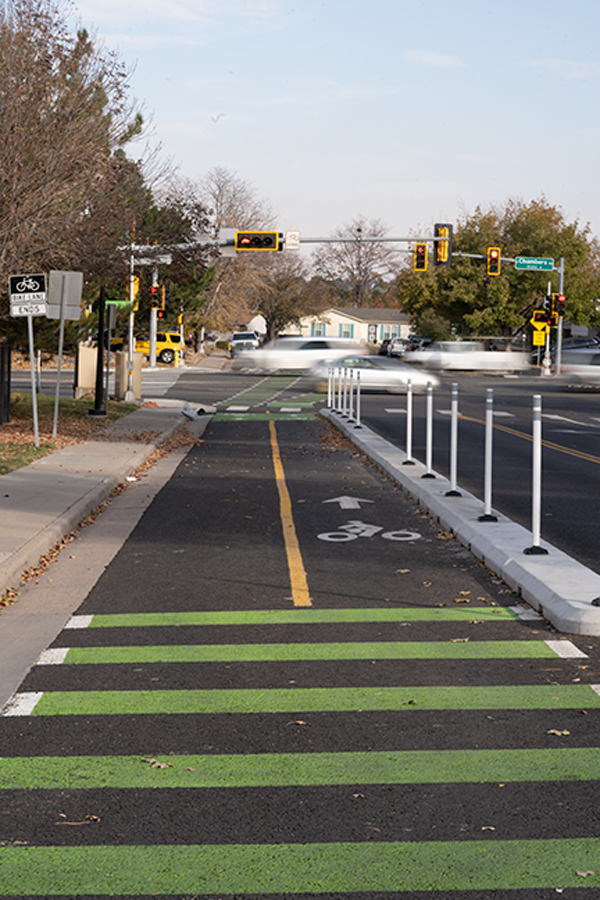 Tobiassen said the budget situations might mean less money for the Sand Creek Greenway and Aurora's bike infrastructure plans in general. He said that was the case in Aurora after the Great Recession in 2009, but federal funding saved some investments.
Closures, cancellations and new life
Despite the booming business, cyclists mostly have to pedal alone or in small groups to reduce viral spread. 
This year saw the cancellation of a good many cycling and bike culture events. That includes Velo Swap, the massive, indoor bike expo usually swarming Denver's National Western Center complex. 
The event was scheduled for Nov. 7, but Tobiassen said the event is canceled. 
Regional rides were also canceled, including the iconic Bob Cook Memorial Mt. Evans Hill Climb. Cyclists intent on suffering at high altitude will have to wait until next year — COVID-19 permitting — to do so with a rowdy peloton. 
And some bicycle shops are closing their doors. 
Arleigh Greenwald of Bike Shop Girl said last week she's closing her north Aurora hub at the end of 2020. She's specialized in "cargo bikes," allowing for transportation of groceries, goods and even a few children, from her spot near Galena Street and East 25th Avenue. 
She said she's closing the shop to be closer to her family. Another family-run bike shop will carry the mantle, she said in a statement. 
Bikes Together, the Denver nonprofit educating the masses on bike maintenance and mechanics, has indefinitely shuttered its Park Hill location at 2825 Fairfax St. Its location in Denver's Lincoln Park neighborhood is still open at 1060 Osage St.
"Though this year has brought a hailstorm of curve-balls, our mission is still the same: to increase access to bikes and bike education," the group wrote this month on its Facebook page.