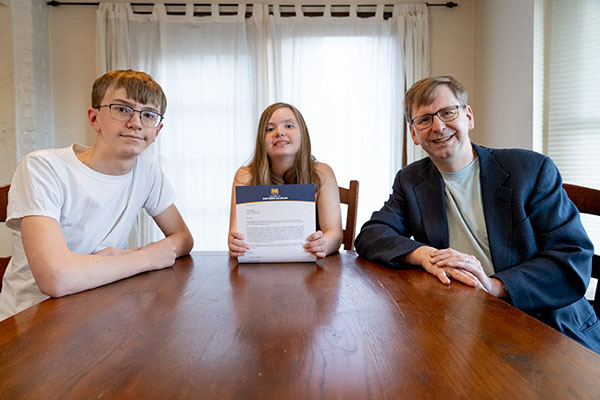 In a few short weeks, Sofia Aarestad will be one of the 500-plus students to walk across the stage to graduate from Overland High School. In many ways she's a typical Overland student, working hard to balance school, extracurriculars and family.
In another way, she's breaking barriers. Sofia has Down syndrome, and she will be the first or one of the first people in Colorado with Down syndrome to go straight from high school to a degree-granting college program. She was accepted into the University of Northern Colorado and will begin studying finance in the school of business this fall.
Sofia and her family hope that more people will be able to follow in her footsteps.
"It'd be nice if she's the first and not the only," her father David Aarestad told The Sentinel.
Her trajectory is testament to the fact that expectations and opportunities for people with Down syndrome and other intellectual and developmental disabilities have expanded over the past several decades. But in many cases, it's still an uphill battle for families to get the services required for their children to succeed.
Sofia's success is "a happy result given what we were presented with when she was born," David said.
At the time, David and Karen Aarestad were living in Cambridge, England. Sofia wasn't diagnosed with Down syndrome until 24 hours after birth, when a nurse noticed something out of the ordinary. Sofia has mosaic Down syndrome, the rarest form, which means that some of her cells have an additional copy of the chromosome that causes Down and others do not.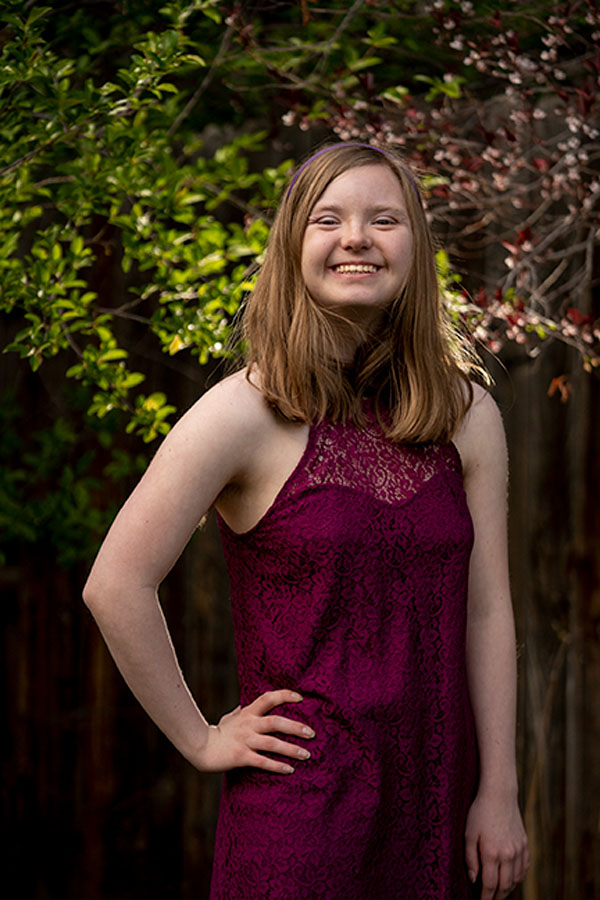 Their first experiences with medical professionals after her diagnosis were less than stellar. Doctors told the family to prepare for her to have a difficult life.
"They said 'you'll be lucky if she can stock shelves,'" Karen recalled.
The family moved to Aurora when Sofia was about 20 months old. When she was 5, she started kindergarten at Polton Elementary School. They weren't sure what to expect but wanted to give her the best shot at success that they could.
"Our mantra in education has been 'our kids will live up to or down to our expectations,'" David said. "We always push for what would be an aggressive goal. Why can't she do this? Why can't she do that? What do we need to do to support the teachers so she can succeed?"
Initially, Polton used the common practice of pulling Sofia (and other special needs students) out of their regular classes to give them specialized support. David volunteered heavily at the school after being laid off from his job as a lawyer during the 2008 recession, and over time he lobbied for the school to bring additional supports into the regular classroom instead.
That shift is something advocates have been pushing for for a long time.
Michelle Sie Whitten, president and CEO of the Denver-based GLOBAL Down Syndrome Foundation, said that the best practice is for a general education teacher to teach all the students and for the curriculum to be modified as needed to meet the needs of special education students. When students are taken out of the regular classroom, their social-emotional skills suffer and they don't learn how to interact with their peers.
"You learn from your peers what is appropriate behavior in a classroom, and they'll never learn that if they're just pulled out and shoved in a room," Whitten said.
Many of the things that help students with Down syndrome — making sure they have free time during the school day, giving them plenty of advance time to prepare, structuring schoolwork around their learning style — are things that would help all kids but are "almost kind of do-or-die for kids with Down syndrome and other intellectual and developmental disabilities," Whitten said.
The foundation provides training for teachers and school staff on a case-by-case basis through the Sie Center at Children's Hospital Colorado, which Whitten said is the only medical center in the U.S. that has a full time special education teacher.
The teacher, Jennifer Harris, will meet with school teachers and administrators at the request of individual students with Down syndrome and their families to provide targeted training and support. Whitten said the model is unique and has proven to be very effective. The Aarestads praised the GLOBAL Foundation for work they did with Sofia's teachers when she was at Polton.
After elementary school, Sofia attended Prairie Middle School and then Overland High School, where she continued to do well in school. The family said they always planned for Sofia to go onto some type of higher education after college, whether it was a certificate program at a community college or something more, but said that seeing her excel in regular classes at the high school level gave them more confidence that she would at least be a contender for a college program.
Originally, David said they thought she would have to go to a school out of state to receive the kinds of support necessary, but recently more colleges in Colorado have been offering programs for students with disabilities.
The nonprofit Inclusive Higher Education has been instrumental in expanding opportunities for students with disabilities in Colorado, and lobbied for the passage of Senate Bill 196 in 2016, which created funding for pilot programs for inclusive higher education at UNC, University of Colorado Colorado Springs and Arapahoe Community College.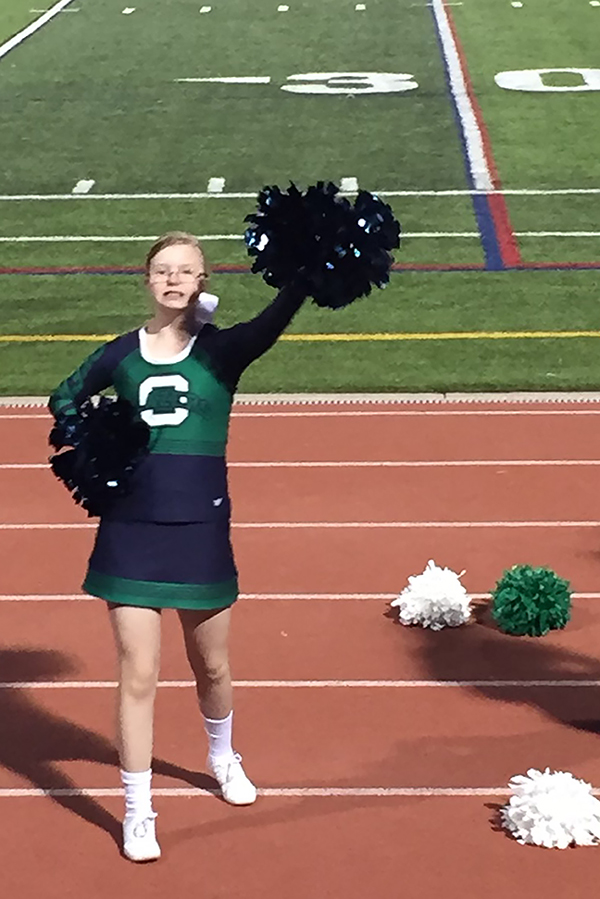 The programs allow students to graduate with a certificate in their area of study and provide vocational and social skills alongside academics.
Whitten said that Metro State University of Denver also has a program for people with intellectual and developmental disabilities and believes that Regis will be starting one in the future. It's a far cry from the '70s where students with Down made headlines just for knowing how to read.
"They're the minority but people are thinking about it more and more," she said of higher education. Whitten said she hopes that the increase will help K-12 schools realize this is a real opportunity for their students.
Throughout Sofia's time in school, the Aarestads said one of their biggest challenges was trying to get the schools aligned with their own belief that Sofia would rise to the level of their expectations. She had many supportive teachers, but at the administrative level there were some people who presumed that she wasn't going to graduate unless her classes were modified.
"I think sometimes kids with disabilities, even physical disabilities, are assumed incompetent before they're assumed competent at things and by doing that we take away their strengths," Karen said.
All students with disabilities are legally required to receive equitable access to education, but the quality of what's provided often varies district by district, and even school by school.
"Parents have to push," Karen said.
Whitten said that many times parents make significant progress in improving how their own children's schools operate, but those changes don't always last once they have moved onto a different school. A more comprehensive overhaul would need to come from the top down.
At college, Sofia will receive support from the college's disability resource center, which will coordinate her individualized education plan. Though she isn't part of UNC's Inclusive Higher Education certificate program, GOAL, she'll be able to socialize with the students there so they can share experiences.
She'll also participate in Soar, a program at UNC created several years ago to provide resources to students who might need extra support making sure that they graduate. 
Soar works with first and second year students in several categories, including first-generation students and students with grades below a certain level, along with individual students like Sofia who request to take part in the program. To qualify, students must meet four to five times a semester with an academic success coach who will work with them to map out their goals and make sure they're on track to meet them. Students also attend workshops and social events and have the opportunity to participate in a peer mentorship program.
In the three years since it started, director Christopher Freeman said Soar has served about 1,000 students. According to university data, students who participated in the program had higher first year GPAs and higher retention rates than students who were invited to participate in the program but chose not to.
The program model is part of a recent shift in higher education towards focusing as much on retention as getting students accepted to college. 
"As an institution, if we admit someone we should be just as responsible for providing them the resources they need to get a degree," Freeman said.
It also backs up the assertion that students from many backgrounds benefit from the same types of targeted support that improve the outcomes of students with disabilities. David said that meeting with the Soar office was one of the factors that convinced them UNC would be a good fit for Sofia.
Along with schoolwork Sofia has been involved in extracurriculars throughout her time in school. Last year she served on the council at her church, Augustana Lutheran in Denver.
This year she was on the pom squad at Overland, and participated in cheer her freshman and sophomore year. During her sophomore year the team traveled to Florida for a national varsity championship, where the team placed 14th.
She was involved with Girl Scouts for a number of years, and while in middle school as part of working toward earning their Silver Award her troop got an ordinance passed in Aurora making it illegal to smoke or vape in a car while juveniles were present (the ordinance sunseted in 2020 two years after being approved). At the time, their efforts made national news.
"An uncle in Florida reached out and said 'Sofia's on the front of our newspaper!" Karen said.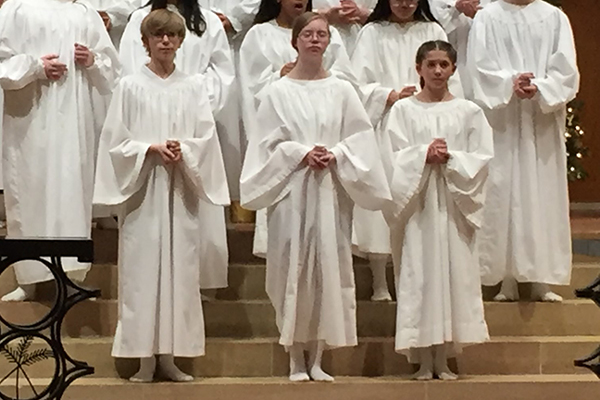 Sofia also loves to sing. Jazz and pop are two of her favorite genres, and Katy Perry is her favorite singer — well, Perry and Overland choir teacher Philip Drozda, who is also her favorite teacher.
Drozda originally taught choir at Prairie Middle School and had Sofia as a student for sixth through eighth grade, then moved over to Overland when she was a sophomore. Drozda told The Sentinel that she's been an invaluable member of the ensemble, and he's proud of how far she's come over the years.
"She's such a wonderful, hardworking kid, she's been a joy to have in choir all these years," Drozda said. "I feel very fortunate that I've got to watch her grow up from sixth grade until now."
Before Sofia, Drozda said he had taught several students with Down syndrome, but none for as many years as her.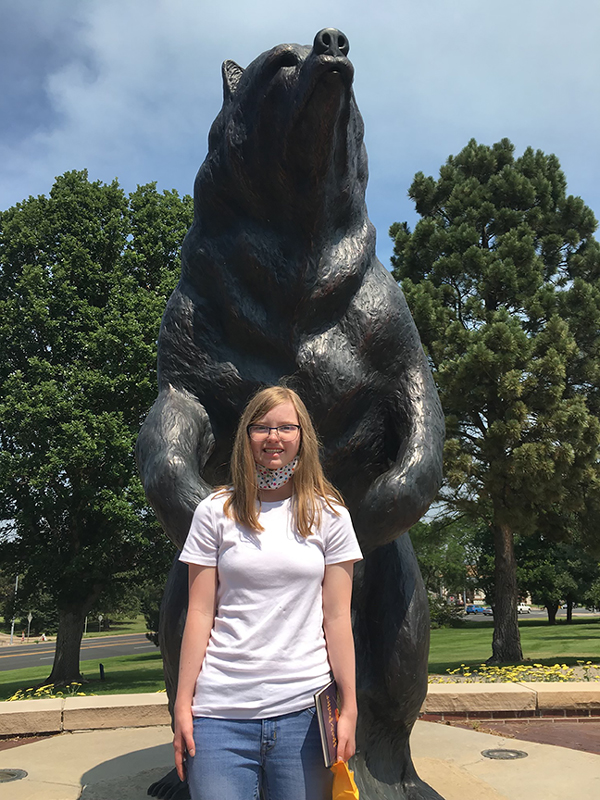 Unless they're getting a special education license there are a lot of things teachers aren't taught about how to teach kids with disabilities in school because there's limited time, Drozda said. He credited Sofia for teaching him how to be a better teacher to kids with disabilities, particularly by never automatically lowering his expectations for any student.
"She has taught me that I need to check my own assumptions at the door about what a student may or not be able to do and kind of let them show me what level they can excel at," he said. "I am grateful that I had her as a student." 
Along with UNC, Sofia applied to CU Denver, University of Colorado Colorado Springs, Arapahoe Community College, Colorado Mesa University, Metro State University and Colorado State University, and was accepted to all but CSU and CU Denver.
Colorado Mesa University and UNC were her two favorites, and she struggled to choose between the two of them but eventually went with UNC. A tour of the campus led by a very enthusiastic student guide helped tip the decision in UNC's favor.
As a graduation present, she, her parents and younger brother will be taking a trip to Los Angeles and Pasadena over the summer. Sofia is particularly excited to tour the Paramount studio lots where her favorite TV show, "I Love Lucy," was filmed.
She's excited to go to college, and though she's not nervous, said she will miss being away from home.
"I'm going to miss it, and I'll always come back," she said.