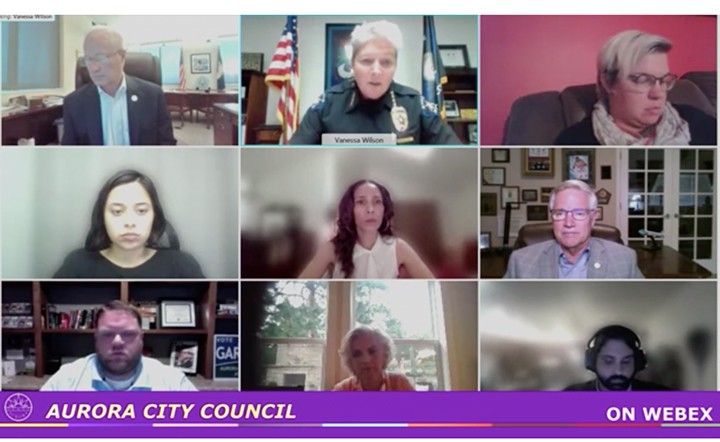 AURORA | Aurora police are jockeying to staff patrol positions throughout the city as officers continue to leave the local force and crime surges.
Aurora Police Chief Vanessa Wilson on Monday night said 72 officers have left the department so far in 2021, inching toward the high-water mark of 87 departures last year. The department shed about 60 officers in both 2018 and 2019, data show. 
The newfound lack of personnel has forced Wilson to cut resources previously allocated to the department's SWAT, traffic, narcotics units and backfill patrol duties with overtime assignments.
"We are facing a manpower issue," Wilson told city council members. "I want to applaud the officers that are working day in and day out those that are taking on these overtime assignments. They are tired, and they're weary."
The department has added a total of 55 officers so far this year, according to police statistics. Wilson said there are plans for additional, smaller academies in the coming months intended to get more officers on the streets sooner. 
Despite the reductions made to several of the department's various specialized units, Wilson has stood up multiple new patrol groups focused on slashing crime in so-called criminal "hotspots" across Aurora. 
Launched late last month, officers working additional overtime shifts are working with police commanders across the city to target the criminal hotbeds. 
So far, the groups have made 15 arrests, issued more than two dozen summonses, recovered 11 stolen cars and seized a smattering of illegal drugs, Wilson said. 
About four groups have gone out on the unannounced crackdowns in the first month the program has been funded, Wilson said. City management has budgeted overtime for the so-called "strike teams" through the end of summer. 
Councilmember Dave Gruber, chairman of the city's public safety committee, lauded the recent efforts.
"Over the past year the folks stealing cars and breaking into places have known there will be no repercussions," he said, citing reduced jailing during the COVID-19 pandemic. "But people don't know where these teams will be or when they will occur. The idea is they are actually going out and capturing bad guys."
The groups were launched about two months after another new overtime foot patrol unit was initiated along the East Colfax corridor to assuage the rising concerns of business owners in the area. 
So far, that group has contacted more than 700 businesses, 500 people, made nine arrests and issued nearly 200 criminal warnings for mostly low-level infractions like urinating or drinking alcohol in public, Wilson said. 
A new non-fatal shooting team is also looking into the some 66 people who survived being struck by a bullet in the city so far this year, and police are working with local district attorney's in a new partnership to combat gang crime. 
Still, Wilson said there's no magic bullet to address rising crime across the country. 
"People are asking the question of why is this happening?," she said. "I wish I had the answers. I can tell you that movies, video games, all these types of things — guns and violence are just part of our normal day-to-day society, unfortunately." 
Major crimes across the city — defined as murder, rape, aggravated assault, robbery, burglary, car theft and larceny — were up more than 30% in the first six months of the year when compared to the same time in 2020, data show. That comes after another double-digit leap in reported crime in Aurora between 2019 and 2020. 
Citing data from police departments in more than 60 American cities, Wilson said crime was up across the country in the first quarter of this year, with a 28% rise in murders, and a 9% rise in aggravated assaults when comparing the first three months of 2020 to the same span this year.
Wilson said it'll take a broad approach to reducing rising violence in the city, including better funding mental health services, helping people with drug addictions, and "dealing with the economic situation in our city that may have our people turn to crime."
"This cannot be a quick fix," Wilson said. "It's going to take long-term crime reduction. If we're going call-to-call and having staffing issues, we're not able to be proactive, and if we're having to take down specialized units, it's going to take some time for us to be able to combat this problem."
Mayor Mike Coffman requested the briefing from Wilson after a shooting at an Aurora Juneteenth celebration that left four people injured and one killed. Police have yet to announce any arrests in connection with the incident that took place outside of an Aurora strip mall and resulted in more than 100 rounds of gunfire being discharged.