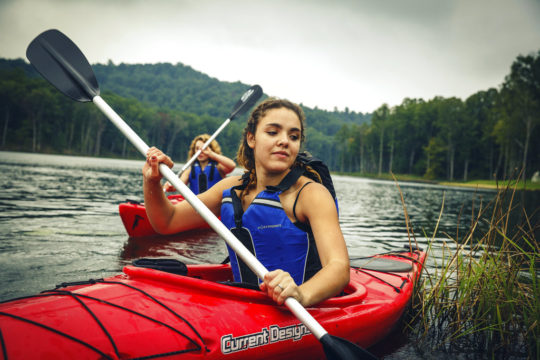 The summer months might seem far away. But for parents looking to make sure their kids have something to do during their summer vacation, the time to act is now.
Summer camps are more than just a way to fill up the months for kids while they're away from school. They can be educational, inspirational and help kids form memories that will last a lifetime and help them grow.
"We all have in our lives a pivotal moment that have caused us to mature, grow, feel confident and become the people that we are now. And I would say it's really amazing how camp experiences have the power to create those pivotal moments," said Ileana Street, a spokesperson for Avid4 Adventure, that puts on camps for kids focused on outdoor activities. "(Camps can) create those key moments to cause kids to go 'wow I can do this' or 'wow this is really interesting to me' or 'this person's a really good friend and not like other friends I have at school.'"
But to ensure kids have that chance, parents need to act now and make sure their kids aren't going to miss out. Camps across the metro area are already starting to book up, and parents who dawdle will find the plethora of options for summer activities dried up.
Street said Avid4 Adventure's camps are already filling up and they're not the outlier. Many camps opened up registration sometime in March and spots are being taken fast. Luckily it's not too late to not only find a spot in a camp, but find one that is the right fit for a child.
There a plenty of options when it comes to what camp to choose, from outdoor camps and science camps, to art camp and cooking camps. The Girl Scouts put on impressive camps, and they're open to kids who aren't part of the organization. The Denver Center for the Performing Arts has a wide variety of performance-focused camps. And the city of Aurora has a wide range of offerings to try and meet the needs of every kid, said Byron Fanning, manager of recreation for the city of Aurora.
"I would say parents should look at what the kid's interested in. If they're really into sports, we have plenty of options. If they're into cooking or like to help you cook, we have plenty of cooking camps, we have a kids carpentry camp, babysitting camp," Fanning said. "And I would really suggest our week long camps. There's a little bit of everything, sports, science, adventure."
A very popular offer for the past few years from Aurora is the Zombie Apocalypse Camp, which Fanning said his own kids haven't missed since it started.
"Those week long camps are a great way for kids to forge those relationships that will have a lasting impact on them as they get older," Fanning said.
To help sort through all of the offerings out there and find the right spot for your child, a new website has launched this year called Blueprint4SummerCO. The nonprofit website acts as a database for all the camp offerings in the area and makes it easier for parents to search by region, focus, length of the camp and the cost.
Amy Anderson, managing director at the education focused nonprofit ReSchool Colorado which launched the website, said the goal is to make sure parents don't get bogged down going through website after website trying to find the exact program to fit their needs. The website even allows parents to search by whether or not scholarships are offered and ReSchool Colorado has put $60,000 toward funding scholarships at camps across the area.
"There's significant gaps between kids who can have these experiences outside of a school learning environment and those who cant," Anderson said. "That's why we really want to focus on providing kids with access to these experiences."
Street said Avid4 Adventure works with low income families to make sure access to the outdoors isn't denied because of a bank account. And Fanning said Aurora's rec department ensures no kid is turned down because of the cost of a camp, and has secured a grant from ConocoPhillips for $150,000 to go toward camps to help achieve that goal.
To find out more about Aurora's offerings, visit  www.auroragov.org/residents/youth_resources/camps
To find out more about Avid4 Adventure camps, visit avid4.com.
To use the Blueprint4SummerCO search engine, visit blueprint4summer.com/co/