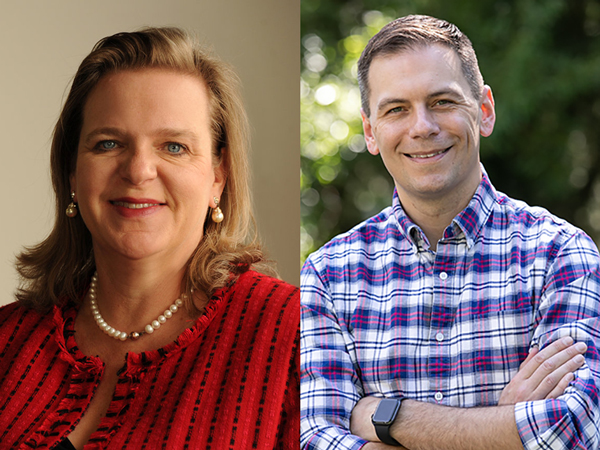 AURORA | A late-counted batch of ballots from traditionally conservative Douglas County has pushed Republican John Kellner into the lead in the race to become the next 18th Judicial District Attorney late Thursday.
Kellner, who has been a chief deputy prosecutor in the 18th for the past eight years, leads Democratic challenger Amy Padden by 1,551 votes, according to state totals on Monday morning. Padden had clung to a wafer-thin lead in the contest since results were first announced on election night.
The Douglas County clerk's office added nearly 5,000 ballots to the aggregate total shortly before 5 p.m. Nov. 5, more than two thirds of which were cast for Kellner.
If Kellner maintains his lead, he will succeed his current boss, term-limited Republican George Brauchler.
Padden, a former state and federal prosecutor, is currently working in the 11th Judicial District, which covers Fremont, Chaffee and Custer Counties.
The race currently sits just barely outside the statutory threshold needed to trigger an automatic recount. Election rules dictate that ballots must be counted again if the difference in votes between two candidates is less than one-half of 1% of the leader's total. Using Kellner's current total, the race is short of that tripwire.
But vote counting is not over, election officials said last week. While the 18th Judicial District's most populous counties, Arapahoe and Douglas, have tabulated about 99% of all votes cast, ballots filled out by military personnel or other residents who are currently abroad will continue to trickle in next week. And both counties still have thousands of so-called cure ballots — votes cast with signature discrepancies or other issues — to sort through, too. Voters have until Nov. 13 to rectify those problems.
Arapahoe County will not update its vote totals until next Friday, when outstanding military, overseas and cure ballots will be added in a single batch, according to a representative with the county's elections division.
The local judicial district's two smaller counties, Elbert and Lincoln, also have outstanding ballots, but in much smaller quantities than their neighbors to the north and west. A spokesperson in the Lincoln County clerk's office said the county is expecting about 25 more ballots to come in before officials begin to certify results with the Secretary of State's Office.
Lincoln County voters accounted for less than one half of a percent of the some 568,000 votes cast in the district that more than 1 million people call home. The current district is the largest in the state, though it's slated to be dismantled when Douglas, Elbert and Lincoln Counties are allocated a new judicial district in 2025.
Calls to the Elbert County Clerk's Office were not immediately returned.
On Wednesday, The Associated Press determined that Democrat Brian Mason had won his bid to become the chief attorney for the northern portion of Aurora in Adams and Broomfield Counties in the 17th Judicial District. He bested Republican challenger Tim McCormack by about 30,000 votes.
Mason, who is currently a trial manager in the 17th, will succeed his present boss, term-limited Democrat Dave Young.