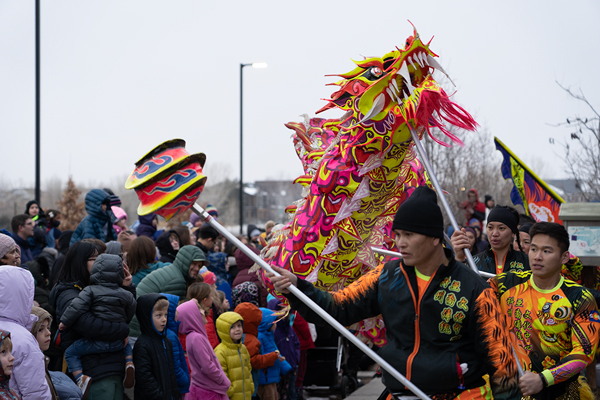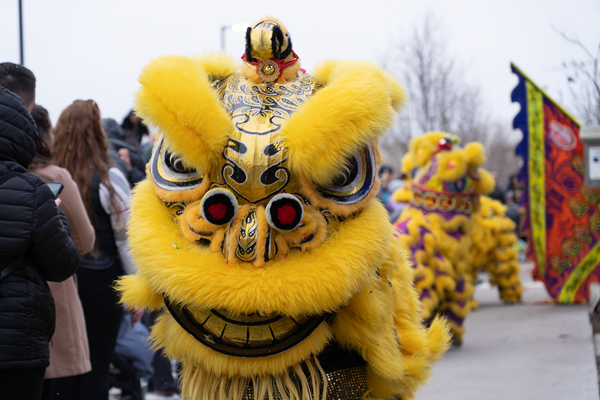 AURORA | Despite below-freezing temperatures and flurries of snow, a large crowd gathered outside of Stanley Marketplace Saturday afternoon to watch the Colorado Asian Cultural Heritage Center perform for Lunar New Year.
Also referred to as Chinese New Year, Lunar New Year is celebrated in a number of East Asian countries, including China, Vietnam, South Korea and Taiwan as well as Asian immigrant communities across the globe.
According to the Chinese zodiac calendar, which operates on a 12-year cycle, 2023 is the year of the rabbit. The rabbit, which was last seen in 1999 and 2011, represents traits including intellect, caution and empathy.
The Colorado Asian Cultural Heritage Center has been performing for 17 years, enough to be on its second lap of the zodiac calendar, performer Kathleen Nguyen said Saturday.
This year, the team has already done 15 different performances for Lunar New Year, said Nguyen, who has been dancing since its inception. They travel across Colorado and into Wyoming, which doesn't have a dance troupe of its own.
In Aurora, the team first performed a dragon dance, with seven performers manipulating a large dragon puppet on poles to the beat of a drum and cymbals. It then performed a lion dance, which is traditionally performed during the new year and other special occasions and is intended to bring good luck. Performers jumped, danced and stood on one another's shoulders in order to mimic the movements of a lion.
At the end, the dancers released confetti into the cold air and unfurled red banners wishing a happy new year in Chinese and English. They also passed out red envelopes and oranges to children in the audience, both of which are traditional Lunar New Year gifts.
Nguyen said her favorite part of the holiday is the big group dinner the team has once all their performances for the year are done. She compared the season, which traditionally is a 15-day celebratory period, to Christmas and said she loves being able to bring cheer to people across the state.
"We're trying to spread happiness and joy for the whole Lunar New Year period," she said.