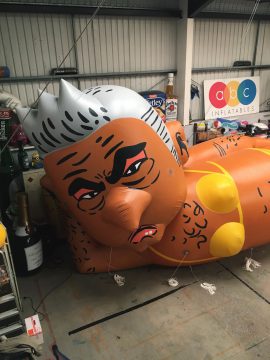 LONDON | Critics of London Mayor Sadiq Khan will be allowed to fly a giant balloon over London that portrays the city leader dressed in a bikini.
Organizer Yanny Bruere raised close to $75,000 through Crowdfunder for the 29-foot (8.8-meter) blimp.
Khan upset some people when he OK'd a balloon caricaturing Donald Trump as an irate baby to float above London while Trump was in town.
Bruere cited rising crime and "defending free speech" as factors in his anti-Khan campaign.
The balloon has permission to fly Saturday over Parliament Square, according to a City Hall spokesperson.
The balloon was a reference to a "Beach body ready" ad that Khan banned in 2016.