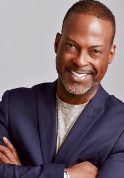 AURORA | The Aurora Fox Arts Center announced that "Trent Armand Kendall," one of the leads of the the theater's production of "Passing Strange," had died.
Kendall who had found success on Broadway, music and television made his metro area debut with "Passing Strange" where he played the narrator. In a Facebook post, Kendall's fiancé, Michael Polese, said Kendall had died suddenly on June 27.
"Trent was a gifted artist, an incredible vocalist, an amazing story-teller and a beautiful and passionate soul. His smile lit up the world. His laughter was infectious. He loved you all," a post on Polese's Facebook page read. "I am struggling to process this shocking and devastating news, but I will take comfort from, and be forever grateful for my time with this great man. I hope that you all can do the same. At this time there will be no service, but we will plan a memorial for Trent in the near future."
The Aurora Fox Arts Center said Kendall's friends and family were in the theater's thoughts and "Trent's journey was one that was full of life and incredible experiences. We hope, through all of his many travels, he was able to find "the real"…his "real" and is now at peace."
In the review of "Passing Strange," Kendall was praised for his mesmerizing talent and ability to push through a serious case of laryngitis to deliver a stunning performance.
"For all the successful elements on stage, this is Kendall's show at the end of the day. He is on stage in every scene, hovering in the background, taking center stage to address the audience, casually flipping through a book while lovers fight it out in front of him. It is impossible to not have your eyes drawn to him even if he's just in the background dancing to the music.
What makes Kendall's performance even more remarkable is that for opening weekend, he did all of that while dealing with a severe case of laryngitis. His powerful voice reduced to a scratchy shadow of itself, Kendall somehow didn't miss a beat or a note while singing through what had to be unbelievable pain. It was the theater equivalent of Michael Jordan's flu game or Kerri Strug pole vaulting for Olympic gold on a bum ankle."