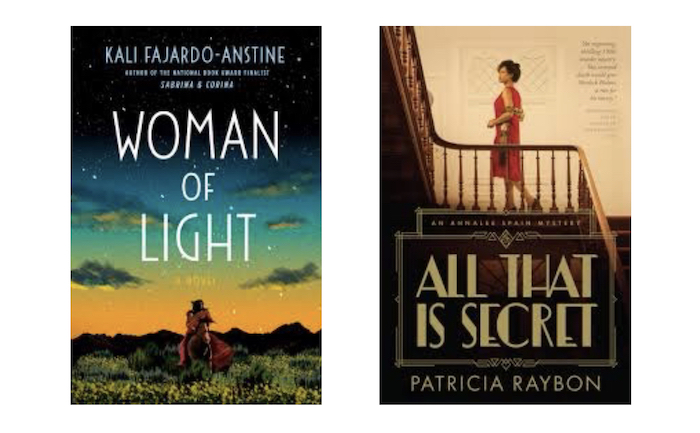 In Kali Fajardo-Anstine's new novel "Woman of Light," protagonist Luz Lopez has the gift of clairvoyance, a family trait that allows her to peer into the future. In reverse fashion, Fajardo-Anstine's book takes a scrying bowl to Colorado's past, delving into parts of the state's history that are often overlooked.
It's one of two novels by local authors to come out recently that is set in 1920s and 1930s Denver, along with Patricia Raybon's historical thriller "All That Is Secret." Both novels feature characters of color striving to make their way in the world in a time of many challenges. Along with prohibition, the Great Depression and the aftereffects of World War I, Colorado at the time, and especially Denver, had one of the largest Ku Klux Klan populations in the nation.
It's the first novel for both authors, following the breakout success of Fajardo-Anstine's short story collection "Sabrina and Corina" in 2019 and a string of memoirs by Raybon focused on faith, race and family.
For Fajardo-Anstine, "Woman of Light" was a labor of love a decade in the making. The story follows several generations of an Indigenous Chicano family living in Colorado, and is based on stories that she grew up hearing about from her own family elders about many of her ancestors, who migrated to Denver from Southern Colorado in the 1920s.
She worked for years on the novel, taking a break to publish "Sabrina & Corina," which became a bestseller. She said that the success of the short story collection helped to build an audience for "Woman of Light" and gave her the financial support to focus more fully on the novel. 
Now out in the world for about a month, she said the reception has been everything she dreamed of, especially from Coloradans. Many readers have told her that the novel makes them feel seen as Chicanos in Colorado in a way that they never have before.
"I'm really proud I get to present this Colorado to the nation," she said.
Fajardo-Anstine said she was inspired by Toni Morrison's "Beloved," which taught her "how to research and think of my characters and their lives in historical context." To make the novel feel lived-in and realistic to its time period she did an immense amount of historical research, from interviewing her family members to pouring through the archives of the Western History Collection at the Denver Public Library.
For one scene in the novel where a Klan rally marches through the streets in Denver in an act of intimidation, she looked at real KKK robes DPL has in its archives, along with pamphlets and other artifacts from the hate group. But the Klan's history in Denver wasn't just an abstraction to her — her great grandmother and aunt told her their own stories about living through Klan rule and having to hide during cross burnings.
At the height of the KKK's power in the 1920s over 35,000 Coloradans belonged to the organization and Colorado had the second most powerful Klan operation in the country after Indiana, according to "Hooded Empire: The Ku Klux Klan in Colorado" by Robert Alan Goldberg. The KKK's power was strongest in Denver, where it exploited people's fears of rising crime during Prohibition and antipathy toward Catholics, Jews and immigrants to gain political power.
Patricia Raybon first rose to prominence detailing the experiences of Black Coloradans in later decades, particularly in her stunning 1997 memoir "My First White Friend," which details her family's discriminatory and, at times, isolating experiences while she was growing up in Denver in the 1950s and 60s. But for her first book of fiction, she drew from earlier Colorado history.
"All That Is Secret" was published in October by Christian publishing house Tyndale, and is the first in a planned series of three mystery novels following amateur detective Annalee Spain. In 1923, Spain is living in Chicago and struggling with the pressures of being the first Black professor at her Bible college when she receives word that her father, a preacher from Denver who died under mysterious circumstances a year earlier, may have been murdered.
Spain returns to the city to get to the bottom of the matter. She discovers her father's death was tied up in political machinations, which prompts more questions than answers and runs her afoul of the city's political elite — and the Klan.
Raybon was drawn to writing about 1920s Denver because she thought it would be a good backdrop for a thriller. The book isn't about the Klan, but their presence heightens the stakes for her characters.
"For fictional purposes, the Klan turn out to be the ideal threat," she said.
Like Fajardo-Anstine, she took advantage of the Denver Public Library's history collections to research the time period. She also used digital archives to sift through Colorado newspapers, church bulletins, oral histories and other primary sources to help her understand what it was like to live in the state during that era.
Mysteries are her favorite genre for leisure reading, and Raybon said she had always dreamed of writing a novel. She wrote one 10 years ago that got put on a shelf, but during lockdown in 2020 she dusted off the draft, which ultimately became "All That Is Secret." She was able to bring courage to the manuscript that she didn't have 10 years ago, she said, which gave the story the life it needed. 
"Looking back, I was worried then about what people would say about nice Pat Raybon writing this mystery with murder and romance and intrigue," she said. "But during the pandemic those kinds of questions were irrelevant."