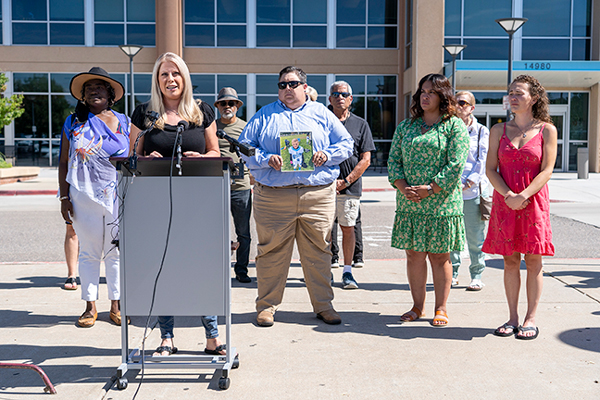 AURORA | An Arapahoe County judge has ordered the former partner of fired Aurora police chief Vanessa Wilson to pay $3 million in damages to City Council member Danielle Jurinsky, who was falsely accused of abusing her toddler son.
At the time, Robin Niceta worked for the Arapahoe County Department of Human Services and was intimately involved with Wilson. The day after Jurinsky criticized Wilson on a regional talk radio show, in January 2022, Niceta allegedly called the county anonymously to allege that Jurinsky had sexually abused her own son.
County investigators looked into the tip and determined it was unfounded. Police later traced the call to Niceta, who was charged with retaliation against an elected official, a sixth-degree felony, and making a false report of child abuse as a mandatory reporter, a second-degree misdemeanor.
Jurinsky filed a separate civil lawsuit against Niceta in August for libel, slander and extreme and outrageous conduct.
After receiving no response, in October, the court granted a default judgment against Niceta, ruling in December that she owed Jurinsky $3 million in damages for "​​harm to reputation, humiliation and emotional distress" as well as to dissuade similar behavior in the future.
The damages include $100,000 for each of the 15 days the county investigation into Jurinsky was open on top of an additional $1.5 million, in part to "send a message that (this) kind of conduct cannot and should not be tolerated by anybody."
"(T)he Court finds that the conduct was especially egregious since it was done by a person tasked with protecting children and knew full well that her false report would result in an investigation and potential separation of a young vulnerable child and a parent, with unknown potential harm to that child," 18th Judicial District Judge Elizabeth Volz wrote in her ruling.
The ruling was first reported Friday by a CBS Denver reporter. Jurinsky did not immediately respond to a request for comment, and Niceta was not available for comment.
The criminal case against Niceta will continue March 30 with a motions hearing. Niceta pleaded not guilty to the charges against her in December.