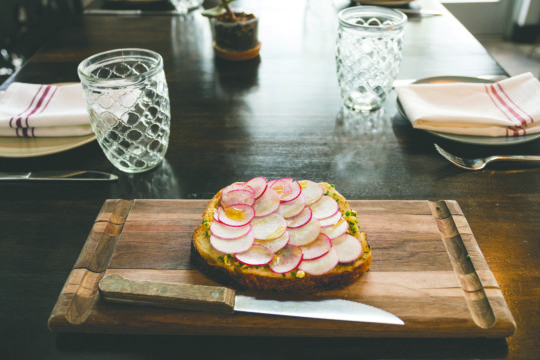 AURORA | For Caroline Glover, chef at Annette Scratch-to-Table in Stanley Marketplace in north Aurora, winning a James Beard Award was "a complete shock."
Glover was named best chef in the mountain region by the James Beard Foundation. Glover, who founded Annette in 2016, was a semi-finalist for the category in 2018 and 2019 as well as a nominee in 2020. She accepted the award June 13 at the awards ceremony in Chicago, making her the first chef in Aurora to earn the prestigious title.
She told The Sentinel that after the stress of the past two and a half years, receiving the award felt surreal.
"Getting this award, it felt like a silver lining to a really hard time," she said.
Glover said that the restaurant's staff, which is currently 18 people, worked harder than it ever had during the pandemic to come up with creative ways to remain profitable and serve customers. 
Accepting the award, Glover told the audience that because of her staff, Annette was able to pivot to a to-go model in the early days of the pandemic, "and many more iterations after that," she said.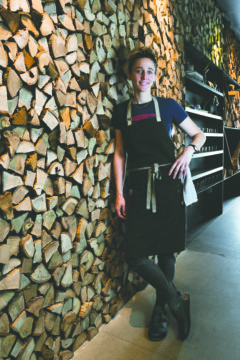 The eatery eventually constructed a dozen six-foot by eight-foot greenhouses for guests in an effort to curb spreading COVID-19. It was also an effort to keep the business afloat. 
Co-owner Nelson Harvey, Glover's husband, told The Sentinel in October 2020 the restaurant's revenue was down about 40% compared to regular times. 
In her award speech, Glover said that more than anything else during the pandemic she learned that "restaurants aren't a luxury, we're essential. And it's time for us to start being treated that way."
The worst of the pandemic is over but the restaurant industry is still facing challenges, Glover said, including supply chain issues, rising prices from inflation and burnout due to the stress of the past several years.
As things stabilize, she hopes that people recognize the importance of the restaurant industry and how much it plays into the larger economy.
"My hope is that our industry starts to get more representation in terms of people taking us seriously…because we do employ so many people in so many other industries," she said.
Annette is Glover's first restaurant, but she isn't new to Colorado's food scene. Previously, she worked two years at Denver's Acorn, rising to sous chef under executive chef Amos Watts.
In 2011, Glover spent a season at Locavore Bed and Breakfast in Paonia, on the Western Slope, where she says she was able to unite her passions for farming and cooking. 
Later, in Carbondale, she formed her own farm-to-table supper club before moving to Denver in 2014. 
When she founded Annette in 2017, she initially just wanted an extension of the supper club. She said she dreamed of having a restaurant that felt like her own dining room.
"I just wanted to have a space where people felt comfortable to put their phones away and eat good food in a good space," she said. "And it grew into more than I could ever imagine."
Now with five and a half years under her belt, Glover said it's been wonderful to watch Annette become a fixture in the community. Families that started coming to Annette when their kids were preteens are now coming in to celebrate high school graduations.
"We definitely get to be a part of people's lives and that to me is the coolest thing about running a restaurant," she said.
Her award now puts Aurora on the map as a city with great dining — something that's no secret to anyone who's spent time in the metropolis. Glover said she's proud to be the city's first James Beard award winner and hopes it encourages people to spend more time in Aurora.
"Shedding good light on Aurora is important and that hasn't been the case with some incidents in the past," she said. "It feels really good to be able to bring some good news to the city."